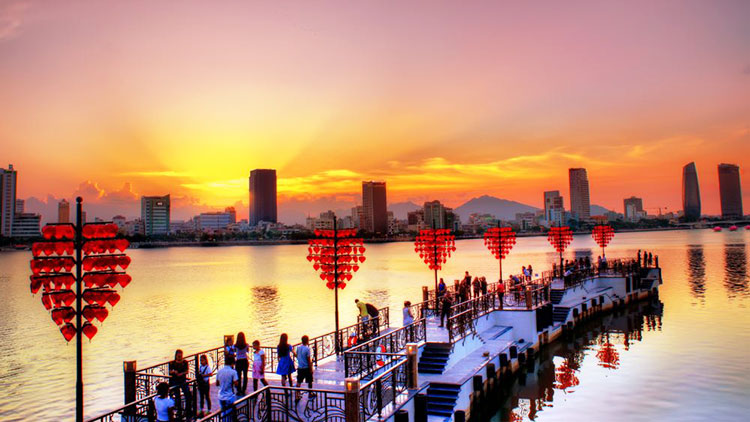 So, you have checked out all the most notable attractions, enjoyed the most pristine beaches shimmering in the sunlight, and rocked your body at the most fascinating nightclubs in Da Nang. What next? Is this the end of your Da Nang trip?
It is quite the opposite of the end. The fun is far from over. Because what lies around Da Nang are various UNESCO world heritage wonders of Vietnam that firmly capture the hearts of voyager. Pack your bags and hit the road to the nearby marvels of Central Vietnam's most touristy city.
There's more to explore around Da Nang
Take a day trip to Hoi An – the muse of Vietnam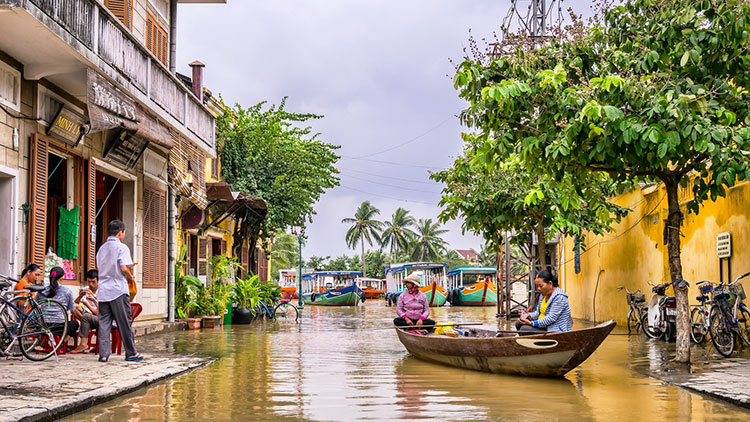 All travel lovers who have been to Da Nang will never miss the muse of Vietnam, Hoi An ancient town.
Hoi An is a quaint place where life is so calm. It seems that the dust of time cannot bury the ancient atmosphere.
The graceful, historic Hoi An lies 29 km (18 miles) south of Da Nang in Quang Nam province. It dates back to centuries ago when it was one of the most bustling trading spots in South East Asia. With its priceless legacy of rustic yellow colonial houses, Chinese temples, and Japanese architectural masterwork, the pride of Vietnam is honored as a UNESCO world heritage site.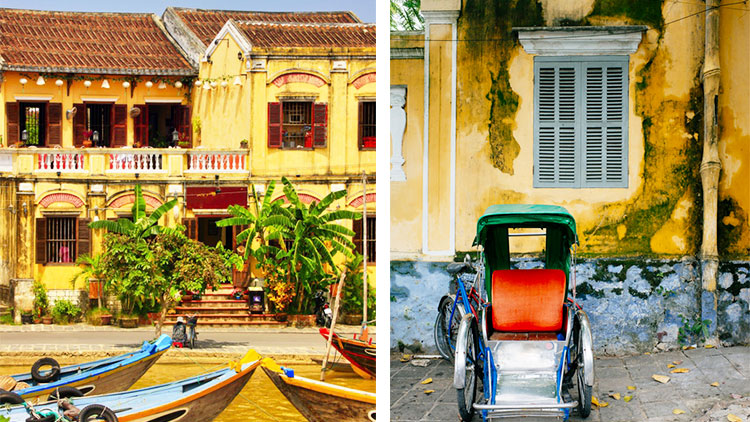 Long hailed as the most breathtaking ancient town of Asia, there is no denying that sometimes, the lantern town can be overwhelmed with admirers. But if you take your time, and treat it gently, the antique town will reward you with moments of profound beauty and bliss.
Why is Hoi An the quintessential destination not to miss? The answer will be revealed once you have witnessed its timeless beauty nowhere could ever have.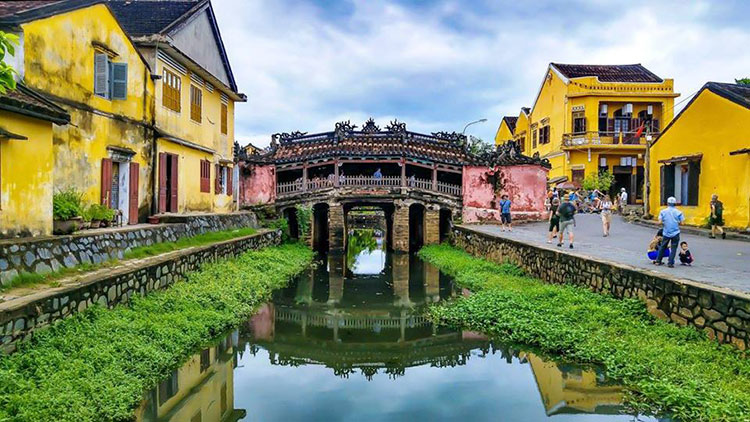 The old tiled roofs covered with moss of golden buildings, the streets highlighted with artistic craft lanterns zigzagging from buildings to buildings, the delicately carved panels – all will bring you back to the modesty old world. That is just a simple part of Hoi An, but it is enough to make people fall deeply in love with the town of lanterns.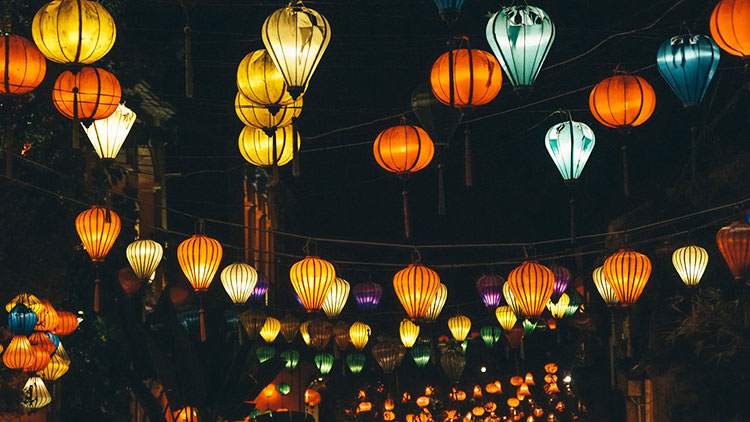 You can spend a few hours or even a few weeks and still find new things to try in Hoi An. From catching the sunset at the Japanese Covered bridge, wandering all day on glimmering streets, getting glamorous custom-tailored clothing, to putting glowing flower garlands down the enchanting river in the magical night.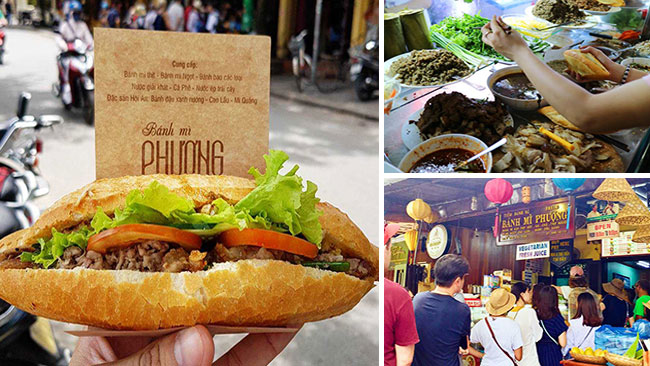 Not to mention the iconic Banh Mi as well as endless masterpieces of local cuisine ready to ignite your appetite. You simply can't have a completed Hoi An trip without savoring subtle local flavors. Insanely mouth-watering!
So when you have done touring inside Da Nang, book a private car or hop on a couch and make your way to the scenic old town. Check out the full travel guide to Hoi An.
Turn back time in My Son sanctuary – the print of a vanished culture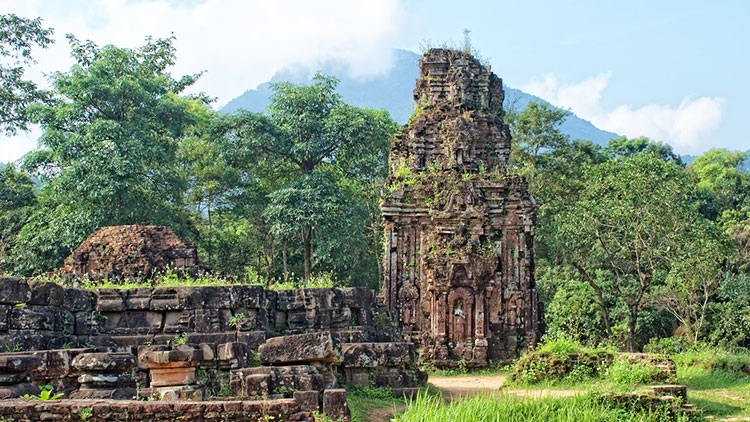 Travel a little bit further from Hoi An,  you will find another UNESCO world heritage. In an over one-hour drive through the countryside and before you know it, you are entering My Son – the only evidence of a long-lost culture.
Referred as the "mini Angkor Wat", My Son Sanctuary is a cluster of left-behind temples and towers built by the Chams, once a major power in Vietnam's territory for over 1,500 years, between the 4th and 14th centuries. It is located 70 km (43 miles) from Da Nang in Quang Nam province.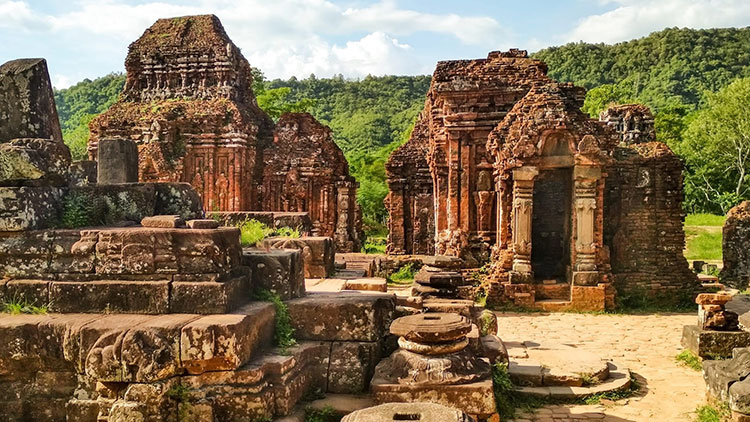 It is considered to be one of the best examples of ancient Hindu architecture in all of SouthEast Asia. The main material used to build these structures is primarily red brick, and they spring from the earth through gashes in the surrounding forest. 
Traveling back to history, My Son was initially built to serve as a religious place and burial site for kings of the lost Champa kingdom. The Cham chose to build My Son in a valley surrounded by verdant jungles and majestic mountains, making it boast a sense of holiness and wilderness. 
With the rustling of the wind through the leaves, the gentle water flowing in the streams fused with the mystical pieces of Hindu architecture, you can't help but feel connected to the earth and the ancient world in My Son. It's timeless!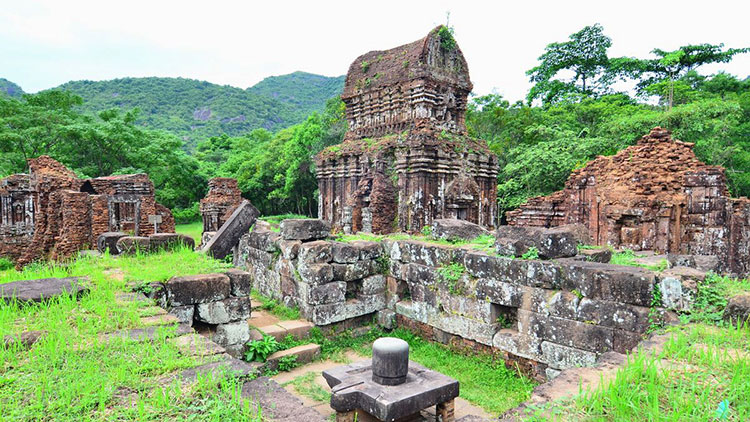 To witness My Son's raw beauty at its best, we highly recommend you get there by coach or a private car from Da Nang or Hoi An early in the morning when it is not packed. Especially, don't miss the sunset at My Son. It may be one of the most magical moments you will hold dear for a lifetime. 
Feeling intrigued? Check out this full exploration guide to My Son.
Discover Chams Islands – the jewel of Central Vietnam
About 50 km (32 miles) from Da Nang is a heaven of oceanic nature you must pay a visit – Chams Islands.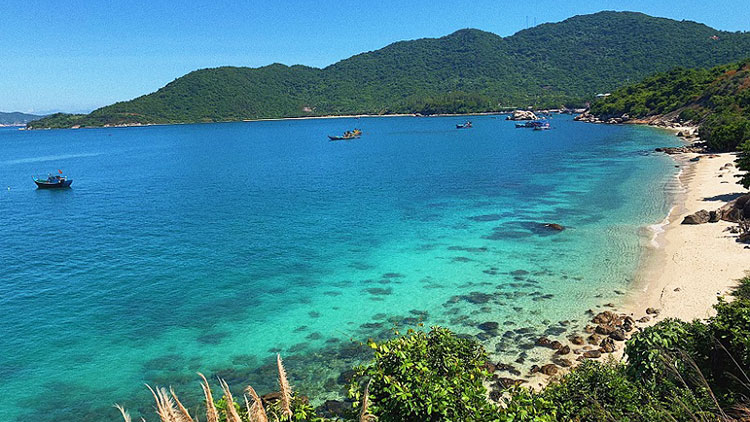 Chams Islands is a breathtaking group of 8 small granite islands off the coast of Hoi An city from Cua Dai pier. With the plenteous ecosystem of fauna and flora featuring over 135 species of coral, it is recognized by UNESCO as a World Biosphere Reserve.
To get to Chams Islands, you can take a direct bus from Da Nang to Cua Dai pier which is 30 km (18.6 miles) away. It would be awesome to combine a pleasant short stay in Hoi An before getting to the island cluster. From Cua Dai pier, hop on a canoe or boat that will take you there in 30-minute.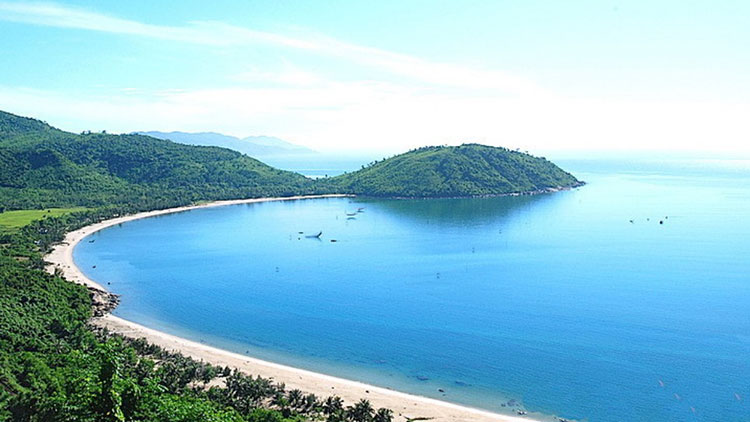 From March to August is the most ideal time for a visit. At this time, the weather is warm and sunny. In the remaining months, the island is inaccessible due to big storms and waves.
Boasting serene and pristine scenery, Chams Islands has long been a must-visit for nature lovers. Most activities center around the island's pretty white-sand beaches namely swimming, sunbathing, kayaking, and scuba diving. Surrounded by crystal clear water beaming with life, Chams Islands make a snorkeling spot for aqua enthusiasts.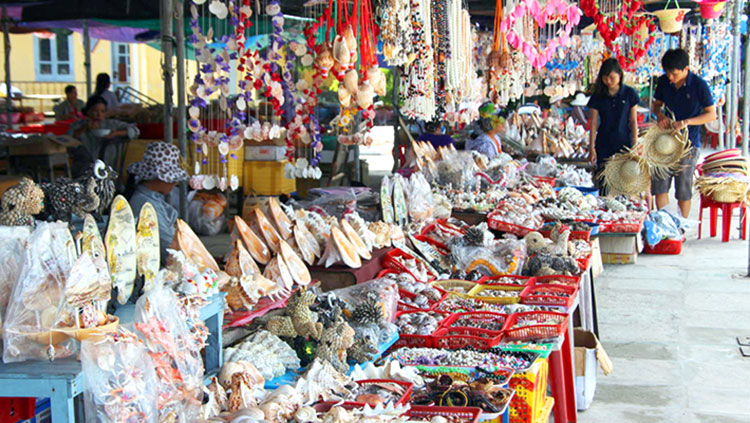 In addition, a place you should not miss at Chams Islands is Tan Hiep market where locals sell exciting souvenirs and sea specialties. Every local will advise you to splurge on half-dried cuttlefish, a traditional delicacy of coastal central Vietnam. Though it carries an utterly strong smell, it makes a unique snack to enjoy with friends and families.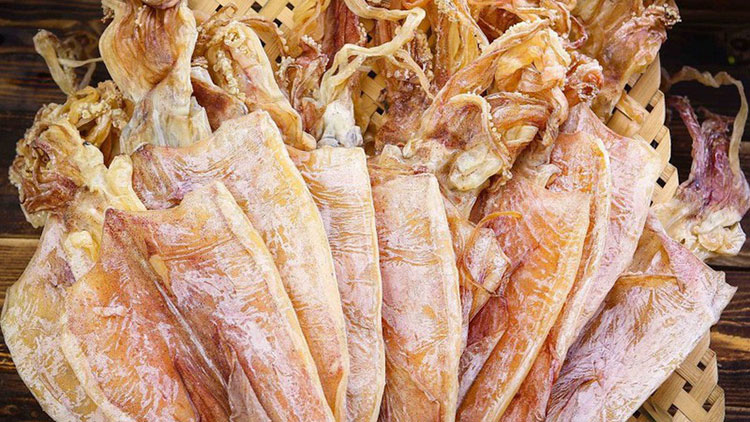 There are plans afoot to transform this island cluster into a Central Vietnam version of Phu Quoc in the near future. Surely, Chams Islands will be more than a shimmering jewel of Central Vietnam.
Immerse in Hue – the memento of the old dynasty
Last but far from least, embarking on a 2-hour drive, you will find the historic Hue city situated 92.4 km (57.4 miles) north of Da Nang in Thua Thien Hue province. 
Hue has a way of capturing hearts. It boasts a dreamy and peaceful vibe but is equally bustling and crowded with many history-rich attractions.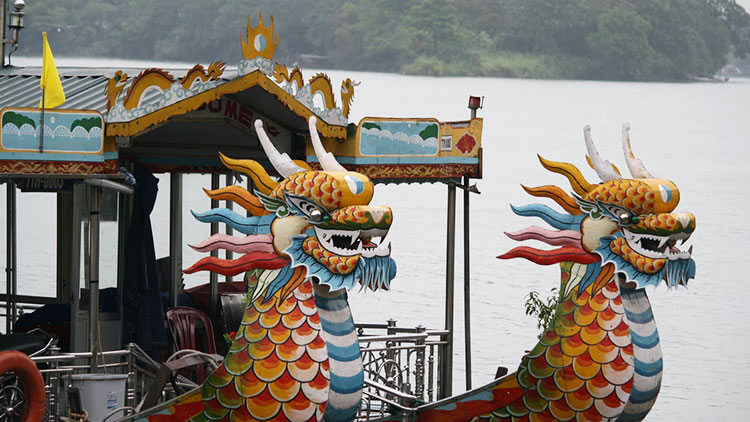 Speaking of Hue, it is impossible not to mention the gentle Huong River (Perfume River). A delightsome boat excursion on the Perfume River makes a wonderful start to your Hue exploration. The serene beauty of the Huong River has been depicted in many Vietnamese songs and poems.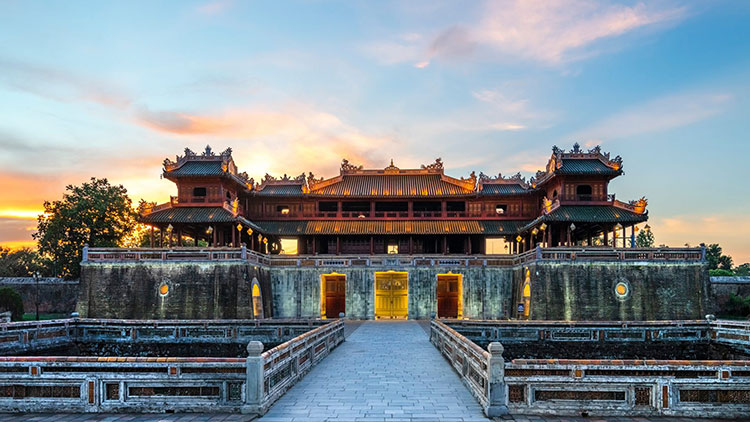 Every hodophile who comes to Hue will never miss its prime attraction, the Imperial City of Hue. Once home to the longest and most flourishing empire of Vietnam, the infamous citadel has earned it a place in UNESCO's world heritage site. Its architecture truly the height of elegance and sophistication retaining every last vestige of the old empire.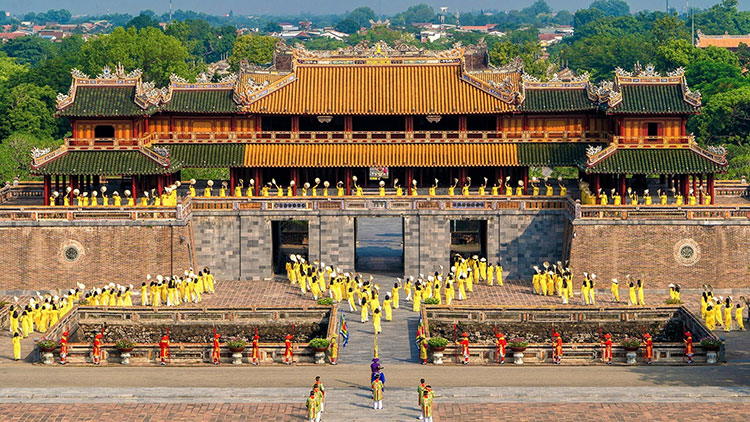 The magnificent Imperial City of Hue is where the Kings of Nguyen dynasty had chosen to build their feudal empire for over 143 years from 1802 until 1945.
The ancient citadel is a sprawling complex of royal palaces, temples, pavilions, and shrines featuring arts and costumes from different periods of Vietnamese history. Having an enormous perimeter of almost 2.5 km (miles), the old capital of Nguyen emperor is simply too vast to explore in just one day.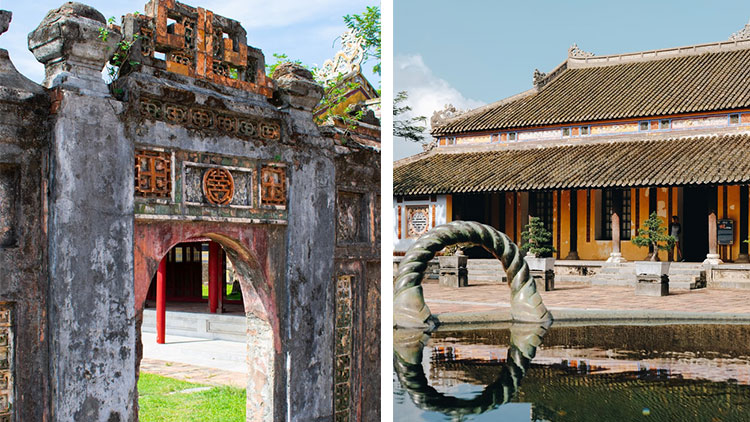 Other than historical attractions, what is waiting for you is Hue scrumptious culinary art. And the biggest star is Bún Bò Huế (Hue Spicy Beef Noodle Soup), a legendary delicacy of Hue. It is said that you will never truly embrace Hue if you don't try Hue spicy beef noodle soup. The rich, tangy broth cooked from beef bones fused with local ingredients and spices will surely put you in awe.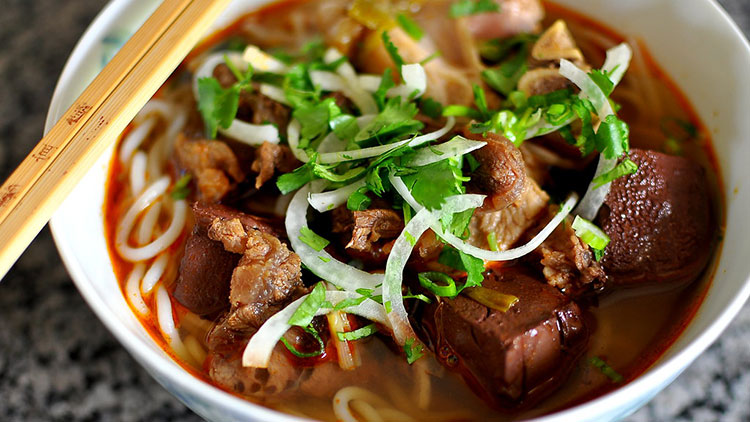 The historic city has much more to offer that you can't miss. Explore the full picture of Hue.
Da Nang is waiting for you
Da Nang is just so inviting with countless dazzle tourism sites in and around the city. From the alluring bridge held up by the hands of God, the alluring peninsula overlooking the great ocean, to the most beautiful world's heritage ancient city. Da Nang deserves to have a solid spot in your Vietnam travel bucket list.