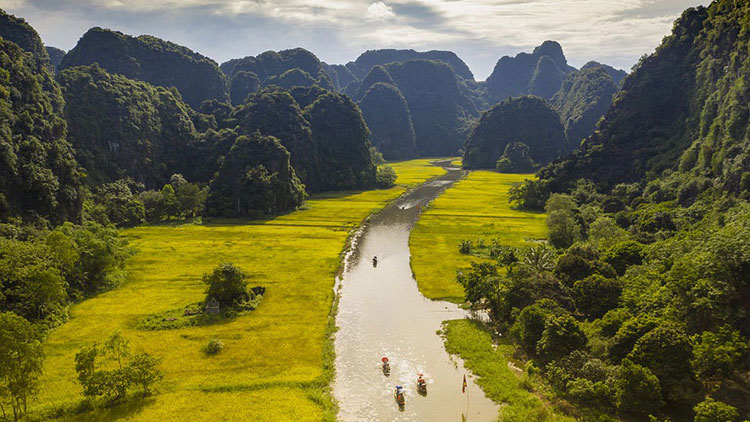 Vietnam is home to countless stunning destinations for the perfect getaway with romance. Whether you are a couple that enjoys romance in relaxation or adventure, the "S-shaped" country always offers destinations that spark the roaring flame of love and passion.
Ninh Binh, a hidden gem of Vietnam, is the perfect go-to spot if you fall for a spectacular place filled with exotic nature to celebrate your honeymoon. Let us cast light on all you need to know to plan your most romantic and exhilarating trip ever with your loved one in Ninh Binh.
A glance at Ninh Binh – the Ha Long Bay on land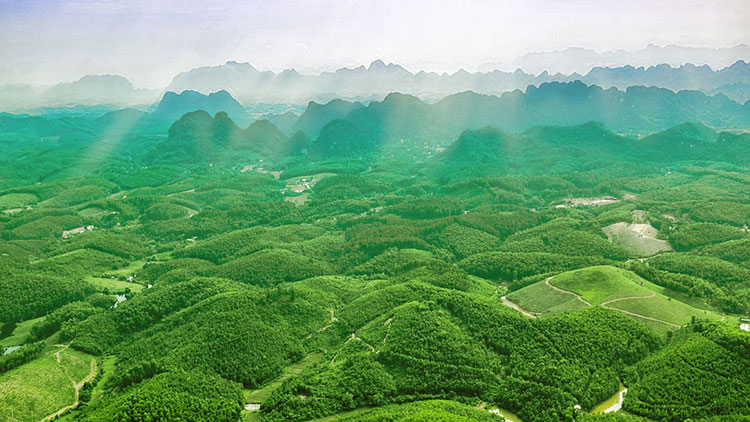 Countless foreign travelers have heard about some famous beautiful destinations of Vietnam such as Da Lat or Sapa. But far too few hodophiles hear about Ninh Binh, an enthralling place known as 'Ha Long Bay on Land' due to its magical riverine landscape with sheer limestone mountains growing up from the paddies.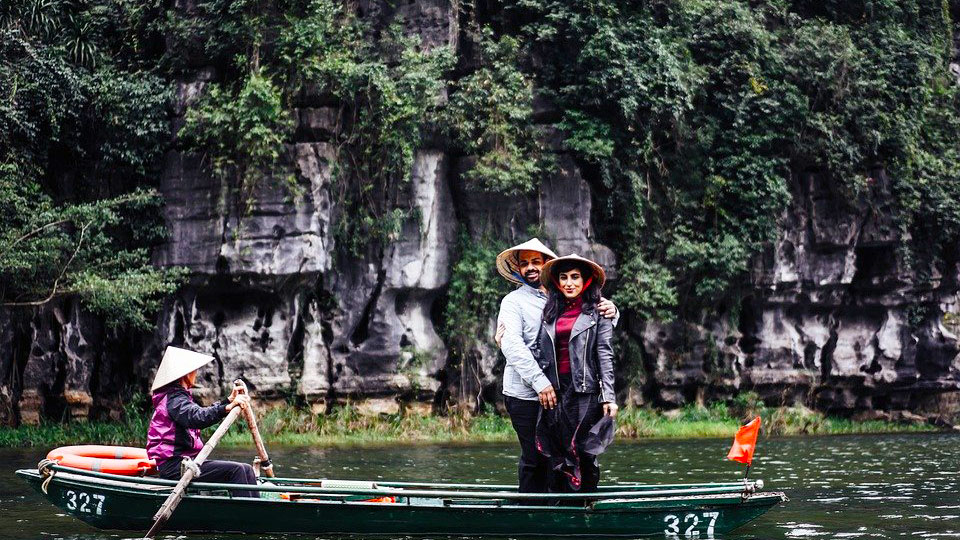 Ninh Binh province lies in the Red River Delta of Northern Vietnam. Home to countless aesthetic limestone mountains rising from paddies with a magical riverine landscape, it's easy to understand why Ninh Binh is called the Ha Long bay on land. It boasts arguably some of the most pristine and miraculous natural landscapes of Southeast Asia. 
Most exhilarating things to do in Ninh Binh with your loved one
Let's unveil some must-try activities to spend some quality time with your other half in Ninh Binh.
Climb up Hang Mua – the most breathtaking view over Ninh Binh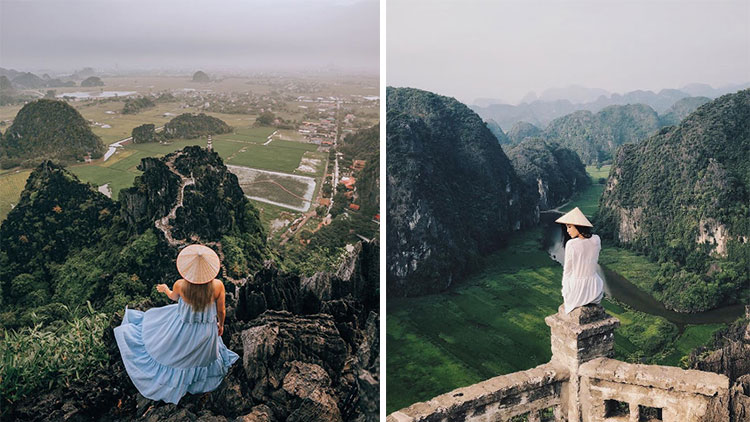 Surely, you want to put your lover in awe with a stunning place when you first come to Ninh Binh. Why don't you start with Hang Mua?
It is said that if you come to Ninh Binh but don't visit Hang Mua, it means you don't travel to Ninh Binh at all. 
Hang Mua is a super rural area surrounded by incredible gigantic mountains. Every Vietnamese who have visited Ninh Binh never miss this infamous gem of Northern Vietnam.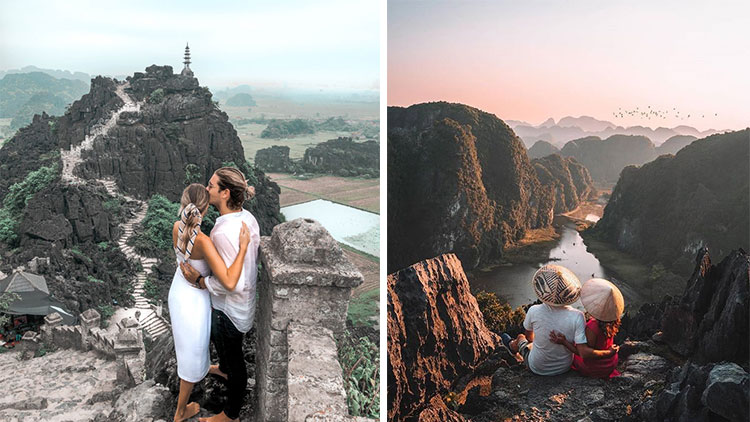 The best thing to do at Hang Mua is to conquer nearly 500 steps brilliantly carved into the steep face of a mountain to get a bird's-eye view of Ninh Bình at Hang Mua's highest peak. Though as many steps as it sounds, it would be a nice brisk sort of climb for everyone. 
What lies in front of you at the top is a surreal vista of the river winding lazily along blissful paddies and outcrops – a view that brings unbridled joy. Don't forget to take some dazzling selfies with your lover. 
Join a boat tour at Tam Coc – the little paradise of Ninh Binh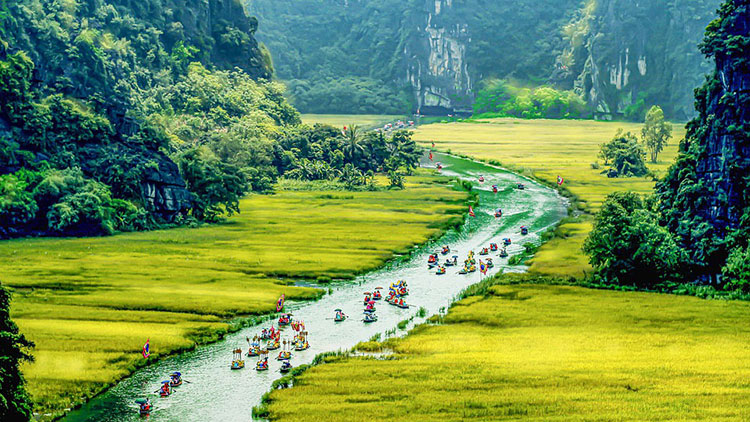 One of the best ways to have a sense of this beautiful paradise is to embark on a boat ride on the shimmering waterways at Tam Coc – a ravishing stretch of flat landscape. 
Located in Ninh Hai commune, Hoa Lu district, Tam Coc is part of Trang An scenic landscape complex, a UNESCO World Heritage site. It is a familiar destination that tourists definitely cannot ignore when coming to Ninh Binh. The poetic scenery here will surely captivate any adventurous heart.
Take your half on a boat floating down the poetic Ngo Dong river and behold the overlapping mountains and iridescent golden rice fields. It might be the best boat ride any couple could ever have.
Discover Trang An scenic landscape complex – an incredible UNESCO World Heritage Site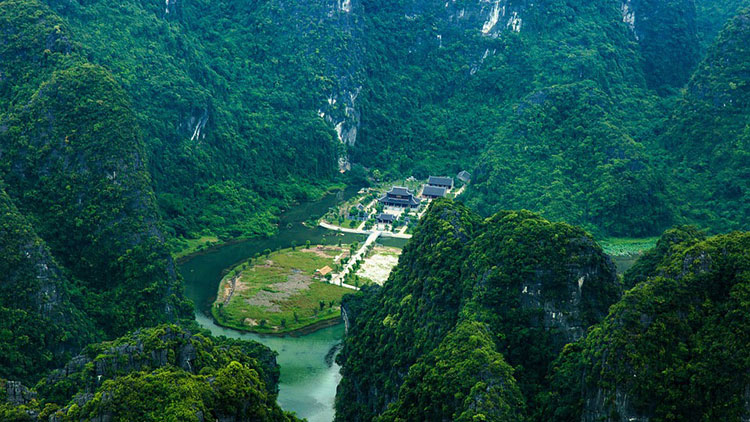 Trang An scenic landscape complex is maybe the most well-known tourist destination of Ninh Binh today. Boasting beautiful unspoiled natural scenery, Trang An has been recognized by UNESCO as a natural heritage and a world cultural heritage.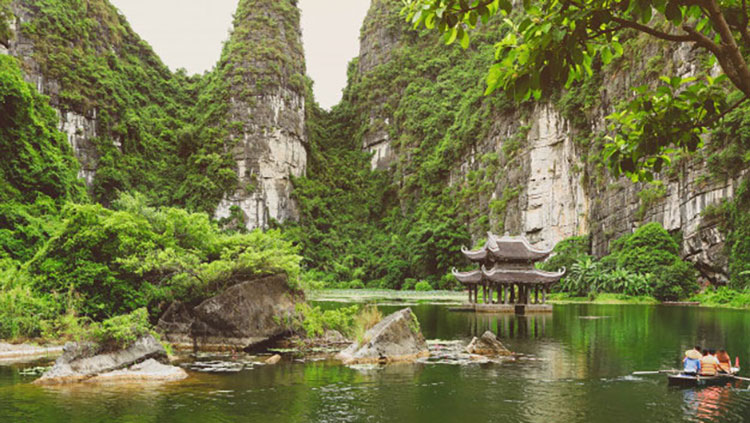 The scenery here is made up of winding rivers flowing through limestone mountains, creating countless magical and mysterious natural caves that attract visitors. To explore Trang An, just settle on a boat to admire the majestic surrounding limestone cliffs. The view here is simply nothing short of breathtaking. 
Check out Bich Dong pagoda – the most charming pagoda of Ninh Binh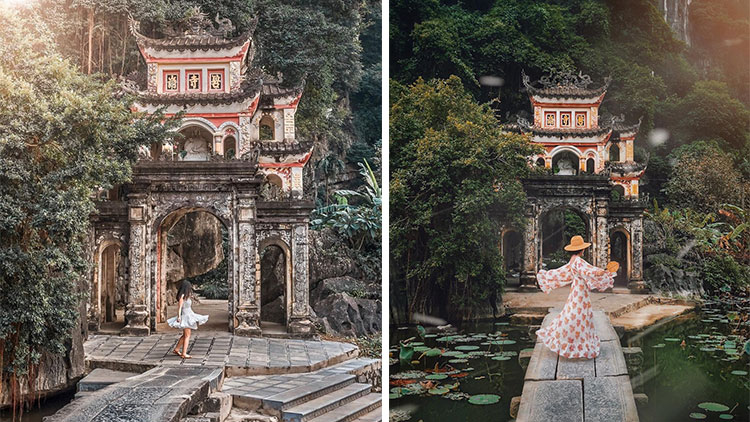 If you search Bich Dong pagoda on Instagram, you will find lots of flawless photos of pack backers checking in at the pagoda's main gate. 
Bich Dong pagoda is a memorable attraction to take your loved one to. Although it is a sacred pagoda nestled on the mountainside which dates back to over 300 years of history, it is an iconic Instagram hot spot of Ninh Binh.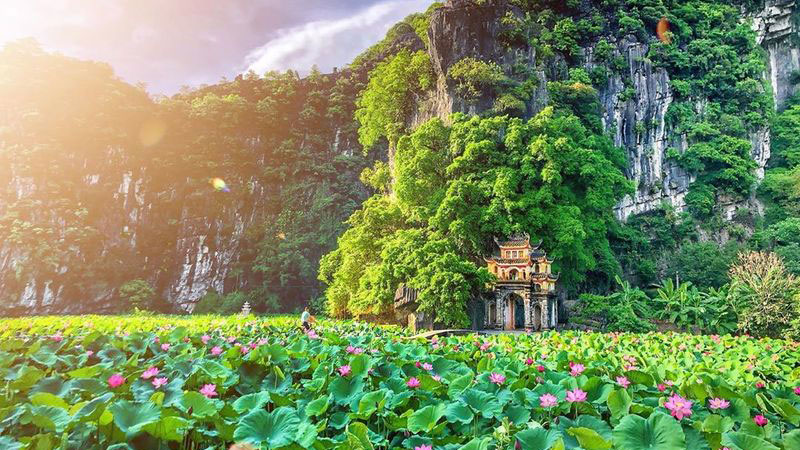 The pagoda comprises three temples – Ha pagoda (Chùa Hạ) Trung pagoda (Chùa Trung) and Thuong pagoda (Chùa Thượng) situated on different levels going up the mountain. The ancient gate of Ha pagoda at the foot of the mountain is the most notable feature of Bich Dong pagoda.  
Visit Bai Dinh pagoda – one of Vietnam's largest pagodas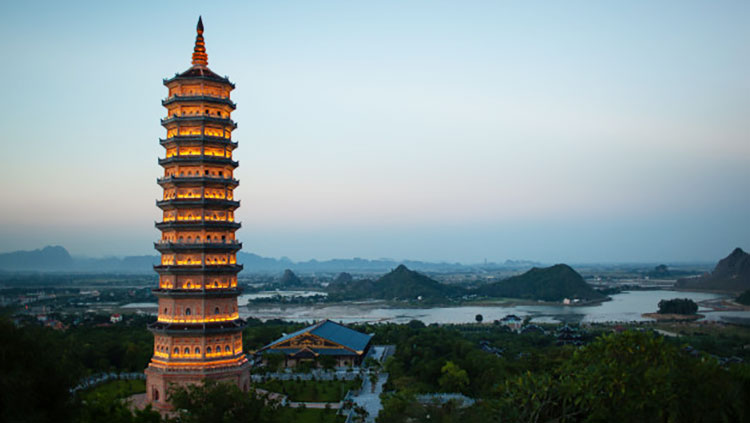 Looking for something spiritual and beautiful? Bai Dinh pagoda is the place to opt for.
Located 15km from Ninh Binh city, Bai Dinh Pagoda is one of the largest pagodas in Southeast Asia. It holds the record as the temple with the largest bronze Buddha statue in Asia. The temple has a partly luxurious mixed ancient design which attracts thousands of spiritual tourists every year in the country.
Wander around Am Tien cave – an isolated paradise of Ninh Binh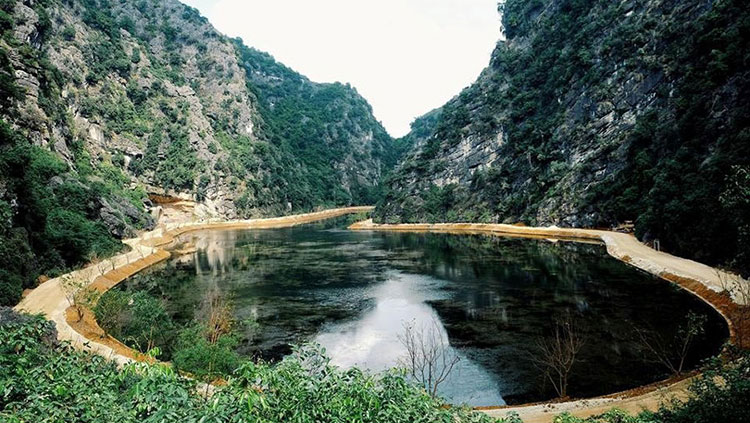 Situated 10 km (6.2 miles) from Ninh Binh city, Am Tien cave is a destination that you cannot ignore if you want to enjoy the peaceful and idyllic natural scenery. 
Because of its unspoiled beauty, separate from the outside world, this place is so much loved by the Vietnamese youth generation. Everything here has a slightly melancholy nuance tinged with time. Take a slow walk holding your partner's hand around the lake in the middle of Am Tien cave boasting crystal clear water would be mesmerizing. 
Go wild in Cuc Phuong national park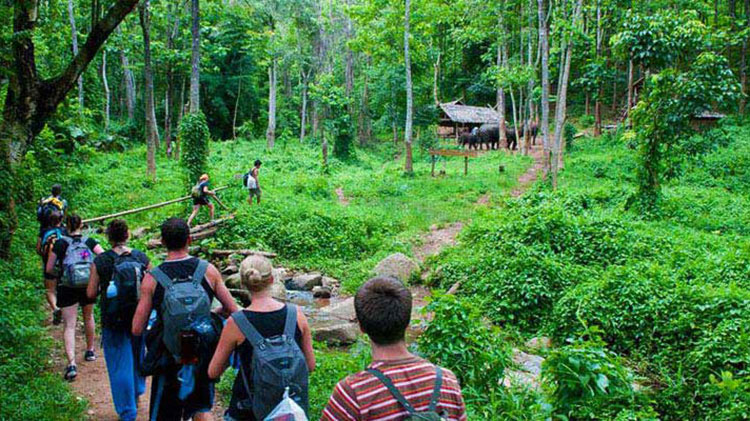 Cuc Phuong national park is the largest nature reserve in Vietnam with many species of flora and fauna in danger of extinction.
Located amidst the Tam Diep mountain range, Cuc Phuong national park is famed for its green tropical rainforests all year round. In addition to the rich and diverse biological system, it also has a unique culture since it is the living place of the Muong ethnic group. You can witness oddly fascinating houses on stilts and terraced fields, upland rice mills, brocade looms, etc.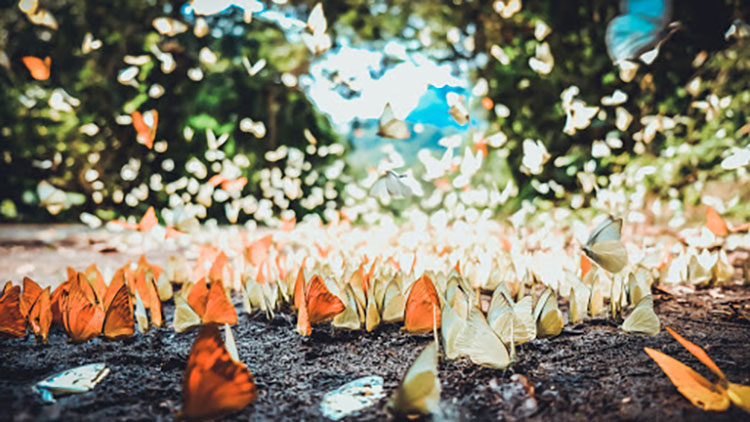 If you desire to share some one-of-a-kind moments with your half in Cuc Phuong national park, visit it during the butterfly breeding season from April to the end of May.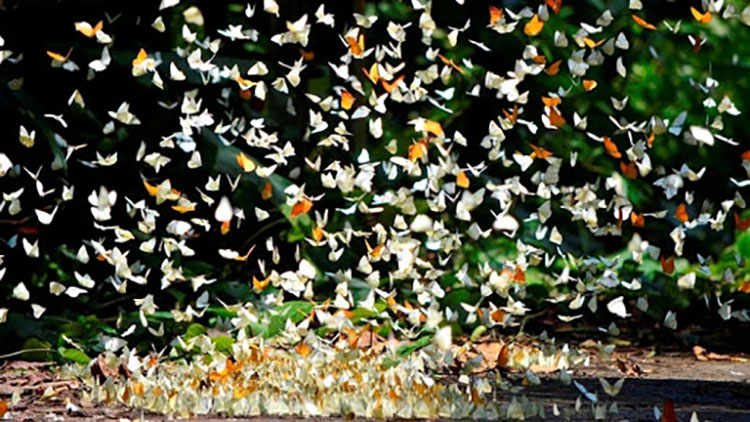 Flocks of white butterflies rushing out of the forest canopy, painting a fanciful and dreamy scene as if it is a real-life fairytale is something you don't get to see often. Check out the video below to have a better glance at butterfly season at Cuc Phuong national park. 
Immerse yourself into nature at Van Long nature reserve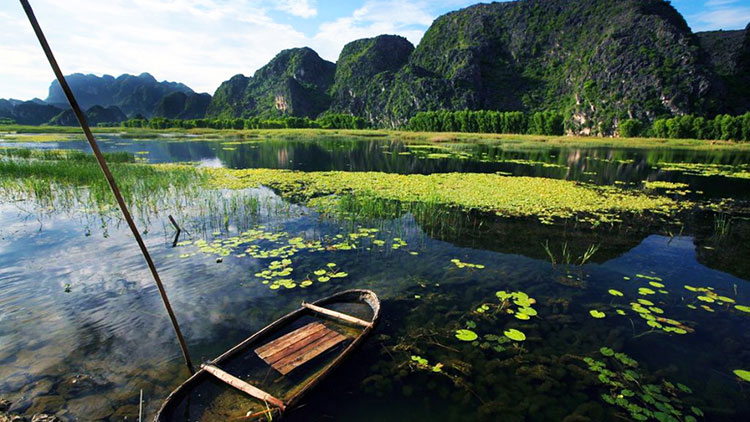 A charming eco-tourism area with poetic scenery, as famous as Tam Coc – Bich Dong, is Van Long lagoon, the largest wetland nature reserve in the Northern Delta.
When riding on a boat on the lagoon, you will be dazzled by the crystal clear water surface resembling a giant natural mirror. Therefore, this place is also known as "the bay without waves".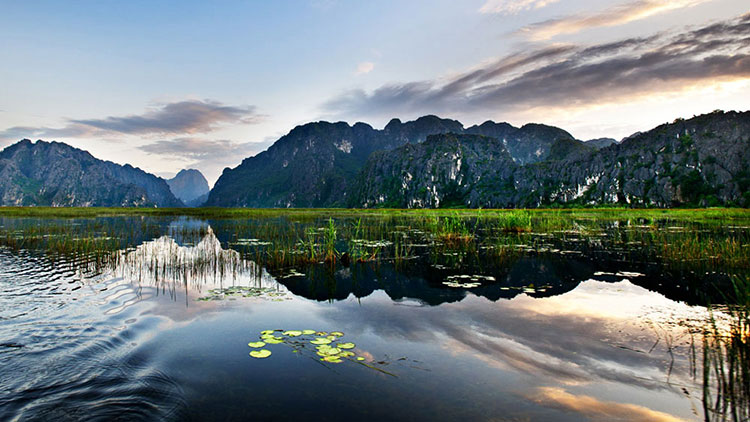 Going along the small leaf boat, around you is a vast swamp of water, birds, langurs, and limestone mountains. The poetic natural scenery here makes anyone fall in love with Vietnam.
Watch some birds at Thung Nham bird park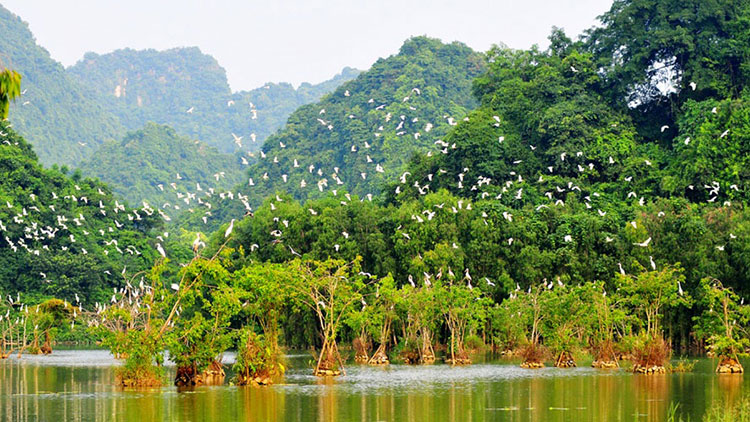 Watching some birds would be exciting for a romantic getaway in Vietnam. And the place to go to is Thung Nham bird park.
Surrounded by tropical forests on limestone mountains, with many caves and valleys blending with beautiful trees and flowers, no wonder why Thung Nham Bird Park is an awesome biodiversity landscape.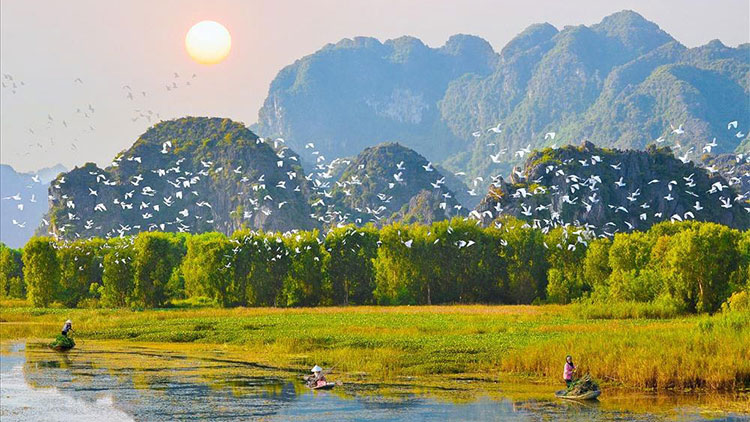 You will discover the life of 50,000 birds of over 40 different species. Especially during every sunset, you can spot flocks of white storks flying all over the wetland, creating an amazing wild beauty that is hard to find anywhere else.
Tips to make the best out of Ninh Binh
These tips below will go a long way in helping you have the best trip ever to Ninh Binh with your lover.
How to get to Ninh Binh
You'll have plenty of options to get to Ninh Binh. Depending on where you start your journey, these are the most common means of transportation for you to reach Ninh Binh.
From Hanoi
Ninh Binh is only about 90 km (56 miles) from Hanoi, so hopping on a rented car is the most convenient option. It will cost you a minimum of $35 to rent a standard car. 
If you fancy a budget-friendly option, go to any bus station in Ha Noi to get to Ninh Binh. You would spend less than $10 per ticket.
The travel time by couch or car from Hanoi to Ninh Binh is no more than 2 hours.
From Ho Chi Minh city
Ho Chi Minh city is much further from Ninh Binh compared to Ha Noi. It would take you 30 hours to get there by train and over 32 hours by car or couch. So if you don't mind the insanely long travel time and want to admire Vietnam's nature during your journey, go for trains and sleeper buses.
The fastest way to reach Ninh Binh from Saigon is by plane. You can fly from Ho Chi Minh City to places near Ninh Binh with airports such as Hanoi and Thanh Hoa. So the ideal route is to fly from Tan Son Nhat airport (Saigon) to Noi Bai airport (Hanoi) or Tho Xuan airport (Thanh Hoa), then take a bus from these airports to Ninh Binh.
Reminder: Make sure you apply for a Vietnam visa on arrival before you fly to the country to visit Ninh Binh. It's the easiest and most hassle-free way to obtain a Vietnam visa. 
Best time to visit Ninh Binh
Ninh Binh in each season is extremely unique. But there are two most beautiful times for tourists to visit: spring and summer. 
From January to March of the lunar calendar, when the climate is pleasant and not too harsh, the scenery is very fresh and full of life.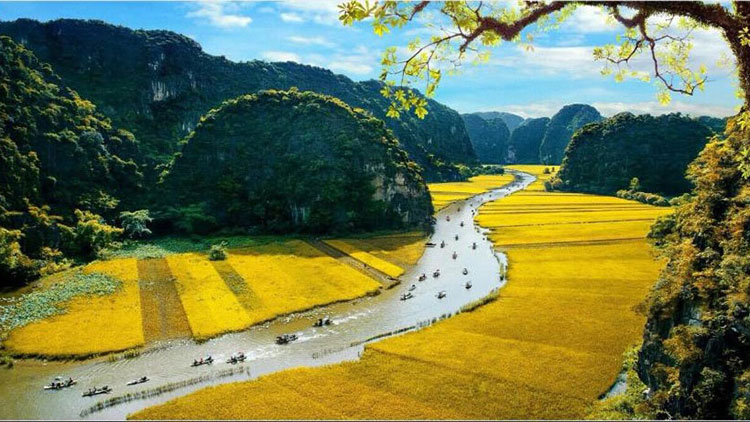 Summer days starting from April and end in June are the most exciting time for most people to explore Ninh Binh. You can experience the rare beauty of golden rice fields in Tam Coc, gaze at thousands of dreamy lotus blooming during lotus season, or witness thousands of butterflies magically decorating Cuc Phuong national park. These are the moments that help you take one-of-a-kind selfies.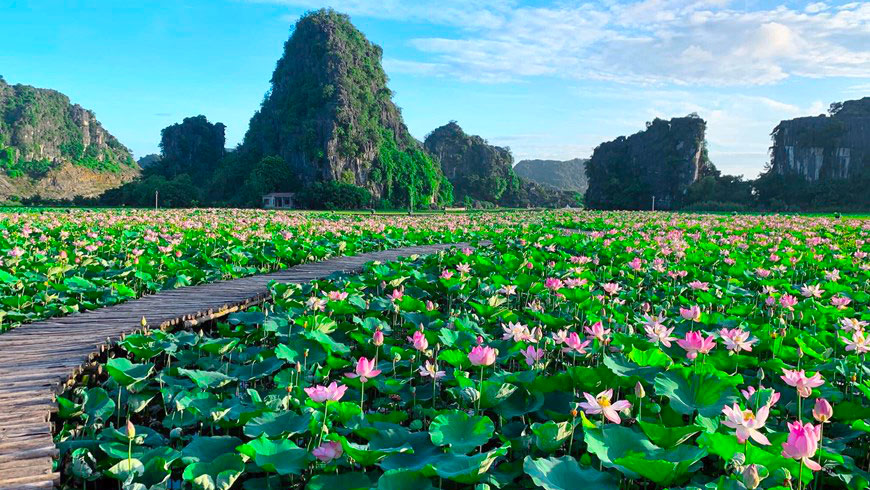 Cherish your love in Ninh Binh
Ninh Binh is a place that can not be missed. Surely, your lover and you will have unforgettable moments to cherish your enchanting love story in the middle of heavenly breathtaking nature. It is truly a time moment to hold dear for a lifetime!