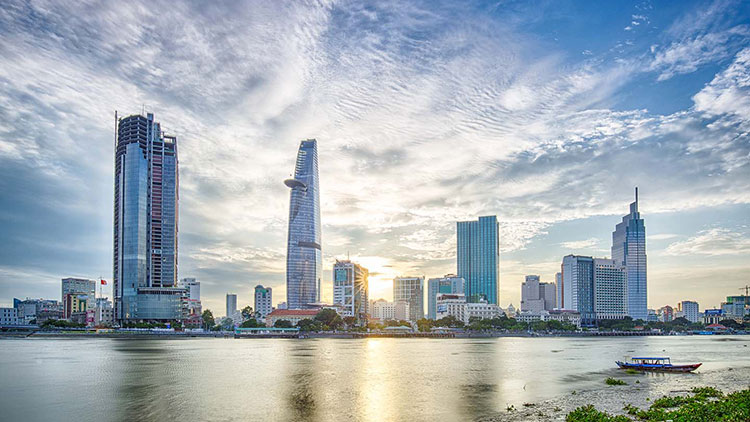 Vietnam is without a doubt one of the cheapest countries in the world. And Ho Chi Minh city, an incredibly vibrant city sitting on the southern tip of Vietnam, is just as affordable.
With roughly $60 a day, you can travel like a king in the largest city of Vietnam. Then imagine how much fun you can experience on a full-week trip to Saigon. From accommodation, transportation, to delicious food and fun-filled activities, everything simply couldn't be more budget-friendly. 
Buckle up, get your Vietnam visa on arrival and unravel how cheap Ho Chi Minh city is.
Ho Chi Minh city accommodation cost
You'll be shocked by how inexpensive hostels and hotels can be in Ho Chi Minh city. If you are not into luxury, there are endless options for shoestring budget accommodations.
The average cost for budget shelters ranges from $7- $15 per night. Here's a breakdown of dirt-cheap Saigon's accommodation.
Hostel prices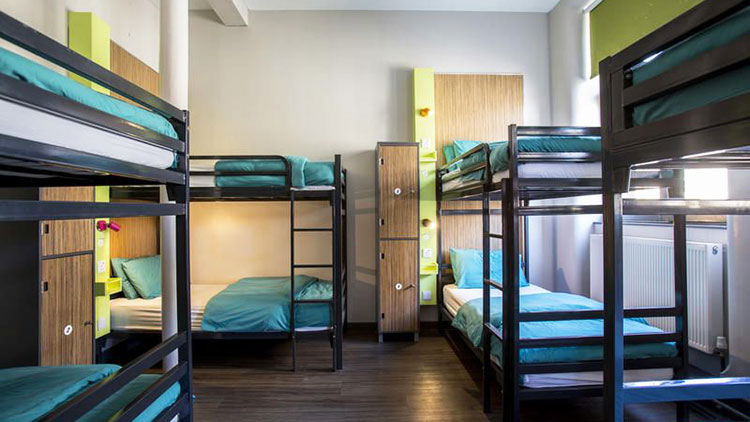 There are tons of cheap hostels in the city. Generally, a night in a room with 4-8 people stands around $7 to $12. You can opt for private rooms that run you from 20 bucks for better comfort. Most of the budget hostels offer free wifi and breakfast. 
Check out some of these low-cost but cool hostels to stay: 
1. The Dorm Saigon
Address: 63 Dong Du Street, District. 1, Ho Chi Minh city
Price: $11/night
2. The Hideout Hostel Saigon
Address: 275-279 Pham Ngu Lao Street, District 1, Ho Chi Minh City
Price: $12/night
3. Language Exchange Hostel
Address: 399/43/5 Nguyen Dinh Chieu street, District. 3, Ho Chi Minh City
Price: $7/night
4. Kha Hostel & Cafe
Address: Alley 261, Tran Hung Dao street, District. 1, Ho Chi Minh City
Price: $13/night
Budget hotel prices
Low-priced hotels can be found anywhere in Ho Chi Minh. Hotel prices tend to stay consistent all year despite different seasons. Typical 3-star hotels will only cost you from $12 to $25 with a flat-screen TV, free wifi, free coffee – all included. Highly recommend that you go for the hotels in the city center, District. 1, to immerse in the lit nightlife vibe. 
Here's a list of Ho Chi Minh's must-stay budget hotels:
1. Blue River Hotel
Address: 283/2C Pham Ngu Lao Street, District. 1, Ho Chi Minh city
Price: $17-20/night
2. Tripwriter Hotel & Bistro
Address: 185/28 Pham Ngu Lao Street, District. 1, Ho Chi Minh city
Price: $20/night
3. Chillbox Saigon
Address: 61A, Nguyen Trai Street, District. 1, Ho Chi Minh city
Price: $11/night
4. Cozy House 140
Address: 140 Cong Quynh Street, District. 1, Ho Chi Minh city
Price: $17/night
5. Sunrise Central Hotel
Address: 137 Ly Tu Trong Street, District. 1, Ho Chi Minh city
Price: $14/night
Ho Chi Minh city transportation cost
You have settled down in a budget-friendly accommodation, it is time to explore around. Getting around Ho Chi Minh city is super cheap and easy, which generally costs you $7 to $11 per day. Aim for these 3 cheapest means of transportation.
Bus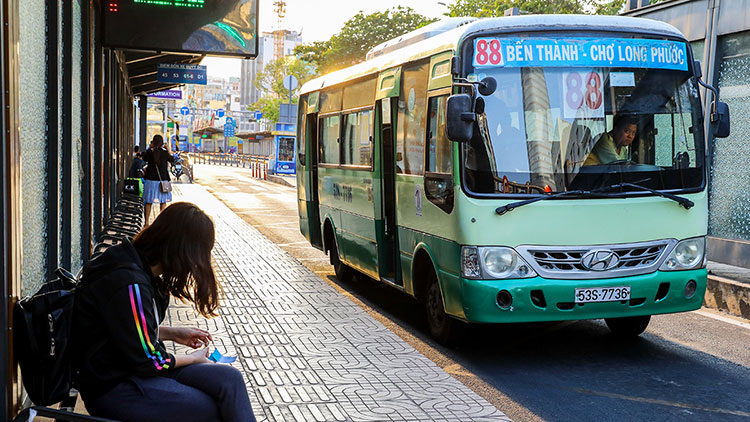 Taking a bus is the most affordable way to reach every remarkable highlight of the city. With over 100 bus routes, the fare starts at VND 5,000 ($0.22) for an under 15km (9.3 miles) journey. Remember that you need to pay in cash when hopping on the bus.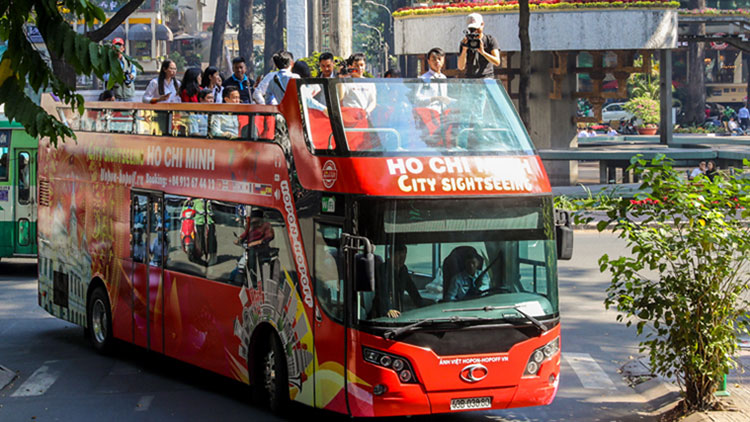 Note that buses are suitable for long-distance travel only. And you might not want to miss a delightful trip around the city center's best attraction on an open-top Hop On Hop Off bus with free wifi starting from $7 only.
Motorcycle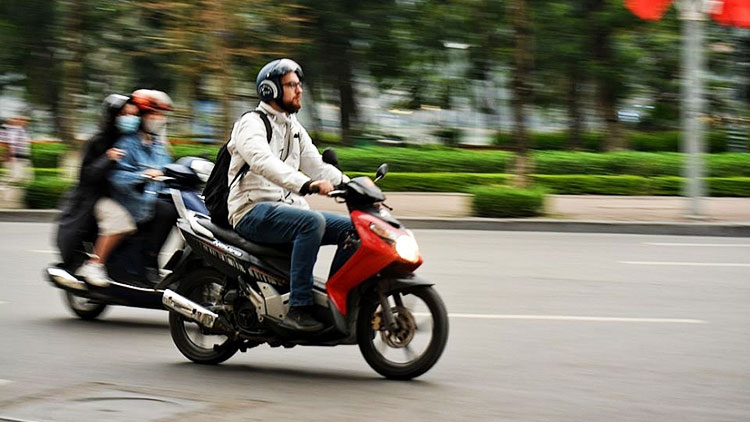 Are you a big fan of driving by yourself to discover the city? A motorbike is the best option. You can rent a bike for just $5 to $6 per day and drive to anywhere you want. You are only required to have a driving license. 
Grab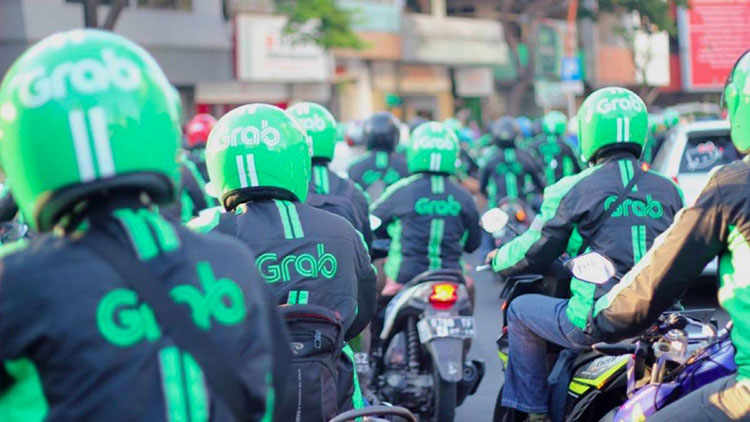 One of the must-know Vietnam travel tips is to book a Grab that whisks you off to anywhere in the city for your best convenience.
Grab is the Uber of Vietnam and it is way more affordable than a taxi. Download the Grab app, and hire a local to take you on a delightful trip to the War Museum for example. The fare is VND 12,000 ($0.5) for the first 2 km(1.2 miles), then adding VND 3,400 ($0.15) for each next kilometer.
Ho Chi Minh city food cost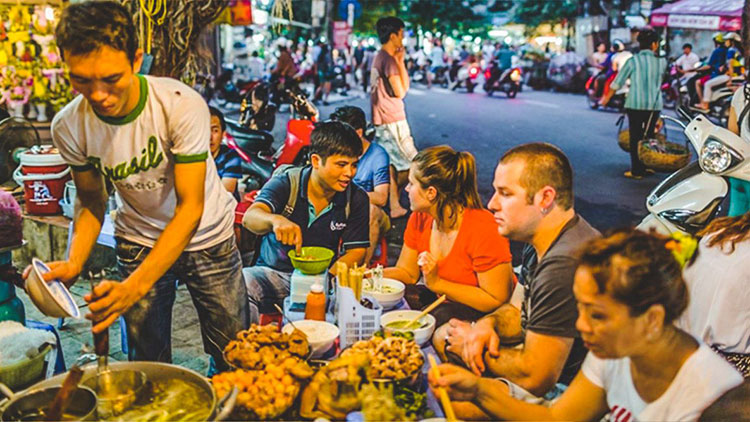 Cooking meals while traveling can save you a few bucks. But why waste time cooking your own meals when Ho Chi Minh city offers a diversity of affordable scrumptious Vietnamese dishes. We guarantee the food is too tasty to miss. And you only have to spend around $5 to $10 a day to feed your tummy. 
Delicious street food for under $1
One of the best things to do in Vietnam's biggest city is reveling in street food. At any corner, you will find plenty of tiny stalls with plastic stools placed around serving hard-to-resist local delicacies to feast all day.
With just one dollar, blast off for these mouth-watering Saigonese food that will satisfy your protesting hunger:
Banh Mi – Vietnamese baguette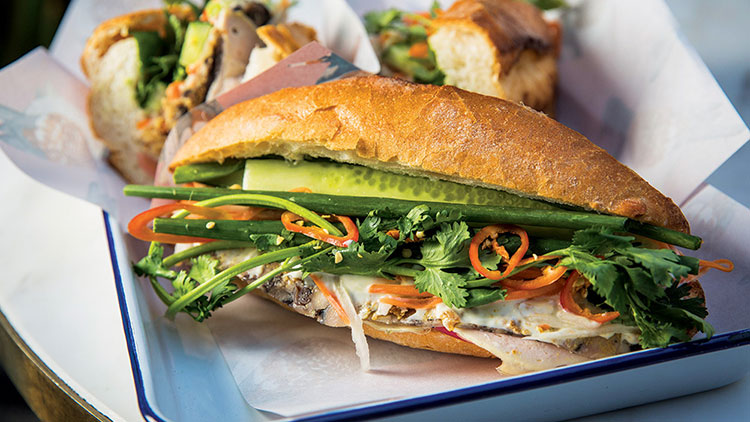 Why does Banh Mi sound oddly familiar? Yes, you have heard and seen it in countless world-famous food magazines.
If you haven't tried the crispy Vietnamese baguette, you haven't truly immersed in Vietnamese cuisine. Words can barely describe the taste and the vitalness of Banh Mi to Vietnamese people. Starting from VND 10,000 ($0.45), you can splurge on the king of Vietnamese cuisine that has traveled far and deep to continents around the world. 
Goi Cuon – Vietnamese spring rolls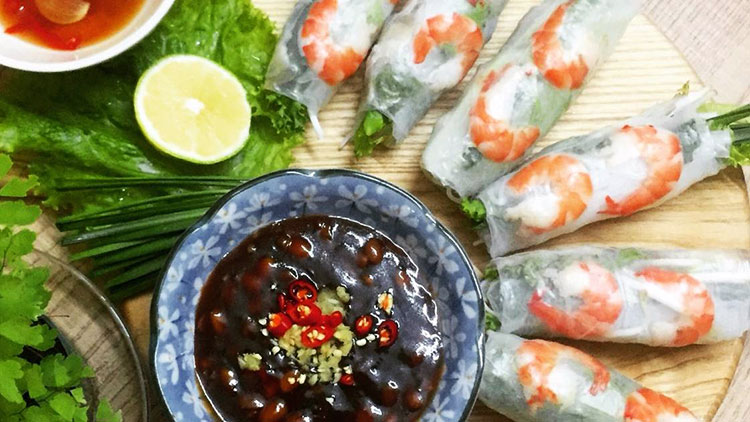 Renowned as a simple delicacy made from fresh ingredients, Vietnamese spring rolls are subtle street offerings to take on in Saigon.
The rolls are greens, slices of pork, shrimps, and vermicelli noodles wrapped in thin rice paper. Dip them in the rich hoisin-based sauce topped with crushed peanuts, you will feel a deep savory flavor assaulting your taste buds.
And guess what? One decent Vietnamese spring roll only costs you VND 5,000 ($0.22). 
Bap Xao – stir fried corn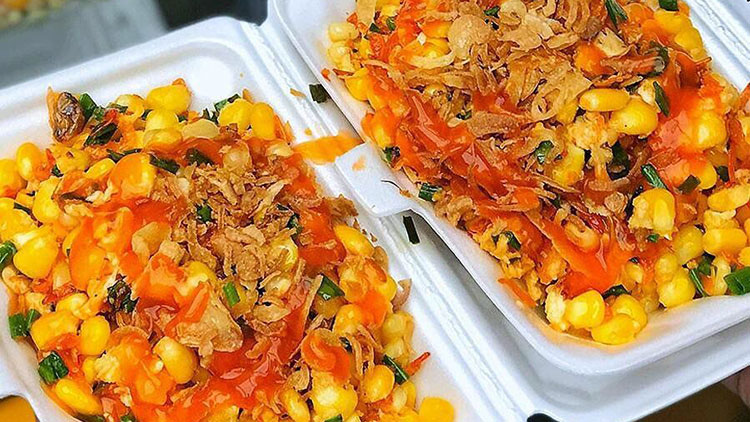 Bap Xao, another extremely simple dish for under $1 widely loved not only by Saigonese but also tourists. Stir-fried corn attracts diners by its pleasant fatty flavor of corn fried with butter, dried shrimp, and a little greens. Bap Xao clearly shows how creative Vietnamese can get with extremely simple ingredients. 
Bot Chien – fried rice flour cake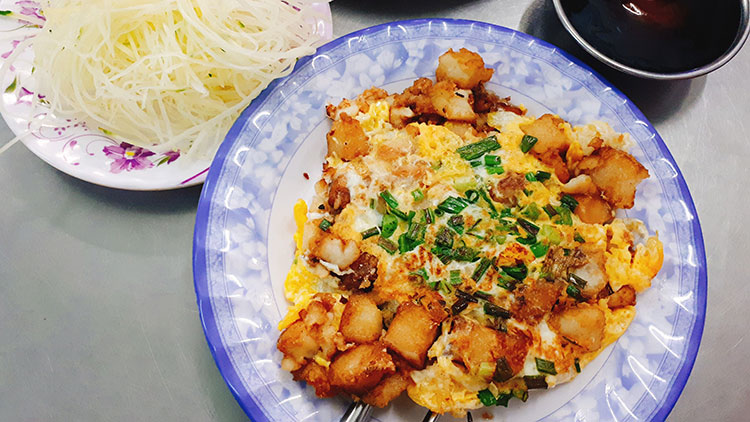 It is not hard to find mini stalls selling Bot Chien – one of the most loved street foods by Saigonese originated from Chinese cuisine. It features little cubes of rice flour fried till golden brown, then eggs, scallions, and local seasoning are added in. 
The smell is delightful. And the flour rice tastes extra crispy and chewy. Take out nearly $1 (VND 20,000) and you will be dazzled by the fun texture of fried rice flour cake that results in an explosive flavor in your mouth.
Pha Lau – offal stew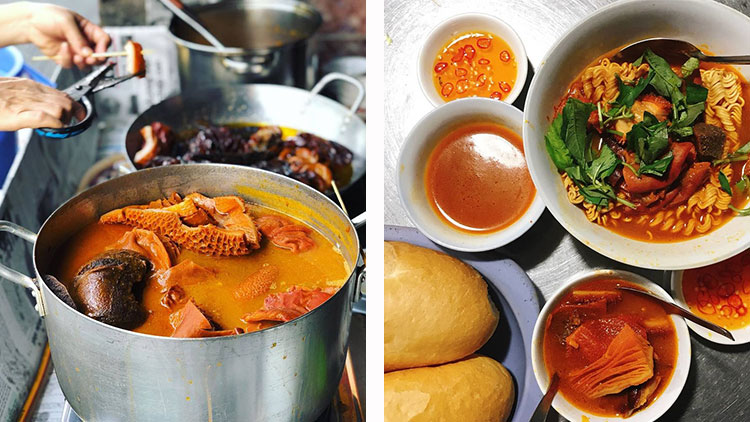 Are you tempted by something exotic? The streets of Saigon will introduce you to Vietnamese offal stew, one of the most renowned Vietnamese weird food. 
The exotic dish features animal intestines from cows, ducks, or pigs cooked in extra rich and creamy orange broth. A dollar in exchange for a huge bowl of nice-looking and delicious offal stew with crunchy baguettes to dip in is worth every single penny.
Banh Trang Tron – mixed rice paper salad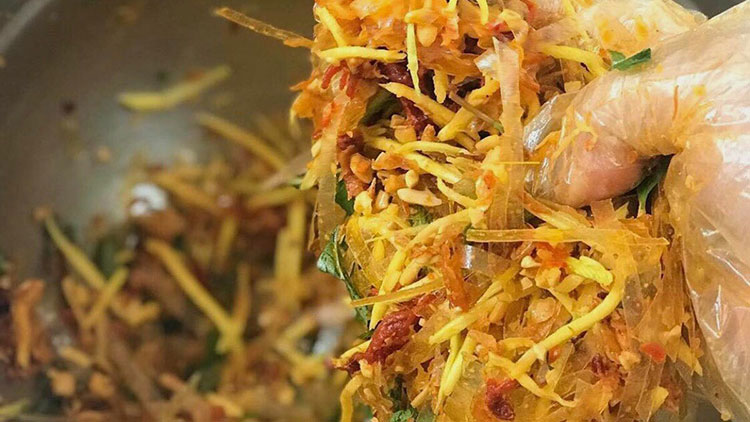 Not mentioning Banh Trang Tron in the list of Saigon's 1$ street snacks is a huge mistake. Mixed rice paper salad comprises rice paper, sliced mango, dried shrimp, boiled quail eggs, and herbs seasoned with salt, chili, and lime juice. Sour, sweet, spicy, and salty flavors – all mingle in one extraordinary treat. For street food lovers, that's heaven on a plate.
Chuoi Nep Nuong – grilled banana sticky rice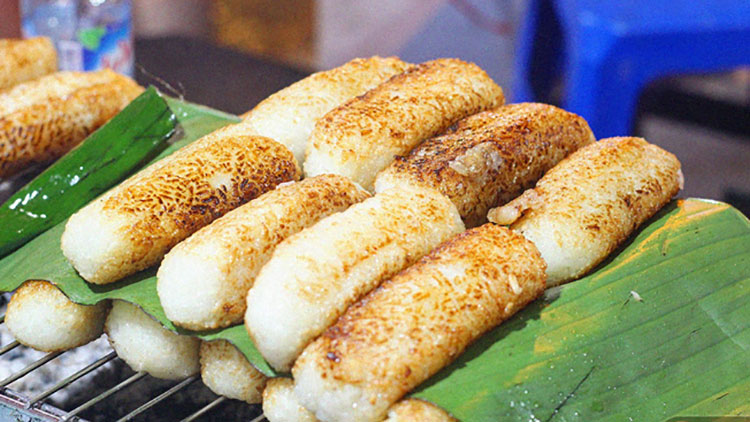 Chuoi Nep Nuong will change everything you know about bananas. 
Saigonese never ceases to amaze foodies worldwide with their limitless creativity in desserts. Give them some fresh bananas, sticky rice, and coconut milk – they will blow your mind away with an out-of-this-world twist sweet treat. 
A decent portion of Chuoi Nep Nuong is only from VND 17,000 ($0.73). Grilled banana sticky rice is arguably the most fascinating sweet treat you will ever have in Vietnam.
Ca Phe Sua Da – Vietnamese iced coffee with condensed milk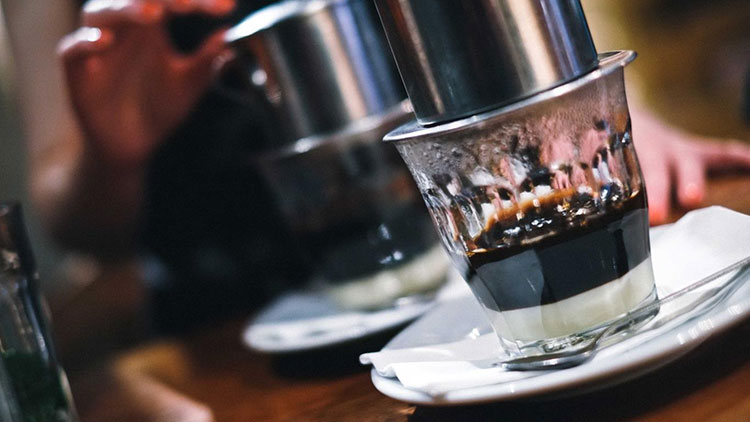 You can try any mouth-watering street food, but you will deeply regret forgetting to taste Vietnamese iced coffee with condensed milk in Saigon.
Ca Phe Sua Da is famed for its thick, heavy brews sweetened with condensed milk. Unlike the majority of the world, Vietnamese enjoy sipping a cup of Ca Phe Sua Da made from Robusta bean, which boasts a sharper taste and higher caffeine content. It is an extraordinary specialty that will dazzle every coffee addict around the world trying it for the first time.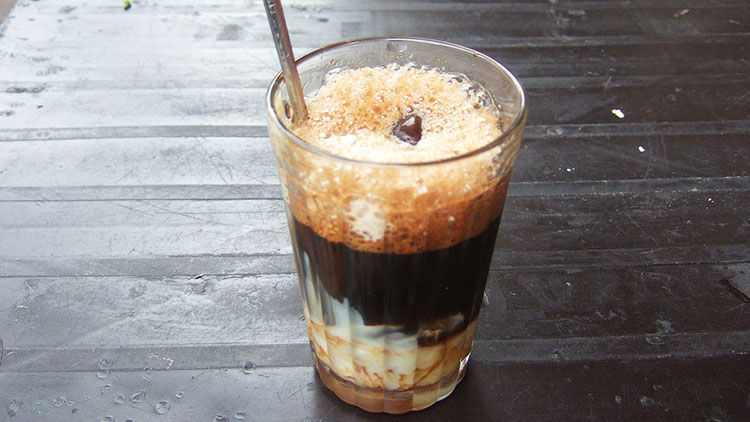 To truly immerse yourself in the Vietnamese coffee culture, you must drink it the Vietnamese way. It is simple. Just sit on benches at a park and sip delicious cold-brewed coffee mixed with rich condensed milk with your fellows. It is a perfect refreshment from the sun-baked heat that only costs VND 10,000 (0.45$). 
Ho Chi Minh city shopping cost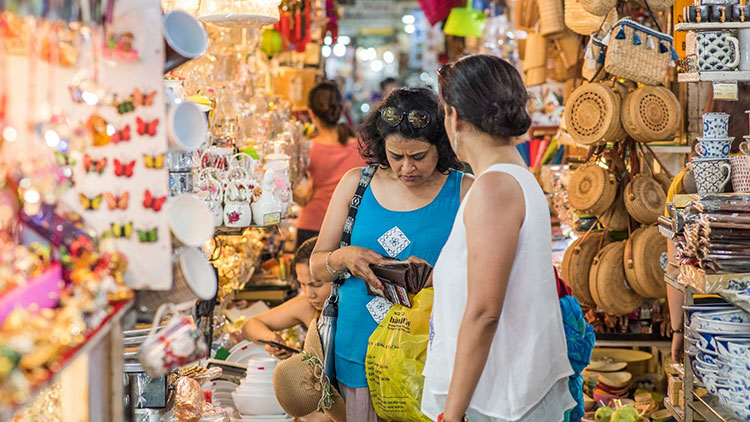 From giant shopping malls to various markets scattered across Ho Chi Minh city, you will be overwhelmed by endless cool things to splurge on.
To have a great local experience, why not take your wallets out for niche items such as fascinating souvenirs, local handicrafts, and unique pieces of art. Check out Ben Thanh market, An Dong market, or Dong Khoi street to bring some beautiful pieces of Saigon memory back home.
Depending on how many items you purchase, the shopping cost varies at nearly $30 a day. A soft reminder that when shopping in Vietnam, your bargaining skills will come in handy. So practice it well before you make any purchase in the S-shaped country.
Ho Chi Minh city leisure activities cost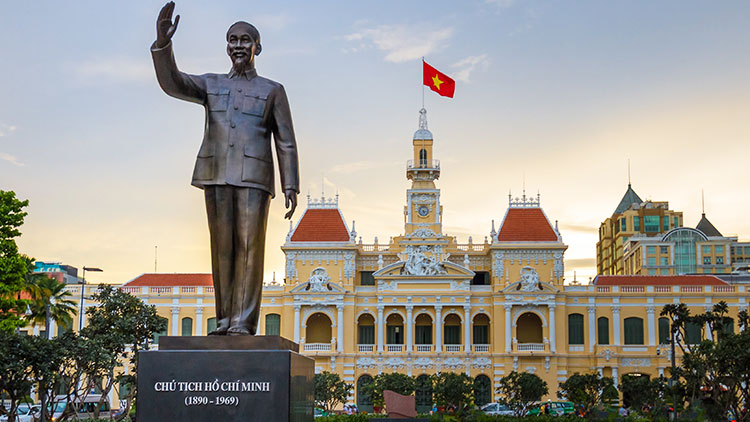 You have found a comfy budget place to rest at night and enjoyed insanely cheap but tasty street treats, the final piece of a perfect Saigon getaway are fun-filled activities.
Ho Chi Minh city has an irrepressible soul and entrepreneurial energy that hums day and night. The largest city of Vietnam never lacks things to explore. And they are super budget-friendly. 
Party at Bui Vien street (from 0.5$)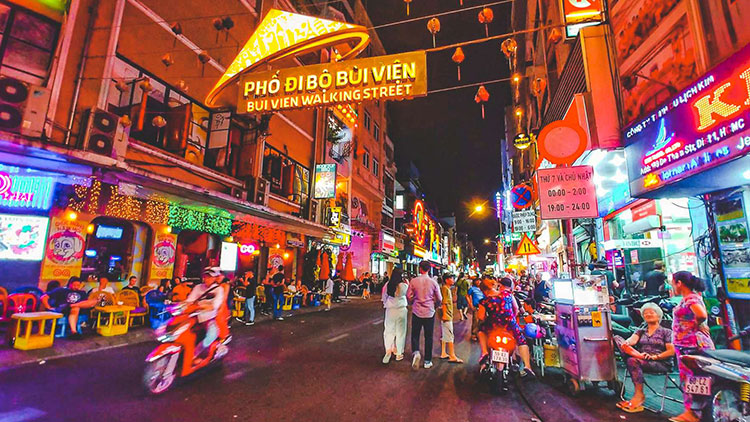 You can never have a complete Saigon experience without immersing in the lavishing nightlife at Bui Vien street. It is renowned as Saigon's most popping party street offering countless nightclubs, bars, and pubs. 
Bui Vien street never sleeps and so do the party souls gathering there for an up-all-night party. From $0.5, you can notoriously drink all night long and rock your body till the sun rises.
Take a tour at Ho Chi Minh City Museum ($1.5)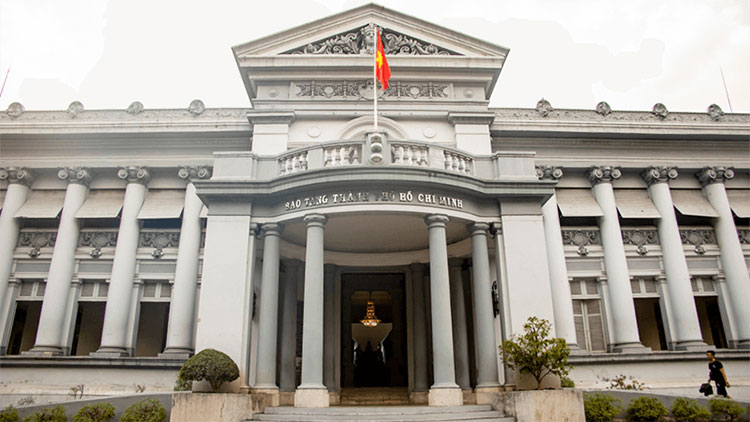 Take a tour at Ho Chi Minh City Museum (also known as Gia Long palace). It offers a marvelous insight into the way the city has changed over the years. The ticket price is just $1.5 and it is free for children, this might be the cheapest museum to visit.
Travel back to Vietnam history at the War Remnants Museum ($2)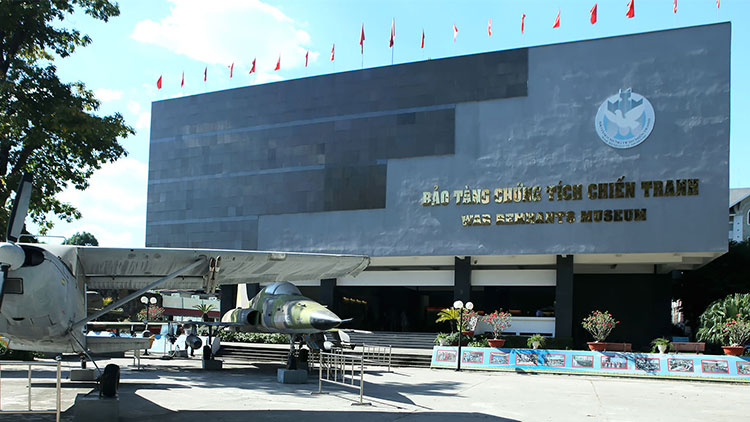 The powerful War Remnants Museum travels further back to Vietnam history. It is a shocking display of the brutal Vietnam War far from being forgotten. 
Costing VND 40,000 ($1.7) for the entrance fee, the War Remnants Museum is a must-visit site to better understand one of the most controversial conflicts in the 20th century. You will find massive tanks, helicopters with rocket launchers, and photos capturing the brutality of drastic war. As a confronting reminder of the horrors of war, the museum may touch your feelings deeply. 
Explore the Independence Palace ($2.8)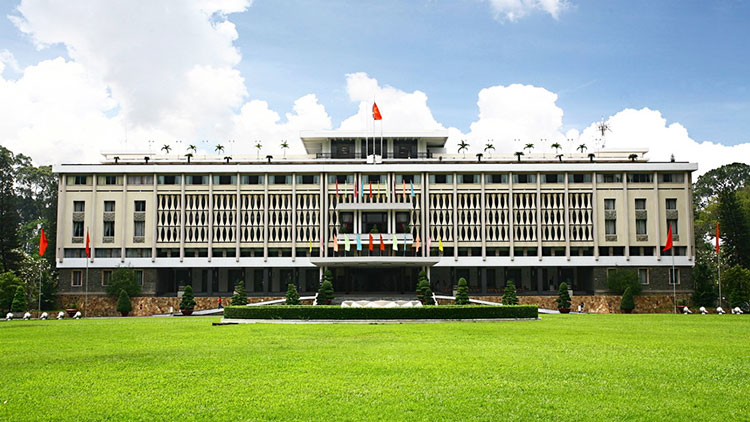 An iconic attraction of Ho Chi Minh city not to miss is the Independence Palace, another symbol from the dark days of Vietnam. The palace dates back to when the North Vietnamese tank crashed through its gates in 1975 which signaled the end of the world's first televised war. 
With the ticket price at VND 65,000 ($2.8), you can get to the palace's rooftop from which the last evacuation took place. And don't forget to drop by the telecommunications room which has remained untouched since that fateful day.
Watch over Ho Chi Minh at the Bitexco Tower ($10)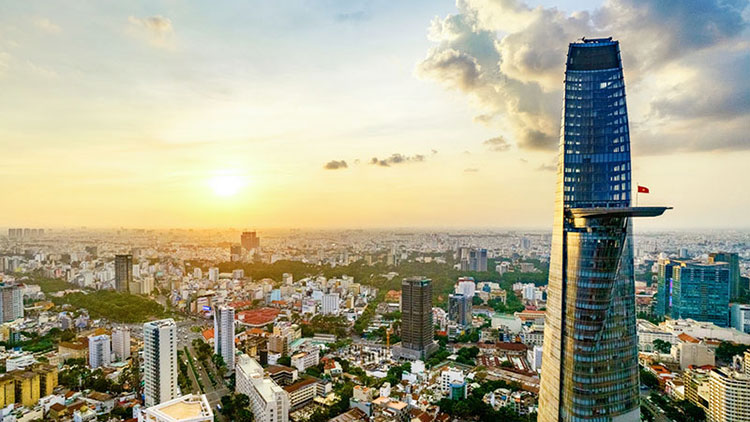 It is a crime not to take a trip up the modern symbol of Ho Chi Minh city, the 68 stories Bitexco Tower. 
Escape the heat of Vietnam and enjoy 360-degree views from the ultra-modern Saigon Skydeck is exhilarating, seriously. Compared to the attractions above, this place is the most expensive to visit since it costs $10 per adult, but it is still really inexpensive for a fantastic panoramic view of the vast Southern Vietnam city. 
Have a look at Saigon Central Post Office ($0)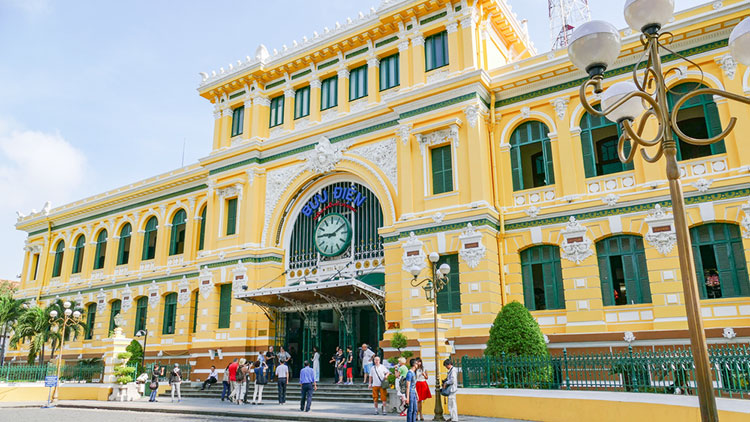 One of the city's most grateful pieces of architecture, the Saigon Central Post Office that is still in operation today, is worth checking out. It is completely free to tour around the oldest post office in Vietnam. 
Crawl Cu Chi tunnels ($1.5)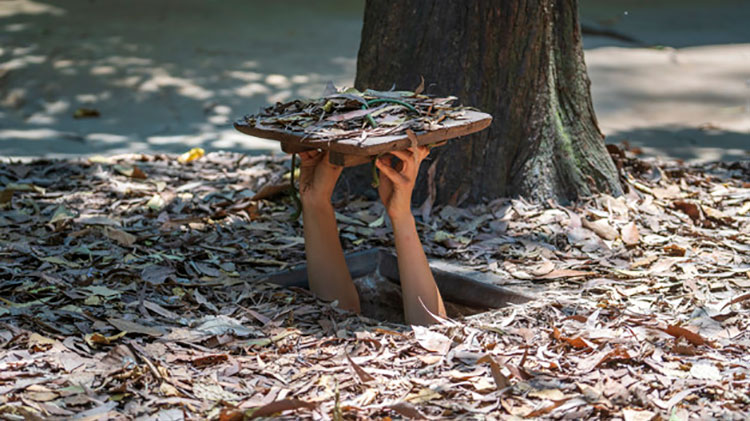 Ho Chi Minh isn't just the city of excitement, it is full of history. And there is no better place in Saigon to unfold what it's like to be a Vietnamese veteran than Cu Chi Tunnels. 
It is a remarkable piece of Vietnam's glorious history. Evidence shows that it wasn't until 1946 that the Vietnamese soldiers began to build Cu Chi Tunnels to hide from drastic bombing and store weapons during the Vietnam War. 
What is there to see at Cu Chi Tunnels? You will get to crawl into the vast complex secret tunnel system. The whole experience can be summed up as crawling through 20 years of war in Saigon. The ticket price for a half-day tour is only VND 35,000 ($1.5) for adults, which is why this is one of the most-visited historic wonders of Vietnam. 
Make your way to Saigon now
You won't run out of things to experience in Ho Chi Minh city. And the best part is almost all of its enthralling activities are so inexpensive. Anyone can have an epic Saigon trip for one week on a thin budget. Without a doubt, the largest city of Vietnam sends a clear message that seeking unbridled joy does not cost you a fortune.