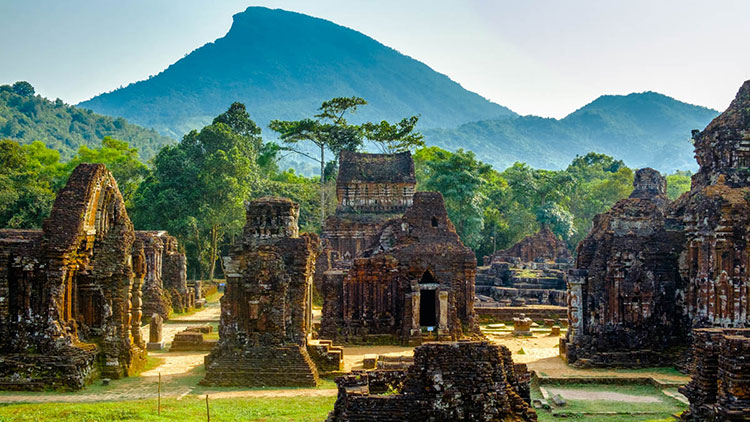 Discovering the unknown – is what all thrill-seekers seek after at every destination they set foot to. It could be wandering at an abandoned hundred of years old building in the middle of nowhere. It could be listening to an inexplicable story passed on through generations from local folks.  
The beautiful country of Vietnam is like a book of mysterious wonders with endless pages waiting to be uncovered. Not only famed for oddly delicious cuisine and charming nature, but Vietnam also offers a diversity of exclusive cultural activities and attractions that captivate any travel enthusiast's curiosity. 
And Mỹ Sơn sanctuary, one of the most phenomenal cultural clusters in Vietnam, is the best place to kick start your Vietnam cultural exploration. It is said that Mỹ Sơn is the only remnant of a forgotten ancient culture surrounded by gorgeous nature. Visited by thousands of travelers every year, you simply can't miss it. Let's buckle up and explore the timeless beauty of Mỹ Sơn with Visa2Asia!
My Son Sanctuary – the origin of Champa culture
Started from the Champa glorious era…
To truly embrace the cultural values of Mỹ Sơn, you must know the story behind the most iconic echo of a once flourishing empire in Vietnam territory, the Champa. 
Champa is an ancient country that used to independently exist through the period from 192 to 1832. The Champa people, or the Chams, migrated to mainland Southeast Asia from Borneo, the largest island of Asia, around the time of the Sa Huynh culture, an ancient South Central Vietnam culture that flourished from 1000 BC to 200 AD and founded the Champa kingdom. 
Originating from the Sa Huynh culture, Champa's art, culture, and society were then vastly influenced by Hinduism culture during the kingdom's blooming. When the kingdom was first founded, the Cham nobles acquired and applied the Indian theocratic system to build up the theocracy for their kingship. The Cham people mainly followed Hinduism worshiped Hindu gods such as the Boram, Visnu, and Shiva, and adopted Mahayana Buddhism as well. The Chams also created an indigenized form of Hinduism called Balamon.
Champa's heyday began in the 4th century. Acquiring the geographical advantage, the Chams dominated all the major ports in Central Vietnam, allowing them to create a vast trading network with foreign nations. At that time, Champa took control of the gold, ivory, rare woods, and spice maritime trade in the South China Sea, between India, the Indonesian archipelago, and China. As the kingdom's economy surged, the Chams were able to bolster naval force remarkably. With dominant naval power, Champa engaged in piracy and raiding to build more wealth.  
During this prosperous time, kings of the dynasties of Champa chose the valley at Mỹ Sơn as a religious ceremony site, as well as a burial place for the Chams royals and national heroes. Many erect red brick Hindu temples were built in Mỹ Sơn, created the classic Hinduism beauty of Mỹ Sơn today.   
…To the crippling fall of a kingdom
When something reaches its peak, it will fall. The Chams glorious era did not last long.
In the history of any country, social conflicts have always been an important concern in the organizational structure of a nation. Every factor, whether intentionally or unintentionally, can push the people into conflict and enmity. It will leave an extremely harmful effect on the social structure. And all social conflicts are the triggers leading a civilization to go on the path of destruction.
Champa is one of the iconic examples in the history of humanity showing how social conflicts can terminate a whole nation. During Champa's golden time, severe conflicts arose between the nobles, classes, and religions. Clashes between Champa royal families had weakened the kingdom's society and military defense significantly. 
Conflicts did not just occur within Champa, but also with other empires such as Khmer and Vietnamese ancestors. Especially, the intense dispute between the Chams and Vietnamese regarding Champa's northern border for hundreds of years had eventually provoked the Vietnamese-Cham war.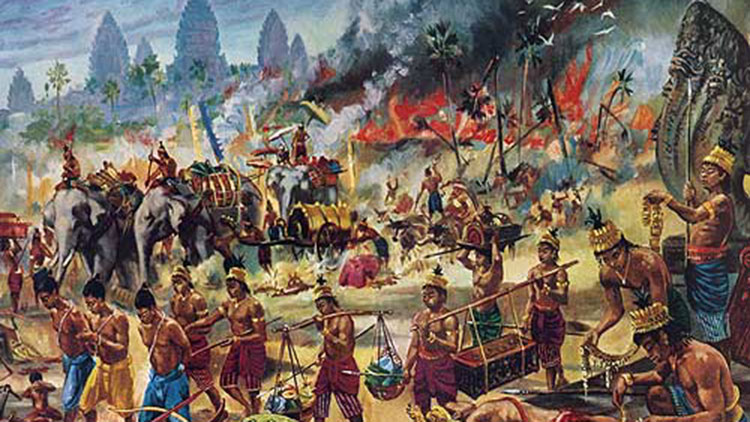 The inevitable collapse of Champa began with the first milestone in 944 when the Khmer invaded Champa's major religious area Kauthara (where Nha Trang is located today). In 950, a group of ferocious Khmer soldiers sabotaged the Po Nagar tower and stole the statue of Po Inu Nagar goddess, the most sacred Hindu symbol of the Chams. It marked the first-ever major defeat of the Champa people.
Weakened from the inside along with no army advance, the Chams were no match with the ancient Vietnamese mighty force following the first loss. After over 700 years of cruel war for territory expansion to the South in the early 10th century, the Vietnamese annexed the entire Champa territory running from Quang Binh province to the border with Bien Hoa in 1471. 
The rest of Champa's territory was divided into small areas and continued to be gradually annexed by Nguyen lords. By 1832, the entire kingdom was officially annexed to Vietnam under the reign of Minh Mang emperor, putting an end to a civilization's history. 
The fall of Champa left only a series of sculptures and architectural relics scattered in the central region till today. Mỹ Sơn is by far considered the foremost Hindu temple complexes and Champa cultural heritages in Asia.
My Son sanctuary today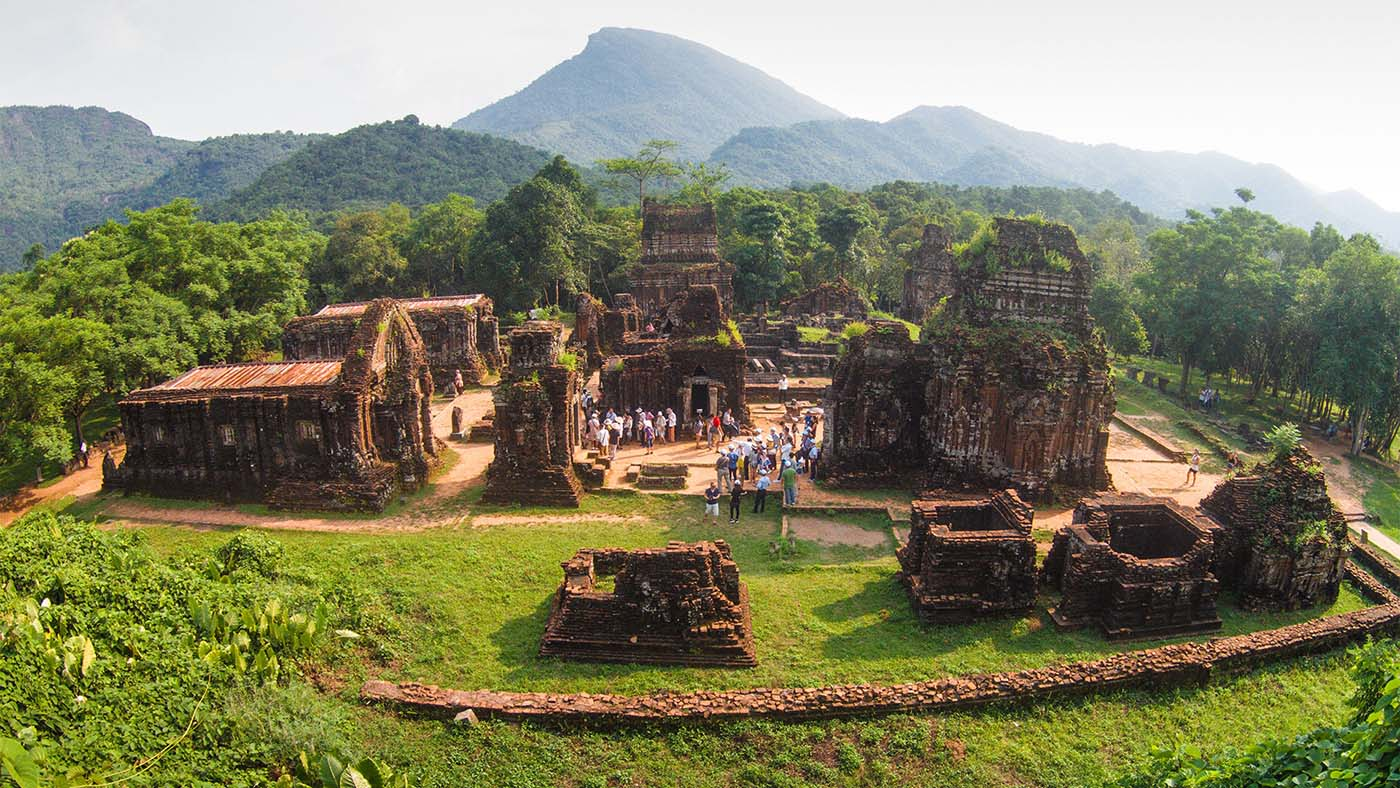 Despite countless dire battles throughout thousands of years of Vietnam history, the last residue of Champa somehow beat the erosion of time and lasted till the present.  
Mỹ Sơn is now located in Quang Nam province in the central region of Vietnam, over 69km (42.8 miles) southwest from Da Nang. The exemplary cluster of Champa culture is recognized as a world heritage site by UNESCO, certified in 1999. 
The cultural landmark is home to more than 70 temples and monuments. Each bears many sculptural architectural styles representing each historical period of the Champa kingdom. Many of the temples were partially ruined, though, Mỹ Sơn boasts serenity and novel beauty from the temple's tender red tone that cultural lovers crave for. 
Best things you can't miss in My Son Sanctuary
Surrounded by the rainforest scenery, Mỹ Sơn showcases the harmonious fusion of natural beauty, mysterious architecture, and religious elements. Let's unveil the best experience you will get when visiting Mỹ Sơn.  
Admire the marvelous architecture of My Son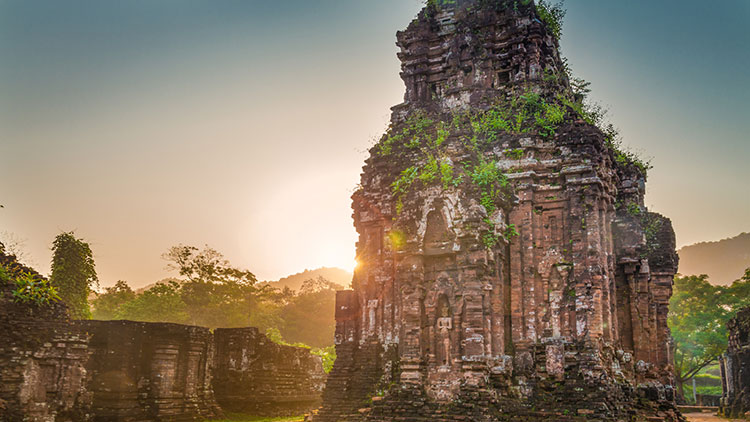 The temples and monuments in Mỹ Sơn are true masterpieces of Hindu architectural art.
Picture exploring the opulence from the lost ancient Cham culture in a charming view of the sunset. It would be a feeling that no words can describe. Not only art and architecture enthusiasts will get the most out of this experience, but travelers will also observe a brand new insight into a part of Vietnamese culture. The temple's unique design highlighting the culture of Champa will take you on a trip back to the time of a once prosperous civilization.
Revel in My Son cultural performances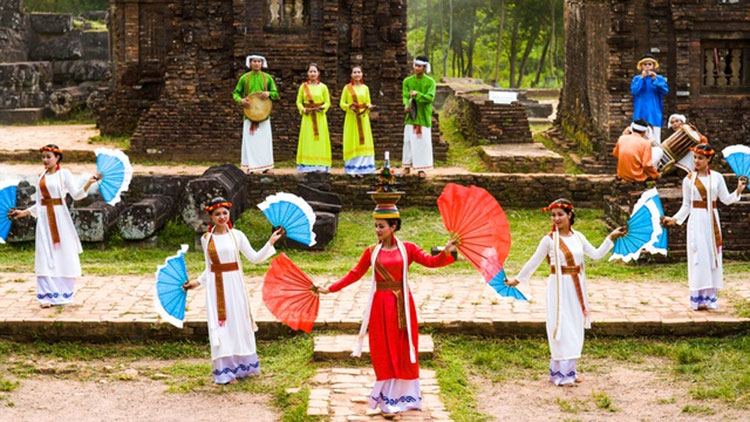 Love local performances? 
Besides spectacular architectural art and dreamy nature, you will also have the opportunity to revel in the graceful traditional Chams dances, yet full of mystery and charm. Dances are performed daily in the afternoon.
From the Cham's iconic Shiva and Aspara dances crystallized from the hundreds of years ago ancient culture, to joyful fan dance and water dance. Each dance has its own uniqueness, creating a glimmering and fanciful Champa cultural space. Enjoying the local dancer's flexibility and attractiveness under folk music in a sacred space is quite an awe-inspiring experience. 
Experience the glimmering Kate festival of the Chams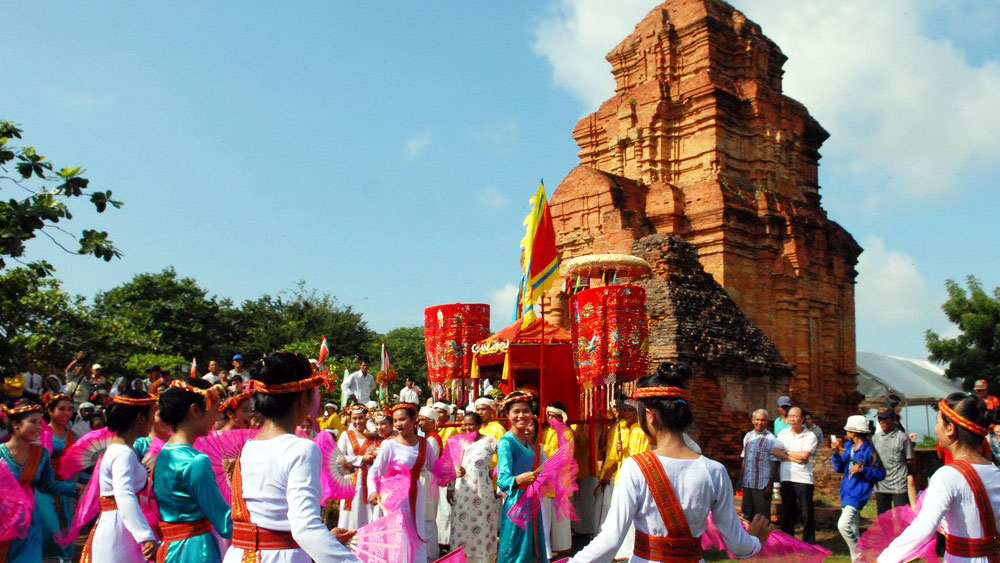 Kate festival, or Mbang Kate, is celebrated by the modern Cham people for 3 consecutive days in early October. It is the most important event of the Chams to commemorate their heroes as well as the loss of families. This festival is also the biggest gathering of the locals to share the joy and wish one another fortune in the future. 
You will witness an astounding mixture of colors from various traditional outfits worn by the locals. You will be dazzled by the symphonic traditional songs and passionate dances. Catch the miraculous Kate festival to relive the surreal Chams atmosphere from thousands of years ago.
Feast on scrumptious delicacies of Vietnam South Central cuisine
Vietnamese cuisine is famous for offering some of the best oddly delicious dishes. And when touring Mỹ Sơn, don't forget to take a bite of these iconic Vietnamese traditional delicacies that will surely tickle your taste buds.  
Mì Quảng – Vietnam Central cuisine's elite noodle dish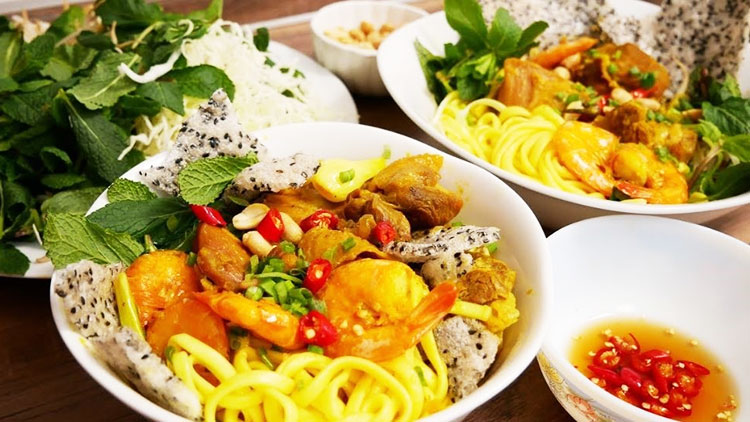 Anyone who has tried Mì Quảng (Quang noodles) will never forget its unique taste.
It is a popular traditional dish originated from Quang Nam province with little influence from Chinese cuisine. 
The broth of the traditional bowl of Mì Quảng is simply cooked shrimp and pork belly. The soft and supple yellow or white noodles are made from the best rice grains. Mi Quang is eaten with fresh vegetables such as bean sprouts, lettuce, and split-top spinach. Some little red chilies and crispy rice cakes for toppings make Quang noodles perfect. 
This nationally recognized delicacy has an incredibly bold taste that is appreciated as a top dish foreign travelers can not miss when touring Vietnam.
Be Thui Cau Mong – the best Vietnamese veal dish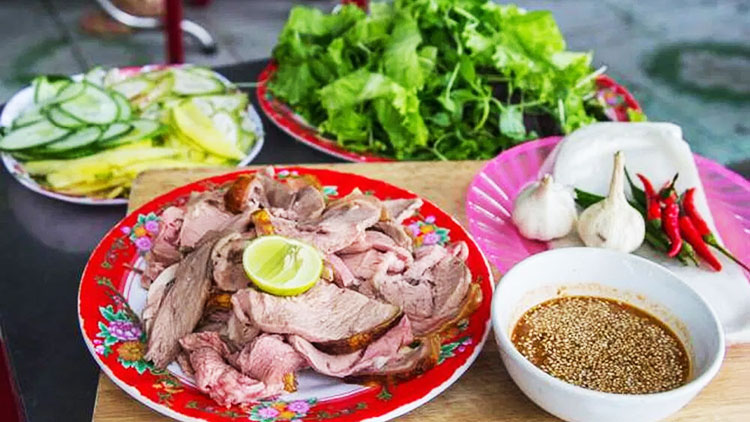 Be Thui Cau Mong – Cau Mong barbequed veal or Cau Mong rare veal is an infamous delicacy of Quang Nam. There are various versions of veal dishes available in many Vietnam regions, but Be Thui Cau Mong has a special taste that has made a reputation for many generations. 
What's special about this rare veal dish? The secret lies in the main ingredient. The chosen veals are young calves, weighing about 30 kg and are 100% grass-fed.
The art to singe a veal in Cau Mong style is almost an obscure secret. Somehow, the veal after fully cooked is splendidly tender on the inside but crispy on the outside. Thin slices of veal are served with rice paper, dipping sauce, and fresh veggies. 
The dipping sauce consists of a premium fish sauce made from whole anchovies, sesame, ginger, garlic, lemon, and chili. Put some slices of rare veal and vegetables on the rice paper, wrap and dip them into the fish sauce. The veal's sweetness and the moreish flavor of the dipping sauce – mingle together in one subtle dish will blow you away.
Banh Dap – a simple but fascinating dish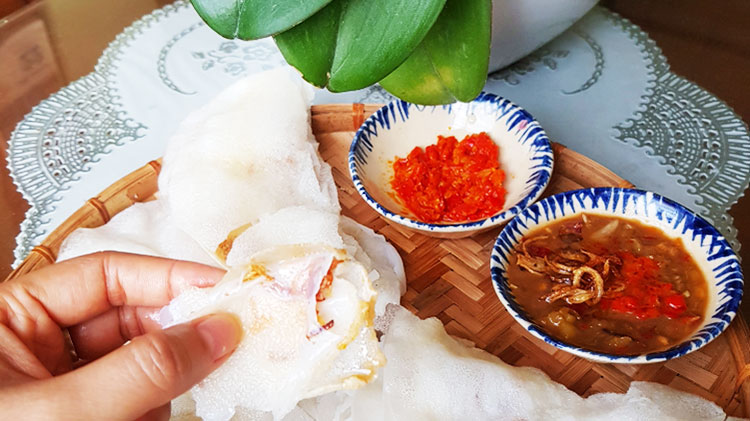 Banh Dap – or smashed rice paper, is a purely simple yet wonderful dish loved by all locals from the young to the elderly.
Banh Dap is made of two pieces of rice paper – the crispy rice paper and the soft wet rice paper. The two pieces are joined together. The wet piece is topped with Vietnamese scallion and oil, green beans, and other ingredients depending on the region. 
Wonder why it is called smashed rice paper? The dish name comes from the way to enjoy it. You use your hands to smash the rice paper to pieces, which creates the funky crunch sounds, then simply dip the girdle cake into the anchovy fish sauce and taste the crispy and glutinous flavor. What an interesting dish!
Travel tips for your best My Son experience
When to visit My Son
Quang Nam only has the dry season (February to August) and the rainy season (September to December). The ideal time to get the most out of your Mỹ Sơn exploration is from February to August. The weather in the dry season is very hot, so you should prepare sunscreen and a thin jacket in case the heat gets intense.
Another tip: The best time to visit the site is in the afternoon when tourists are gone; you can catch the soothing sunset that elevates the spiritual allure of Mỹ Sơn. 
How to get to My Son
To venture My Son, you first need to fly to Vietnam, which requires you to obtain a Vietnam visa on arrival. When you successfully enter Vietnam, here is how you can get to My Son.
From Da Nang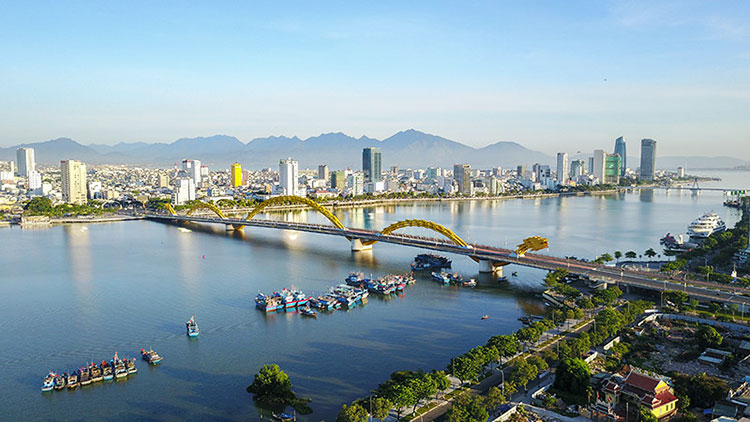 The majority of Mỹ Sơn visitors depart from Da Nang, the closest major city to the cultural site. Da Nang is identified as the tourism hot-spot of Central Vietnam. To fly to Da Nang, you need to have a valid Vietnam visa or Visa On Arrival (VOA). Visa2Asia will support you to get a Vietnam visa easily. Contact us NOW!
If you depart from Da Nang to travel to Mỹ Sơn, there are three ways:
Bus: You can take coach number 06 with a route from Da Nang to Mỹ Sơn. The bus departs from 5:30 to 17:00 daily and there is a trip every 30 minutes. Bus fare is about VND 8,000 – VND 30,000. Although it is much cheaper, the bus takes a longer time compared to other means of transport. 
Motorbike: Mỹ Sơn Sanctuary is about 69km from Da Nang. You can rent a motorbike to get there on an over 1-hour trip. Traveling by motorcycle will give you more flexibility in terms of time, and you can get to enjoy the pretty view on your way. You will need a valid driving license to rent a motorbike.
Taxi: Taking a cab to Mỹ Sơn is fast and convenient, but the price is much more expensive than the other two vehicles.
From Hoi An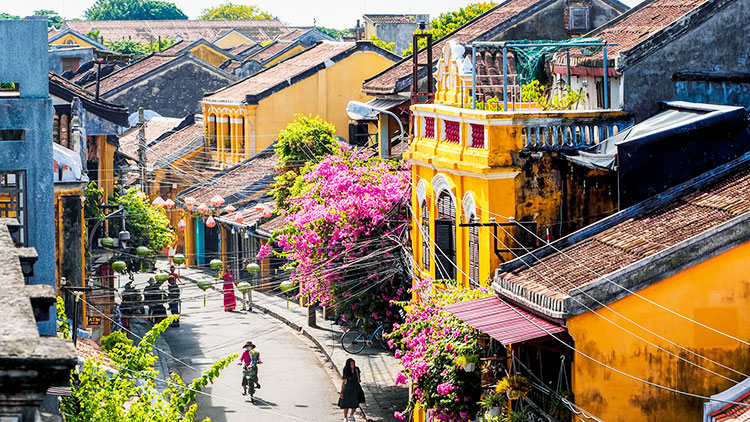 Hoi An, an exceptionally well-preserved UNESCO World Heritage Site, is roughly 43km from Mỹ Sơn. It would be beyond fantastic to stroll the infamous historical Old Town Hoi An, then make your way to My Son. To get to the cultural attraction from Hoi An, you have several options:
Motorbike: Hire a motorbike and drive yourself to Mỹ Sơn in about 40 minutes. 
Motorbike taxi: If you are not confident driving by yourself, take a round trip motorbike taxi which costs only USD 10. 
Tour bus: Tour buses leave from 5:00 to 9:00 daily. The fare is very low from USD 3 – 5, not including the entrance fee of My Son. 
Taxi: Just hop on a cab and the driver will drive you to Mỹ Sơn. Fast and convenient, however, taking a taxi is more expensive than other means of transport.
Where to stay
Accommodation services in Mỹ Sơn have not yet been developed. You can rent hotels and motels in other areas nearby depending on your budget. Here are a few budget-friendly suggestions for you:
Le Domaine de Tam Hai Hotel: Tam Hai Commune, Tam Ky, Quang Nam. 

Muong Thanh Hotel: No. 351, Xuan An Ward, Tam Ky, Quang Nam.

Le Dung Hotel: No. 32 Tran Phu Street, Tam Ky, Tam Ky, Quang Nam. 

Atlas Hoi An Hotel: No. 30 Dao Duy Tu, Cam Pho, Hoi An.
How much is the entrance fee?
Mỹ Sơn is open from 6:30 to 17:00 on all days, including holidays and New Year. The fee is VND 150,000 (USD 6.45).
What's the dress code when visiting My Son?
Generally, foreigners who have never been to Mỹ Sơn may assume a formal dress code is required to visit this religious sacred ground. 
But in fact, there is no dress code at all. You can come to the relic wearing anything you are comfortable with, from T-shirts, crop tops to shorts and mini dresses. Remember to wear your best outfit combination for some mesmerizing Mỹ Sơn photos.
Interesting facts you may not know about My Son Sanctuary
My Son was first discovered by the French
In 1885, the Mỹ Sơn relic was discovered by a group of French soldiers after being forgotten for hundreds of years. In 1898 two French researchers, L. Finot and L. de Lajonquière, and architect and archaeologist H. Parmentier went to the historical ground to study Cham's art of architecture and sculpture. From 1903 to 1904, the most basic documents about the inscription and the architectural art of Mỹ Sơn were officially announced by L. Finot.
My Son is the world's only proof of the lost Champa civilization
In December 1999, at the 23rd session of the World Heritage Committee held in Marrakesh (Morocco), Mỹ Sơn sanctuary was selected by UNESCO as one of the World Cultural Heritages and the only piece of evidence of a vanished Asian civilization.
The temples at My Son were all built facing the sunrise
According to research, it seems that a mandatory rule when the Chams build the temples. Regardless of position, on the top of a hill or flat land, the main door of the temple tower must face the East to catch the morning sun. According to the Chams culture, the sun is a symbol of the source of life that Shiva brings to the people and nature. 
Currently, due to geographical factors, there are 5 clusters of towers that are deviated from the original position. 
My Son is all yours to discover
Our relentless thirst for knowledge always pushes us to venture into some of the most remote places to uncover the myths lasting through mankind's history. In every country lies mystical destinations waiting to be found, and Vietnam with Mỹ Sơn is not an exception. No words can describe the limitless cultural values Mỹ Sơn inherited from the ancient Chams.
Isn't it ecstatic to immerse yourself in the world one-and-only evidence of a vanished Asian culture? The Chams relic is here to stay in Vietnam and would last forevermore. Embark on an adventure to Mỹ Sơn, you will be awed by what is in front of you.