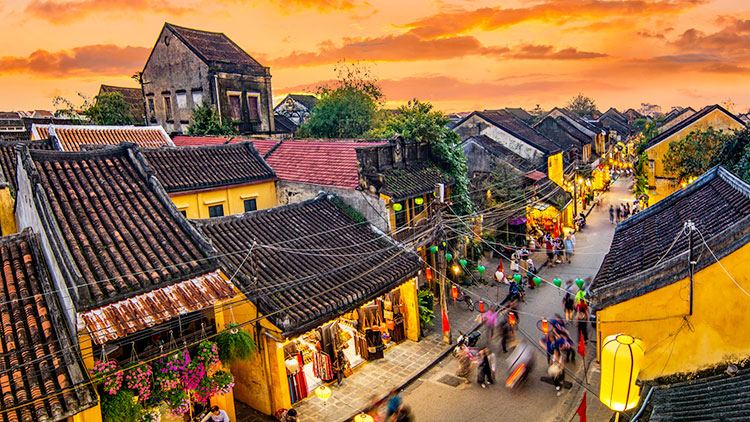 Modern life keeps people stuck in the non-stop hustle and bustle cycle, where smartphones dominate life, and free time is something too fancy. Perhaps, all we crave sometimes is simply a getaway from the pressure of life even just for a while. 
In Vietnam, where street food dominates and breathtaking natural attractions feature on the world's travel map, there is a destination that lets all the stress in your life melt away. It is Hoi An ancient town, where charming traditional architecture, appetizing cuisine, and timeless cultural value – all mingle in one place.
A glance at Hoi An
Hoi An is so pretty. Sometimes, it's too beautiful to be real. It can not be missed when you travel to Vietnam.
Situated in Quang Nam province, the archaic town is  30 kilometers (18.6 miles) from Da Nang, a large and developed city famed for tourism. With the beautiful Hoai river flowing through the old town center, the pride of Vietnam has earned its reputation for over 20 years as a world cultural heritage site certified by UNESCO.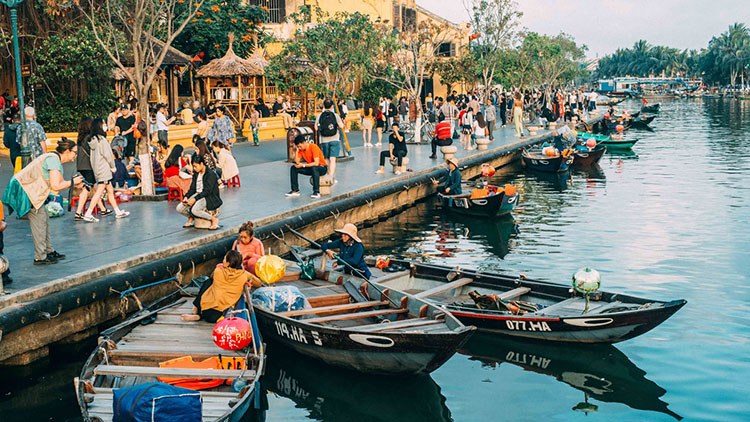 The name Hoi An translates to "peaceful gathering place".  During its prominent time between the 16th and 17th centuries, the town was a major trading center in Southeast Asia. At that time, Chinese, Japanese, and later European merchants living in the ancient town created a mixture of cultures that couldn't be seen anywhere else.
With a unique fusion of different architecture from Chinese temples, Japanese-style constructions, to yellow-toned French colonial buildings, Hoi
An is one of Vietnam's most-loved destinations. Not to mention its local culinary art – yum!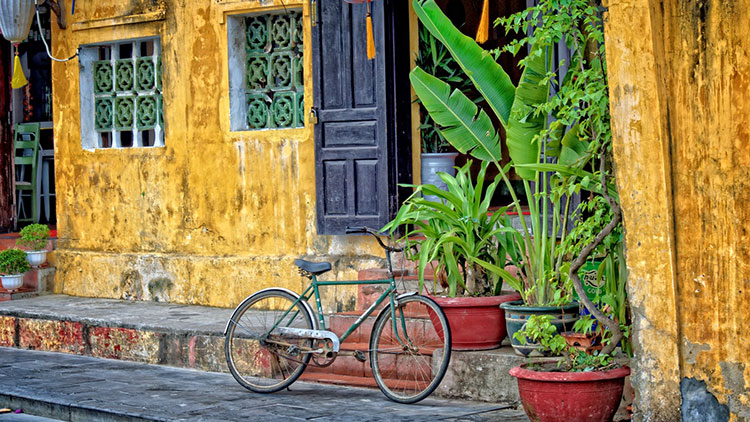 To reach the archaic town, you can go by plane, couch, or train to Da Nang. Then, take a 30-minute bus to the historic town. Don't forget to apply for a Vietnam visa on arrival before you land in Vietnam for your best convenience. 
Unlike Northern Vietnam where the climate boasts four seasons in a day, Hoi An weather has 2 distinct seasons: the dry season (February to August) and the rainy season (September to January). Make your way to the lantern town from February to April to enjoy your best vacation in the alluring town.
There is something about Hoi An – a quaint, antique town that is perfect for strolling, shopping, and dining. Wandering the hundred-year-old home of enchanting lantern-lit streets to escape the hustling life is something amazing to check off your bucket list!
Must-do things in Hoi An
Wander around Hoi An ancient town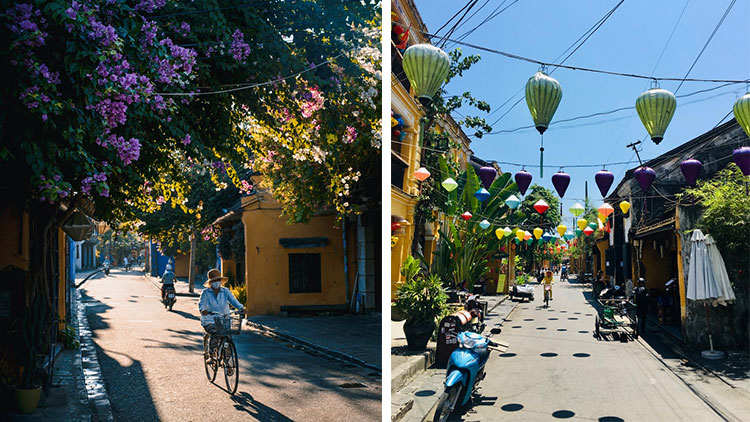 Right at your first step to Hoi An, it will leave an unfaded first impression with a yellow-toned labyrinth of houses and pagodas. The lantern town has such an oddly blissful charm no one can resist.
Spending a long stroll on the old town road where traditional golden buildings stand side-by-side creates a heavenly nostalgic feeling. Despite being a little touristy sometimes, you can't help but immediately fall heads over heels for the most photogenic town of Vietnam.
Cross the Japanese covered bridge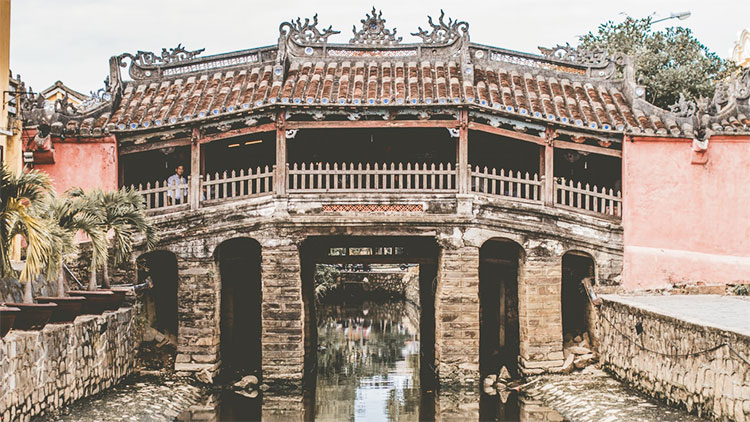 Wandering in the antiquated town, you will easily spot groups of tourists gathering at the gem of Hoi An. It's the Japanese covered bridge, also known as Pagoda Bridge. 
The well-preserved bridge crossing over the small Hoai river flowing through the old town looks eye-catching with its tornado design. It was built by a group of Japanese merchants in the 17th century. According to Japanese mythology, the bridge is considered as a sword stabbing down the back of the monster Namazu, a gigantic catfish, and preventing it from wagging its tail that caused large earthquakes.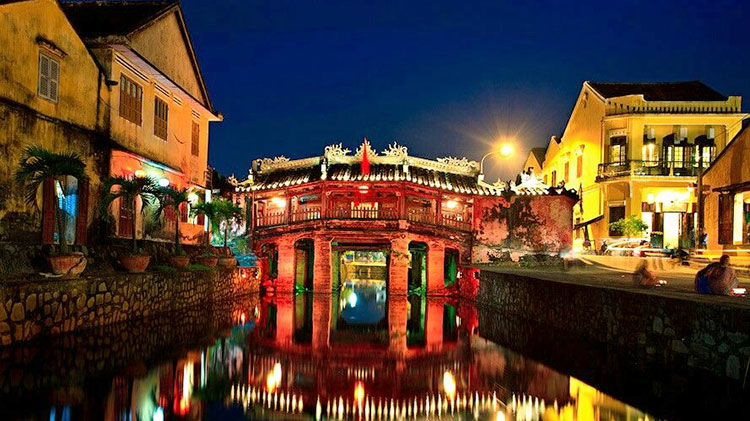 You'll be impressed by artistic sculptures featuring two dogs at the western end and two monkeys at the eastern end guarding the bridge. It is said these sculptures represent the building of the bridge timeline, which began in the year of the dog and finished in the year of the monkey according to the lunar calendar. 
The Pagoda Bridge is definitely worth checking out for some great snaps. 
Have dashing custom outfits tailored in a few hours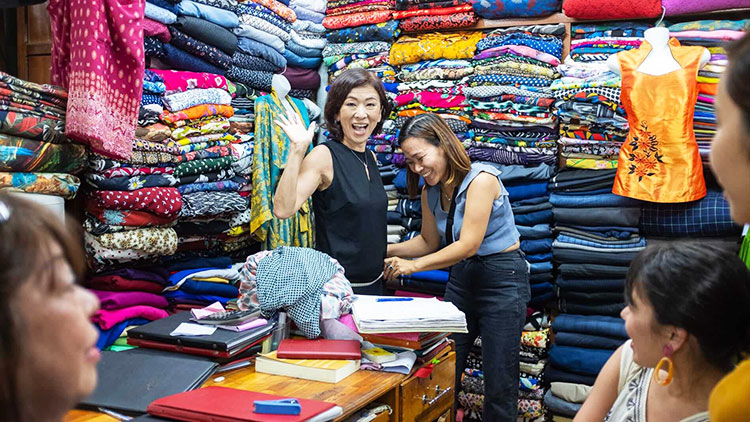 You can't have a full Hoi An experience if you don't splurge on your personalized garments made by the best Vietnamese tailors.
The Central Vietnam town has a fascinating tailor culture dating back to the early 18th century. The knowledge of tailoring is passed on through generations and it has become a family tradition. The quality of tailoring in the ancient city is so brilliant that it makes the ancient town among the best destinations for customized fashion in Asia.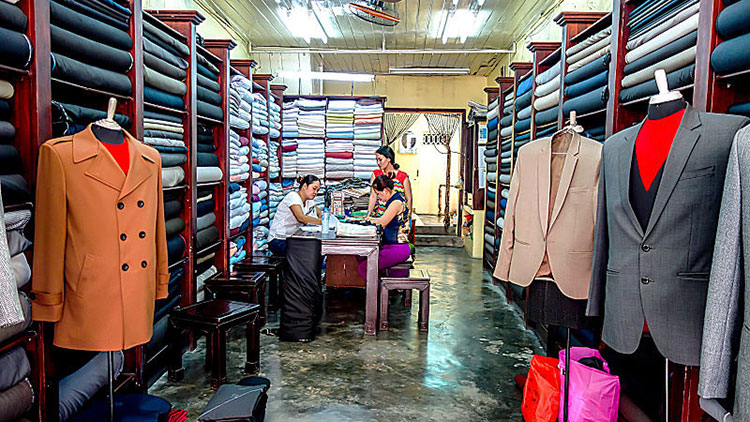 You will stumble on hundreds of local tailor stores that create top-notch quality custom Vietnamese-style clothing exactly like what you desire in just a few hours. From suits to ball gowns, blouses, cocktail dresses, and even wedding dresses, the old town's garment makers will turn you into a fabulous lady or gentlemen. 
Take notes of some tips to get the best custom outfit in Hoi An:
Set your budget:

the first thing you have to do is determine how much you want for a tailored outfit. Budget significantly determines how the tailor will create your garment. This helps you save incurred cost waste. 

Research on Hoi An tailor shops:

with over 200 tailor shops concentrated in the old town, remember to do your homework to figure out the store that best suits your needs.

Order early:

to get your perfect Hoi An piece of clothing, it's important to make your order early so that there is time for correction if an error arises. 
And some highly recommended tailor shop to check out:
Bảo Khánh silk – 101 Tran Hung Dao street, Minh An ward, Hoi An

Yaly silk –

358 Nguyen Duy Hieu street, Hoi An

B'lan silk –

23 Tran Phu street, Hoi An

Thu Thuy silk –

60 Le Loi street, Hoi An

Lana – 94 Le Loi street, Hoi An
Learn to create scrumptious Vietnamese dishes in beautiful nature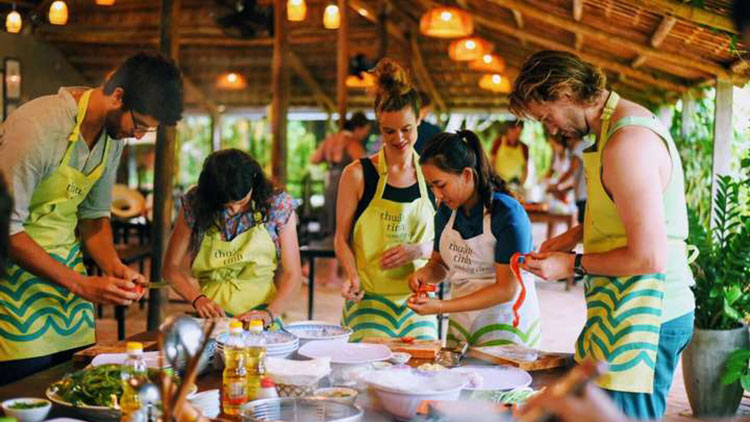 How can you get a taste of the real Hoi An? Taking part in a cooking class on Thuan Tinh Island.
Thuan Tinh Island cooking class is a unique experience to get to know Vietnamese cuisine as well as to enjoy the peaceful scenery of Central Vietnam. Through this class, you will have a closer look at Vietnamese culinary art and uncover the secrets to creating local masterpieces.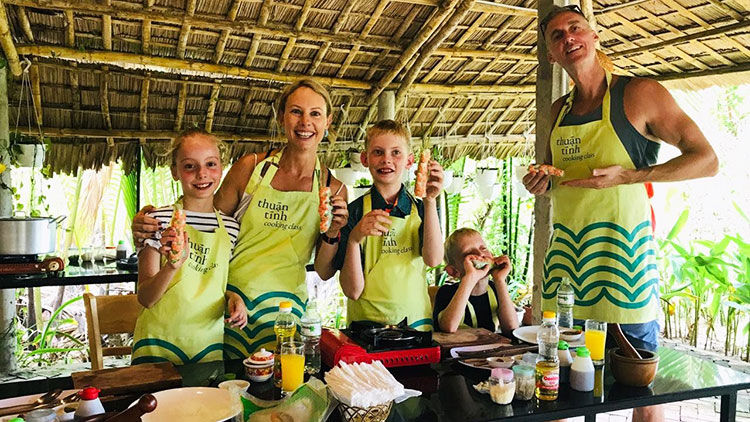 Firstly, the instructor teaches you how to choose and bargain for the freshest ingredients at the bustling central market to prepare for the cooking class.
After that, you will take a boat on the wavering river, crossing a refreshing coconut forest to reach Thuan Tinh Island. Then, the head chefs of Hoi An will guide you through each step to master some classic Vietnamese dishes namely Pho, Goi Cuon (Vietnamese spring rolls), and Banh Xeo (Vietnamese sizzling cake).
Reveling in delicious Vietnamese food created by your own hands in serene nature is such a rewarding moment.
Learn the art of lantern-making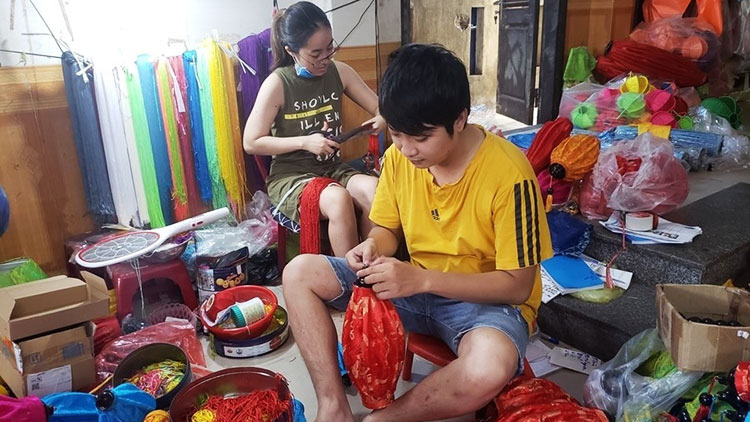 Roaming the old town means being surrounded by thousands of colorful lanterns at every corner. Do you wonder where the symbol of Hoi An is made? 
The lantern making dates back 400 years and is honored as one of the iconic traditional crafts of Vietnam. The old town is home to dozens of lantern crafting facilities creating thousands of those beautiful artworks that lit up the ancient town when night falls.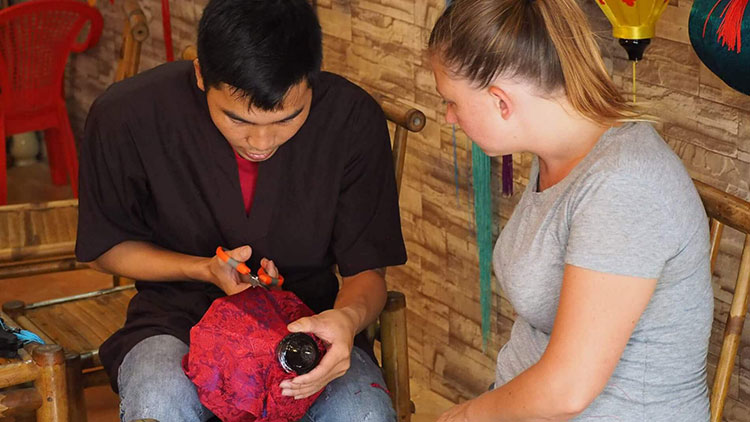 It would be interesting to stop by one of the facilities to witness the locals meticulously crafting the lanterns. The lantern-making process comprises two main steps: frame construction and fabric wrapping. All of the steps are sophisticated, which requires the craftsman to be extremely careful, delicate, and focused in each stage.  
Each lantern is a delightful creation of art carrying the soul and dedication of passionate lantern makers who always nurture the raw beauty of Hoi An.
Venture to Bay Mau coconut forest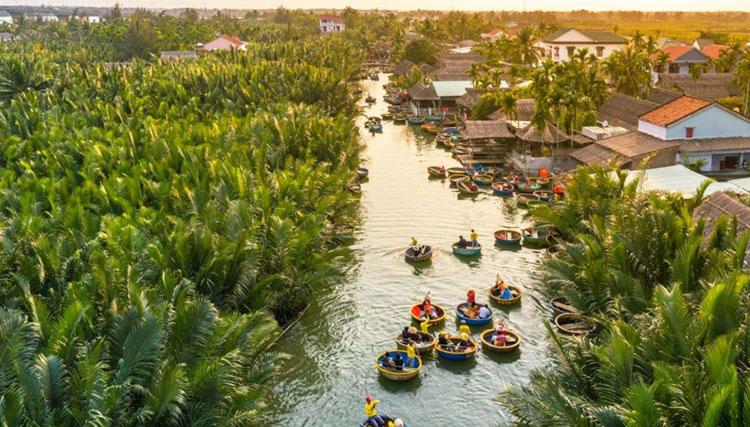 Hoi An has always been hot with many historical places, not to mention Bay Mau Coconut Forest, a place that you will definitely enjoy with beautiful landscape and wild activities.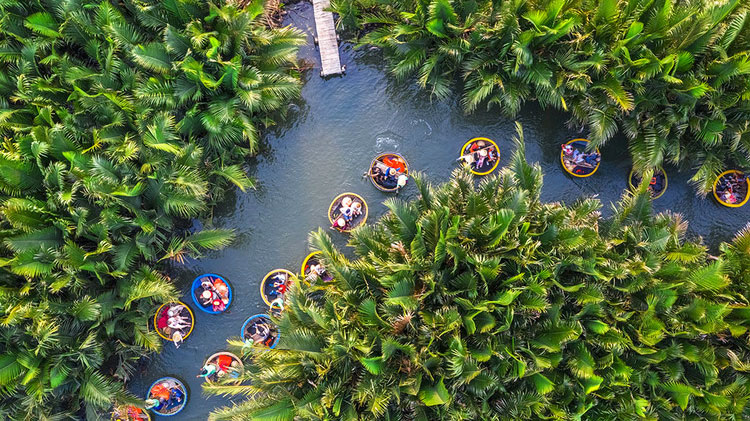 In the years of the war against the French colonialists and American imperialism, Bay Mau coconut forest was selected as a revolutionary base. It stood as a secure fortress facilitating the Vietnamese army to battle against the enemy with many glorious victories.
There is only one way to reach the coconut forest – basket boats. The coracles were born to serve fishermen but soon has become an iconic symbol of Vietnam. Experiencing the feeling of lightheadedness when floating in the river on a basket boat hovering slowly to the historic forest is mesmerizing.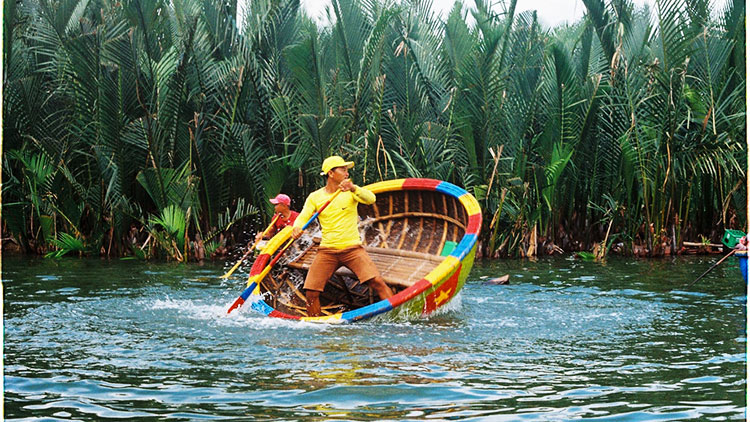 Apart from exploring the coconut forest, you will get to learn how to steer the basket boat, which is exhilarating. Steering the basket boat requires a unique set of skills. And the best part is you can get to learn how to steer these round boats with a wooden oar, which at times is challenging but also thrilling. 
Visit Mỹ Sơn Sanctuary from Hoi An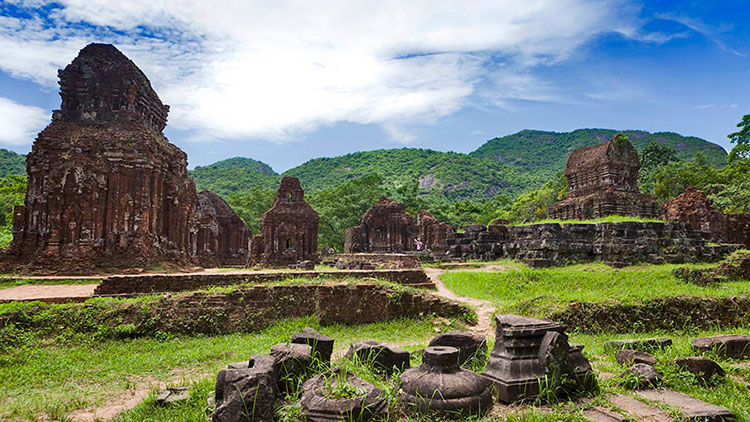 Once you have fully explored the lantern city, it's time to wrap up your Hoi An trip with a mystical attraction of a long-lost culture.  
It's Mỹ Sơn sanctuary, one of the most phenomenal cultural clusters in Vietnam since it is the only remnant of the forgotten Champa culture. The cultural site is amazing with exclusive Champa and Hindu architecture resembling temples and that gives you uncharted vibes like Lara Croft from Tomb Raider embarking on a thrilling venture. Uncover the unknown at Mỹ Sơn.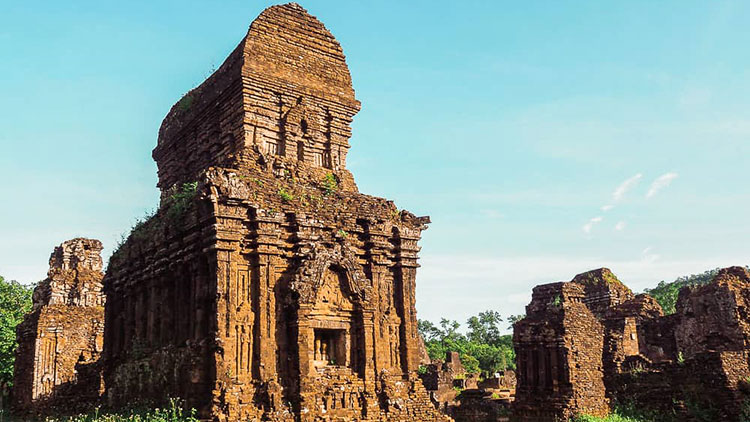 Note: Though Mỹ Sơn is a blessed world cultural heritage site, there is no dress code here. Feel free to wear anything you are comfortable with.
Nightlife in Hoi An is fantastic
Rewind the clock with Hoi An Memories night show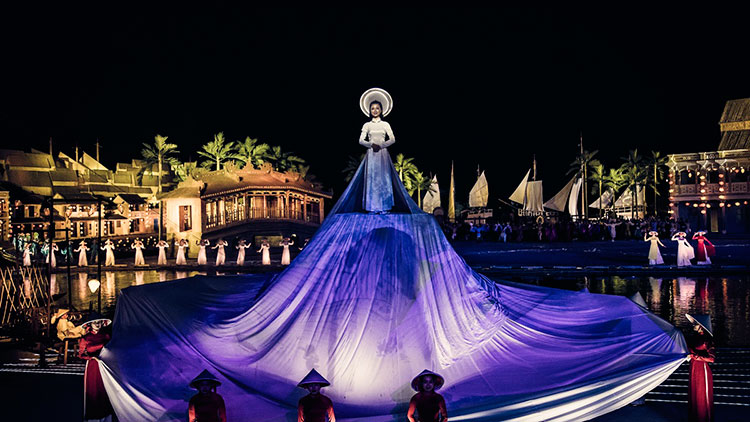 The archaic city's irresistible charm would urge you to wonder about the lantern town origin, culture… everything about it. Then you can not miss Hoi An Memories – a world-class outdoor show in Hoi An Impression theme park.
It is a 60-minute live-action show on the 400-year history and revolution of Hoi An, smashed two records: being Vietnam's biggest outdoor performance and having the largest number of performers in a daily show.
Incorporating the stage length up to more than 1km (0.6 miles), the most advanced lighting technology, and the enthusiastic performers, the audience will be caught up in each of the show's acts. The outdoor show comprises 5 parts:
Part 1 – Life:

The show begins by showing a big picture of the early life, customs, culture, and daily activities of the old town people thousand years ago. 

Part 2 – Wedding:

You will have a taste of the ancient royal wedding with Champa temples, traditional customs, and especially, the giant elephant as a symbol of royal weddings. This is a re-enactment of the wedding between princess Huyen Tran and the king of the ancient Champa kingdom. 

Part 3 – Lamps and sea:

A tragic legend of a couple torn apart from the pressure of making a living is sketched. The story tells a husband who left to sail far from home, leaving the wife desperately waiting for his return for so long. The fidelity in love that made them suffer the pain of extreme distance eventually turned the wife to stone.

Part 4 – Trading port:

This part features the busy Hoi An during the integration period. At this time, the old town opened its door welcoming merchants from different continents. The archaic town of the 17th century is the most beautiful Hoi An until today.

Part 5 – Ao Dai:

Last but not least, the show marks an epic ending with a stunning Ao Dai performance featuring the most beautiful angles of Hoi An.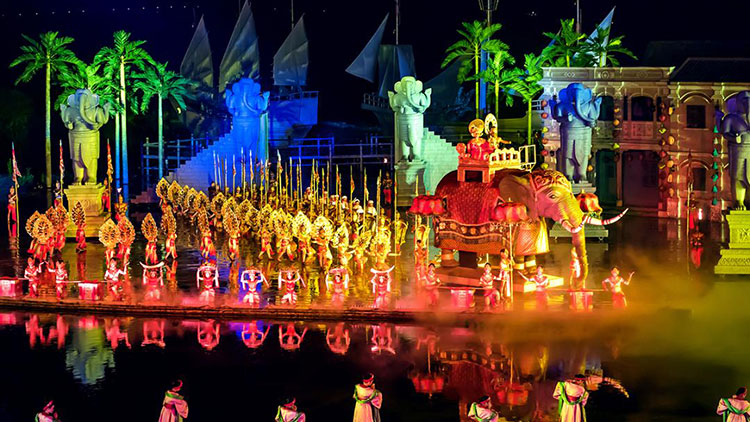 "Remarkable" and "sensational" are what all viewers expressed after watching the picturesque show Memories of Hoi An. Don't miss it!
Explore Hoi An night market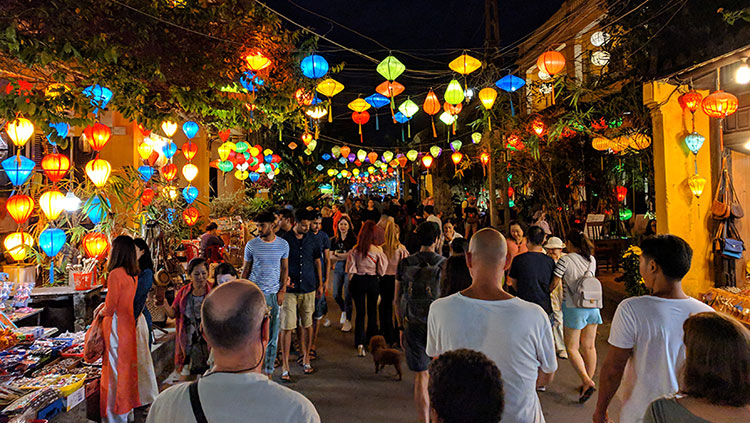 When the sun goes down, it is time the Hoi An market rolls. 
Strolling at the packed Hoi An night market means immersing yourself in the bustling hippy-like atmosphere of festivals. The peak people time is from 6 – 8 pm as the market is absolutely packed. Check out hundreds of scrumptious street food vendors and stalls offering nice souvenirs under tons of glowing lanterns strung up the market. 
Walk on romantic lantern streets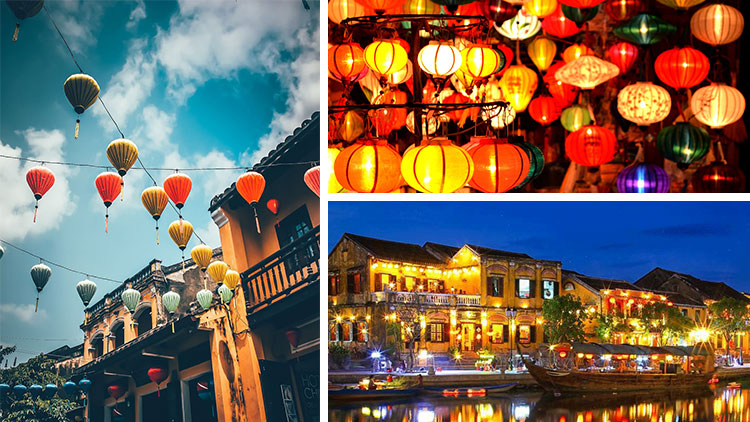 As the night falls, the antique town transforms into a fairyland of paper lanterns.
The lanterns were first introduced by the Chinese immigrant in the 17th century when Hoi An was a bustling trading port. Gradually, the Vietnamese grew to believe silk lanterns bring happiness and fortune to families. That's why at every single corner of the obsolete town, it is easy to spot gorgeous lanterns hung above the streets in lots of colors.
Every night, glimmering lights in the ancient town are replaced with hundreds of illuminated lanterns reflecting on the river. It creates a magical vibe that only Hoi An has.  
Delight in a romantic dinner on a cruise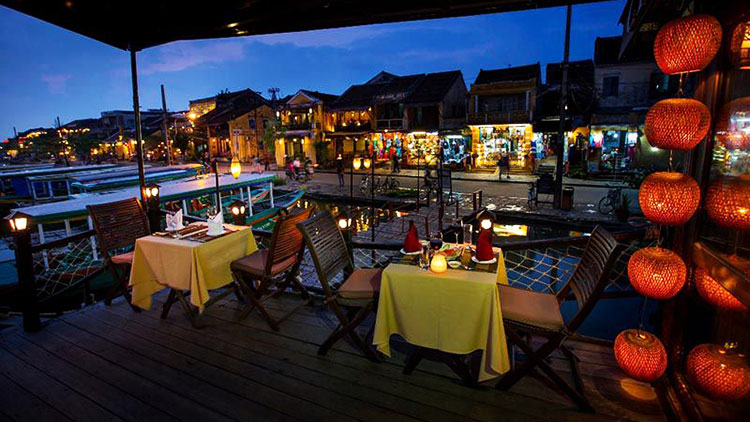 What is the best way to experience the landscape and waterways of Hoi An with your loved one when the sun settles? Indulge a candlelight dinner on a cruise floating along the Thu Bon river by the ancient town under the romantic sunset. 
It is highly recommended to opt for Cinnamon cruises Hoi An. Offering an exclusive 2-hour dining experience, the cruise gives you plenty of time to savor a high-quality 5-course meal, sip some cocktails, and relax over the fairy-like sunset. Surely, your lover and you will have an unforgettable night to cherish your beautiful love story in the most angelic town. It is truly a moment that can't be missed!
Put flower garlands down the river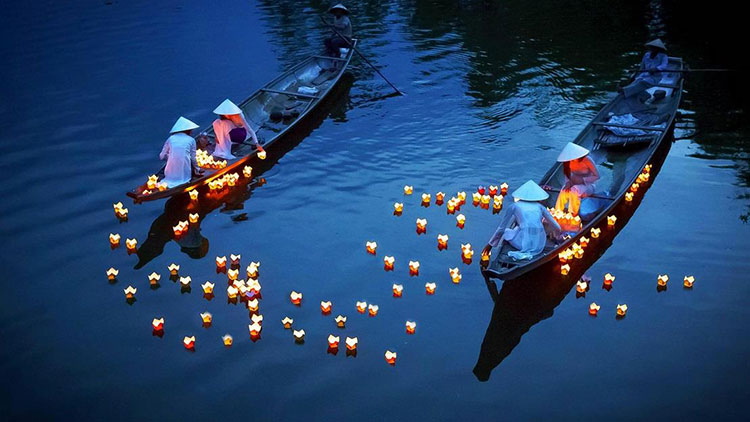 You haven't experienced Hoi An until you release lovely flower garlands down to the dreamy Hoai river. 
On every Saturday, the town is lit up with countless gleaming flower garlands released on the river as the full moon festival takes place. This is one of the core reasons millions of domestic and international trippers visit Hoi An to witness such a marvelous scene. You will deeply regret it if you miss this special occasion.
The release of the flower garlands is believed to bring happiness, fortune, and love. Sitting on a boat scattering along the poetic river, and putting down the glowing flower garlands carrying your dreams can only be described in one word: sensational.
Feed your tummy at these must-visit Hoi An eating spots
Vietnamese cuisine is full of surprises, and Hoi An is the dreamland of oddly tasty Central dishes. Savoring every flavor of Hoi An at these must-try eating venues.
Madam Khanh the Banh Mi Queen – munch the best Banh Mi in Hoi An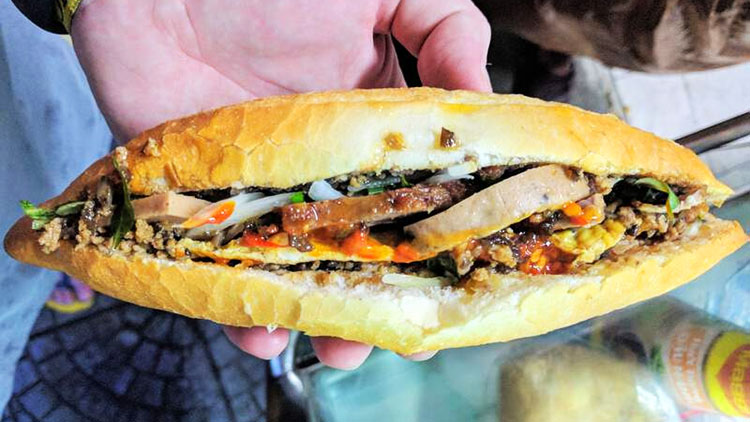 Where in Vietnam is dubbed the capital of Banh Mi? The answer is Hoi An.
It is a serious crime to visit Hoi An and not taste one of the most loved foods of Vietnam. What is interesting about Banh Mi is that it represents the French influence during the colonial period in Vietnam. However, the size of Banh Mi is smaller yet longer, which fits right in your hands. And the flavor sets it apart from the rest of the world's baguette.
If you ask the locals where to get the best Banh Mi, they will direct you to the one-and-only Queen of Banh Mi – Madam Khanh. This Banh Mi eatery's reputation travels far to continents.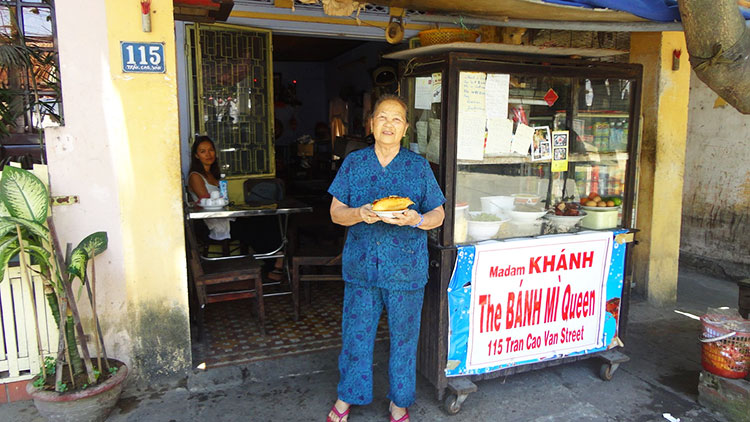 The Banh Mi Queen Madam Khanh offers up to 10 types of filling with confidential marinades created by the owner, who is more than 80 years old. The banh mi is extra crunchy on the outside, yet soft inside with juicy meat and fresh veggies. Take one bite, and Madam Khanh will fly you to the moon of deliciousness. 
Address: 115 Tran Cao Van street, Hoi An. 
Ba Buoi Chicken Rice – Hoi An's best-ever chicken rice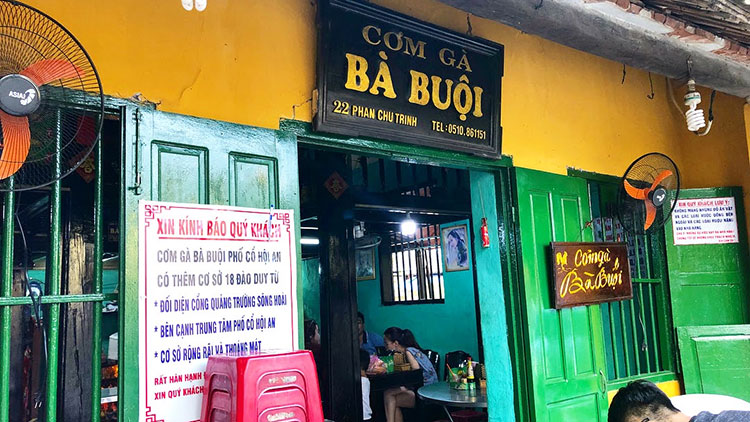 After all the long walks, nothing is better than sitting in a local eating venue feasting on the most delicious chicken rice to fuel up your energy.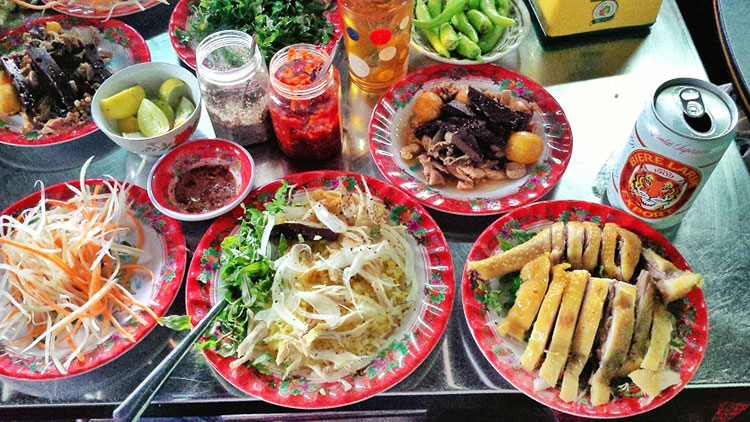 The legendary Ba Buoi Chicken Rice serves arguably the best chicken rice of all Asia. With perfectly cooked lean chicken meat infused with local herbs, it is far different from any other country's chicken rice. The rice itself is yellow, resembling the unique characteristics of Vietnamese Central cuisine. Squeeze a little bit of lime on the top and taste the authentic flavor of Hoi An chicken rice.
Address: 22 Phan Chu Trinh street, Hoi An. 
Cao Lau Khong Gian Xanh – taste the essence of Hoi An cuisine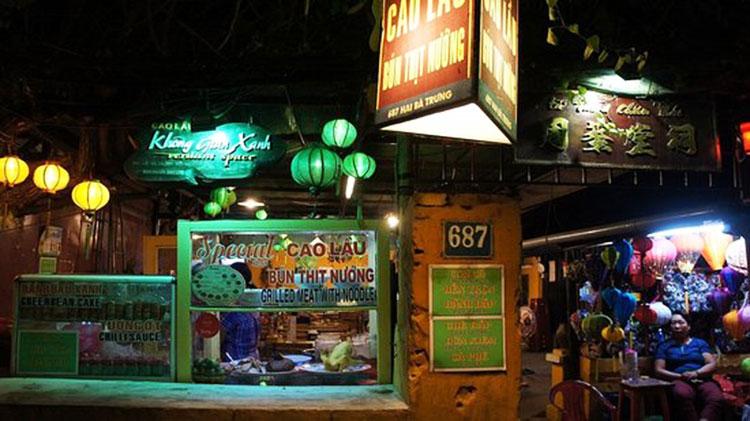 True foodies will never miss one of the greatest culinary treasures of Hoi An – a noodle dish that carries the ancient town history and fusion of food cultures. It is called Cao Lau.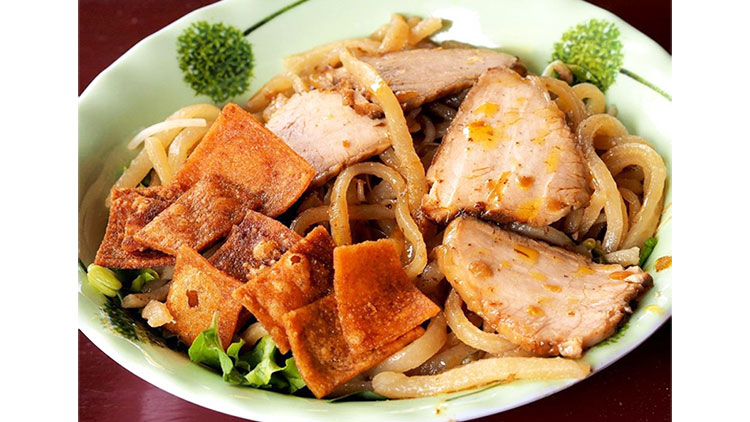 The old town specialty is made of chewy yellow noodles, slices of roasted pork, bean sprout, herbs, greens and completed with crispy squares of pork fat for toppings. Unlike other Vietnamese noodle dishes, Cao Lau is served with very little broth but tastes extraordinary. One bite and you will feel the flavors of Hoi An making all your senses do somersaults of sheer delight. 
And the best place to feast on Hoi An's pride is Cao Lau Khong Gian Xanh. Why does the restaurant have the word green space in its name? The restaurant's surroundings are decorated with lush green lanterns, creating a refreshing atmosphere that ignites your taste buds. Greeted with a warm smile from the waitresses, you will then be served with mountain-size delicious portions packed with intense flavor from a special dark sauce.
Address: 687 Hai Ba Trung street, Hoi An.
Nu eatery – a pinch of Western culture in Hoi An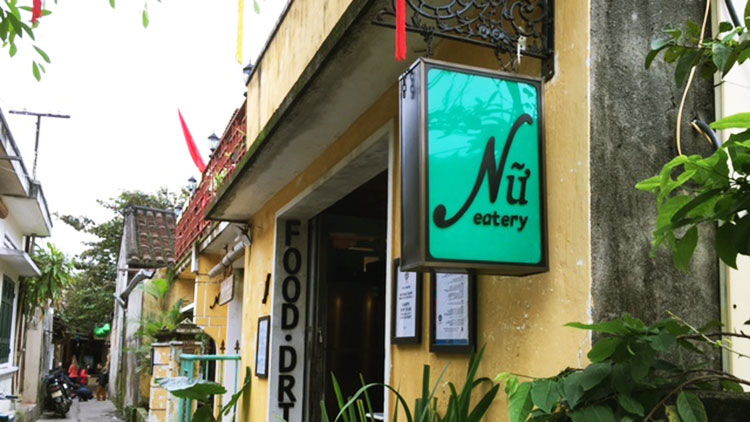 More like an eatery than a restaurant, the name "Nu" may spark some questions. 
Nu means female in Vietnamese, but the eatery owner, Mr. Phuc named it after his beloved mother. This place is a fusion between Vietnamese food and Western cuisine. The first impression is the eatery's pretty decoration and design. After making your order, you will be wow by the super tasty dishes.
Nu eatery offers unbelievably delicious spring rolls stuffed with some of the finest local ingredients such as young coconut, herbs, and rice noodles. Definitely a must-try.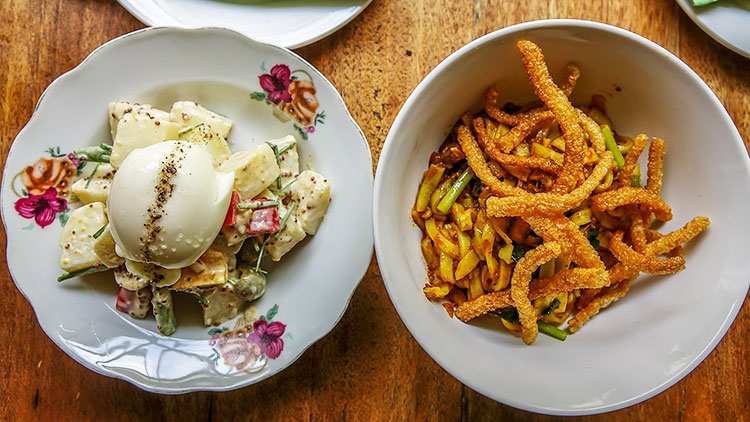 The Western element lies in its signature salad comprising slices of bacon, bell peppers, chrysanthemums, soy-marinated eggs, and sunflower seed – yummy! Find the fabulous Nu eatery situated in a small alley and refresh your trip with mouth-watering food.
Address: 10A Nguyen Thi Minh Khai street, Hoi An.
Morning Glory – where Hoi An street food made fancy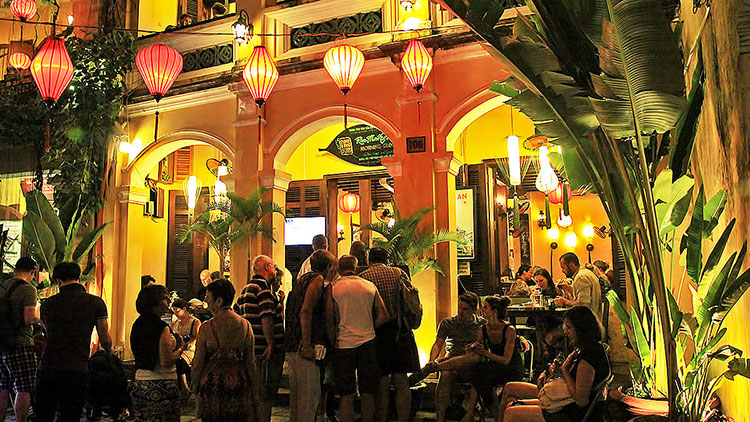 Morning Glory – one of the most popular restaurants with tons of good reviews on the Internet is a perfect spot for lunch. Why is this restaurant always packed with patrons? Simple, it serves exceptional Hoi An food. 
The eatery elevates Vietnamese street food to a whole new level. Some of the best Hoi An dishes of Morning Glory not to miss are white rose dumplings and Vietnamese sizzling cake (Banh Xeo).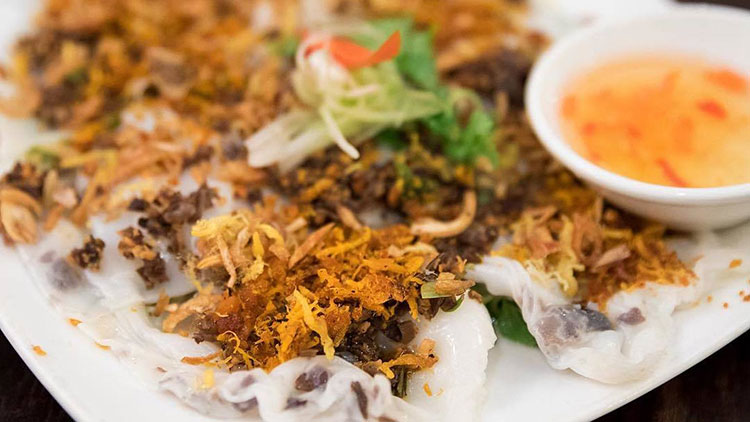 Served as an appetizer, the gorgeous white rose dumplings with shrimp paste filling are strangely tasty. Unlike conventional street dumplings, this version is very light. Dip it with chili fish sauce with a pinch of citrus, you feel like your body is floating.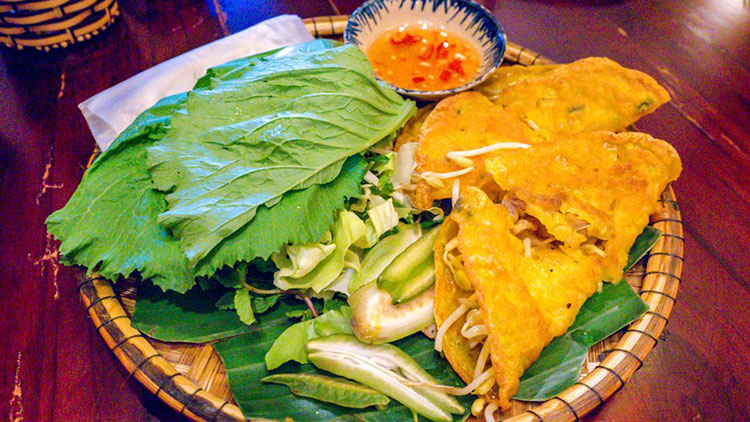 The Hoi An style sizzling cake is best enjoyed with rice paper. Bringing the freshness of herbs, the crunchiness of banh xeo, and the chewiness of the rice paper all together just makes your mouth drool. Every patron stopping by at Morning Glory leaves the restaurant saying they had one of the best meals ever in the antiquated town.
Address: 106 Nguyen Thai Hoc street, Hoi An.
Ong Thieu sesame sweet soup – where sweetness jumps to another level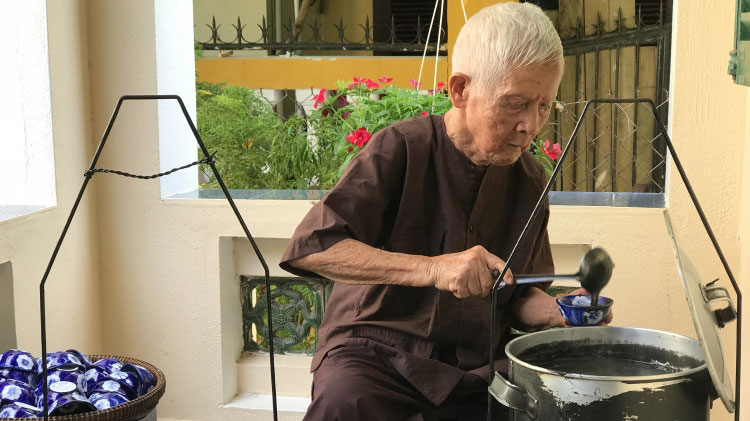 Finally, the street of Hoi An will dazzle you with a sweet dish you may have never tried before. At the corner of Nguyen Truong To, you will find an over hundred-year-old elder named Thieu (Ong Thieu), who has been selling a humble but incredibly unique delicacy called black sesame sweet soup (xi ma) for over 70 years.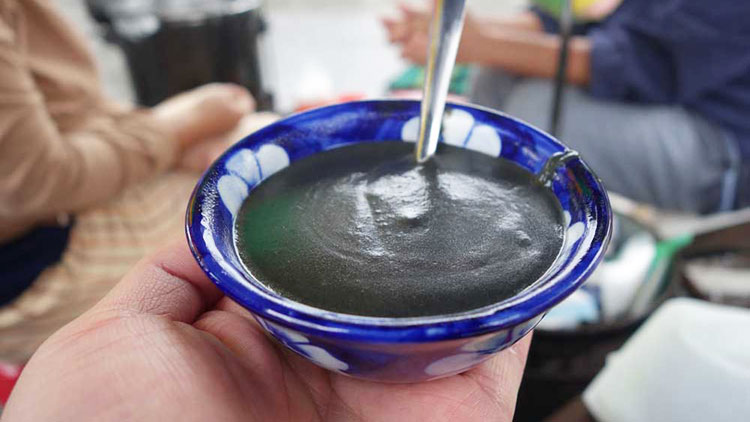 Originated from China, black sesame sweet soup first appeared in Hoi An in the 17th century during the process of integration. The star of xi ma, black sesame seeds, is slowly cooked with local ingredients such as sugar, sweet potato starch, kudzu flour, coconut, and some herbs for fragrance. 
Every day, Ong Thieu wakes up at 4:AM to prepare the ingredients, and until 6:AM he begins selling his extraordinary food. His magical secret recipe captures the heart and soul of visitors no matter where they come from, which makes him a symbol of Hoi An. 
A warm fuzzy feeling will burst all over your body when you taste Ong Thieu's masterpiece. The sweetness combined with richness from the dense sesame soup might get you addicted. Ong Thieu has truly put the entire soul of Hoi An into his masterwork.
Address: 118 Nguyen Truong To, Hoi An.
Slowly sip the luscious Vietnamese coffee at these Hoi An cafes
Great news for caffeine addicts. There's no shortage of great coffee venues worth checking out in Hoi An. Here's the list of must-visit coffee shops. 
Faifo cafe -overseeing Hoi An with a tasty cup of coffee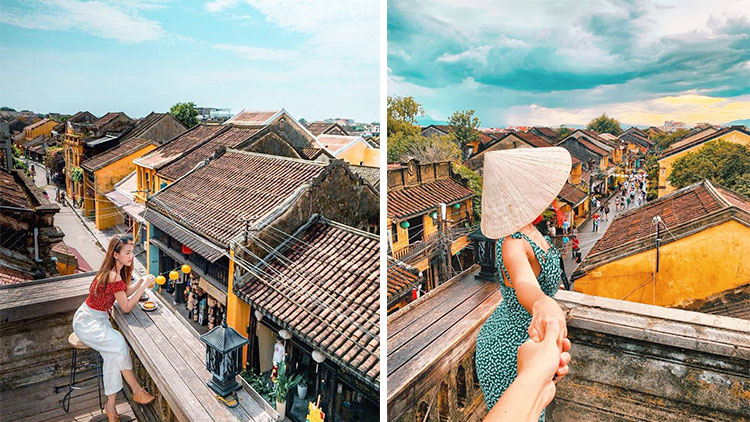 Have you ever witnessed the incredible view of Hoi An far above the ground? Faifo cafe is the place to do so. It is not an exaggeration to comment that this is the most checked-in cafe in the heart of Hoi An.
Faifo cafe not only seduces tourists by its polished balcony on the top overlooking the antique town center, it has a quiet space with a simple but cozy layout with the main golden-brown tones. Offering a birds-eye view of the angelic town, surely, this place was made for Instagram.
Besides the dreaming panoramic view, its top-notch iced milk coffee and croissants will make you burst in happiness. Take a sip of Vietnamese coffee while watching the sun settle down in Hoi An and all the stress in your life is gone. 
Address: 130 Tran Phu street, Hoi An.
Phin Espresso & Drip – sip the best Hoi An brewed coffee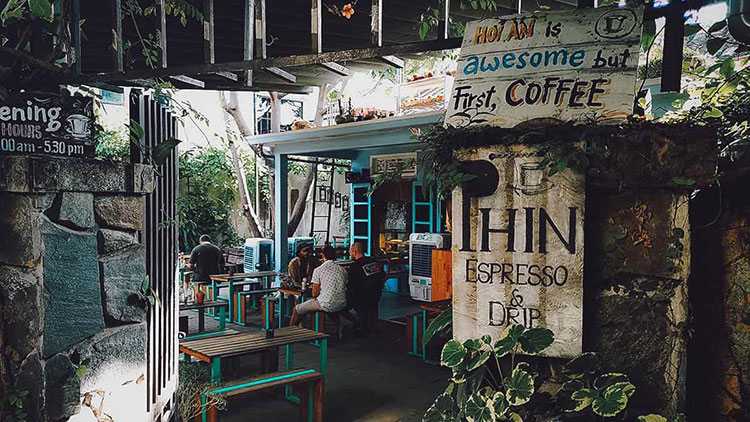 You will be told by locals about Phin Espresso & Drip, the best place in Hoi An to sip the famous authentic Vietnamese phin coffee just 3 minutes walk from the Japanese-covered bridge.
If you wonder what's the meaning of phin, it is the Vietnamese term for a metal filter commonly used to produce deeply satisfying cups of brewed coffee. 
Phin Espresso & Drip welcomes visitors with a lovely garden seating area filled with trees and picnic-style tables. When you look at the menu, you may think its beverage offerings are quite similar to other caffeine merchants. Don't walk out yet. 
What sets Phin Espresso & Drip apart from the rest is its remarkably luscious phin coffee prepared by some of the most knowledgeable baristas chasing perfection in every brewed cup. Better yet, you can observe the baristas in action. They will be happy to guide you from the meticulous curation of the coffee bean to the final presentation. The whole phin coffee-making process is a genuinely fine art. 
Address: First branch – 132/7 Tran Phu street, Hoi An. 
Reaching Out Tea House – the cafe of silence yet full of surprises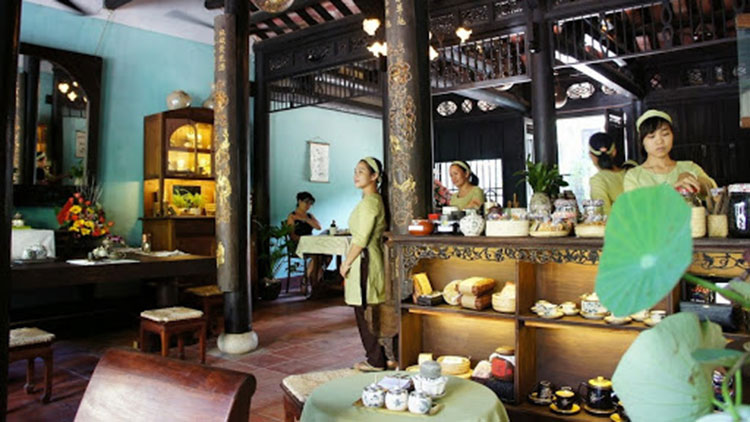 Reaching Out Tea House is one of the prettiest and most interesting cafes the ancient city has ever had. What's the story behind this so-called quietest cafe located on one of the busiest streets in Hoi An?
Back in 2000, a group of hearing-impaired Vietnamese started a local craft shop to make a living. Slowly but surely, their business grew to success, which led to the decision of opening a cafe 12 years later. It is today's Reaching Out Teahouse. 
Managed by the hearing impaired, it is why Reaching Out Tea House is known as the cafe of silence since you will order and communicate with the servers through notes. In a quiet place but no less elegant, sipping an organic cup of tea or a strong black coffee cup blended with condensed milk is the true Hoi An vibe – peaceful and pleasant.   
Address: 131 Tran Phu street, Hoi An.
Hoi An Roastery – the dreamland of coconut coffee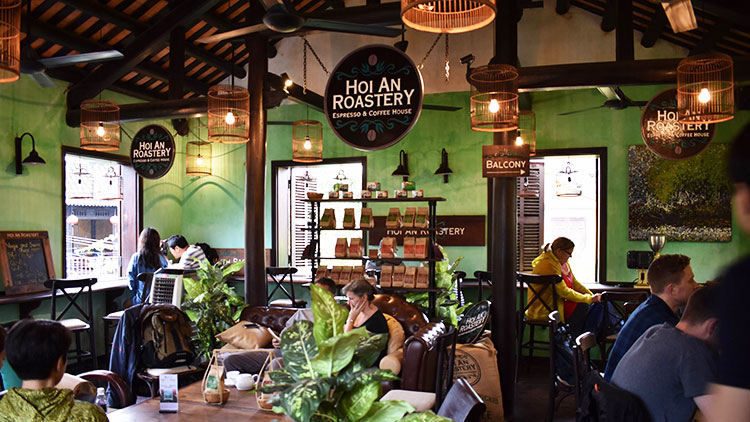 Lots of tourists refer to Hoi An Roastery as the Starbucks of Hoi An. It is perhaps the most successful coffee shop in the old town with seven branches.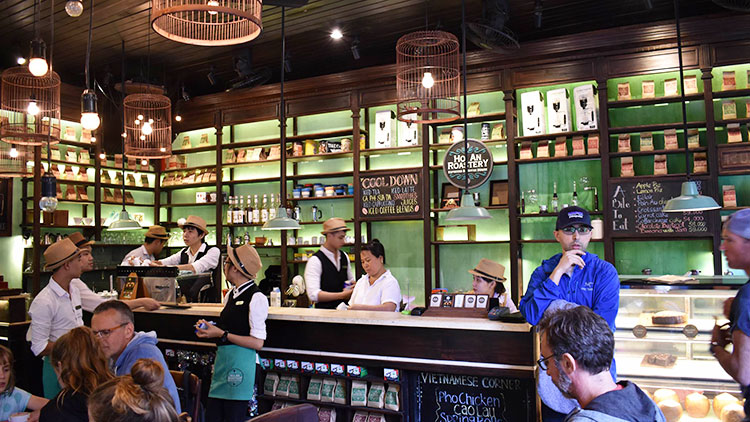 The place is decorated in European style, with the blue highlight of the logo on the low tone of the wooden interior, making the cafe come alive, elegant without being gloomy. You can expect a high-quality level of service and comfort here.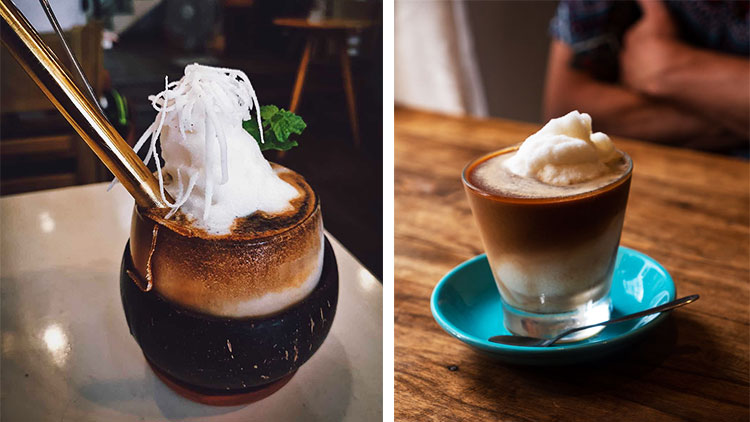 What is special about Hoi An Roastery? It is its legendary coconut iced brewed coffee, by far the best coconut coffee in Hoi An. You're going to fall for the unbelievable fusion of light coconut and strong coffee that elevates the richness and delightful aroma.
Address: Multiple branches
Leave a piece of your heart in Hoi An
The moment you set foot on Hoi An, you'll realize it's not hard to understand why millions of visitors spend an insane amount of time in. An antiqued place oozes with charms that can't be found anywhere else in the world. Discovering every page in the nostalgic storybook of Hoi An will be the memories that last for a lifetime.