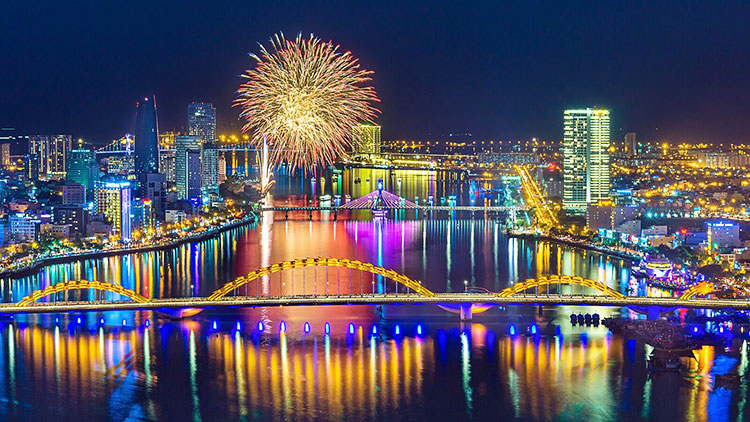 Rising from the flatlands is a city that is changing so fast that nowhere in Vietnam could catch up. Strolling along the Han River, you will find gleaming emerging modernist hotels, apartments, and restaurants fused with gorgeous coastal lines and alluring scenery from mother nature.
Have you figured what the place is? Allow us to give you a big welcome to Da Nang, the uprising city possessing all three features that adventurers vastly crave: buzzing urbanization, wondrous mountains, and charming beaches. Let's find out what Da Nang is all about.
Welcome to Da Nang
It seems that any wanderer will fall for Da Nang from the first time they arrive.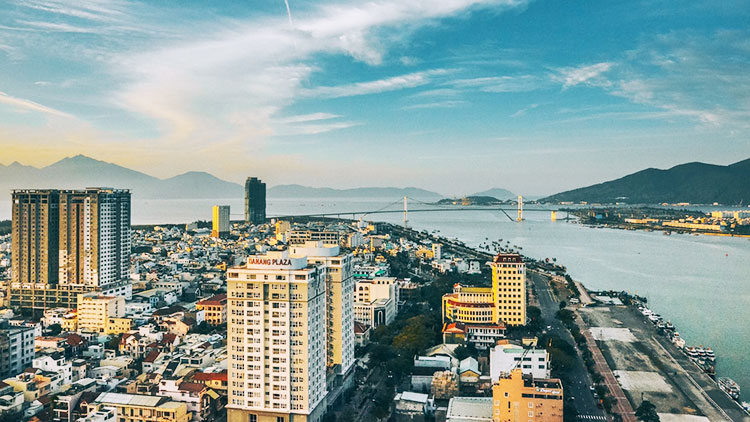 Situated in Central Vietnam, Da Nang is home to over 1.3 million people in population. Known as Vietnam's third-largest city, the city of bridges has recently been honored as the most livable city in the S-shaped country. It is a wonderful city with decent cleanliness, good infrastructures, and diversity in forms of entertainment.
Offering countless attractive sites and fun-filled activities, you will never get bored in Da Nang. The city itself also has a tight-knit expat community growing day by day, which makes it a perfect place to expand your friend list while discovering the astonishing Da Nang city.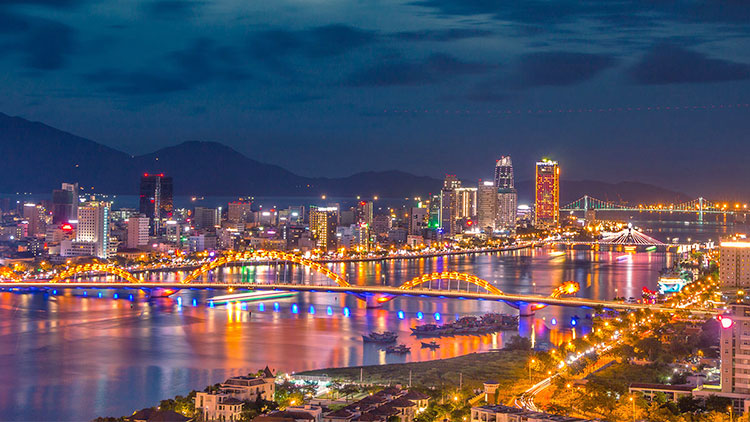 How to get to Da Nang? It is nothing complicated.
The fastest way is to hop on a plane flying directly to Da Nang. If you travel to this city from other places in Vietnam, simply take a bus or train that will take you on a several hours trip depending on where you start. Note that the best time to visit Da Nang is between February and September, where the weather is dry and pleasant.
Before you get to Da Nang, don't forget to apply for a visa on arrival to Vietnam, a very fast and convenient way to obtain a visa to Vietnam. All you need to do is to fill the online application form, pay the fees required, receive your approval letter, then finally get your visa at the arrival airport.
Now, let's jump into the most amazing sites and activities not to be missed in Da Nang.
Best attractions and things to do in Da Nang
Rove the magical Golden Bridge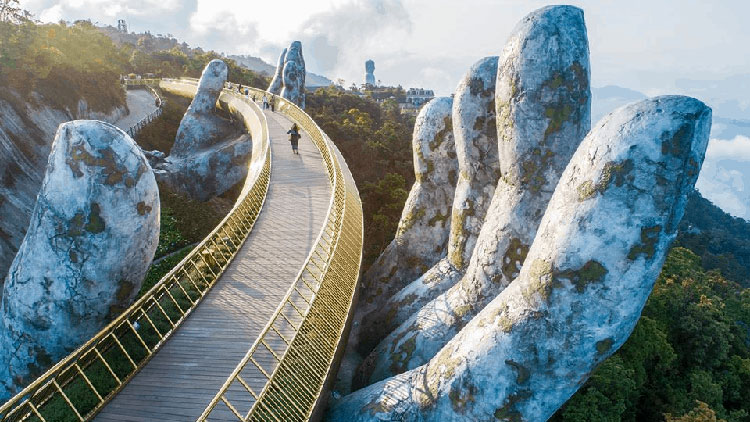 Do you crave a truly unique place in Vietnam? Then Da Nang will dazzle you with the gobsmacking Golden Bridge located in Ba Na Hills tourist area. 
Cau Vang, the Golden Bridge, has to be in the first spot of your Da Nang must-visit destination list. Opened for tourists in June 2018, this outstanding architectural feat is a craze on social media. 
Stepping on the Golden Bridge, you will easily conclude why it adds another compelling reason to venture Da Nang. Who wouldn't be amazed by a pair of seemingly thousands-year-old giant stone hands emerging from the verdant Ba Na Hills that hold up a gleaming 150-meter-long (492 feet) footbridge?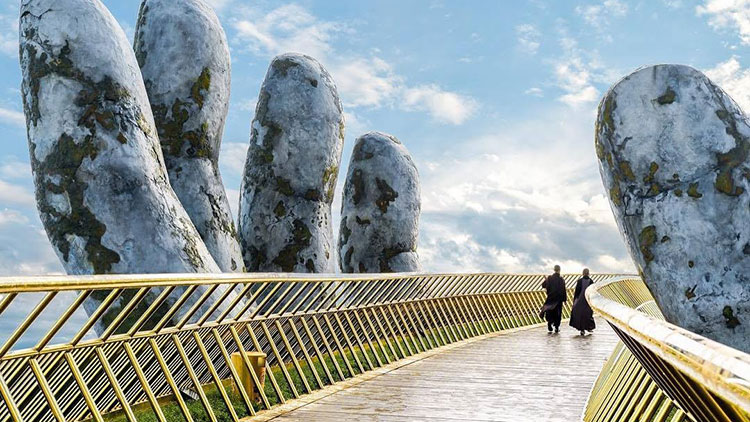 Featured in world travel magazines, the Golden Bridge is beyond a symbol of Da Nang. It perfectly reflects the incredible fusion of modernist and rustic beauty of Vietnam. Strolling on the Golden Bridge for a spectacular view of the rolling Truong Son mountain feels like having the hands of God lifting you toward the great blue sky. 
It is not an exaggeration to say that a trip to Da Nang is worthless without checking out the ever-popular Golden Bridge.
Spend a joyous day at Ba Na Hills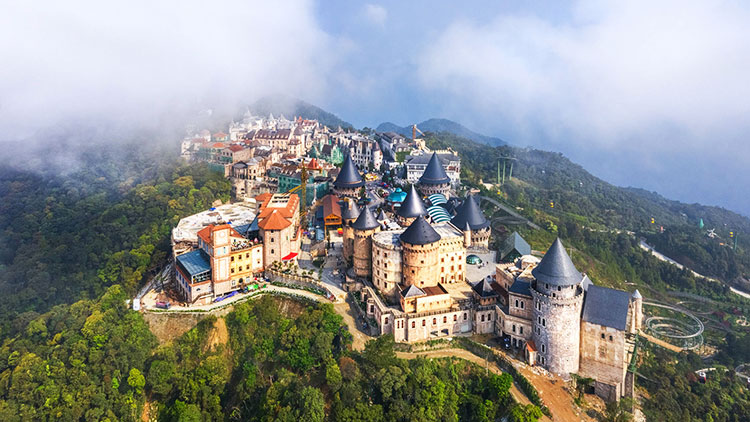 For a long time, Ba Na Hills has been considered "a trump card" enticing hundreds of thousands of tourists to Da Nang every year.  
Discovered centuries ago, Ba Na Hills is a tourism attraction located in an area of Truong Son mountain range located in Hoa Ninh commune, Hoa Vang district, about 25 km (15.5 miles) southwest of Da Nang center. Apart from being home to the infamous Golden Bridge, Ba Na Hills are lined up with many things to do and see.
Ba Na Hills has a cool pleasant climate all year round that is perfect for leisure activities. Filled with endless greens, it is also called the "green lung" of Da Nang boasting a heavenly fresh atmosphere.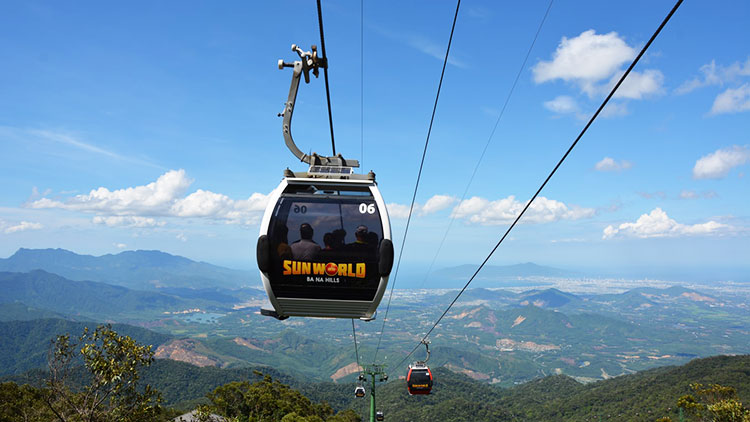 After riding the Ba Na cable car to reach Ba Na Hills main tourist area, you will find tons of activities to take part in.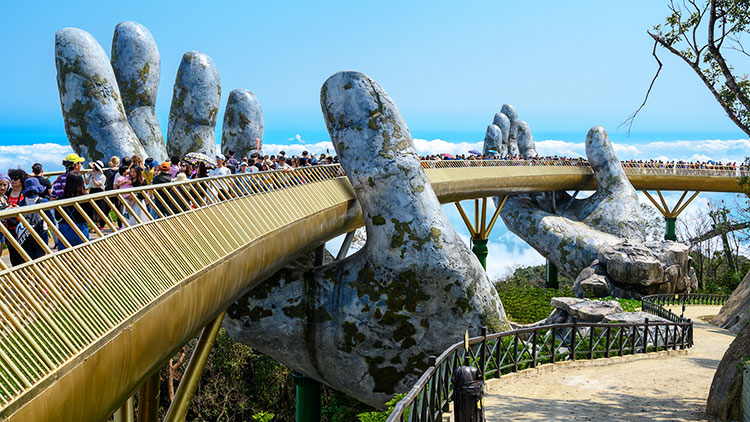 Golden Bridge: Needless to say, you will commit a huge crime if you visit Ba Na Hills but not snapping some cool photos at the Golden Bridge.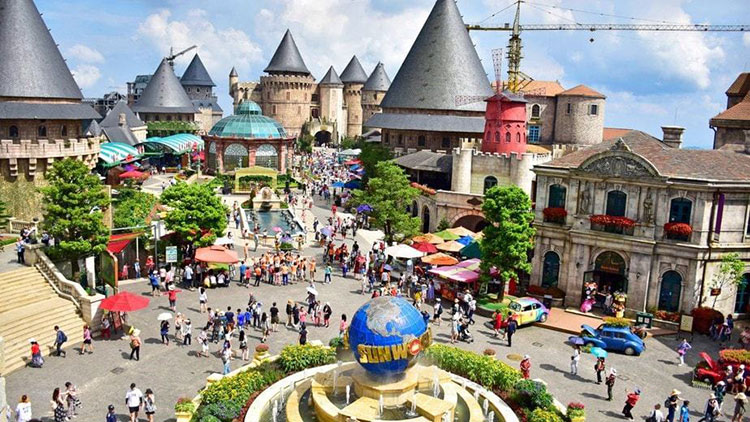 Fantasy park: A visit to Ba Na Hills is incomplete without having a fun time at Fantasy Park. The theme park was inspired by the two popular novels "Journey to the Center of the Earth" and "Twenty Thousand Leagues Under the Sea" of the French literature Jules Verne. Facilitating more than 100 exciting games, you will have a full day of bursting joy.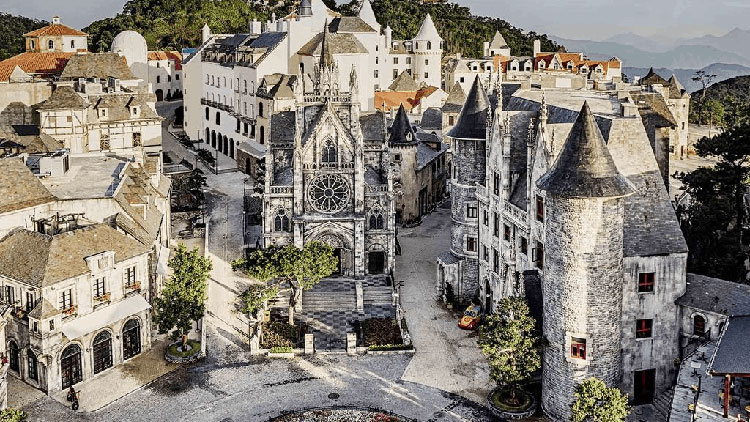 French village: A corner of Paris in the verdant hills of Vietnam. Pretty cool, isn't it? The French village boasts classic and luxurious European architecture resembled in typical works such as a magnificent castle with gothic close-fences, brick-paved streets. You will have an unforgettable experience with memories as if Europe is right here in Vietnam.
Feast your eyes with the Dragon Bridge show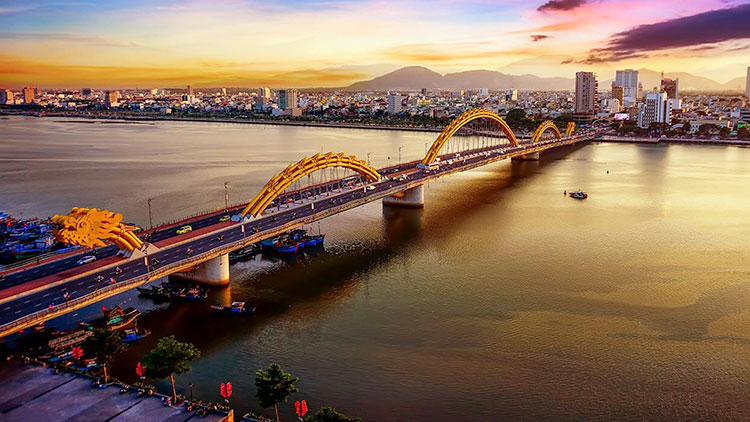 Da Nang is sometimes called the city of bridges. It is not because you can see a bridge in the city every few kilometers, but the bridges themselves are unique and unprecedented from anywhere in Vietnam.
Standing tall across the Han river right in the heart of Da Nang is a bridge like no other, the Dragon Bridge. Just as unique as the Golden Bridge, the bridge is designed to represent a gigantic golden dragon, a symbol of power and prosperity. The golden dragon can be seen from all over the city.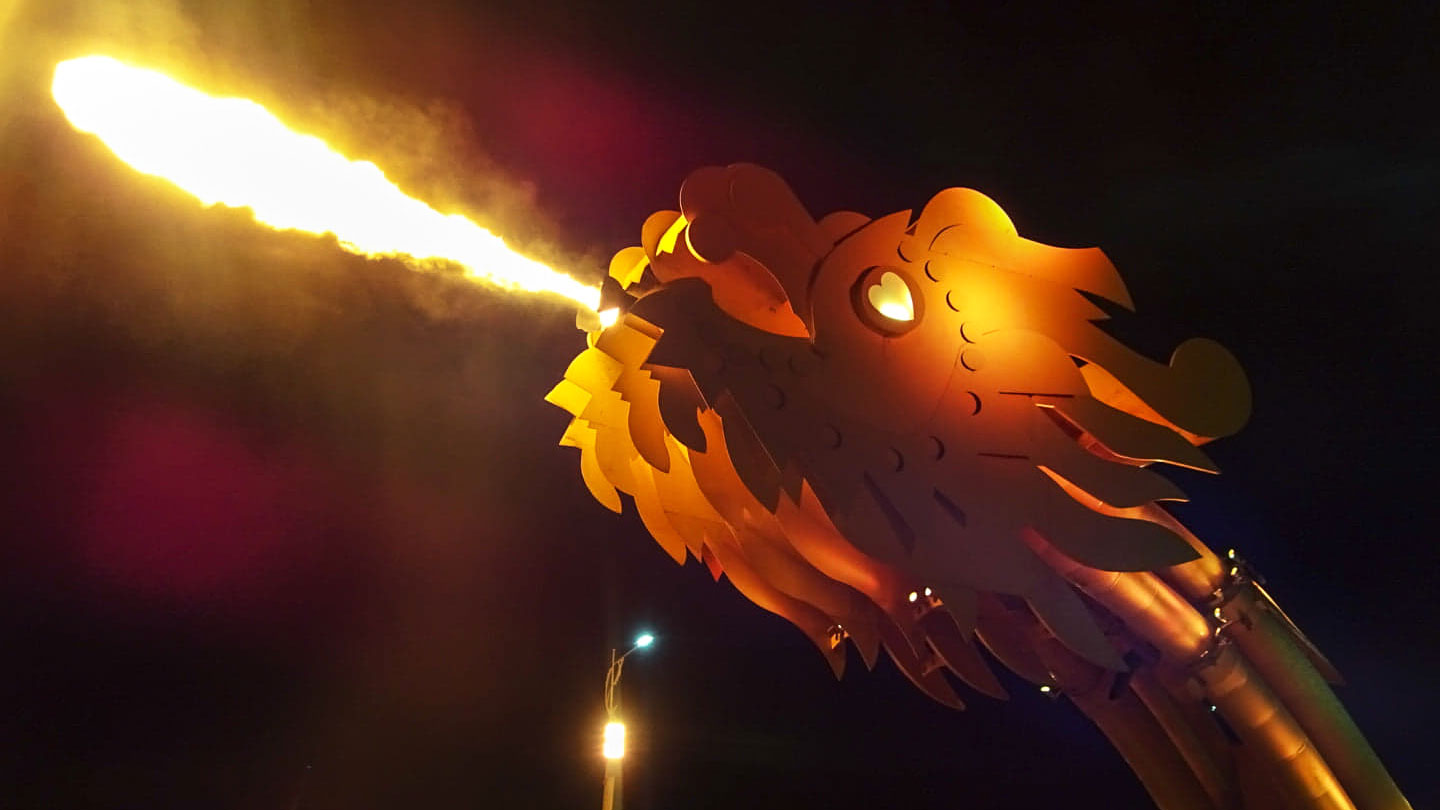 Get ready to be amazed every weekend as the mighty dragon of Da Nang brings the Game Of Thrones vibe by blasting fire lighting up the night. If you have a chance to stand near the dragon's head, you will spot the cute heart shape in its eyes, a fascinating hidden feature. 
Climb the fascinating Marble Mountains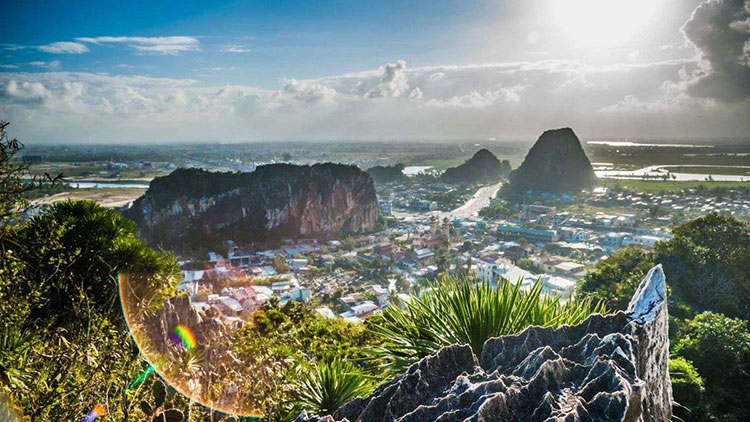 Journey about 9 km (5.6 miles) south from Da Nang center to a coastal area famed for sculptures and stone-cutting crafts, you will easily spot Marble Mountains (Ngu Hanh Son Mountains), a renowned natural attraction of the city. 
It comprises five marble and limestone hills in different shapes which embody the five fundamental elements: metal, wood, water, fire, and earth. Among them, the water hill (mount Thuy) stands out as the highest where there is a path to get you to the beautiful Linh Ung pagoda on the top. And you will have a panoramic view of the enchanting Non Nuoc beach.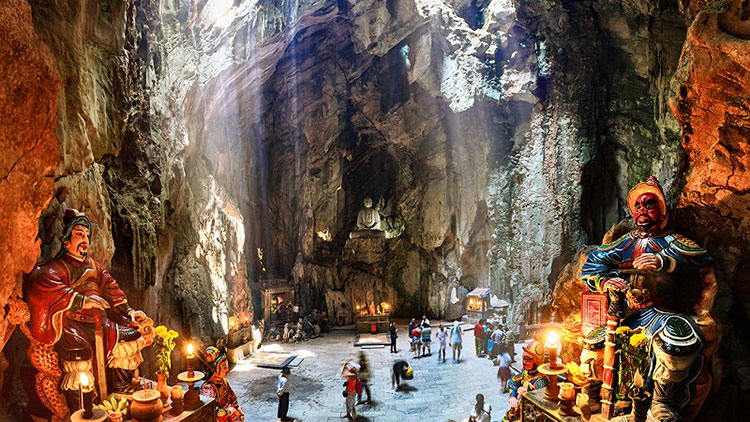 The mountains of elements are a must-visit with ancient dreaming landscape and many unique historical buildings. Sacred temples, beautiful caves, fanciful landscape, and dreaming views – all mingle in one place.  
Laze Da Nang's most beautiful beaches – My Khe and Non Nuoc 
The tropical vibe of Da Nang lies in pretty beaches the city cradles, where My Khe and Non Nuoc stand out from the rest.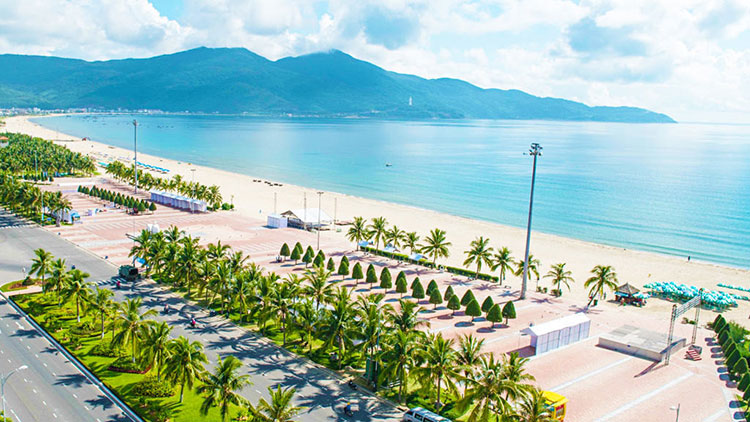 My Khe is by far the most well-known beach of Da Nang located about 6 km (3.7 miles) East of the city center. Once praised by Forbes magazine as one of the world's most luxurious beaches, My Khe beach should be at the top of the list of sunbathing and surfing spots. You will fall for the picturesque scenery, enchanting white sand stretches along the seashore, glamorous resorts, and high-end hotels of some biggest hospitality names such as Hyatt and Raffles.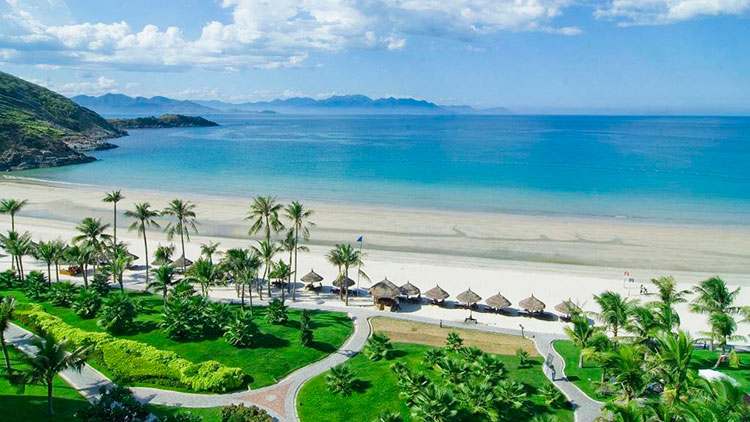 And you should not forget My Khe's neighbor, Non Nuoc beach with an off-the-beaten-path location of just a 20-minute drive from Da Nang city center, and a 10-minute walk from the city's famous Marble Mountain. Immerse yourself in the refreshing crystal clear water, or roll out your towel on the sunbaked sand and lounge the afternoon away.  
Stop by the pristine Nam O beach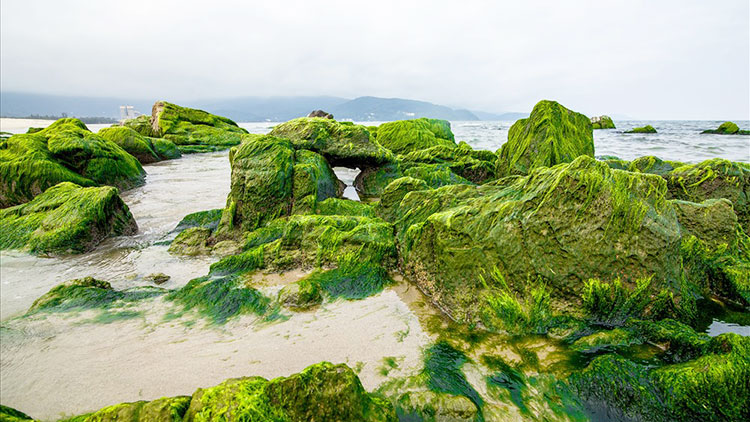 About 17 km (10.6 miles) northwest of Da Nang in Hoa Hiep ward is Nam O beach.
Just another beach in Da Nang? No, this one is different. But how unique is Nam O beach?
Nam O is an unspoiled beach full of reefs in various shapes at the surface. Somehow, the beach retains its pristine beauty through the dust of time. What makes this beach unique is its queerly attractive scene when the reefs are covered with green moss. You can only see this natural phenomenon from March to August.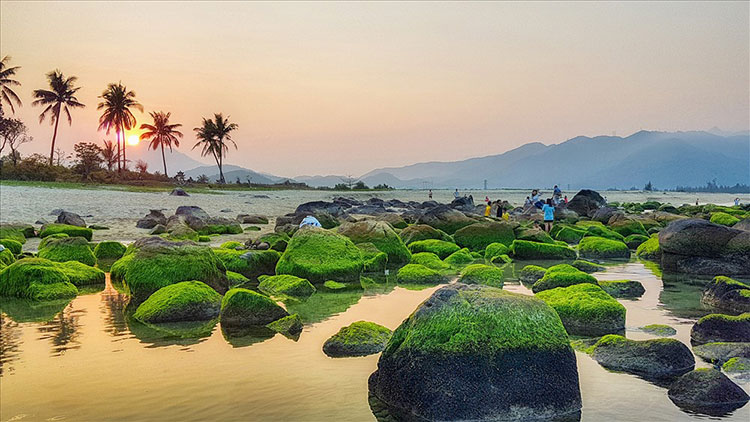 Witnessing the unreal scenery of Nam O when the sun sets will make you feel as if you are somewhere outside planet Earth.
Uncover Son Tra peninsula – the gem of Da Nang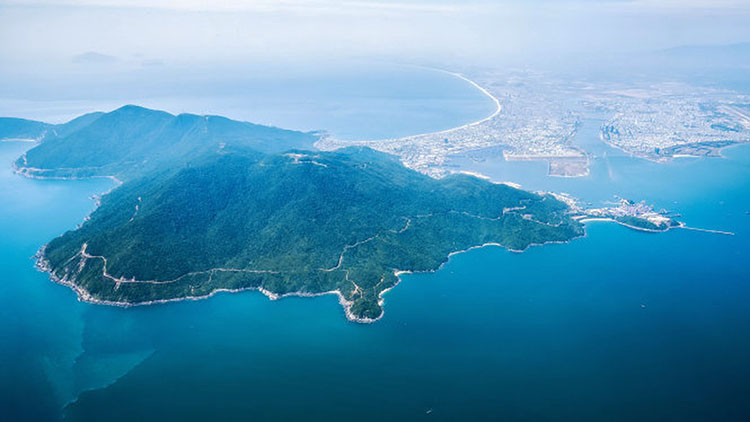 Drive about 10 km (miles) to the Northwest from Da Nang center, you will discover something breathtaking and astonishing. It is Son Tra peninsula, a scenic landscape of the city.
Son Tra peninsula is known as the "gem" that mother nature bestows for Da Nang.
Picture a mushroom-like hill area lying nestled along a gorgeous beach, there is so much to uncover here.
Hop on your motorbike and begin your Son Tra peninsula venture at Man Thai fishing village. Situated before the road that goes up the hill, this village maintained the traditional way of catching fish which is quite interesting to observe.  
After passing through the rustic village, you will reach the beautiful Linh Ung Pagoda. It is where the tallest Budha statue in Vietnam stands at 67 m (219 feet) that watches over the city below, and protects locals from winds and storms.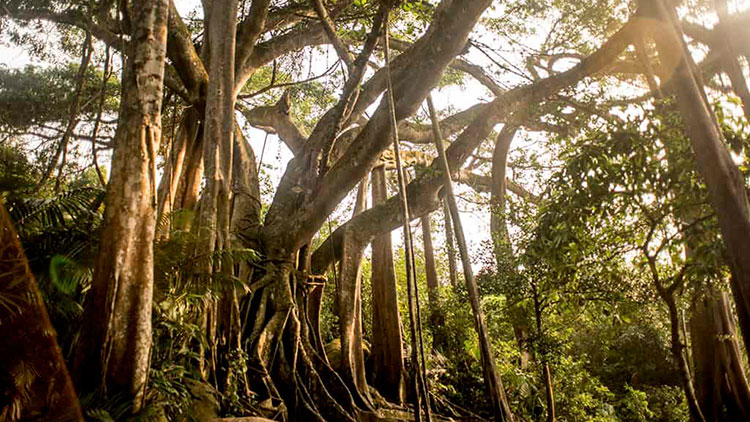 Along the way, you will come across the majestic giant Banyan tree that is believed to be over 1000 years old. The old tree's giant foliage spreading widely makes it an ideal place for short rest during the trip.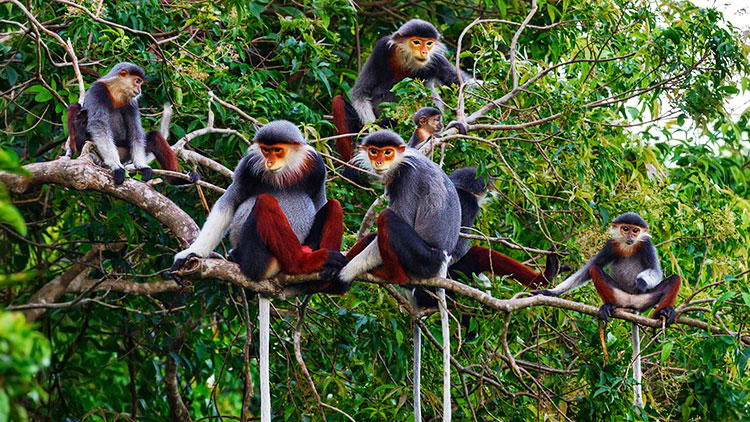 Travel up to near the peak, you will arrive at Monkey Passage. As you can guess from the name, this area is home to those playful cheeky creatures, but not the conventional monkeys.
Monkey Passage is where the Red-shanked Douc – a very rare breed of ape recorded as an endangered species in Vietnam. Capturing some snaps at these funny-looking monkeys that show shyness when it comes to interacting with humans is intriguing.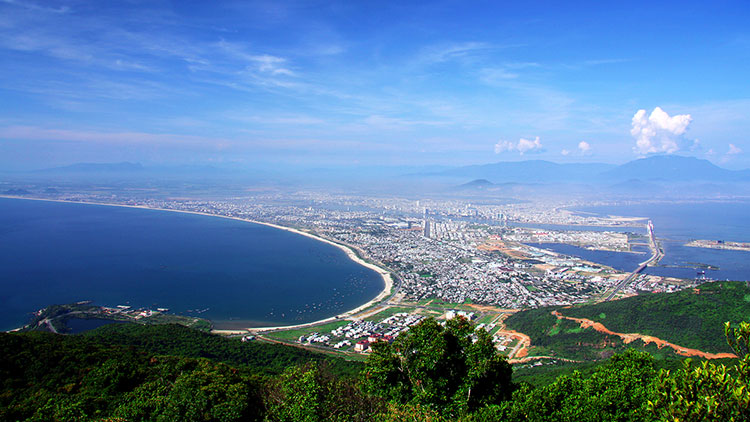 Finally, at the very top of Son Tra peninsula is Ban Co peak (Chessboard peak) waiting for your presence. A fascinating feature you will find at the peak is the statue of an old fairy looking at his chessboard. Wouldn't it be pretty cool to take a few shots of you challenging the fairy in a chess game?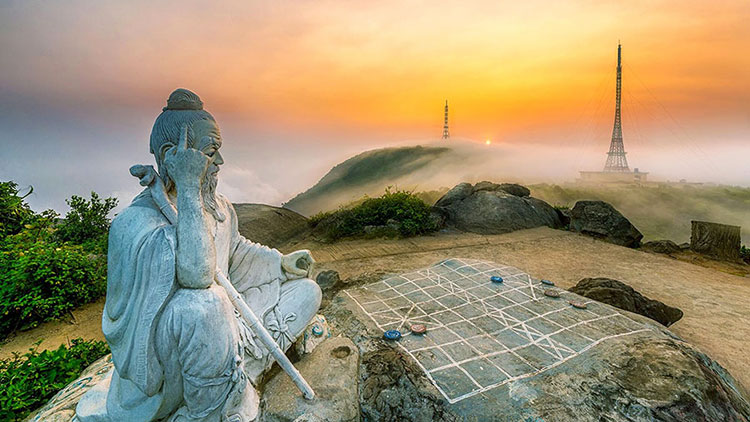 Climbing up to the peak to gaze at the outrageous view of the ocean in its whole glory is a strong finish of your Son Tra exploration. 
Live the night in Da Nang 
Da Nang wouldn't be crowned the most livable city in Vietnam without offering joyful nightlife. Let's stay up all night at some must-come swanky rooftop bars and vibrant nightclubs.
Sky36 Bar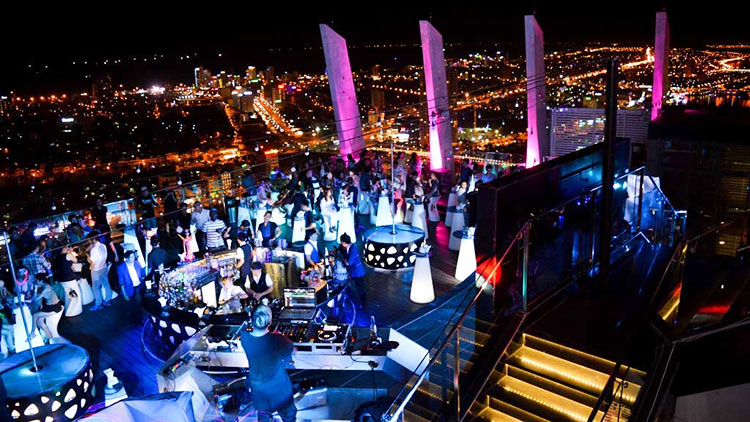 Lit up your night at Sky36 Bar, the most dazzling rooftop bar in Da Nang. Located at the Novotel hotel right opposite the Han River with a total area of up to 1,000 square meters, it is the bar to throw the wildest party ever while enjoying the best view of Da Nang at nighttime.
Address: 35, 36, and 37 floors, Novotel Hotel, 36 Bach Dang Street, Hai Chau District, Da Nang
Brilliant Top Bar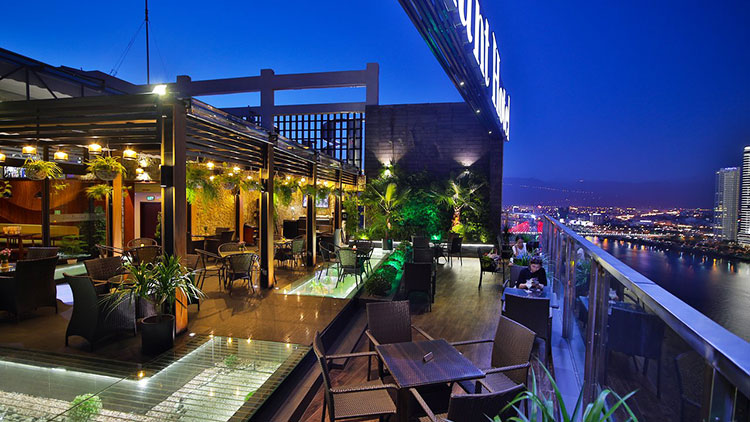 Offering an open space overlooking the Han river, Brilliant Top Bar is a more glamorous and elegant version of Sky36 Bar. Serving a diverse selection of western delicacies as well as fine beverages, you can expect a delightful evening with fellow expats under warm lighting and bashful music on the rooftop of Brilliant hotel.
Address: Brilliant Hotel, 162 Bach Dang Street, Hai Chau District, Da Nang
Oasis Tapas Bar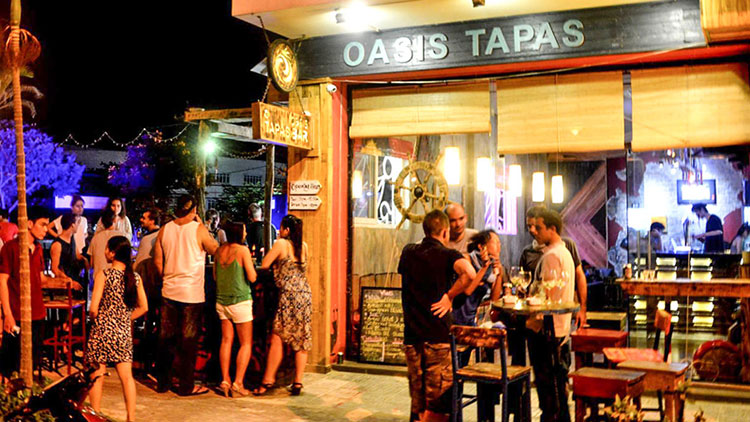 For Europeans, make your way to Oasis Tapas bar, an expats drinking venue that stands out from the rest thanks to its scrumptious authentic Spanish culinary offerings. You may wonder what the word Tapas is in its name. The funky bar serves over 40 different types of tapas, a tasty traditional appetizer or snack of Spanish cuisine. Gather your friends, grab a tapa, and unwind in classic Spanish melodies until late.
Address: Brilliant Hotel, 162 Bach Dang Street, Hai Chau District, Da Nang
New Phuong Dong Nightclub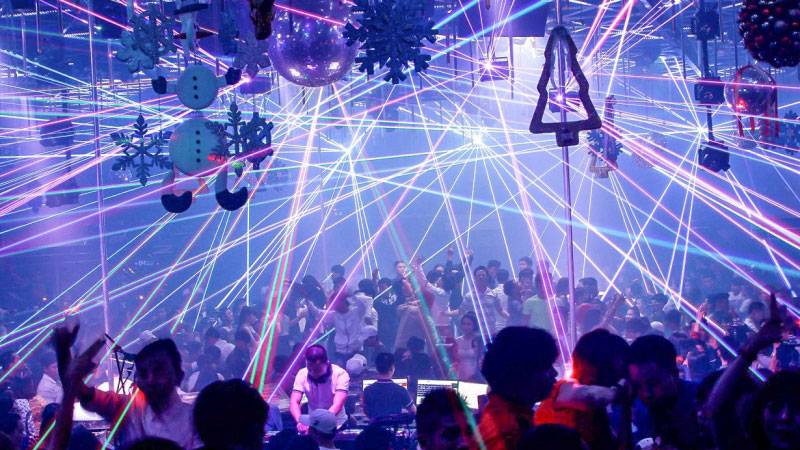 As one of the oldest nightclubs in Da Nang, New Phuong Dong rocks wild hearts up with its spacious dance floor and thrilling EDMs tracks mixed by brilliant local DJs. Grab a few drinks, and your body moving all night long at New Phuong Dong club.
Address: 20 Dong Da Street, Da Nang
The fun is not over yet
Feeling excited yet? Well, these exhilarating attractions and activities in Da Nang are just a warm-up. Because around Vietnam's most livable city are some of the most exhilarating wonders recognized as UNESCO world heritage sites you can not miss checking out. Continue your Da Nang journey in part 2.