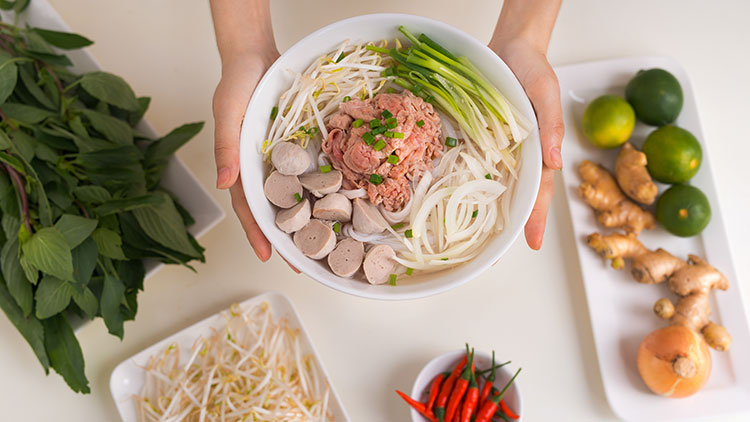 Vietnam cuisine has earned its reputation over the years with the famous Pho and Banh Mi. But that is not the whole essence of Vietnamese culinary culture.
From the North to the very South of this small but beautiful country, traditional Vietnamese food with an elite reflection of the culture is phenomenal. Each delicacy is formed from the lives of Vietnamese people all over the nation. Let's buckle up, and enjoy the culinary delights from Visa2Asia!
Vietnamese cuisine at a glance 
It is undeniable that food plays a crucial role in a country's culture. Traditional cuisine is passed down from generation to generation – keeping the good old flavors to this modern day. 
Vietnamese food is widely applauded for its balancing flavors as it is a symphony of protein, spices, herbs, vegetables, and even fruits. No wonder people have also known Vietnamese food as one of the healthiest cuisines in the world. 
There is something really tempting about Vietnamese dishes that most people can't resist – even the celebrity chef Gordon Ramsey, the famous American chef Anthony Bourdain, and the British chef Jamie Oliver. The distinct and oddly satisfying tastes of Vietnamese cuisine have traveled all around the world.
Rice (or rice flour) plays the main part in every Vietnamese meal – no matter it is a dish from the North, the Central, or the South. However, the side dishes of each region are what set them apart and make them interesting.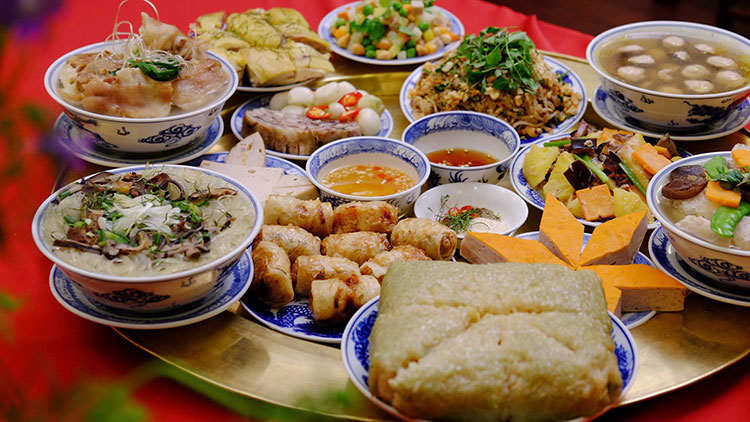 The dishes from the North tend to have a subtle and tender seasoning. Northern citizens are long known for their attractions towards dishes with pure, soft flavors (and maybe a little sour too).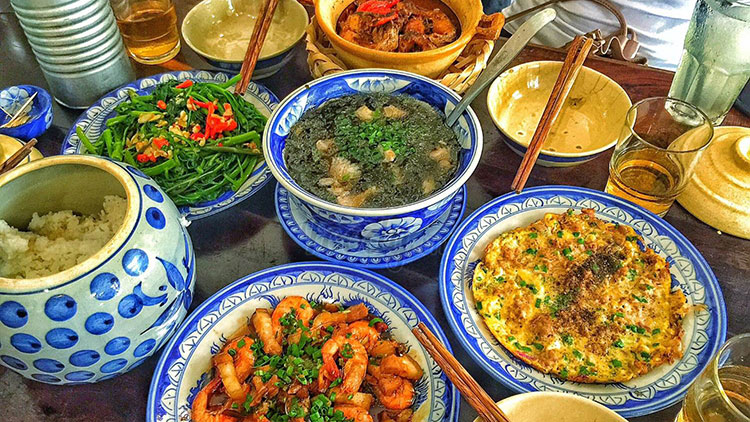 Central's food is full of surprises as it is associated with intense, salty, and hot flavors. Even the food here leans toward reddish or orangish shades. A remarkable trait of the Central dishes is that these recipes intertwine refined royal cuisine and ready-to-go street food. A pinch of exquisite taste, a little luxury, and a bit of modest flavor – all mingle together in one dish.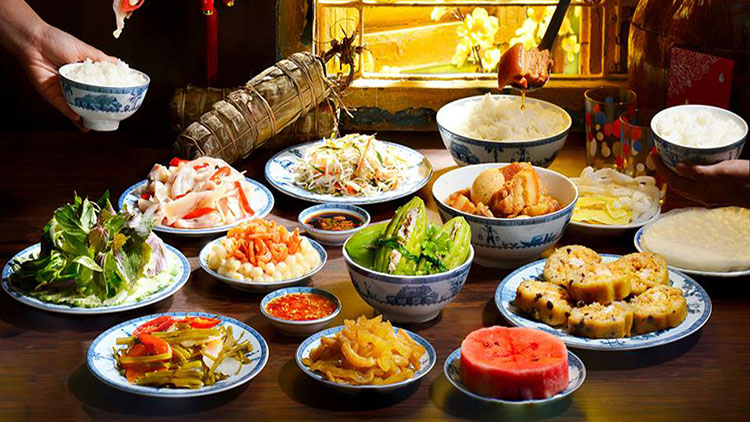 It is such a big fault to mention Vietnamese cuisine without discussing the dishes of Southern people. Richness and sweetness are the main flavors of Southern dishes. They tend to use sugar and coconut juice to sweeten the food. 
But what makes the cuisine of this small country so remarkable and captivating at the same time? Is it the harmony of flavors? Is it the rich history and culture? Perhaps each one will have their own answers once they get a bite of these scrumptious dishes. 
In the next parts, let us guide you through some of the most delicious dishes that Vietnamese cuisine has to offer.
Phở – Vietnam's elite 
It is undeniable that Pho is the national dish of Vietnam. It is the dish that brought Vietnamese cuisine to global recognition.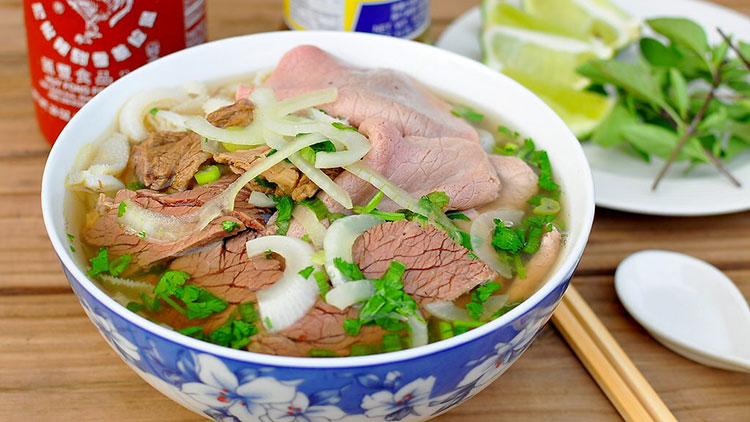 To the Vietnamese people, Pho is not just a noodle soup with slides of beef. The origin of Pho is deluged by tradition and echoed Vietnam's history as well as culture. 
Some people believe that Pho is actually feu – a French word meaning "fire". And it is inspired by the pot-au-feu – a signature beef stew of France. Some say Pho is originated from 豬肉粉 (Chinese pork noodles). But the cooking method of these pork noodles is nowhere near that of Pho.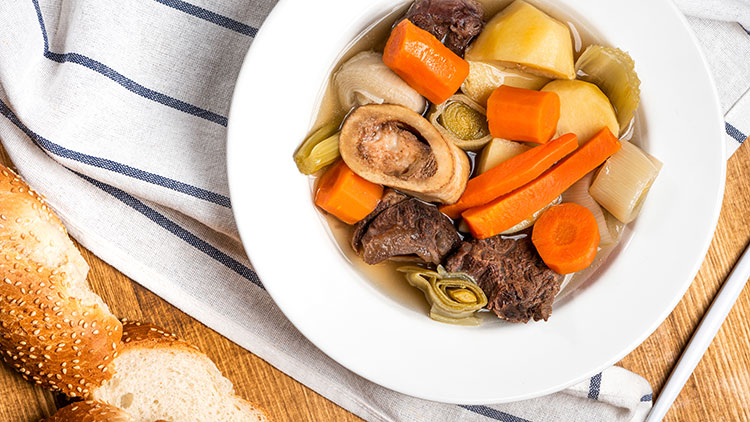 Pot-au-feu of the French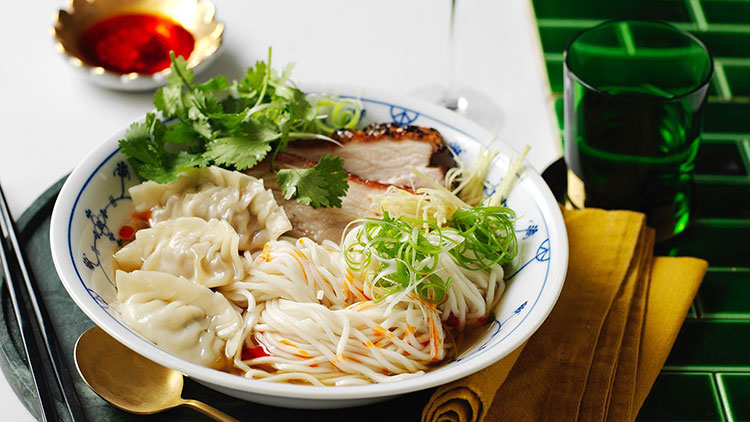 豬肉粉 – Chinese pork noodles
Pho's origin dates back to a dish of the working class called Xáo Trâu – a dish made of water buffalo's meat that appeared in the early 20th century. Due to the affection of French colonialism and its cuisine, this dish's main ingredient slowly changed from water buffalo's meat to beef. Pho remained unfamous until Henri Oger – a French soldier, drew a street hawker that sold Pho in his journal (Technique du peuple Annamite 1908-1909).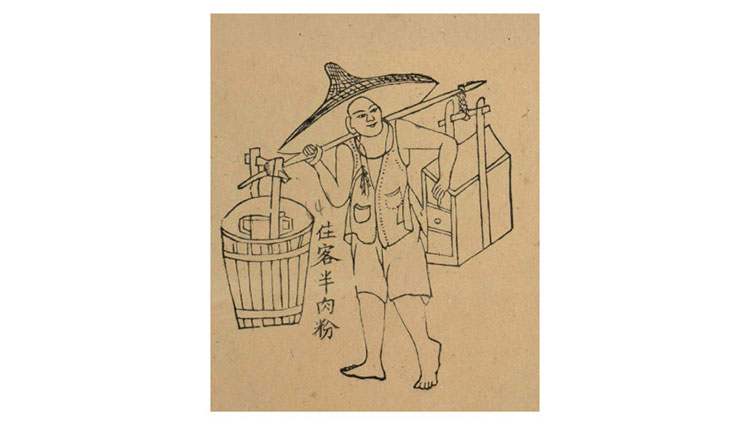 The undeniable value of Pho 
Pho is truly a dish that stands the test of time. You can enjoy a bowl of Pho in, literally, everywhere, every meal of the day, and every season of the year.
Pho is, indeed, a superfood. A smashing fact about Pho is that it consists of raw and fresh ingredients that are in extreme harmony with themselves to create a unique and delicious taste.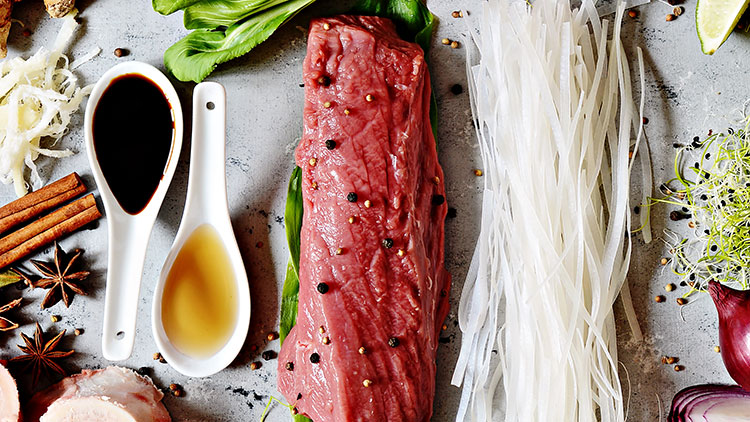 The broth is also dissolved from many distinct dried ingredients such as squid, cardamom, aroma seeds, onion, ginger, cinnamon, pepper, fish sauce, etc. This is a great source of minerals (iron, zinc) and vitamins (B2, B3, B5) that improves blood quality as well as contribute to the protection of blood vessels. 
The calcium from the bones and marrow, the sebum from the cartilage and tendon are extremely good active ingredients in treating arthritis and helping the young to develop their bodies. 
Beef is famous for its richness in ammonia, creatinine, carnitine, and the mineral potassium. All of these support the development of our muscles. 
Pho eases the border between social classes. If certain dishes are associated with whether the rich or the poor, Pho remains a dish for all walks of life. In a Pho restaurant, everyone's the same. There is no rich or poor person, just a group of people who share the love of Pho enjoying their meals. This is also the second value of Pho.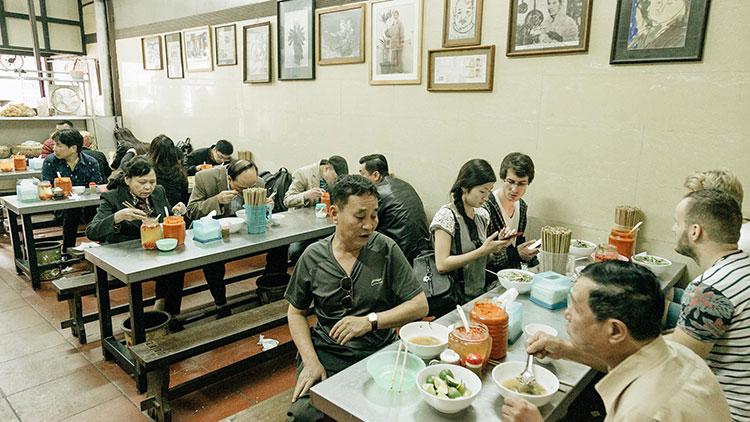 Pho is a cultural symbol of Vietnam. Looking back at Pho's origin and history, Pho came from the working class of Vietnam, then became a delicacy that is favorable nationwide. This transformation took decades of changes and refinements. It is no exaggeration to say that Pho stands for a Vietnam with so many distinct values.
Pho from the North to the South 
There is a great debate between Pho lovers in Vietnam: which Pho is better – the North's or the South's?
The answer is not easy to find. When it comes to the broth, Northern Pho leans to the clear and simple taste, whereas Southern's is slightly sweeter and bolder. 
An interesting fact about the Northern Pho is that people tend to eat Pho with Bánh Quẩy (bagel twists). The bagel twist is torn into small pieces then dipped into the broth. Odd, isn't it? But the taste and the experience will blow you away.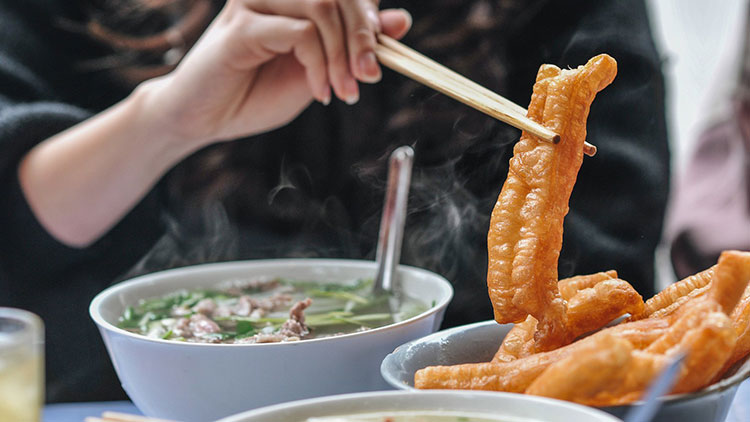 The main protein in each Pho is also different. Northern people love their Pho with chicken meat or a simple minced rare beef. However, Southern people utilize many parts of beef such as sliced rare beef, bone marrow, tendon, brisket, and meatballs. 
Of course, we cannot discuss Vietnamese food without mentioning the sauces that people use to eat with Pho. Pho from the North mainly uses rice vinegar, fish sauce, and chili sauce to add more flavors. But in the South, people usually serve Pho with lime, hoisin sauce, chili sauce, and fresh sliced chilies to create the taste they prefer. 
To truly evaluate the essence of Pho yourself, here are some addresses. Make sure to check it out when you visit Vietnam.
Ha Noi Capital:
Phở Bò Hàng Đồng
48 Hang Dong, Hoan Kiem district, Ha Noi capital
Price: around $1.5 for each bowl
Phở Thìn
13 Lo Duc, Ngo Thi Nham Ward, Hai Ba Trung district, Ha Noi capital
Price: around $1.6 for each bowl
Phở 10 Lý Quốc Sư
10 Ly Quoc Su, Hoan Kiem district, Ha Noi capital
Price: around $1.5-3.0 for each bowl
Da Nang City:
Phở Hồng
10 Ly Tu Trong, Thach Thang Ward, Hai Chau District, Da Nang city
Price: around $1.95 for each bowl
Phở Đống Đa
203 Dong Da, Da Nang
Price: around $1.73 for each bowl
Ho Chi Minh City:
Phở Hòa Pasteur
260C Pasteur, District 3, Ho Chi Minh city
Price: around $3.9 for each bowl
Phở Phú Vương
120 Nguyen Thai Binh, District 1, Ho Chi Minh city
Price: around $2.6 for each bowl
Bánh Mì – leverage eating culture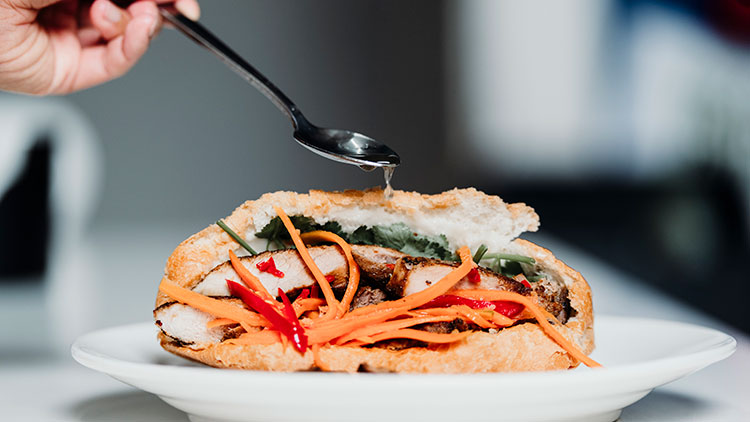 No words alone can describe how Banh Mi tastes and means to Vietnamese people. This renowned street food has traveled far and deep to every corner of the world, marking a deep impression on those who got a bite.
Let us show you how a tiny Banh Mi stunts the world and becomes one of the most famous street foods worldwide!
Banh Mi originally came from the West. However, the quintessence and continuous creativeness of Vietnamese Banh Mi have brought a stand in the world's culinary map.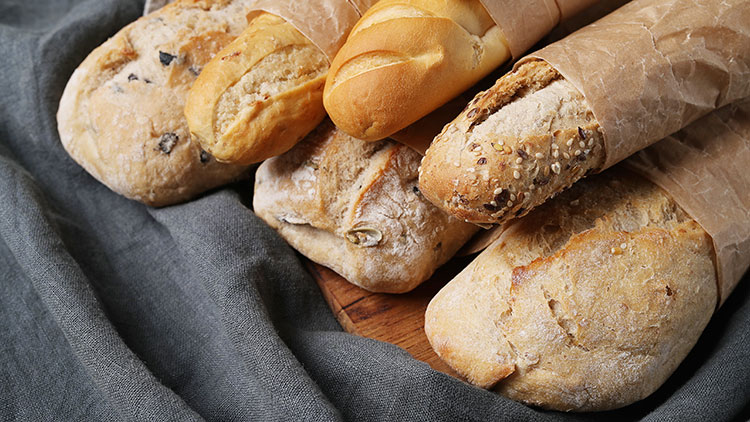 In the early 19th century, the French brought their tasty baguette to Saigon (now is Ho Chi Minh city) to satisfy their culinary delights. They even built the first-ever brick bakery to make hot loaves of bread in Vietnam. 
This baguette quickly gained popularity among the Vietnamese community. This was also the time that Saigonese turned the French baguette into the unique Vietnamese Banh Mi.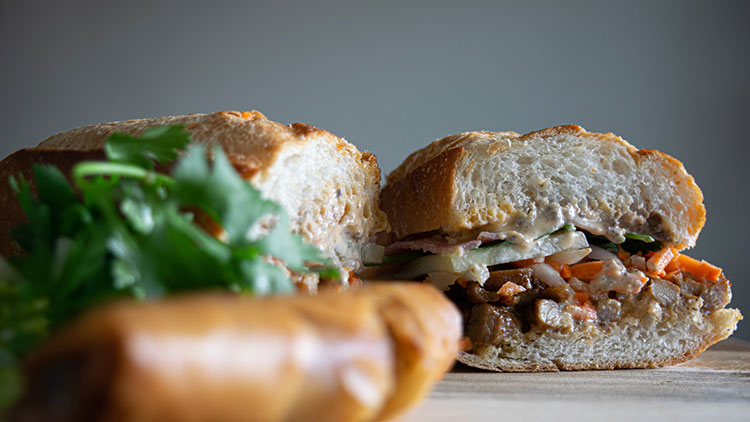 Banh Mi is more hollow than the French baguette. The inner cotton is spongy, but the outer shell is super crispy. These are what set Banh Mi apart from the western bread.
However, Banh Mi became a serious thing only when Hoa Ma – a Banh Mi shop of Mr. Hoa and Mrs. Tinh appeared in 1958.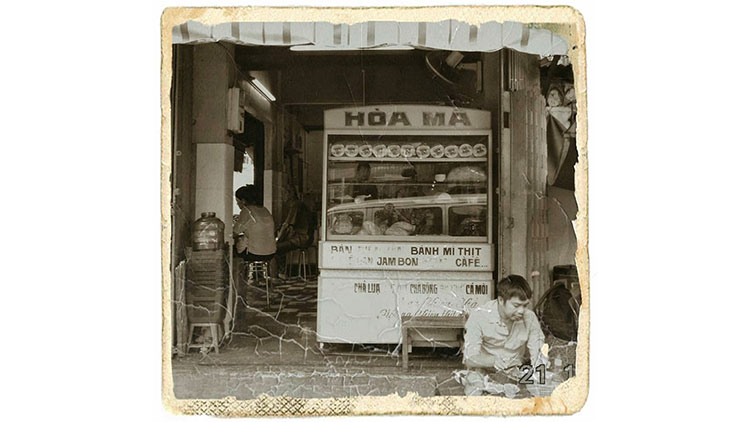 Their Banh Mi shop in Saigon mainly served Banh Mi with ham to the locals. At first, their shop only served western-styled sandwiches with ham on a plate along with knives and forks. But then they realized that not everyone had time to sit back and enjoy their meals at the shop, they came up with a brilliant idea that changed Vietnamese cuisine forever. 
The owners of Hoa Ma bakery served banh mi with ham, slides of pork, pâté in the middle of a loaf of bread. Busy white-collar workers and students fell head over heels in this fresh approach. Soon after, tons of other banh mi stalls began to appear in Saigon. Nowadays, banh mi is present everywhere in Vietnam, satisfying the cravings of Vietnamese people. 
Banh Mi, since then, has become a national food of Vietnam because of its diversity, convenience, and most importantly, low prices. 
The surprising diversity of Banh Mi 
To a foreigner, Banh Mi may seem all the same – a loaf of bread with a tasty filling. Still, with different regions, come different flavors and fillings. 
Perhaps you haven't forgotten about the differences in flavors of Vietnam's regions that we mentioned earlier. Banh Mi in each region also carries distinct flavors.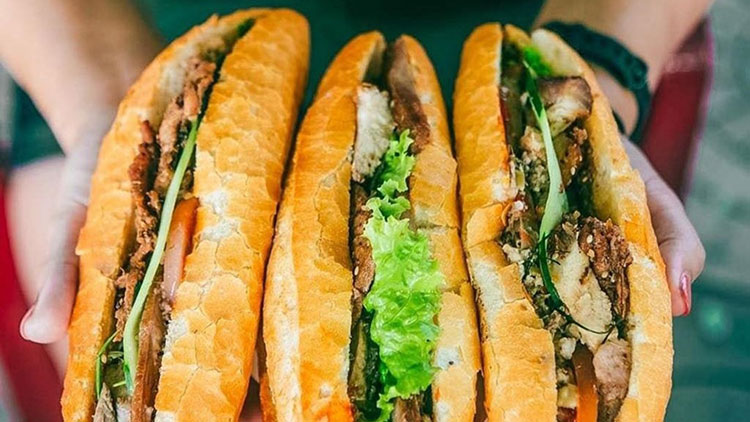 It is no exaggeration to say that you can taste the essence of each city in its Banh Mi. 
Take Banh Mi in Ha Noi for example. The Banh Mi in this capital city may seem simpler than other places. If a Banh Mi full of meat and ingredients is what you expected, then you will be a little bit disappointed with the Hanoi version of banh mi.
The traditional Banh Mi of Ha Noi includes a little bit of creamy butter, liver pâté, slides of pork, ham, char siu. Vegetables are a must. Coriander and fresh cucumber are enough to leverage the bread. The last touch is the chili sauce, bringing the burning hot flavor.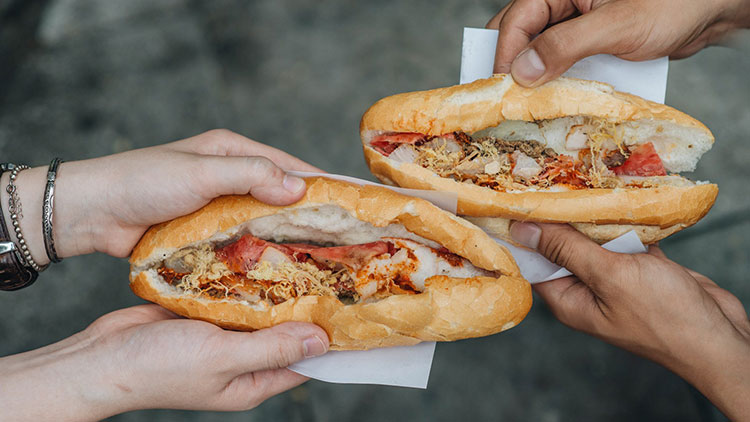 Banh Mi in Ha Noi ancient town
Whereas in Hoi An city – which is located in the Central of Vietnam, the Banh Mi here is upgraded to an international level. With the size of an adult's hand, Hoi An's Banh Mi carries the whole culinary culture of the Central within.
The most extraordinary thing is the filling. Banh Mi in Hoi An offers a wide range of unique fillings namely ham, sausages, barbecue pork belly, chicken, eggs, cheese, etc. Not to mention the signature butter and sauces of each Banh Mi stall that will make you go wild for its taste. Imagine getting a bite of a Banh Mi filled with the tropical essence and signature flavors of Hoi An. Who wouldn't crave for more?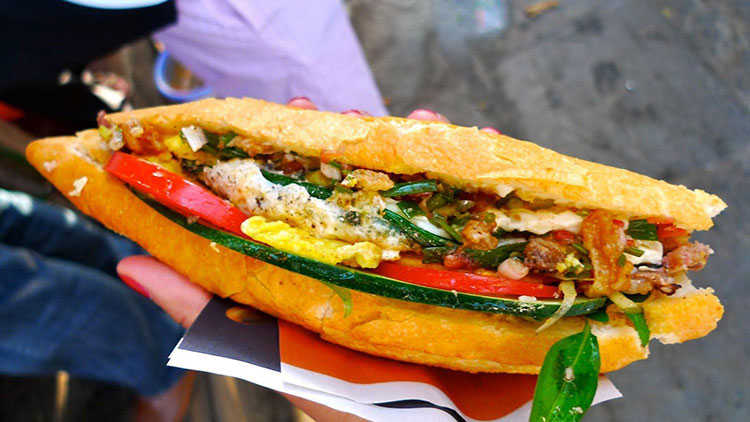 Banh Mi in Hoi An city
Moving on to the Central Highlands regions! The enchanting mountain city – Da Lat, offers a Banh mi with a thicker shell that is served with a small bowl of shumai and thick sauce. You can either dip a small piece of banh mi into the shumai bowl or pick up a shumai and tuck it inside of the banh mi to enjoy it.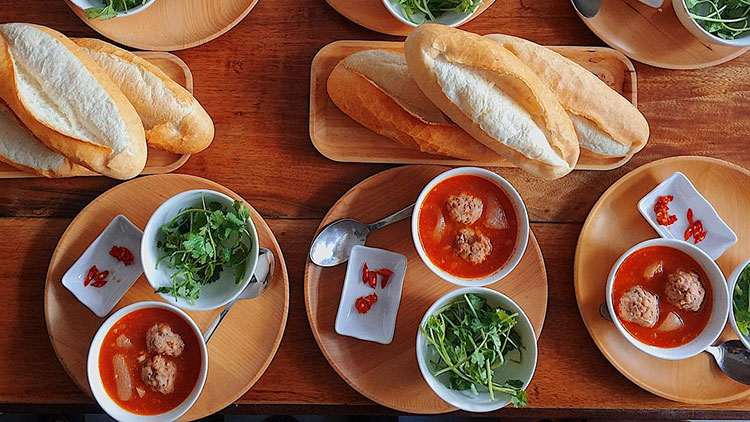 Banh Mi in Da Lat
Da Lat is a mountain city full of surprises and stunning cuisine. Check out Da Lat's culinary delights!
The joyful experience of tasting Banh Mi of the Southern part is quite different. Due to the favorable natural conditions, the Southern banh mi is stuffed with tons of veggies such as slides of fresh cucumber, white radish, carrot, pickled carrots, onion, cilantro, and chili.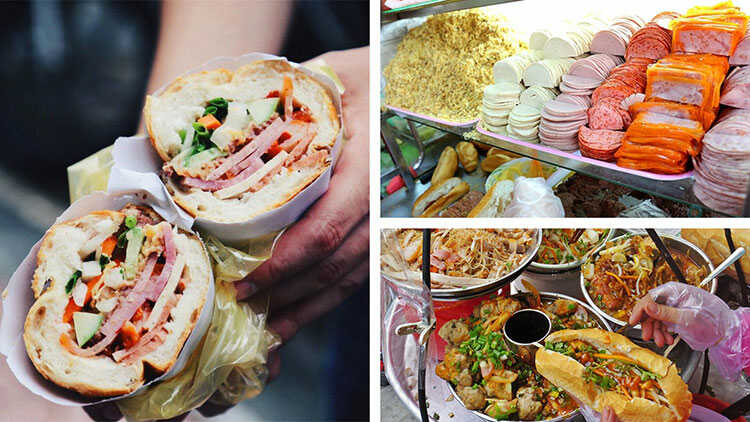 It does not only have the diversity of vegetables but also of the variations on the filling of banh mi: fried eggs, shumai, roasted pork, pork skin, fish cake, etc. People always say that the significance of Saigon's Banh mi is perhaps the openness in the diversity of the fillings and the intensity of flavors in the sauce. 
Banh Mi stalls you can't miss
In Ha Noi, here are some places to get a bite of a delicious Banh Mi:
Bánh Mỳ Bà Dần
34 Lo Su, Hoan Kiem District, Ha Noi 
Price: around $1
Phố Cổ Banh Mi
38 Dinh Liet, Hang Bac Ward, Hoan Kiem District, Ha Noi
Price: around $0.5 – $2.6
If Da Nang and Hoi An are your destination, here are a list of stunning Banh Mi:
Bánh mì Bà Lan
62 Trung Nu Vuong, Da Nang city
Price: around $1
Bánh mì Ông Tý
272 Hung Vuong, Hai Chau District, Da Nang city
Price: around $1
Bánh mì Phượng
2B Phan Chau Trinh, Hoi An city
Price: around $1.3
Madam Khánh – The Banh Mi Queen
135 Tran Cao Van, Hoi An city
Price: around $0.9
When you visit Da Lat for a change of scenery, make sure to check these shop out:
Shumar Banh Mi
26 Hoang Dieu, Da Lat city
Price: around $0.6
Bánh mì Nhân Ngãi
23 Tran Phu, Da Lat city
Price: around $0.9
If you fall for the everlasting bustling Ho Chi Minh city, these Banh Mi spots are a must:
Bánh mì Huỳnh Hoa
26 Le Thi Rieng, Ben Thanh Ward, District 1, Ho Chi Minh city
Price: around $2
Bánh mì Hòa Mã 
52 Cao Thang, District 3, Ho Chi Minh city
Traveling to the west of Vietnam is not a bad idea at all. Here is a list of Banh Mi stalls that you should pay a visit:
Bánh mì Phan Đình Phùng
37 Phan Dinh Phung, Ninh Kieu District, Can Tho city
Price: around $0.5
Bánh mì Tấn Tài
71 Quang Trung, Ninh Kieu District, Can Tho city
Price: around $2.2
But seriously, every Banh Mi stall in Vietnam is surprisingly tasty. Just pick a stall and try it out. You will be amazed by how good it is.
Mì Quảng – essence of the Central cuisine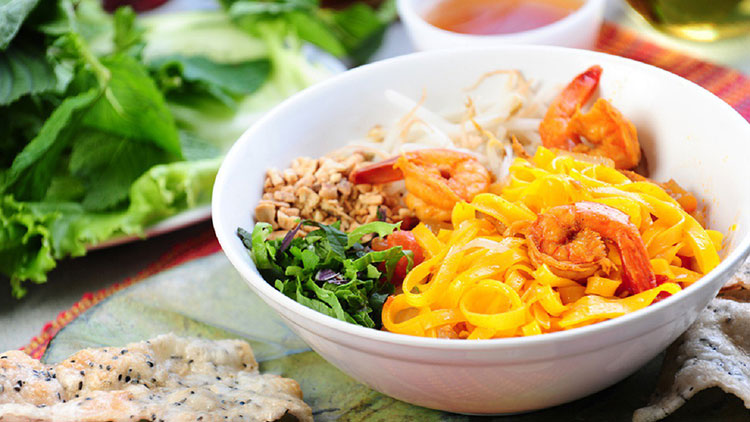 Mì Quảng (or Quang noodle) is a signature dish of Quang Nam – a region in the Central of Vietnam. Mi Quang was created by the influence of both Vietnamese and Chinese cuisine. 
In the 16th century, under the Nguyen Lords reign, Hoi An city became a stirring international trading spot. As a result, many Chinese people began to come and live here. Of course, they brought along with them their delicacies, including a dish made of rice flour that is quite similar to Mi Quang.
Through the golden dust of time, this noodle dish of the Chinese developed and became nowadays Mi Quang – a specialty of the Central in Vietnam.
The charming flavor of Mi Quang 
There are so many versions of Mi Quang such as chicken, fish, shrimp, beef, and even frog. The process of making Mi Quang is not that difficult, but it is sophisticated in every way.
A Mi Quang dish can only be evaluated as a delicious dish when it is full of colors with a wide variety of ingredients such as shrimps, meat, and boiled quail egg. The rich broth must be cooked to perfection. Nine different types of veggies, roasted peanuts, fresh lemon, and chili sauce add the grand final touch to the dish.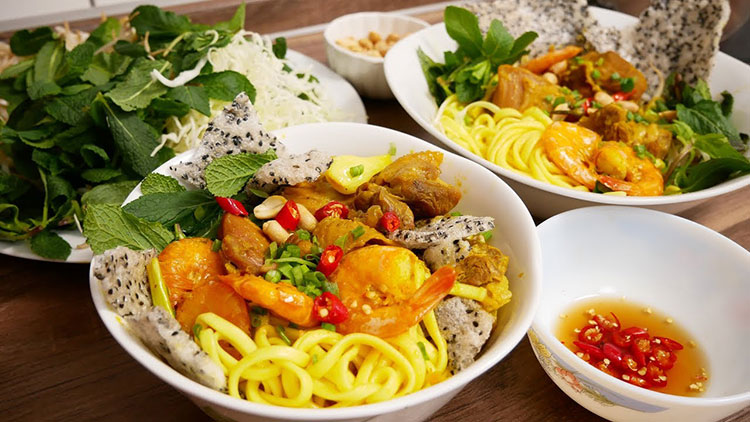 The noodles of Mi Quang is a fine art that is worth mentioning. It is usually bright yellow in color as well as soft and limber in texture. To enjoy Mi Quang like a local, you have to eat it with green chili. The refined flavor along with a little spicy chili will ignite your sense of taste. 
Mi Quang restaurants all across Vietnam 
Though being a specialty of the Central, Mi Quang now exists nationwide. Here is a list of Mi Quang restaurants from the North to the South that you might want to pay a visit:
Vị Quảng
35 Tran Hung Dao, Hoan Kiem District, Ha Noi Capital
Price: around $3.26
Tâm Quán
103 Ngoc Khanh, Ba Dinh District, Ha Noi Capital
Price: around $2.4
Bà Vị
166 Le Dinh Duong, Hai Chau District, Da Nang city
Price: around $2.4
Bếp Trang (specialty in Mi Quang with frog)
441 Ong Ich Khiem, Hai Chau District, Da Nang city
Price: around $2.8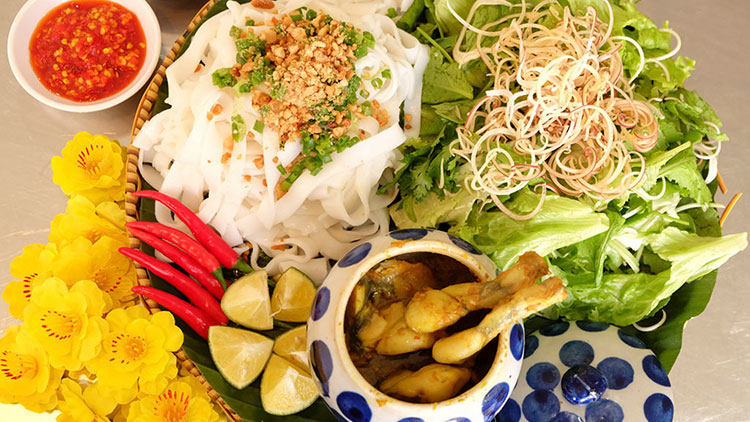 Ông Hai Hội An
6A Truong Minh Luong, Hoi An city
Price: around $1.7
Dì Hát
4 Phan Chau Trinh, Hoi An city
Price: around $1.1
Phố Thị
48 Nguyen Binh Khiem, Da Kao Ward, District 1, Ho Chi Minh city
Price: around $2.9
Phố Hội
133 Hai Ba Trung, Ben Nghe Ward, District 1, Ho Chi Minh city
Price: around $3.2
Xôi – both street food and formal delicacy 
Vietnam has a long-standing rice civilization. As a result, rice products still hold a crucial position in its culinary culture. Rice is present in almost all Vietnamese daily meals: from family meals with rice as a main source of starch, to Pho, Chung cake, Giay cake.
Besides all that, there is another popular dish: Xôi (sticky rice).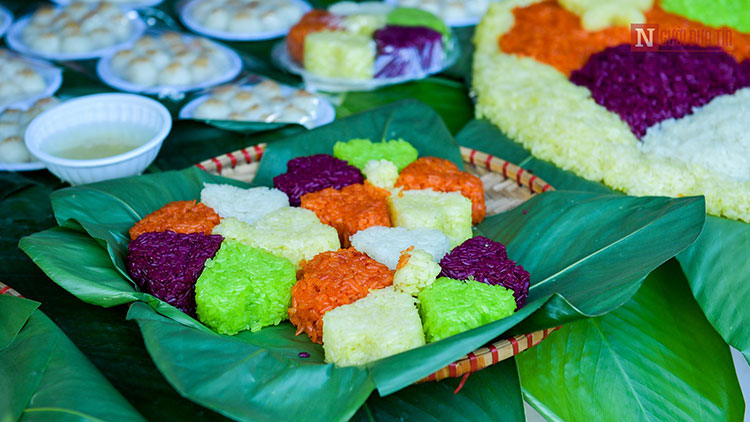 It is kind of odd and interesting at the same time that Xoi is a food that can be both street food and a dish that is present at formal events.
From a favorite snack of childhood… 
To a true Vietnamese, perhaps the most significant presence of Xoi is the one that is wrapped in banana leaves. It fits snugly in the palm of your hand. One can feel instant happiness when they buy a Xoi that is still warm and filled with the bean's fragrance. 
Xoi appears in the very early stages of a Vietnamese, maybe from the moment they start learning how to eat and chew properly. When a child starts going to school, the mother will buy Xoi from a stall on the street, tuck it in her child's backpack as a quick and convenient breakfast.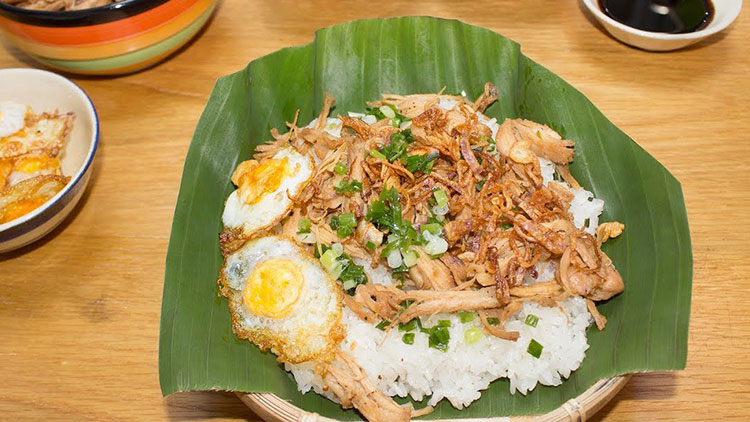 A little bit older, Vietnamese people eat Xoi to fulfill their hunger, their needs. Xoi is full of nutrition, topped with many different side dishes to help replenish energy in a fast and scrumptious way. 
Though being a snack, a street food, Xoi comes in many different styles: Xôi Vò (a mixture of sticky rice, smashed beans), Xôi Xéo (a combination of crush green beans and sticky rice, topped with fried onion), Xôi Đậu Phộng (sticky rice with peanut), etc.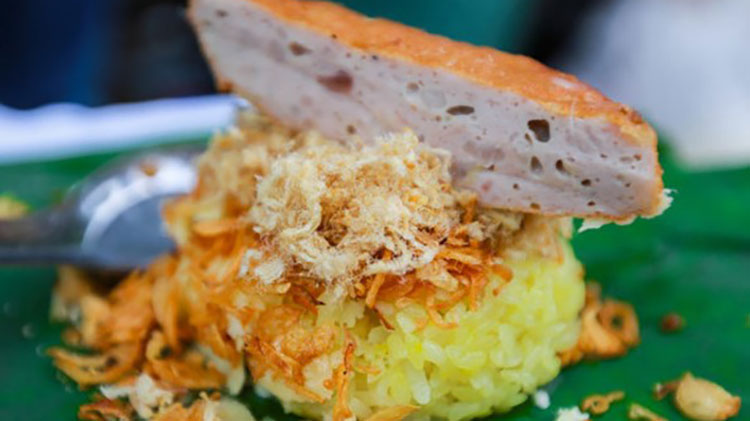 Xôi Xéo
Xoi also comes in savory flavors: Chinese sausage, grilled pork, pâté, and boiled quail eggs. It is no exaggeration when Vietnamese people say that they can eat Xoi continuously for days without feeling sick or bored. One can never really get tired of the various cooking methods of Xoi. 
… To a formal dish that must be there for a person's milestones 
It is undeniable that Xoi is not just a signature dish of Vietnamese people. Xoi is a part of many important customs in the spiritual life of Vietnam. 
Important occasions in Vietnam cannot be completed without the presence of Xoi. On the birthday of a year-old baby, Xoi is a crucial offering that can't be missed. Plus, on Lễ Cúng Mụ (a worshiping practice when a child turns 12 in the lunar calendar), Xoi is offered as one of the significant dishes in the ceremony.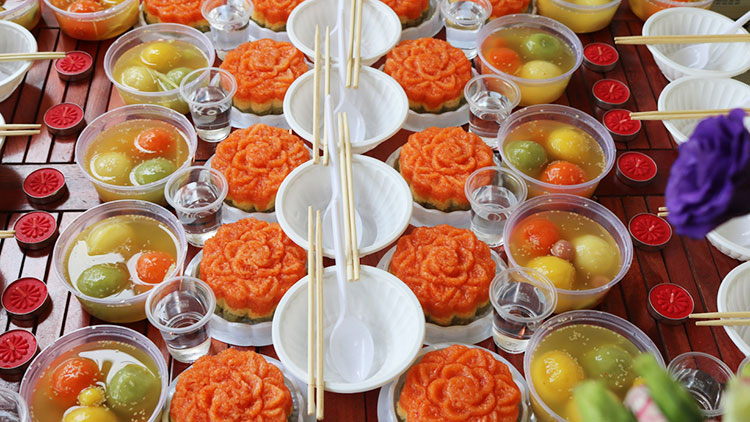 Xoi in the first birthday of a Vietnamese child
More interestingly, Xoi is also required in traditional Vietnamese weddings. On this special occasion, Xoi is skillfully crafted into exquisite shapes that might bring good omens such as 囍 shape (double happiness in Chinese), apricot blossom shape, carp shape. Moreover, Xôi Gấc (sticky rice that is cooked with gac – a super fruit) is widely chosen on this important milestone. The vibrant and cheerful color of Xoi Gac (which is bright red) is believed to bring luck and prosperity to the newlywed.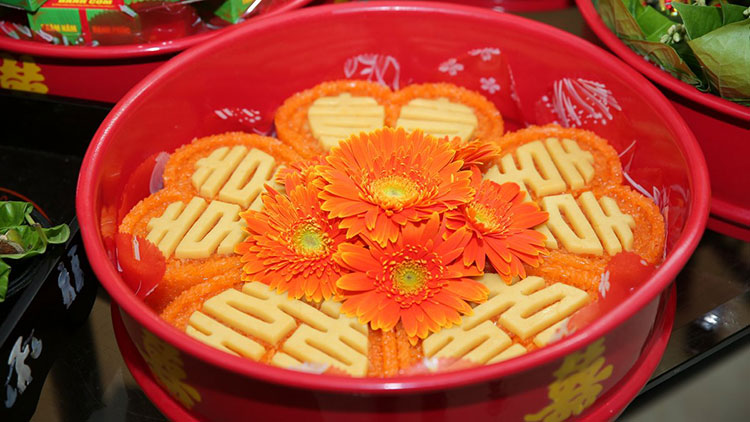 Xoi Gac with 囍 on the top of it
On the offering ceremony of the ancestors, small bowls of steamy, freshly cooked Xoi is a compelling dish. The same goes for Tet offering ceremonies, small bowls of Xoi that are nicely decorated are always present on the altars at Vietnamese homes.
Make sure to check these Xoi out when you visit Vietnam:
Xôi rán Hàng Điếu
2 Hang Dieu, Hoan Kiem District, Ha Noi capital
Price: around $2.4
Xôi Bà Thu
57 Tho Nhuom, Cua Nam Ward, Hoan Kiem District, Ha Noi capital
Price: around $2.2
Xôi Bà Chanh
62 Nguyen Huu Tien, Da Nang city
Price: around $1
Xôi Anh
52A Mai Am, Hai Chau District, Da Nang city
Price: around $1.7
Xôi Cá (with a specialty of sticky rice with anchovies)
131 alley, 2/4 Street, Nha Trang city
Price: aroundg $1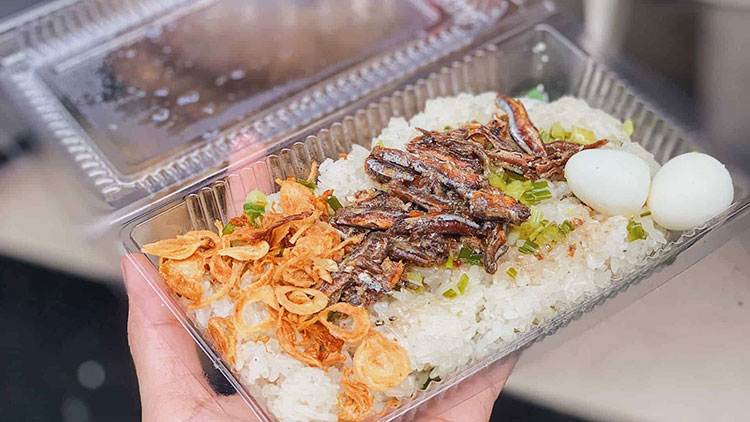 Xôi Cá Cơm – Sticky Rice with Anchovies
Curious about Nha Trang city's cuisine? Give this blog a shot: Nha Trang's delicacies.
Xôi gà Tân Định
310 Hai Ba Trung, District 1, Ho Chi Minh city
Price: around $2
Xôi Bùi Hữu Nghĩa (a unique combination of durian and sticky rice)
365 Bui Huu Nghia, Ward 2, Binh Thanh District, Ho Chi Minh city
Price: around $0.5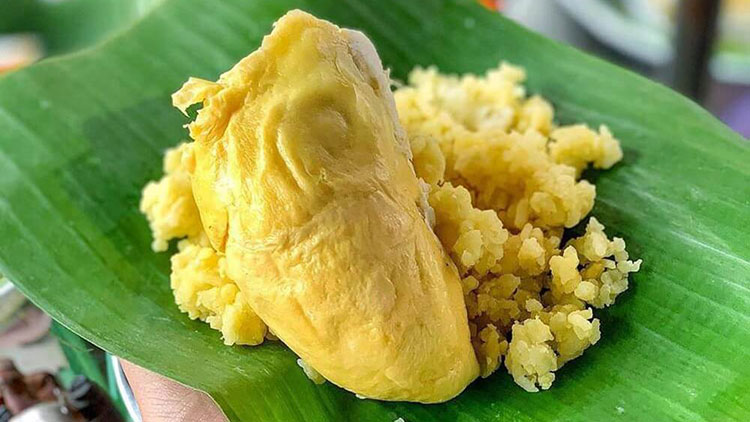 Xoi with durian
Cơm Gà – A down-to-earth yet brilliant dish (h2)
Rice, a simple ingredient, has been deeply ingrained in every Vietnamese meal through the dust of time. It is not an exaggeration to say that rice is a must of Vietnamese culinary culture existing in every pantry. 
Chicken, the universal type of ingredient that can be found literally anywhere but has a stunning taste, is one of the most loved foods in Vietnam. Combining chicken and rice in a subtle Vietnamese way, we have Cơm Gà.
Cơm Gà (Vietnamese chicken rice) may sound and look like a simple dish, but never judge a book by its cover. 
It is a scrumptious specialty that represents Vietnamese cuisine's core characteristic – flavor explosion. Perhaps, you may be familiar with this dish in other countries such as Singapore, China, Thailand, or Spain. But we are confident that Vietnamese rice chicken will blow your mind away.  
And to feast the best Cơm Gà ever, journey to Quang Nam province in Central Vietnam and you will find Cơm Gà Hoi An (Hoi An chicken rice) in the old town of Hoi An. 
Munch the true Cơm Gà in Hoi An (h3)
It is said that a trip to Hoi An, the most charming archaic town in Vietnam, is never completed without tasting Com Ga prepared by the locals. 
Hoi An chicken rice dates back to the 50s of the last century. The people of Hoi An by their endless creativity took advantage of the lean chicken from Quang Nam province to create their legendary delicacy. With its special seasoning, tempting smell, and its down-to-earth but oddly appetizing presentation, Com Ga Hoi An is just so Vietnamese!
Com Ga only consists of two simple main ingredients. However, it requires a lot of expertise to exemplary this dish on the plate. The dish features perfectly boiled shredded chicken mixed with chopped onions, Vietnamese coriander, lime juice, and pepper. The secret of the rice's incredible richness lies in the chicken broth retained to cook the rice. If you wonder how Hoi An chicken rice got its iconic golden color, it is from the turmeric added to the rice.
To fully absorb the flavorsome Hoi An chicken rice, you must learn how to eat it like a true Vietnamese. According to the local's instruction, when eating Cơm Gà Hoi An, you should first squeeze some lime juice into the soy sauce, mix with some chili and shredded vegetables, then add them to the chicken rice. Voila! Your taste buds will surely be ignited by this dazzling combo of deliciousness.
Having your first mouthful of Hoi An chicken rice, you will easily conclude that it is no ordinary dish. It is a humble display of extraordinary cooking skills that could only be found in Hoi An. So for chicken lovers, this is your holy ground!
Can't miss places for the best Cơm Gà in Hoi An (h3)
Check out these top 5 best eating venues for Com Ga Hoi An:
Cơm Gà Bà Buội
22 Phan Chu Trinh, Hoi An, Quang Nam
Price: from $1.5 to $2.15
Cơm Gà Bà Minh Hội An
20 Đào Duy Tu, Hoi An, Quang Nam
Price: around $1.5
Cơm Gà Bà Thuận
17/4 Hai Ba Trung, Hoi An, Quang Nam
Price: from $1.5 to $3 
Cơm Gà Xí
47/2 Tran Hung Dao, Hoi An, Quang Nam
Price: from $1 to $2
Cơm Gà Bà Nga
8 Phan Chu Trinh, Hoi An, Quang Nam
Price: from $2 to $3.5
Let's try Vietnamese cuisine as much as possible 
Obviously, Vietnamese cuisine isn't just these four dishes. However, these above delicacies are the best dishes that can represent a Vietnam with a glorious past.
No one can deny that food is a universal necessity. However, the importance of food goes beyond one's needs. It not only satisfies the needs of your body but also touches deeper places such as your soul, memories, and emotions. 
Isn't it beautiful that you can taste the whole essence of a country while listening to the bustling sounds of life of that very one nation? Isn't it amazing that you can get to know a culture just by enjoying its food?
Vietnamese cuisine has been formed and developed throughout its great history. Each dish represents Vietnam with immense joy and unforgettable pride. As a traveler in Vietnam (or seriously, in any other country), make sure to taste and enjoy as many local dishes as possible.