It is said that the ultimate goal of travelers is the opportunity to soak themselves in the unique culture of a nation. It could be tasting exotic but oddly delicious food. It could be satisfying small talk with the locals. To most of us, it is the chance to emerge in the one-of-a-kind holidays of a country.
Located in Southeast Asia, Vietnam, with its 4000 years of history, is famous for its rich culture. And as the locals say, you will never really know Vietnam if you don't get a chance to witness Vietnam at its peak – which is Vietnam National Holidays.
Imagine the streets are filled with twinkle fairy lights, everyone is nicely dressed, joy appears literally everywhere. Let's discover a glimmering Vietnam in National Holidays!
Tet – Vietnam Lunar New Year
Most Asian countries celebrate Lunar New Year at the same time. Vietnam is no exception.
Lunar New Year in Vietnam is called Tet – a word that triggers positive emotions in almost every Vietnamese. In Western countries, people often attend family reunions on Christmas and New Year Eve. The same goes for Vietnam, Tet is a special holiday where all people flock back to their hometowns and spend quality time together with their loved ones and families.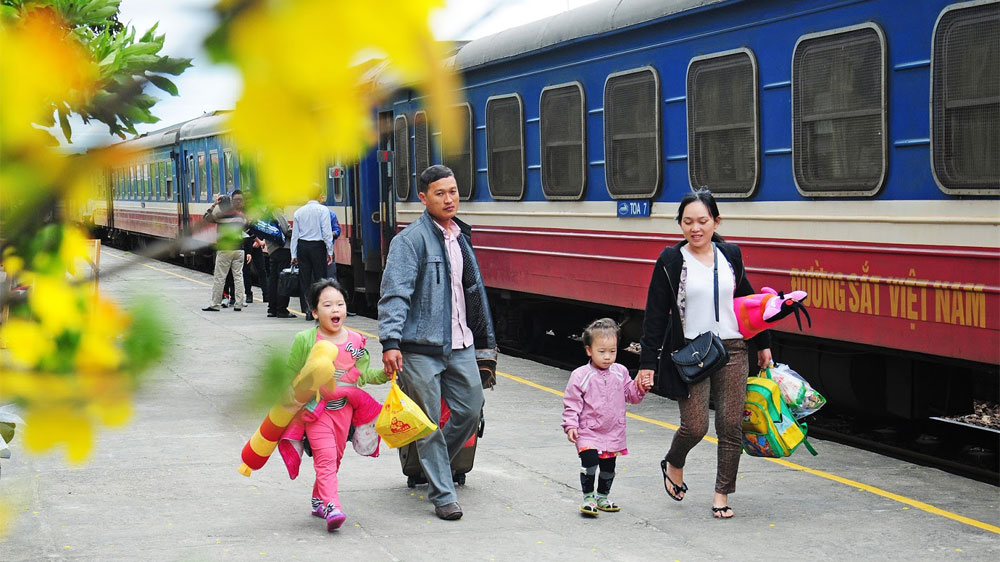 Then how does Tet become a tradition? And when did it become the most significant holiday in Vietnam?
Tet's origin: from history to legend
Strongly influenced by Chinese culture, Tet's origin dates back to the 1000 years of Chinese domination. Though being imported from China, Tet remains a holiday filled with the national identity of Vietnamese people.
There are some historical pieces of evidence that Tet has been around for a really long time. Confucius – a Chinese philosopher and politician, once wrote: "I do not know what the New Year is, as I know that is the name of a great festival of the Man, they dance like crazy, drink and eat in those days."
In a Vietnamese ancient history book called Giao Chi Book, it is also stated that: "The Giao Chi People often gather in groups to dance, sing and play for several days to celebrate a new crop, not just the peasantry but all the high classes of society such as mandarin, Lord, and King also participate in this festival". Giao Chi is the name of ancient southern Vietnam.
That is the historical perspective of Tet's origin. What about the legend where Tet began – the legend that is told to every single Vietnamese kid as a bedtime story?
Here is how the story goes: "As the 18th prince of Hung King – the first feudal system of Vietnam, Lang Lieu had to participate in a contest to become the next king. Days after days and he came up with nothing to present his father – the King. Then one night, a fairy showed up in his dream and told him about 2 special cakes that would make him stand out from the rest. One square cake – Chung cake, represents the Earth, and another round one – Giay cake, stands for the sky."
Nowadays, Chung cake and Giay cake are still present among other Tet delicacies. Some say it is a tradition that needs to be preserved. Others are just simply into the taste of these delicious cakes.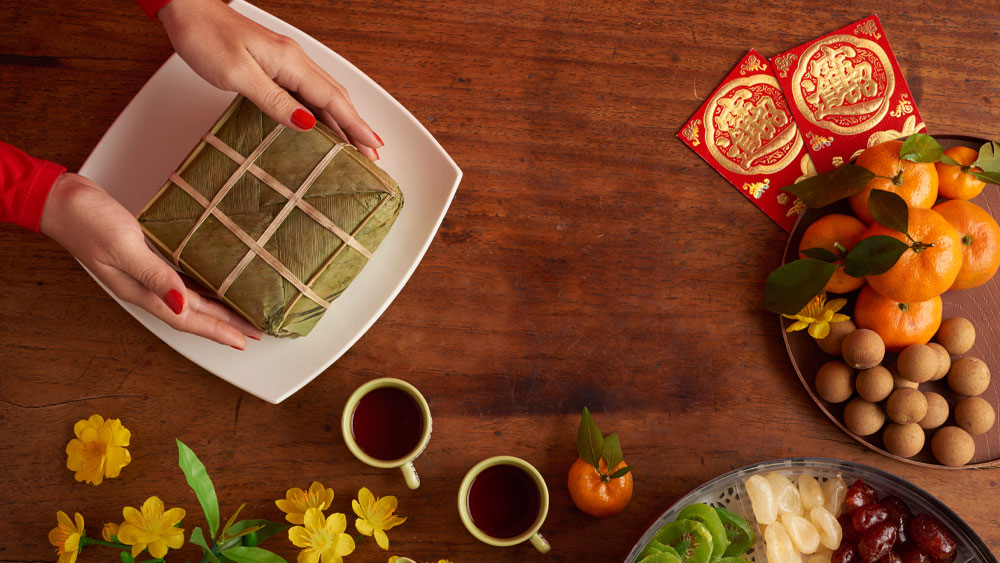 Tet's values: gathering, celebration, and joy
Words can barely describe the value of Tet to Vietnamese people. It is no exaggeration to say that Tet signifies one of the most precious traits of Vietnamese: their family-oriented culture.
Gathering is one of the most important values of Tet that must be mentioned first.
It is a norm in every country in the world that people in small towns migrate to big cities to make a living. In Vietnam, people in rural areas travel to old cities with hope and passion for a better life. Whenever Tet is approaching, there is one place that all of them will head to. Though that place is located in different addresses, they are all called "home".
If you happen to be in a big city in Vietnam at that time, you will witness a scene unlike anywhere else in the world. Thousands of people pack their luggage and travel back to where their hearts are – home. No matter how far, costly, or time-consuming the journey is, coming back home remains the strongest desire in every Vietnamese.
Now, celebration is the second value of Tet. The reason why people flock back to where they were born and raised is that they want to celebrate Tet with their family and loved ones.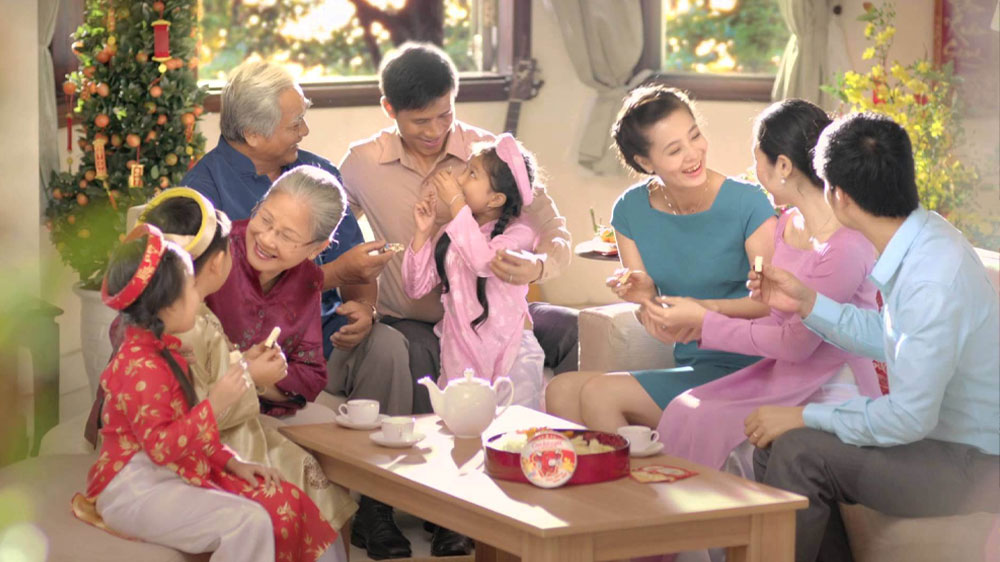 Out with the old, in with the new. Tet is the perfect occasion for people to celebrate what they accomplished in the previous year, as well as welcome the upcoming year with better and bigger hope.
It could be small gestures such as asking about someone's health or praising one because of his or her achievements. It could be a feast with all members of an extended family and friends. It could be shopping generously as long as it brings joy to other people. It could be in a lot of forms. But after all, it is a celebration.
Joy – the third most important meaning of Tet. To Vietnamese, Tet is all about joy – whether it is their own or others.
People don't need a reason to be joyful in Tet. They just are! Everyone's faces light up with smiles and happiness. Adults sing and laugh with each other. Kids run around to express their excitement.
Tet activities: all about enjoying life
Tet falls on the first day of January in the Lunar calendar. However, Tet activities, or the preparation of Tet, starts weeks before the actual day. Let us guide you through Tet activities, from the very beginning to the end.
Pre-Tet activities
House deep-clean, everything needs to be pristine. Whenever Tet is approaching, Vietnam families give their homes a deep-clean. Windows are scrubbed to the tiny bits, floors are swept until it shines, and all furniture is dusted to perfection. This traditional activity aspires to sweep away all bad things of the past year.
Shopping and decorating. After cleaning the house to pristine condition, the next thing Vietnamese need to do is shopping and decorating.
As a foreigner who is traveling Vietnam, perhaps you cannot experience the cleaning activities of Tet. But Tet markets are a must. Prior to Tet, flea markets will be organized all around the country, traditional markets stuffed with new stocks. People can go there to shop for food, clothes, or even flowers.
Flea markets are preferred by the younger generation. You can buy all sorts of things there – from clothes to accessories, to help you ace the best look in Tet. Meanwhile, traditional markets are where the older generation opt for. These markets are best suited for Tet delicacies, jam, food, spices, etc.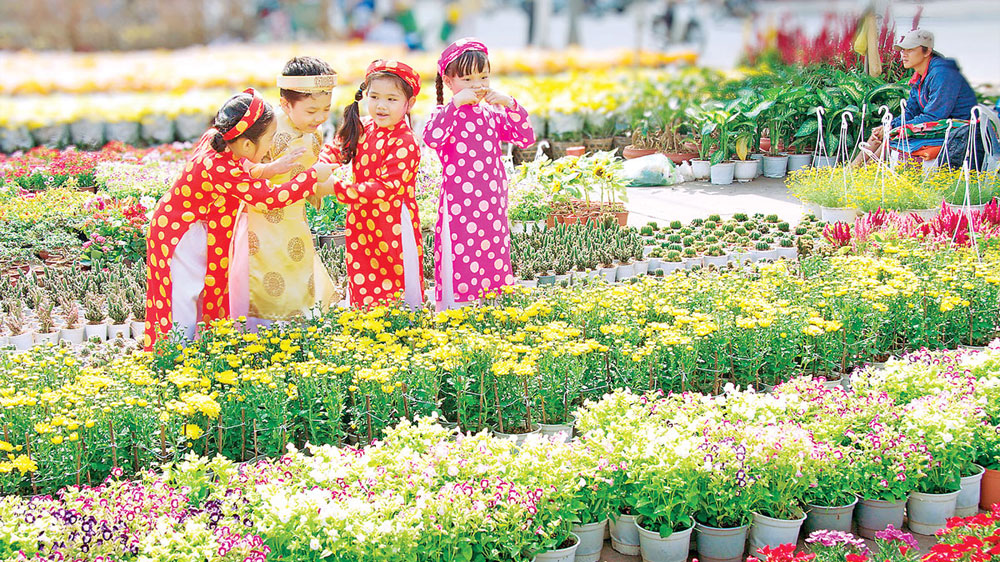 Here comes the most exciting and marvelous part – flower markets. Vietnamese people love their homes to be filled with flamboyant flowers and plants. Months before Tet, flower markets are set up everywhere. People can go there to pick flowers, plants that caught their eyes. In the North, peach blossom is the must-have flower in Tet, whereas, in the South, the apricot blossom is what the people go for.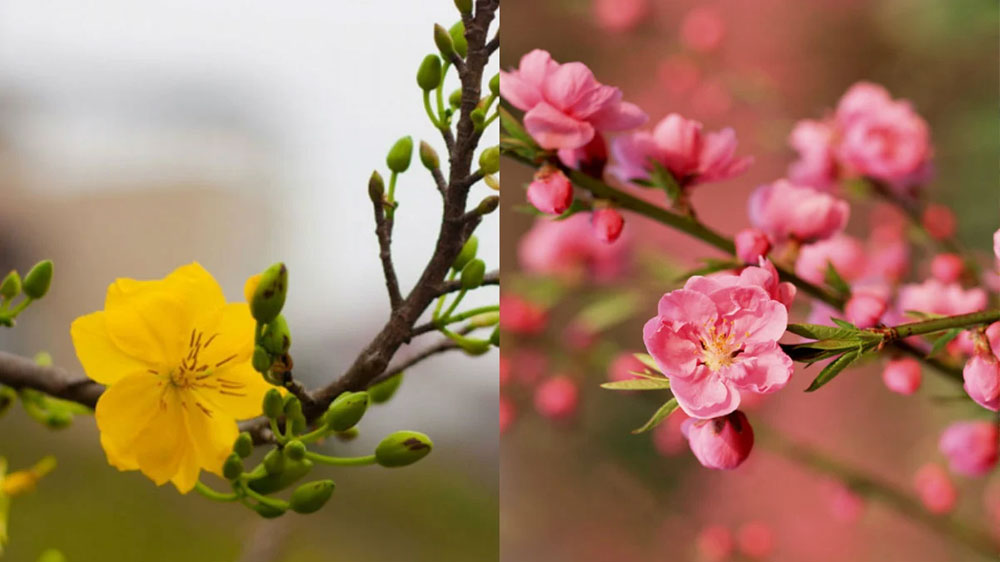 After getting all the necessities, people will start to decorate their homes.
Kitchen God's Day on December 23rd (Lunar calendar). This tradition is well-preserved through Vietnamese generations. On December 23rd (Lunar calendar), families will clean their kitchen and the Kitchen God's statue. In the evening, family members will place well-prepared meals, burn incense, and pray to send the Kitchen God on his mission – report to the Jade Emperor.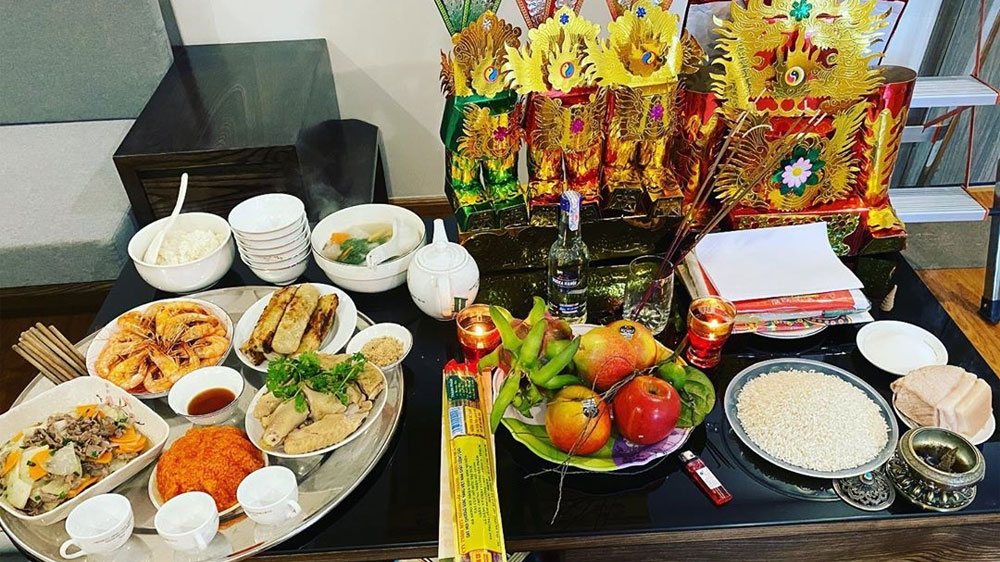 Year-End Parties. The few last days of the Lunar year is the best time for travelers to rejoice in the celebrating atmosphere of Tet. Everyone will have a party where they toast, eat, drink, or even share some high or low memories together.
Local diners will be filled with discounts, therefore attracting more people. To both Vietnamese and foreigners, this is a great time to go out, have a nice little party in the middle of bustling streets.
Tet activities
New Year's Eve activities. After all the preparations, shopping, and parties, all that left is a marvelous New Year Eve's.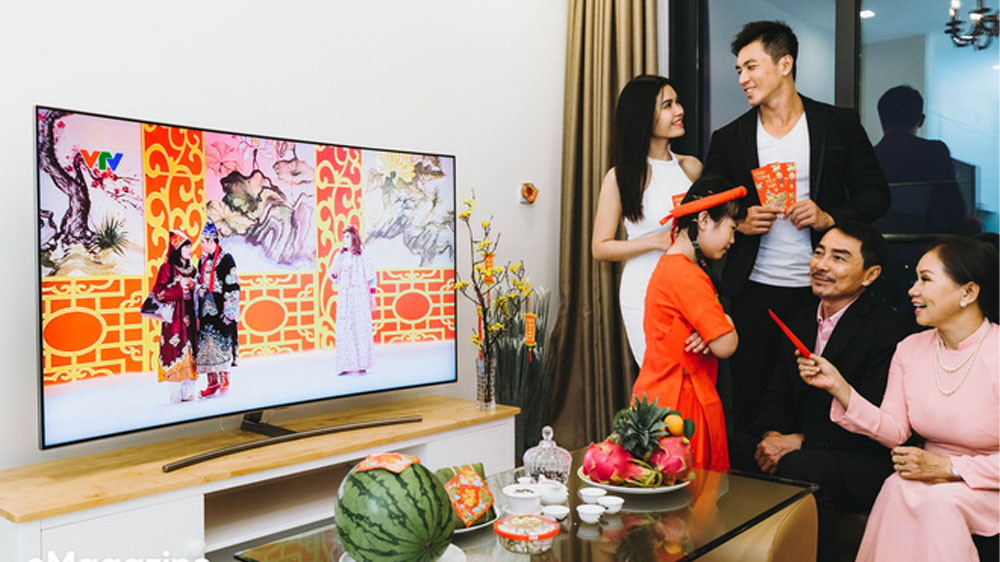 Some will stay home with their families and enjoy some Vietnam new year classics. Others will go out, party at some countdown events, and wait for the firework at midnight. There are a lot of similarities between Vietnamese New Year Eve's and that of western countries. However, after a magnificent firework, people will either go home, attend some after-party, or visit pagodas to pray.
In rural areas, people usually cook Chung cake and Giay cake throughout New year's Eve. It takes tons of effort and cares to make these types of cakes. Therefore people usually take turns to keep an eye on the fire. There will be some small talk around the pot with Chung cake and Giay cake inside.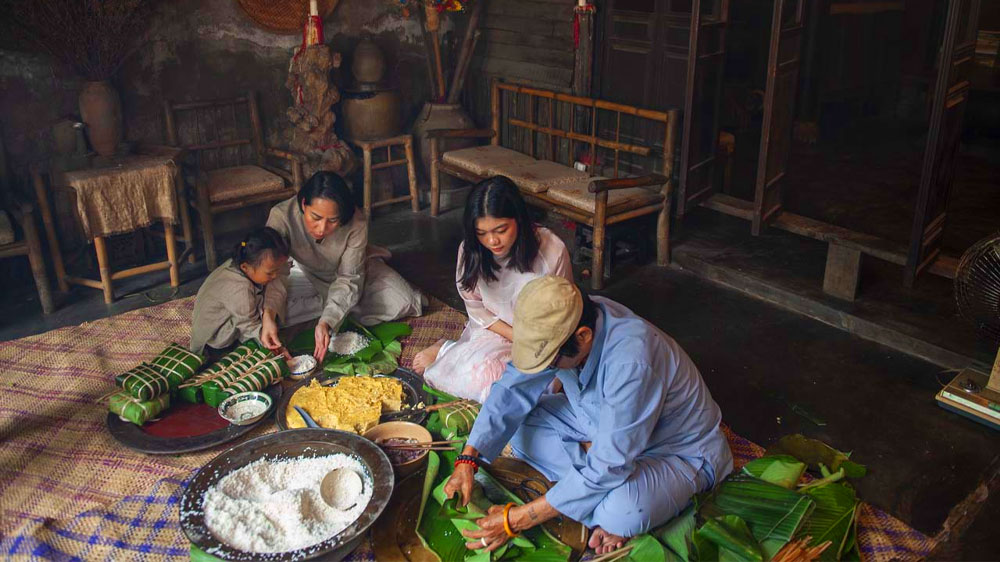 The first day of the year (Lunar calendar): blessings and giving luck. On this day, people will say the warmest blessings to their relatives, neighbors, and friends. This tradition seems to be preferred by small villagers.
Also, giving out lucky money in red envelopes is a beautiful tradition. Parents give red envelopes to their kids to encourage them to try harder this year. The grown-ups will give lucky money to their elders to wish them a year with good health and happiness.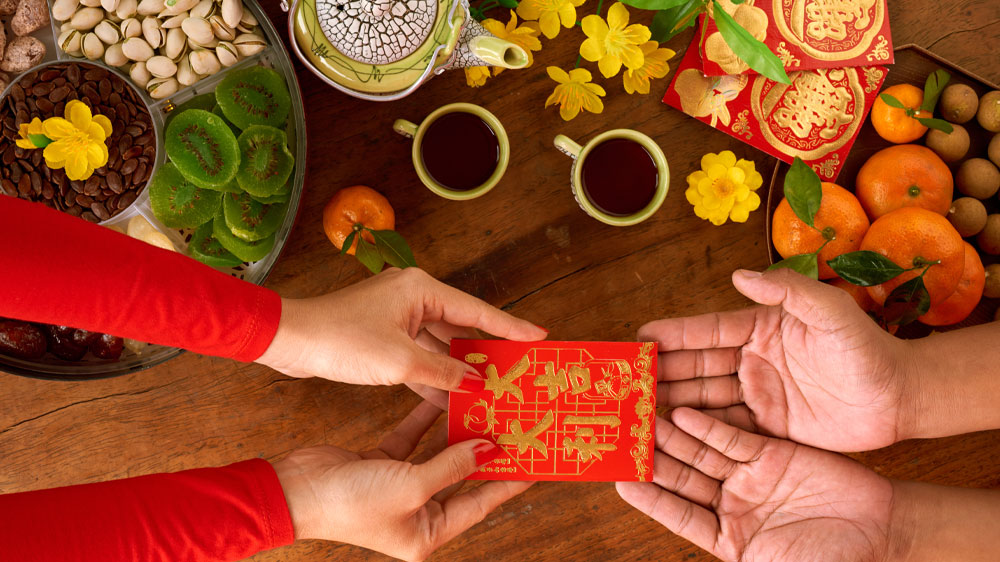 Feast all day with family and friends. It is such a big mistake not to mention Vietnamese traditional food in Tet. Every meal is a feast these days. Chung cake, Giay cake, roasted watermelon seeds, pickles, dried candied fruit, five-fruit tray, and meat stewed in coconut juice, etc. are always present in everyone's home.
Public events throughout the country. Events will be held all across the country, offering people a place to enjoy the new year to the fullest. As a traveler, make sure you don't miss out on any musical performances, comedy shows, flower festivals, etc.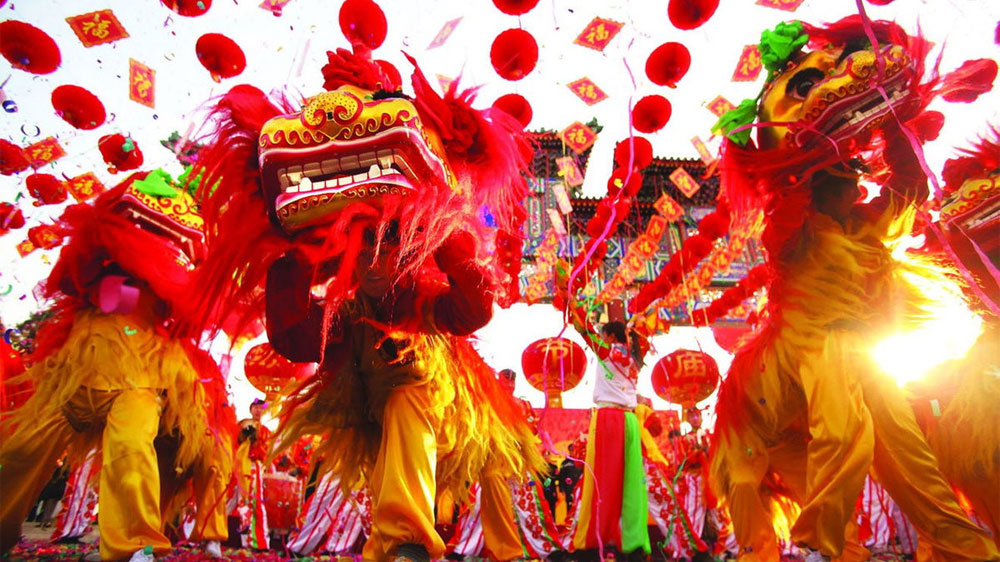 Tet – holiday leave
Tet is the longest holiday in Vietnam. It often takes place from 5 to 7 days. The official announcement about Tet leave will be made by the Vietnamese government 1 to 3 months in advance.
In the past, most businesses including restaurants or markets were temporarily closed. In recent years, the number of closed businesses has dropped significantly. Therefore it won't be a problem if you visit Vietnam during Tet. You can still enjoy the street food that you read about on the Internet and merge in the holiday spirit.
Hung Kings Commemorations – glorious ancient Vietnam
One of the most precious traits of Vietnamese people is their gratitude toward their origin and ancestors. On March 10th (lunar calendar) each year, a festival will be held for several days in order to pay tribute to Hung Kings.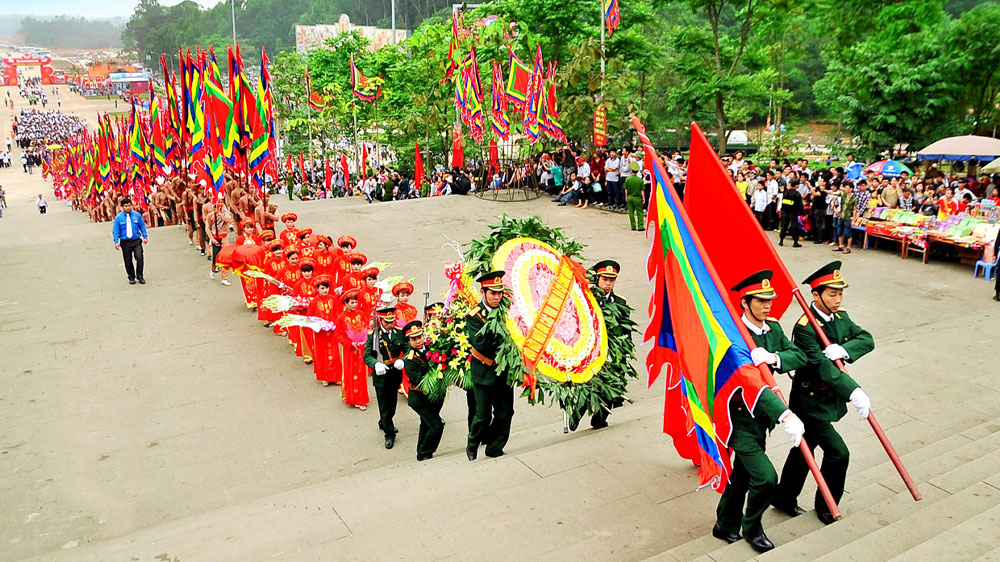 Let's take a look at this Hung King Commemorations' origin!
Hung King Festival's Origin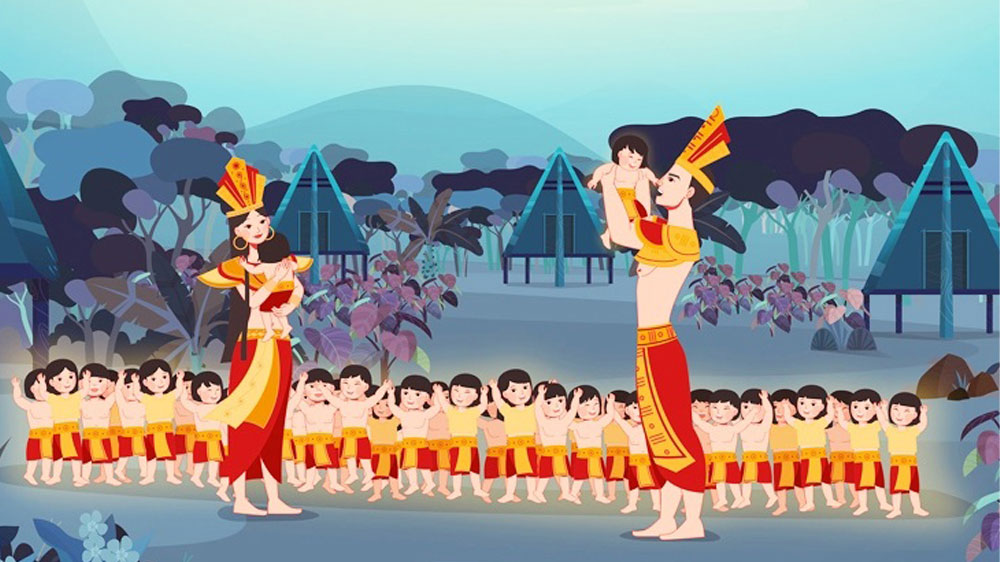 It all started with a legend from long ago. Lac Long Quan and Au Co got married and had 100 children. Half of them followed Au Co (their mother) to the sea, while the other half stayed at the land with Lac Long Quan.
The eldest son established himself as the King of Van Lang and placed his kingdom at Phong Chau, Pho Tho. It is believed that this reign is the ancestors of the Vietnamese people.
Hung King Festival's Meaning
The main purpose of this national holiday is to pay tribute to Hung Kings – the ones that put a foundation on building the country from the very first beginning.
Also, another significant meaning of this holiday is to educate the young generation about their roots.
Hung King Festival's Activities
Every year, people from all walks of life gather together at Hung King Temple to attend the awe-inspiring ceremonies.
The first ceremony is truly the most breathtaking one. From March 9th's (lunar calendar) afternoon, villagers who are in charge of the ceremony, gather and prepare the palanquin and other items such as food, flowers, and incense.
On the d-day, which is March 10th, young boys and girls in beautiful holiday costumes carry offerings, flags, and flowers and head to the mountain to offer wreaths. Usually, there will be the leaders of Vietnam joining this ceremony. More interestingly, in even years, this marvelous ceremony is led by honored soldiers from Vietnam's People Army.
Besides the main ceremony that takes place in the Upper Temple, people from all over Vietnam also flock to this place to offer incense and flowers.
Along with the solemn ceremony, some vibrant and cheerful activities are also organized: Cheo and Quan Ho performances (Vietnamese traditional styles of singing), chess games, cooking competitions, and cockfight, etc.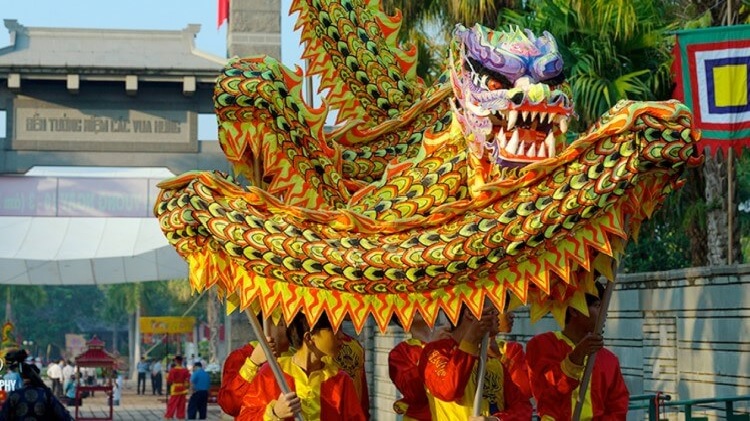 Hung King Festival – Holiday leave
Since 2007, Vietnamese can take 1 day off on March 10th (lunar calendar) annually.
If the Hung King festival catches your attention, make sure to check the lunar calendar to see the exact day (as it will be different each year). And another big thing to keep in mind is to book your tickets and apply for your Vietnam visa in advance, as this holiday is also famous to foreigners.
Vietnam's Reunification Day and Labor Day – Glorious history
Moving on to the next national holidays – Vietnam's Reunification Day and Labor Day. If the two holidays above show you the cultural aspects of Vietnam, these next holidays are about a glorious history of Vietnam that needs to be remembered and appreciated.
Vietnam's Reunification Day – A new chapter opened
Vietnam's Reunification Day, which is celebrated on April 30th annually, is the occasion to appreciate the honored history and cherish what Vietnam has achieved.
The time where separations and sorrow lingered, had passed. Now Vietnamese can truly live, contribute, and enjoy their lives.
Labor Day – Honoring workers worldwide
On May 1st every year, International Labor Day is celebrated. This is the chance of honoring the effort and contributions of workers all over the world.
The government dignifies Labor. There will be no Vietnam as we see today if there is not hard labor of every Vietnamese citizen.
Vietnam's Reunification Day & Labor Day's Activities
If you visit Vietnam on these two holidays, you can expect to witness grand shows of culture and tourism all over the country.
In Hanoi – the capital, traditional festivals are specially arranged for visitors to enjoy. Traditional food delicacies, ethnic culture plays, and folk games are everywhere, waiting for people to come and experience.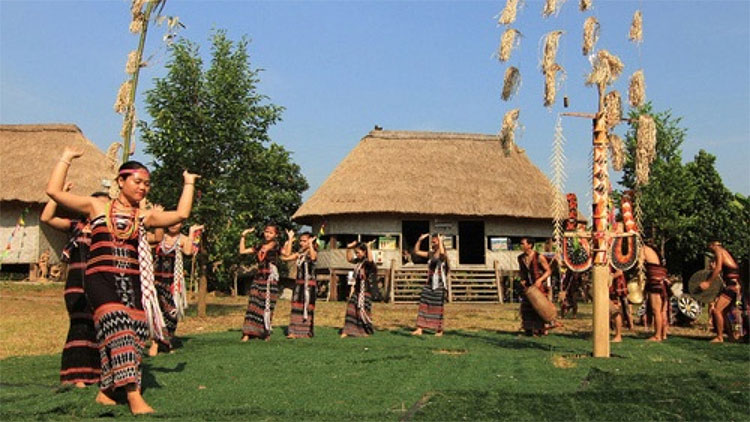 Meanwhile, at Hue – the old capital full of palaces, traditional craft festivals, and ao dai (traditional dress) festivals are held, attracting thousands of people nationwide and overseas.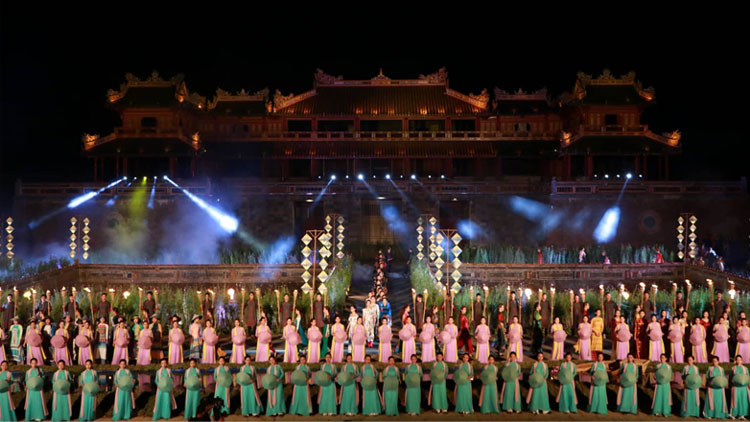 In the South, Ho Chi Minh city – the very heart of the Vietnam economy, firework display will be set off for 15 minutes. People will go out, celebrate the national holiday on the streets with their loved ones, have nice meals, and party hard.
Vietnam's Reunification Day & Labor Day – Holiday Leave
As these two holidays are two consecutive days, Vietnamese people can enjoy 2 days off for this occasion.
Unlike Tet – which is the holiday for families and the locals (mostly), Vietnam's Reunification Day & Labor Day attract both Vietnamese and international citizens. It is recommended that you visit these two holidays to merge yourself into the joy of the people and the bustling streets of Vietnam.
Vietnam Independence Day – A nation is born
Decades ago, Vietnam declared its independence. A new nation is born with a promise to bring all people their deserved freedom and happiness.
Vietnam Independence Day's Activities
Perhaps the most beautiful thing about Vietnam on this national holiday is the streets turn maleficent as the bright red color of the national flag can be seen everywhere.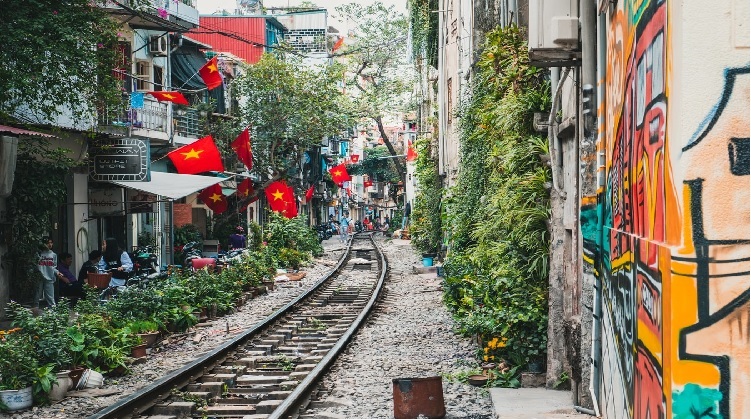 Some will take advantage of this holiday as a break from a busy normal life. Others will go on vacation to let their hair down.
In the capital, a massive march of the Vietnamese army will be held on Ba Dinh Square. Historic attractions such as Ho Chi Minh Mausoleum, Ho Chi Minh Museum are famous destinations for both the locals and tourists.
In contrast with Hanoi, Ho Chi Minh City offers a wide range of activities for the youngsters to celebrate this day. Singing and dancing performances, art performances, and parties happen in every corner of this ever-changing city.
Firework displays are a must on this holiday. Just like Vietnam's Reunification Day, firework displays will be carried out in several locations throughout the country, in harmony with the joy of the people.
Vietnamese Independence Day – Holiday leave
Like many other national holidays, Vietnamese get a day off on this holiday. Since it is quite a short break, people don't go back to their hometown like they do in Tet. Instead, they will take it easy, wake up a little late in the morning, then hang out with friends and family, or even throw a nice party.
Most restaurants will offer tons of discounts in order to attract people. Tourist attractions are no exception. If you are the foodie and explorer type of traveler, then this holiday in Vietnam is a must.
New Year – The international celebration
In tune with the whole wide world, New Year has become a tradition in Vietnam for quite a long time.
New Year's activities
New Year's Eve in Vietnam is quite similar to other countries – as it is an international holiday.
There will be countdown parties in big cities with famous singers, artists that will make people go wild. Streets will be crowded with families, couples, and groups of friends. Restaurants are fully packed with laughter and happiness.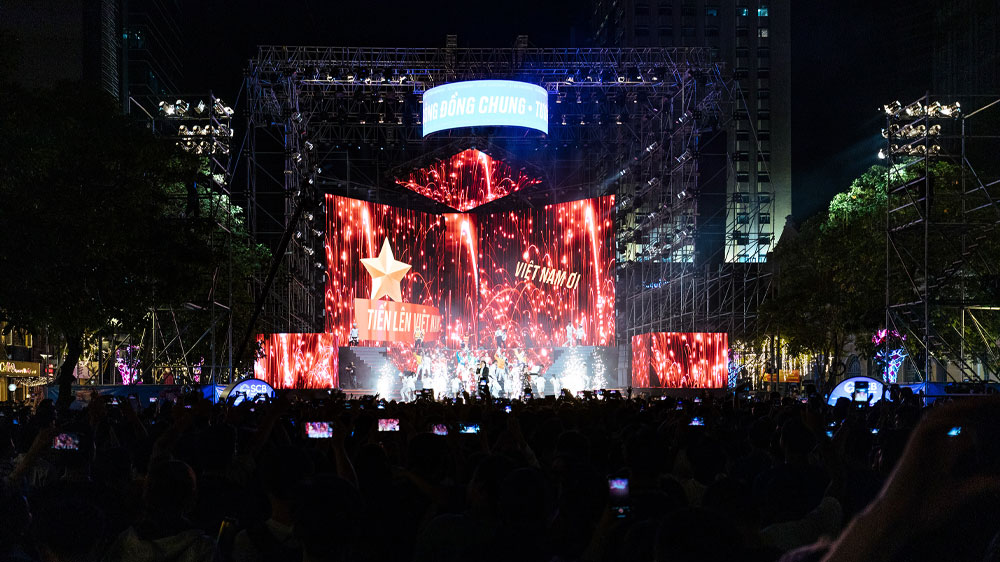 This holiday is most long for by the white-collar workers as it is time for a stunning costume at the Year End Party of their companies.
Older generations can stay at home, have a cozy dinner, and watch some holiday programs on the tv. After all, everyone has their own definition of celebration.
New Year – Holiday Leave
This could be the most familiar holiday to foreigners in Vietnam. It is quite an interesting experience to welcome the new year in a beautiful tropical country.
People will get 1 day off on this occasion. Maybe it is not long enough to travel to far-distant places, but nearby tourist attractions are the top-notch choice.
Fall for these holidays? Apply for your visa in advance!
Each holiday has its own uniqueness and charm. If you fall for these holidays and wish to visit Vietnam to attend, please be advised that there will be some notes for the applicants who want to get a Vietnam visa on arrival during these national holidays:
Both applications for Visa on arrival and Embassy visa can be postponed seriously within Vietnam public holidays – i.e, in Tet Holiday. Therefore, it would be a good choice if you can apply for a visa at good time.
Visa letters cannot be delivered during the holidays.
Days off for the Vietnam national holidays will be announced by the government prior to the event.
Most government offices, banks, and other institutions will be closed during Tet.
You need a visa for visiting Vietnam and do not want to take a long waiting time for dealing with application requirements? Visa2Asia is here to help your process to run smoothly. Talk to us NOW!