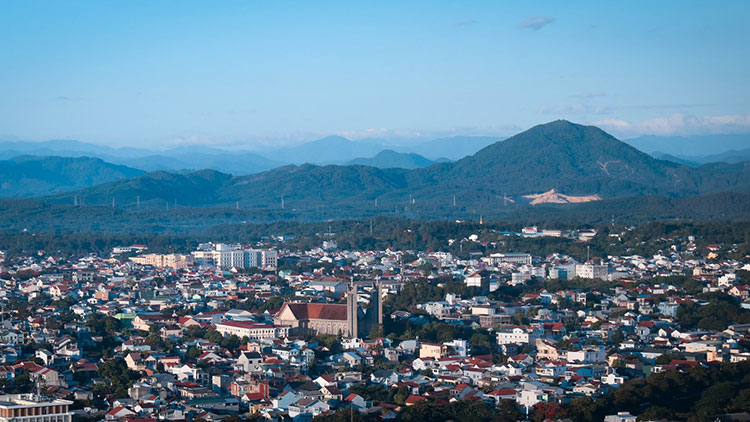 Have you ever heard of Hue, an angelic ancient city in the heart of Vietnam? 
If you are a history and culture admirer, you're going to love Vietnam. And once you fall for Vietnam, you will love Hue. 
Hue is not a destination for a quick glance. It takes some time to settle in and fully appreciate the timeless value of this oddly angelic city. Find out how the ageless beauty of Hue will open your mind to the triumphant history of Vietnam.
Hue in a glance
Traveling to Hue is like hopping on a time machine and going back to Vietnam hundreds of years ago.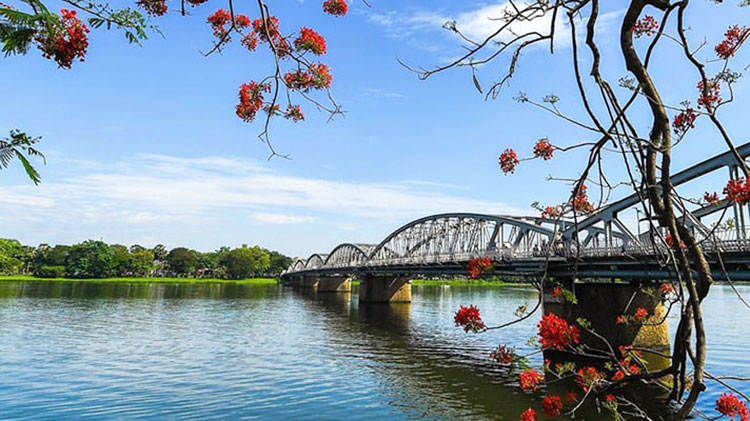 Hue is the former capital of Vietnam that sits peacefully on a plain in Thua Thien Hue province about 126 km (78 miles) north of Hoi An. Home to the romantic Huong river (Perfume river) crossing through the city's heart, it is one of the three must-visit wonders of Central Vietnam – Hoi An, Da Nang, and Hue.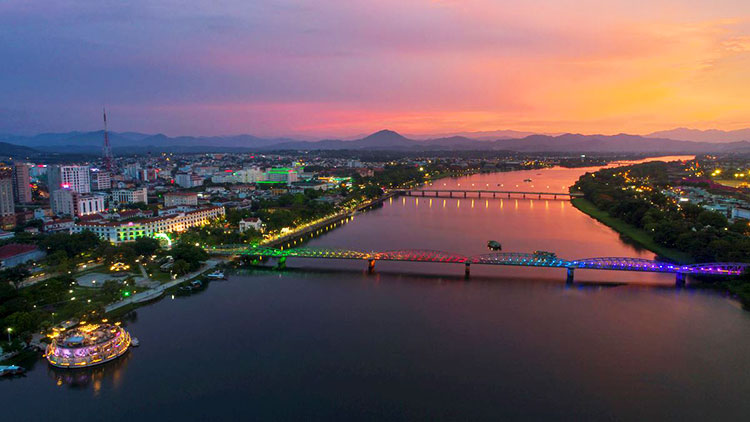 Words can barely describe the hidden value of Hue. Showcasing various historic national gems and mystical cultural traits, the charming city is a gentle epicenter of Vietnamese culture and history.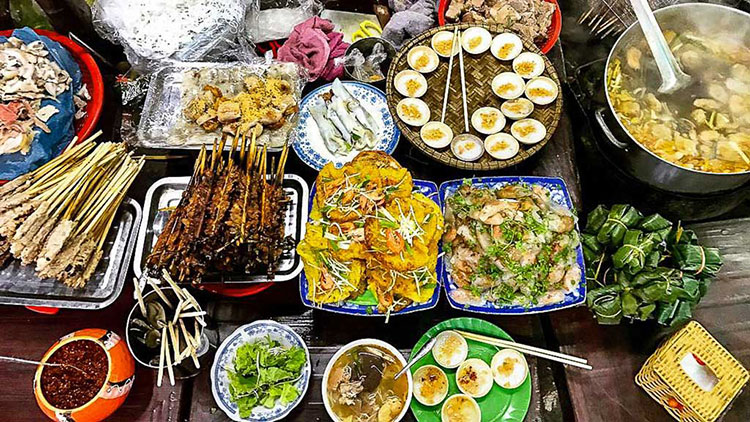 Not to mention the irresistible bevy of utterly scrumptious dishes exclusively created by Hue locals. From the legendary Hue beef noodle soup, flavorful clam rice, interesting savory cakes, to wacky sweet soup – they are the superstars of Hue cuisine that leans toward elegance.
The history of Hue
To every Vietnamese, the name Hue is bound to one of the most wars in modern history.
In 1802, Hue was made the national capital by the Nguyen dynasty. After the Nguyen dynasty collapsed in 1945 when the final Nguyen emperor – Bao Dai – abdicated the throne, it began the darkest times of Vietnam's old capital. 
Due to its geographical nature and location, Hue was the most fierce combat zone during the dire Vietnam War. Affected by drastic bombing, many of its historic buildings suffered from heavy damages. It was the age of loss to Hue – loss of cultural heritage, and loss of lives as an inevitable result of war.
Despite all the tragedies, Hue slowly but surely regained its prospect when peace was finally restored in Vietnam. The majority of the historic sites carrying the rich tales were revived, making Hue the "remnant of the feudal regime" for tourism.
The beauty of Hue locals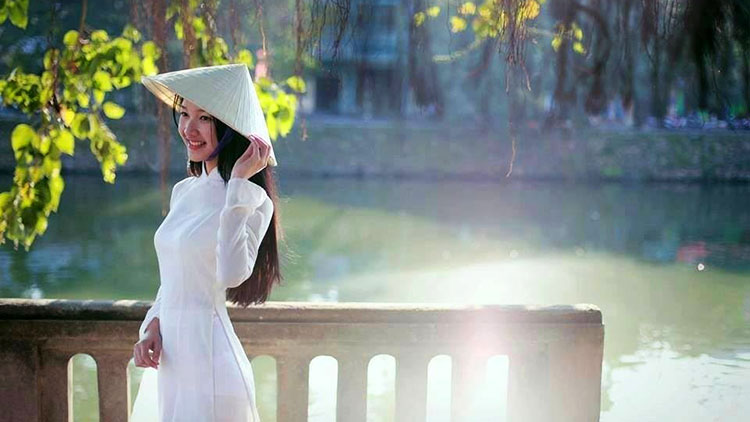 Hue can't be such an attractive and charming place without its lovely people. The Hue people have a gentle, sweet personality mixed with a little shyness, discreteness, and a captivating voice. 
Traveling to Hue, you will be welcomed by the genuine friendliness of the people here. They always have a smile on their lips whenever they meet strangers, no matter where they come from. Whether you only come here once or many times, you will always feel the heartfelt warmth of Hue locals.
Best historic attractions in Hue
It is time you venture into the land of history. Let's read on to see what Hue has in store!
Hue Imperial city – the cradle of Vietnamese history and culture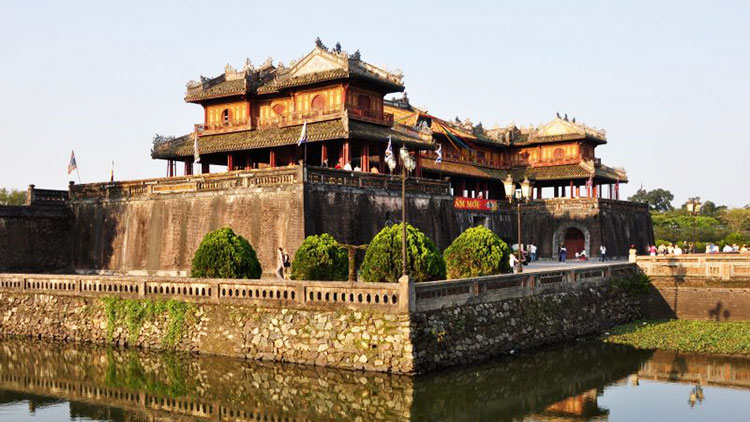 It is impossible not to spot the most well-known attraction of Hue. Standing majestically in the heart of Hue is the Imperial city, which was the seat of the Nguyen dynasty – Vietnam's last royal family. 
Facilitating hundreds of rooms, Hue Imperial city was built in 1805 and finished after nearly 30 years of construction. It showcases a beautiful moat full of koi fish encircling its fortified stone walls surrounding the emperor's palace and temples. With the size of 520 hectares, the spectacular imperial city is just too vast to explore in one day. 
Hue Imperial city stood the test of time and still preserves many outstanding architectural works. As a result, it won the honor of being recognized as World Cultural Heritage in 1993, which adds another reason why you will deeply regret not visiting this national treasure. 
Below are the major highlights of Hue Imperial city you should have a look at.
Ngo Mon Gate – Meridian gate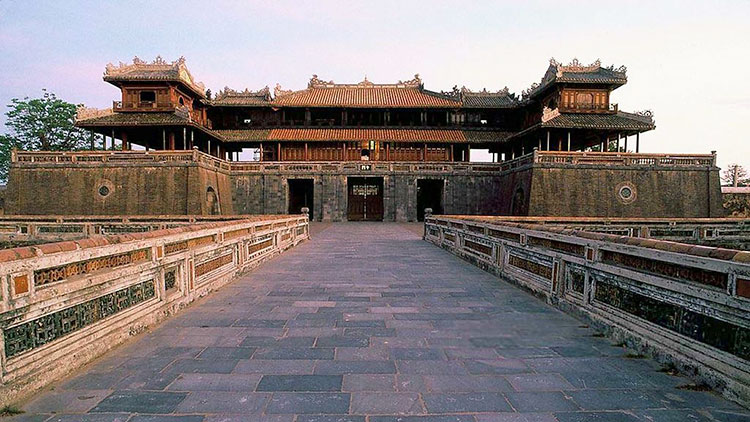 There is no better way to start your Hue Imperial city tour by taking Instagram snaps of the massive three-story structure Meridian gate, the most tourist-capturing attraction of Hue Imperial city.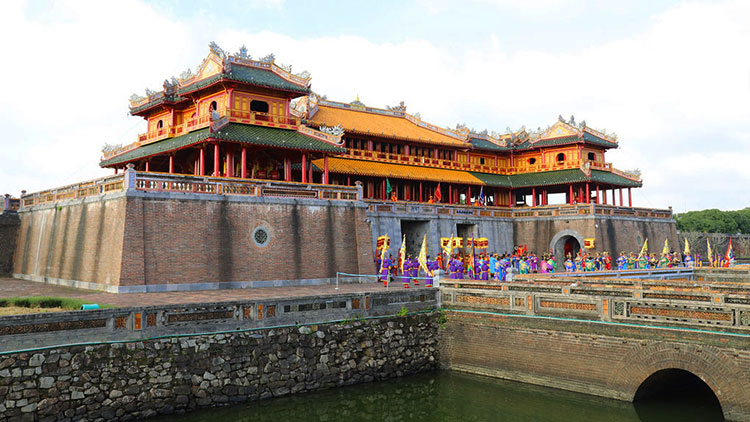 For over 180 years of the effects of time, Ngo Mon Gate still exists and stands firmly to this day to become a symbol of Hue. It is a rare testament to the ancient indigenous architectural art lasting for centuries.
Meridian Gate is the largest gate exclusively used by the royal family as the main entrance. It consists of 5 gates. The central gate with its golden doors was reserved only for the emperors. The two adjacent gates were for court officials, and the final two outer gates were for the servants.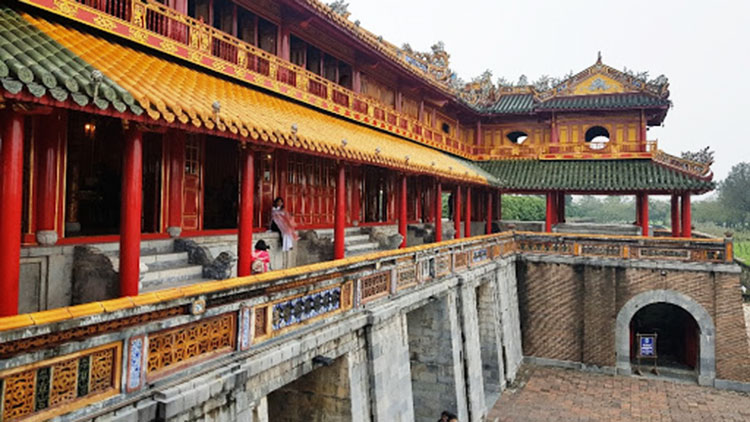 Upstairs at the Meridian Gate is Lau Ngu Phung (Five Phoenix Pavilion) with its roofs decorated with sophisticated patterns. It is where the king sat during festivities. Why not get on the Five Phoenix Pavilion and experience what it's like to be a ruler of Vietnam hundreds of years ago?
Hoang Thanh – Imperial Enclosure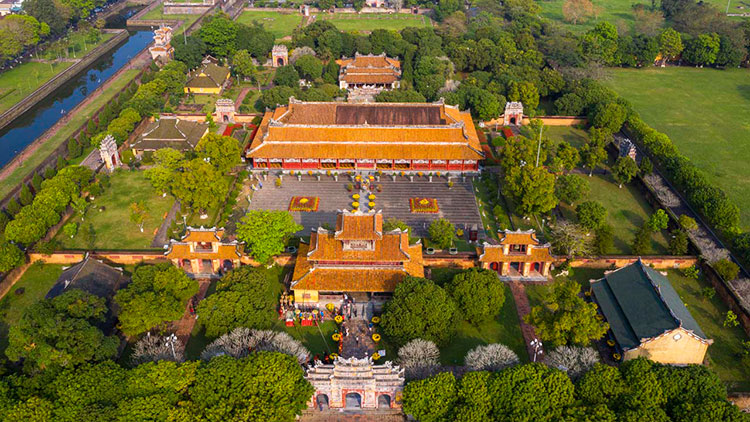 Passing through the magnificent Ngo Mon Gate, what lies in front of you is a citadel-within-a-citadel named Imperial Enclosure, meaning Hoang Thanh.
Housing temples and palaces, It is the residence of the royal family, and also the workplace of the court. Also, the Imperial Castle of Hue is a place of worship for ancestors and kings of the Nguyen Dynasty.
Hoang Thanh used to be extremely enormous with 148 buildings. Due to heavy bombing, however, what is left today of Hue Imperial Enclosure is a fraction of its original with 20 buildings surviving from the war. Despite having lots of cracked tiling, masonry, and rubble, it is still highly sublime for a delightful stroll.
Tu Cam Thanh – The Forbidden Purple City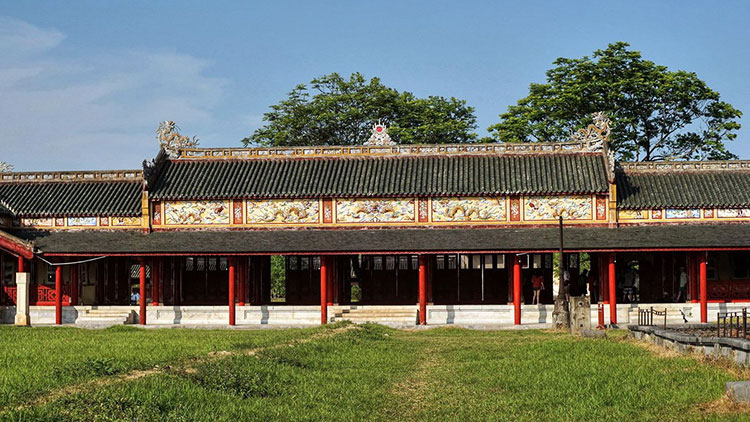 Passing the Imperial Enclosure is the innermost citadel, the Forbidden Purple City. 
The Forbidden Purple City was for the royal family exclusively as well as being the workplace of the royal court. Its symmetry and picturesque design are credited with the strict following of Feung Shui principles that were applied during construction.
Tu Cam Thanh's origin echoes back to an ancient folk tale. There was a place called Tu Vi Vien (meaning a purple garden), the palace of the gods in heaven. According to mythology, the king is the son of heaven, so the king's residence should also resemble the gods' home. And therefore, the Forbidden Purple city was built as the king's private home where no ordinary citizen could enter.
Dien Thai Hoa – Palace of Supreme Harmony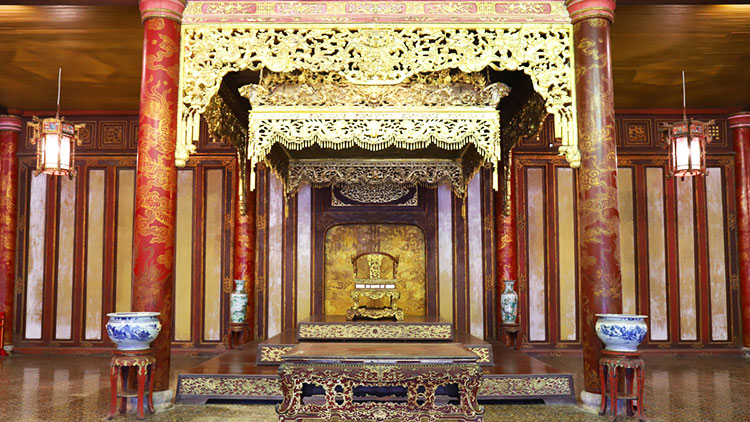 When stepping into Hue Imperial city, you will wonder where is the place dedicated to special events only in the old dynasty. It is Dien Thai Hoa – the Palace of Supreme Harmony.
Constructed in 1805, Dien Thai Hoa is a powerful symbol of the Nguyen Dynasty and one of the most important landmarks of Hue Imperial city. The palace is the venue used for important occasions such as the coronation ceremony, the king's birthday, the welcome of the official envoy from nations, and the dynasty ritual celebration. 
Standing at the center inside the grand palace, you can't help but be dazzled by the stunning red lacquered wooden poles with astonishing emblems of golden dragons surrounding you. And the most striking attraction is the golden throne where the king sat and listened to the reports of court mandarins. 
Though being decimated by the Vietnam war, Hue Imperial city's priceless historic and cultural values never fade away. The craters, rubbles, and small bullet holes left on its walls are the messages to the young generation to never take peace for granted.  
It is not an exaggeration to say the Imperial city is the reason why hodophiles love Hue. So buckle up, get your Vietnam visa on arrival, fly to Hue and witness the gift from the past.
Note: There is an entry fee for Hue Imperial City. Highly recommended that you visit the ground in the morning to avoid unbearable heat at noon since there are not many shady spots within the Imperial city.
The royal tombs – where the last kings of Vietnam rest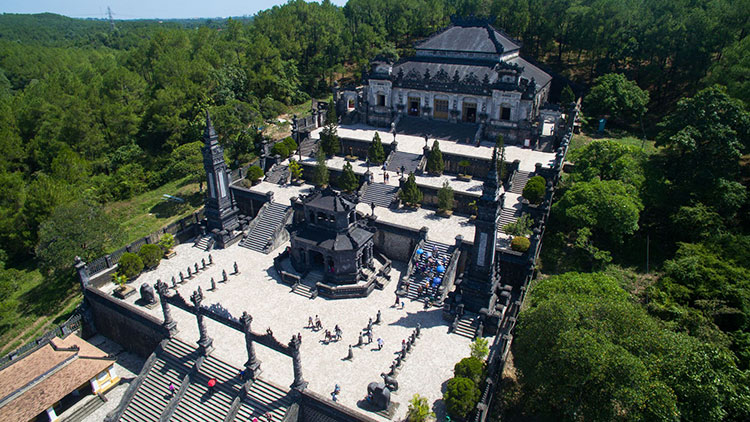 The Imperial city of Hue has walked you through a broad picture of what it's like to be the ruler of Vietnam's last royal family and the age of horrendous war. What is next? It would not be a bad idea to take a walk at Hue's beautiful royal tombs. 
When it comes to being the old capital of Vietnam, Hue has no shortage of burial sites for Emperors. Probably, you are wondering why you should check out the tombs of people who passed away long ago. 
These are no ordinary tombs. They are the last resting place of the Vietnamese rulers during the Nguyen dynasty. Therefore, they were built with incredible effort to be as sacred and majestic as possible. These tombs surrounded by nature are some of the most visited attractions that can stir up the most awe and keenness. 
To dig deeper into Vietnamese history and admire the consecrated beauty of traditional architecture, don't miss the three most popular tombs below:
Minh Mang tomb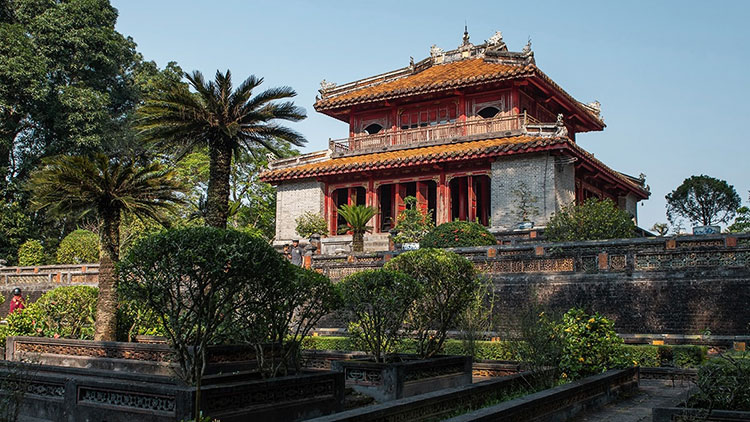 Sitting along the west bank of the Perfume River is the most ambitious royal tomb built during the Nguyen dynasty – Minh Mang tomb. 
Minh Mang was the 2nd emperor of the Nguyen dynasty who ruled from 1820 to 1841. When he passed away, his son and 10,000 men decided to build his tomb which took two years to construct. It is 178062 square meters with 40 monuments and a stone wall that completely girdles this place, protecting it from outsiders.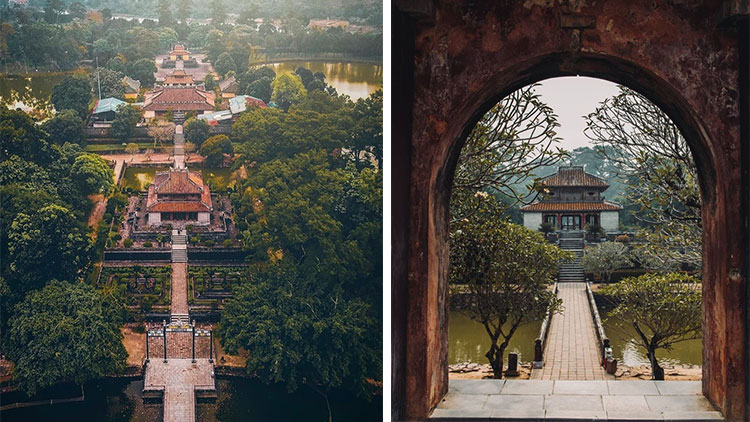 This is one of the most visited tombs because of its classic Chinese architecture. Here you will be lost in the space between the four sides of the endless lines of trees and lotus pond. All create something that is both experimental and poetic.
Tu Duc tomb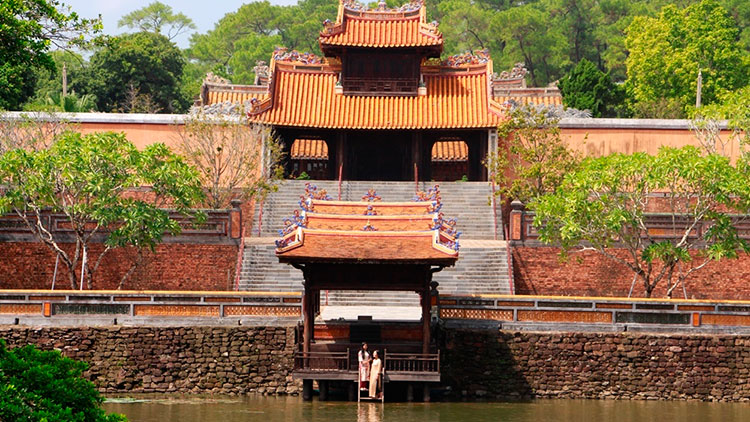 Arguably, many travelers after visiting Tu Duc tomb will say without hesitation that this is the most beautiful tomb of Hue. But why?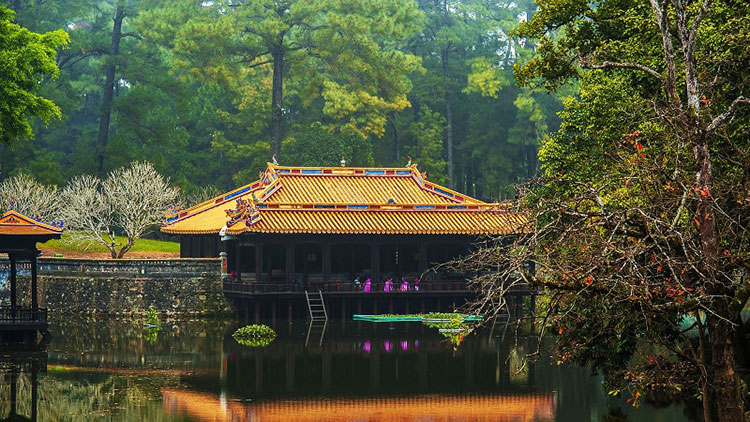 Tu Duc is the dynamic fusion of fine architecture, which coexists and harmonizes with gorgeous nature. When you experience the serene atmosphere from the pond combined with greeneries, it is difficult to imagine anyone not enjoying this wonder. Maybe, the enchanting scenery of Tu Duc tomb was inspired by the artistic soul of Emperor Tu Duc. 
Khai Dinh tomb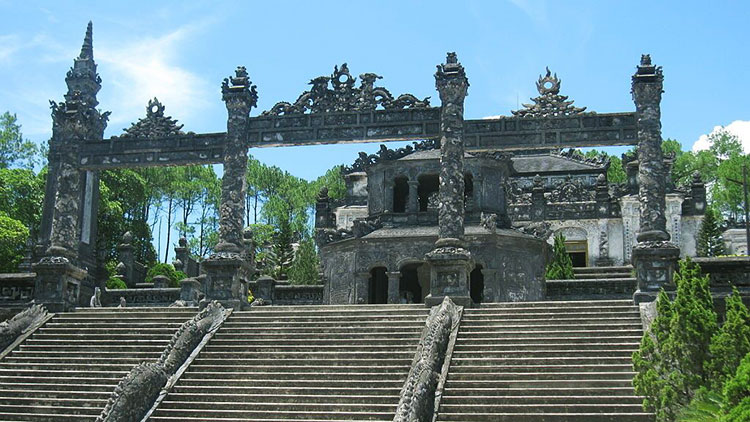 Let us take you to what possibly is the most interesting tomb in all of Hue – Khai Dinh's tomb.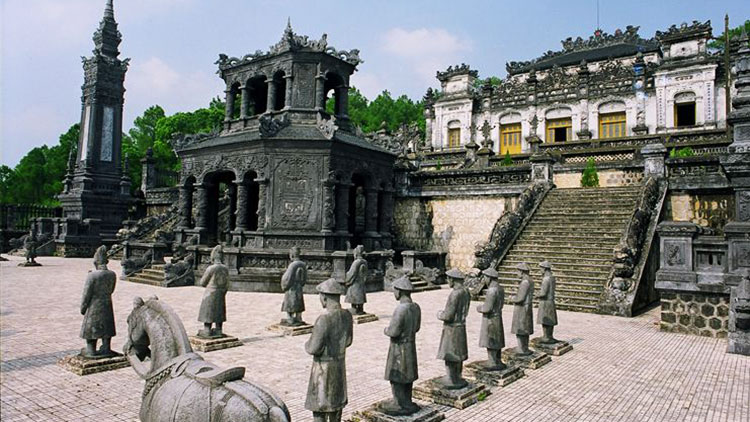 Sitting on Chau Chu mountain around 8.7 km (5.4 miles) from Hue city center, it is the resting place of Khai Dinh, the 12th ruler of the Nguyen dynasty. Having wives, concubines, and gambling problems as well as drug addictions, he was the most submissive emperor when it came to the French colonial rule. It was really tuberculosis that led to his demise after 9 years of ruling.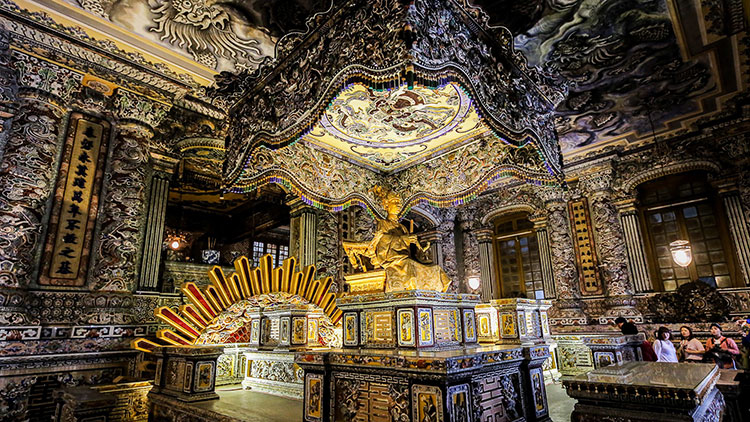 Khai Dinh tomb took 11 years to build. Modern French building materials namely cement, steel, and iron, combined with the traditional Vietnamese materials such as mortar and terracotta were used to create this masterpiece. Ironically, the resting site of one of the worst Vietnamese rulers is a fascinating attraction to visit.
Thien Mu pagoda – the pristine gem carrying a touching story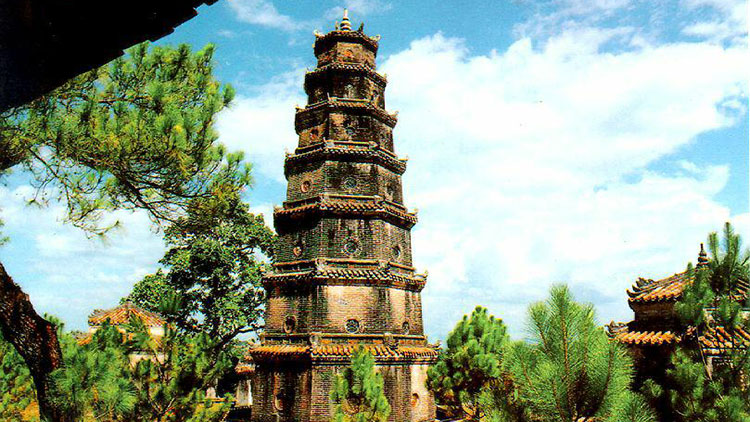 It is said that coming to Hue without visiting Thien Mu pagoda is considered a huge crime. 
Lying on the lush Ha Khe hill, by the bank of the Perfume River, the pagoda attracts visitors by its unique history and charming beauty.  
A symbol associated with the image of Thien Mu pagoda is the 7-story Phuoc Duyen tower. The 21 meters (69 feet) high tower, consisting of seven floors, was built in front of the pagoda. Each floor of the tower has a Buddha statue. Inside there is a spiral staircase leading to the top floor, where previously there was a golden Buddha statue.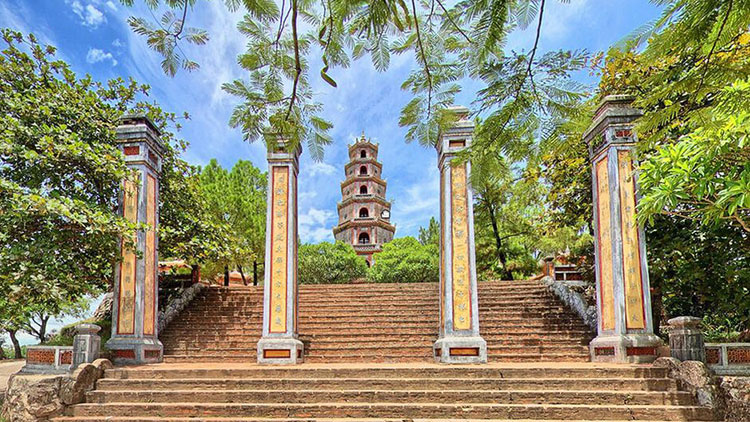 Having existed for over 400 years, the iconic pagoda has been through all the ups and downs of Hue. The name Thien Mu is translated to "Heavenly Woman" or "Celestial Lady". And it resembles the tale of the pagoda's origin.
Legend tells that while lord Nguyen Hoang of the Nguyen empire was scavenging the vicinity of Hue, he overheard the locals whispering about an old celestial lady dressed in red and blue. She made a prophecy about a king who would visit the hill and erect a sacred pagoda to bring the country's prosperity and well-being. Soon after that, she just vanished mysteriously.
Miraculously, the old lady's words came true. Lord Nguyen Hoang soon after hearing the story ordered the construction of the pagoda and named it after the lady. And through the dust of time, it did, does, and will always bring peace to the land of Vietnam.  
Thien Mu pagoda is also the keeping place of an infamous piece of Vietnam's modern history. It is an old blue Austin A59 Westminster lying quietly in a solitary realm. You will probably be a little shocked, but at the same time touched by the story behind this once luxurious car in Vietnam.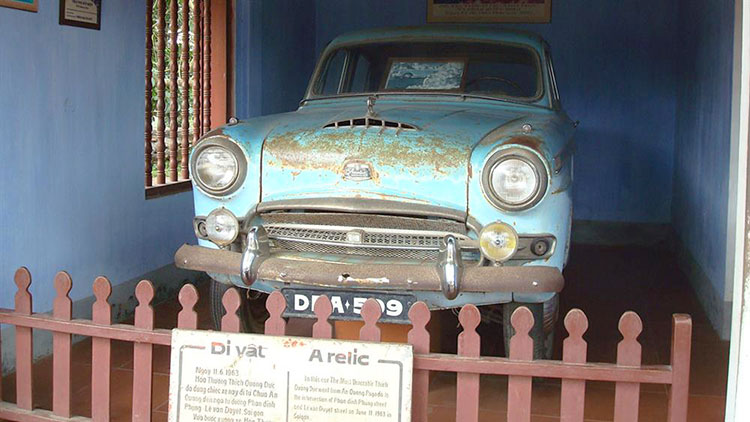 On June 11th, 1963, the blue car took a Vietnamese monk called Thich Quang Duc to a busy intersection in old Saigon. He calmly got out of the car, then sat down in the meditative lotus position on the road. Everyone on the street had no idea what he was about to do until the other two monks came out from the car and started pouring gasoline on him. He was going to perform self-immolation.
When Thich Quang Duc dropped the match, he became a human torch. However, he remained incredibly still. No expression of pain was spotted on his face.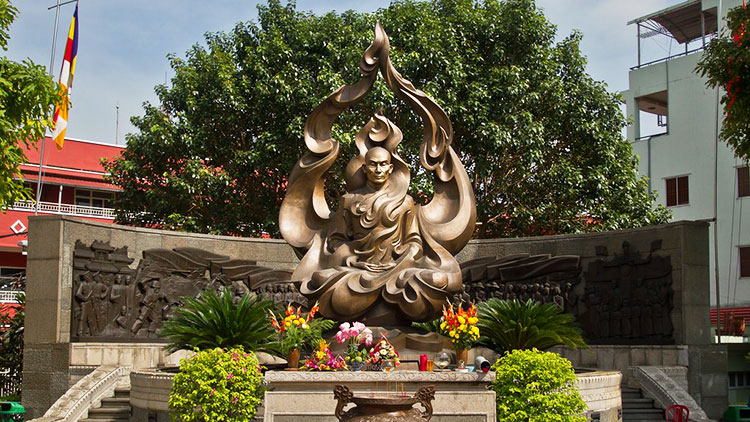 It was an act of protest against the cruelty of the Diem government. And his action spoke louder than any word. Many witnesses, including some anti-protest police, broke down and cried for his sacrifice. The car carrying his soul is well-preserved at Thien Mu pagoda till today to honor him as a symbol of peace.
Must-visit destinations around Hue
You have immersed yourself into the riveting historic destinations and unraveled the intriguing stories of the past in Hue. It is time to have some fun at attractions near Hue. 
Da Nang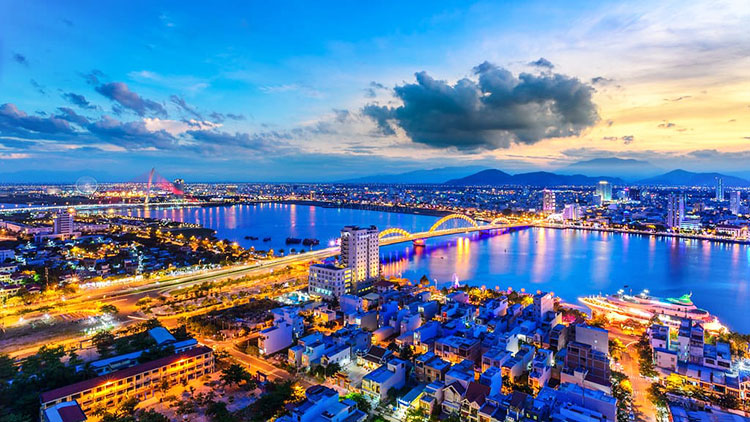 Do you know what place is considered the most livable city in Vietnam? It is Da Nang, a charmingly diverse city situated 92.3 km (57.3 miles) from Hue. No travelers who have been to Hue would miss this city.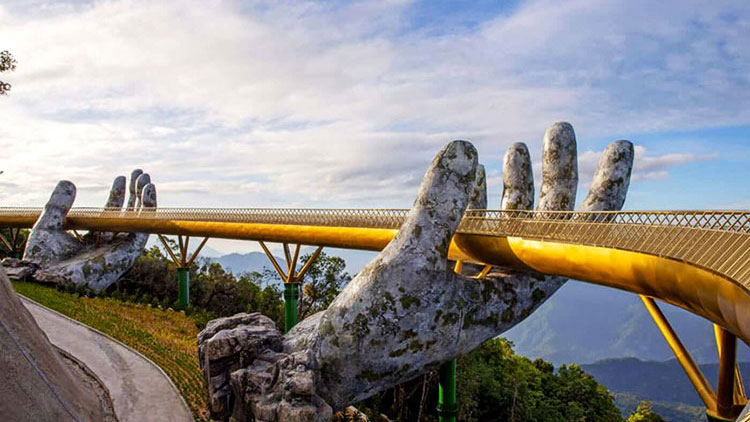 What does Da Nang have to offer that attracts millions of expats every year?
The city of tourism in Central Vietnam has everything. From stunning attractions such as Golden Bridge – the most beautiful bridge in Vietnam, pristine sun-baked beaches, to some of the most lavish nightclubs. You name it, Da Nang has it. Don't forget to check out this Da Nang travel guide.
Hoi An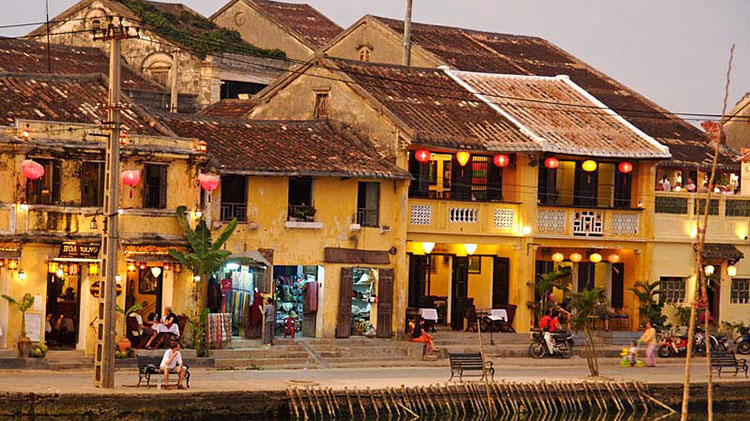 Once you have traveled to Da Nang, you may as well don't want to miss the most delightful and atmospheric ancient town of Vietnam. Take a 2-hour and 40 minutes drive from Hue or just 45 minutes from da Nang, you will reach Hoi An ancient town sitting in Quang Nam province.
Hoi An is a town filled with joy and peace by day and lit up with lanterns by night. There is something special about this graceful little town. From the ancient architecture, the canoes scattered all along its river to the unique taste buds-tickling cuisine, the old town is simply sensational.  
Ho Thuy Tien abandoned water park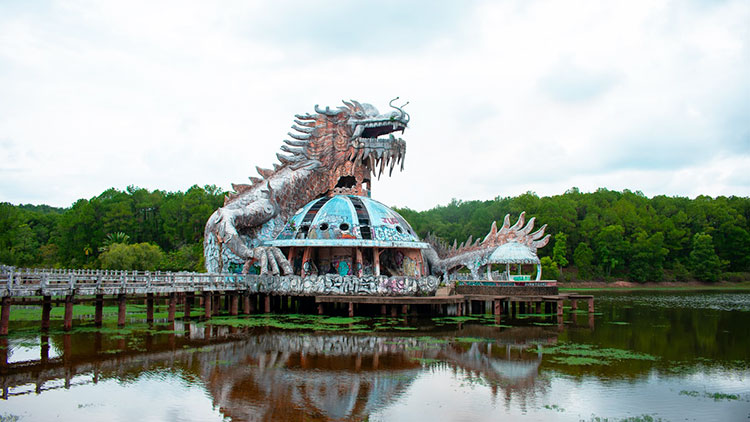 Looking to do something more offbeat in your Hue exploration? Ho Thuy Tien abandoned water park is just the place.
Ho Thuy Tien is not just any water park. Driving about 17 minutes to the south of downtown Hue, you will reach this completely abandoned park. Constructed in 2004, it was permanently shut down after two years of operation because the upkeep significantly exceeded the actual revenue.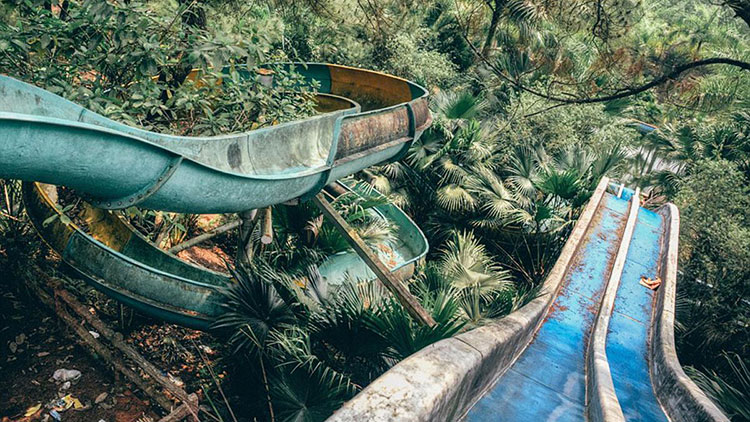 Being closed forever makes Ho Thuy Tien a rustic mystical site tempting many venturers in Hue. When you get to the main entrance, it gives you a bizarre vibe of being outcasted to a forsaken land. Highly recommend that you check out the aquarium guarded by a giant dragon, which is pretty spooky inside. This amazing park is definitely for adventurous souls.
Bach Ma national park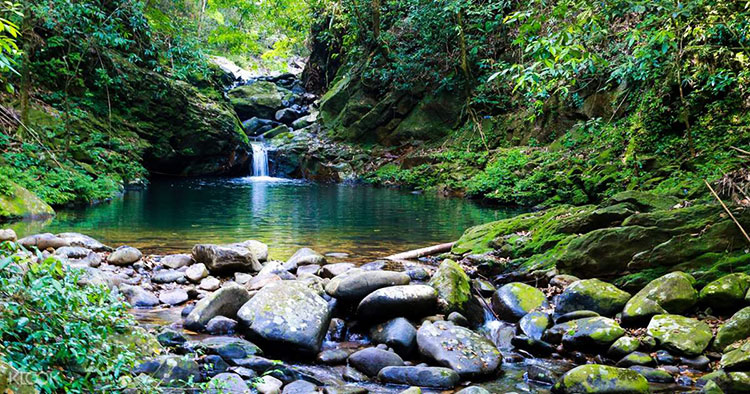 Standing 1450 meters above sea level at Bach Ma mountain about 40 km (25 miles) south of Hue is Bach Ma national park. This protected area is home to an abundance of rare plants and interesting wildlife, especially the overwhelming amount of birds. 
Hosting adrenaline-spike hiking trails through a lush forest, majestic waterfalls, and gorgeous lakes, Bach Ma national park is truly a perfect getaway to refresh yourself in the heavenly nature. Don't be surprised if you come across some colonial villas. Those buildings are where the French settled in the early 20th century due to their love of Bach Ma's breathtaking scenery.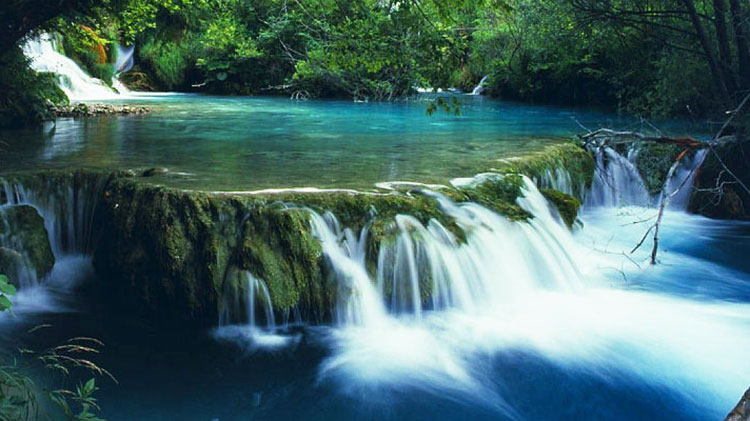 To get there, the easiest way is to book a tour with detailed guidance on what to do. If you love motorbikes, rent one and drive your way to the national park. Remember that you need a valid driving license to rent a bike in Vietnam.
Phong Nha – Ke Bang national park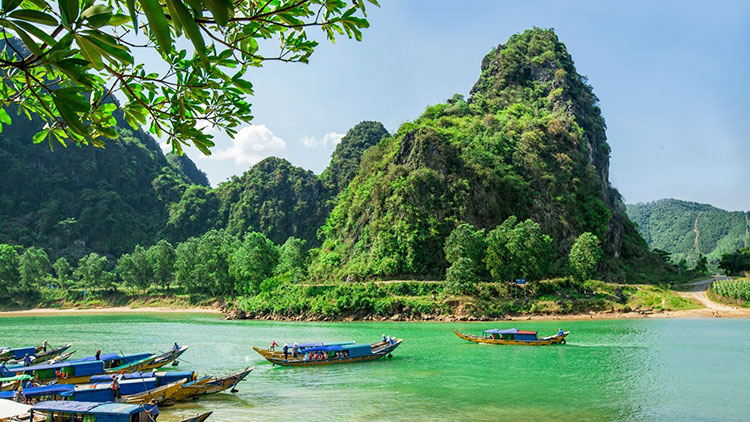 Designated a UNESCO world heritage site, Phong Nha – Ke Bang is more than a national park. The natural wonder renowned for its distinguished beauty that can't be found anywhere else. 
Located in Quang Binh province, Phong Nha – Ke Bang national park is a scenic 4-hour drive from Hue. It is home to the oldest karst mountain of Asia and the most beautiful cave in the entire world.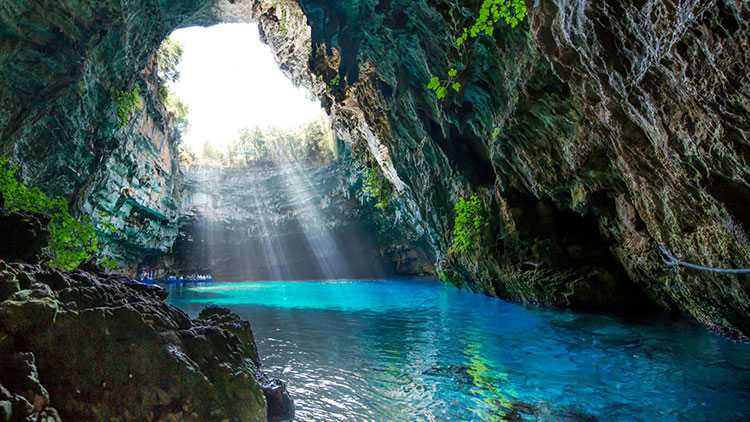 The infamous Phong Nha cave is about 8 km (5 miles) long with an extraordinary limestone structure inside. If this is not cool enough, it features an enchanting underground river that is nearly 14 km (8.7 miles) long. Despite being relatively far from Hue, you will regret not taking the time to appreciate this phenomenal natural wonder.
Enjoy Hue!
Hue, the city of olden but intriguing pieces of history that you don't often get to see will leave a huge mark in your memory. Sometimes, Hue may be underestimated compared to other popular bustling cities, but for those who look for the deeper values of Vietnam, it offers so much to see. Give it a chance and you will be blown away!