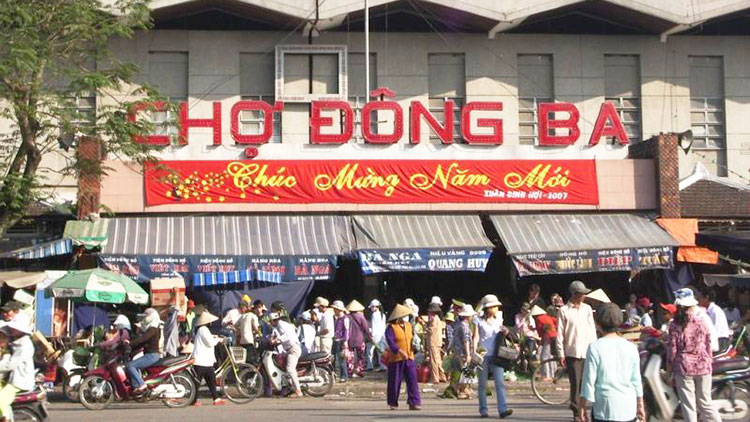 Hue, the former capital of Vietnam, boasts a historic vibe with a score of well-preserved sites and cultural remnants of the old emperor. 
Apart from being a timeless connection between history and the present, Hue has long been famed for its novel Central Vietnam cuisine associated with the royal court cooking style. Bold and spicy – those are the core characteristics that make Central Vietnamese food greatly admired.
Hue is home to a plethora of restaurants and eateries renowned for their exceptional food. But how about a unique eating site, where all of Hue's finest and most exclusive traditional dishes mingle? That place is Dong Ba market.  
The most interesting market of Central Vietnam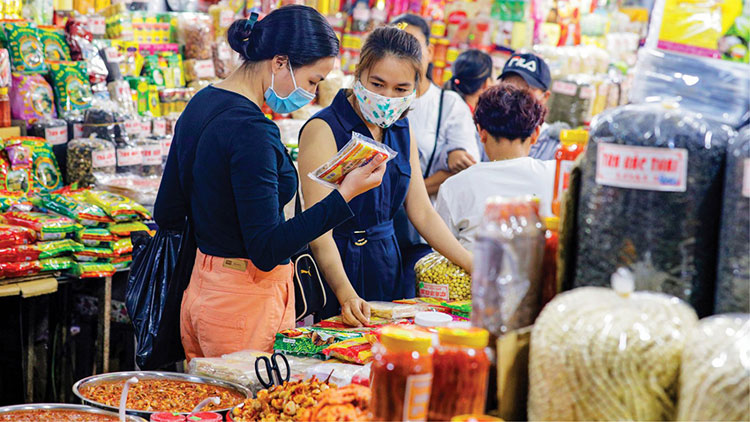 Of all the wonderful attractions in Hue, Dong Ba market, the food paradise of Hue, will surely convince you to get a Vietnam visa on arrival and fly to the poetic ancient city of Vietnam. 
Dong Ba market is the largest commercial center in Hue selling anything and everything. With a history of more than 100 years of construction and development, it is also the oldest market of the ancient capital.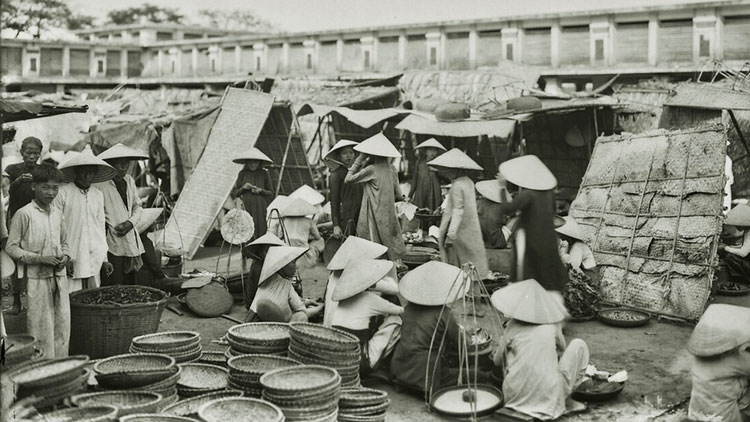 During the Vietnamese-American war, the market was severely bombed. Today, after many years of reconstruction, it is a lively and well-established market offering handicraft products, custom clothing, and especially food.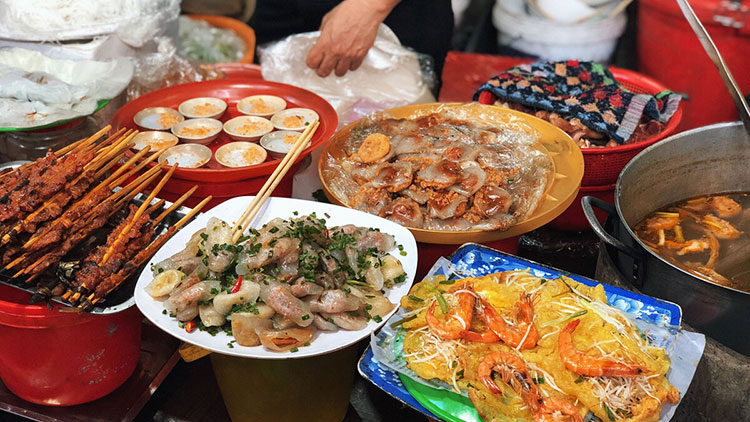 Strolling Dong Ba market, you will spot quite a unique scene: some local sellers carrying their huge platter of food around the market and stopping down briefly when someone orders their food. It is due to their incapability of affording a full-time selling spot in the market. The competition for these spots here is insanely fierce. 
Tasty treats of Hue to take down at Dong Ba market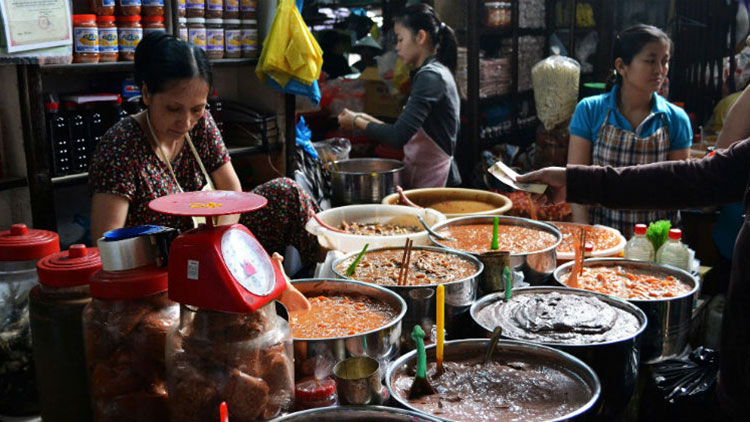 At Dong Ba market, it seems like every few steps you will find a small vendor with a collection of tiny plastic stools surrounding some pot of boiling deliciousness. It's time to embark on an exciting scavenger hunt at this heaven of traditional food and immerse in the taste of Hue.
Bun Bo Hue – Hue beef noodle soup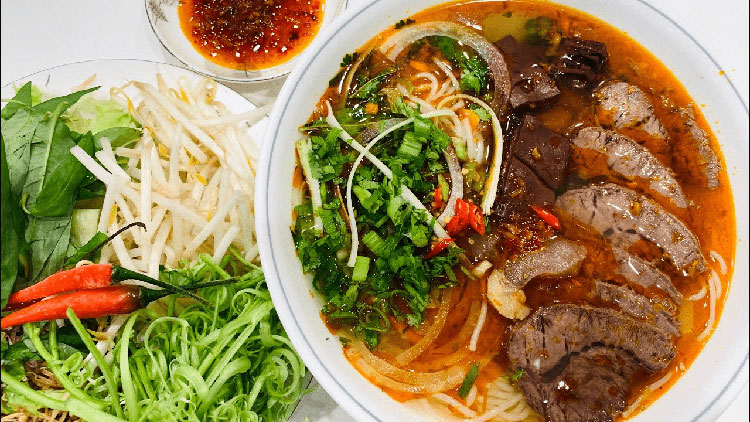 Probably, the first thing catching your attention when you rove the market is the enchanting smell from piping hot bowls of noodle soup on tiny plastic tables, where people of all classes gather. That is the aroma of the one-and-only Bun Bo Hue, or Hue beef noodle soup- the soul of Vietnamese central food.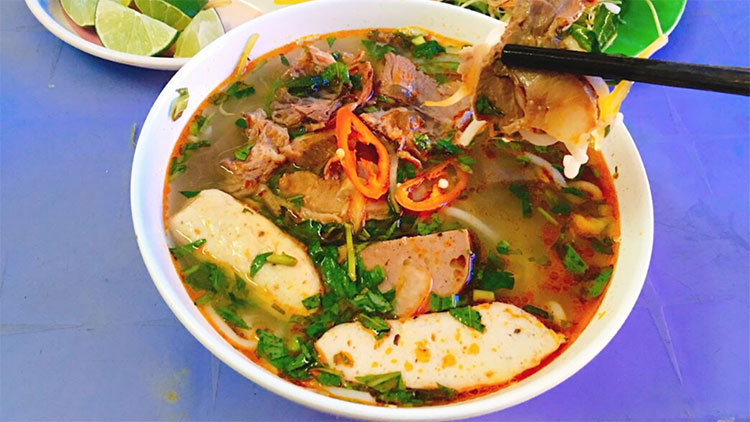 What is Bun Bo Hue? Slow-cooked and packed with flavor, it is the elite creation of Hue's culinary art and one of Vietnam's most treasured dishes. The specialty features a bowl of rice vermicelli, beef, and veggies blanched in the savory broth, topped with fresh herbs. The broth is cooked by simmering beef and pork bones with lemongrass, then seasoned with local spices.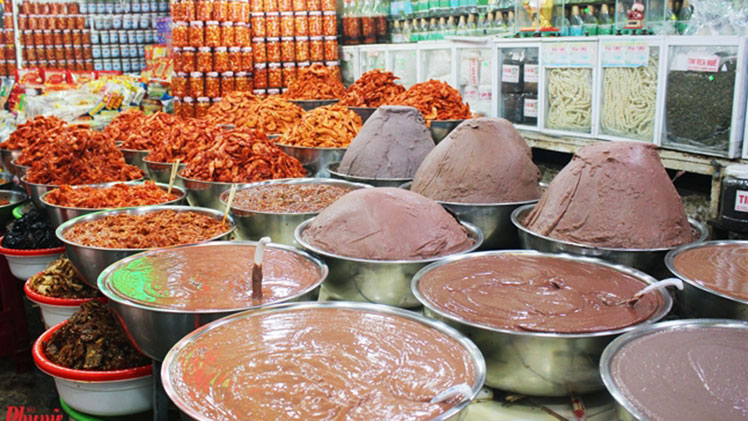 The secret ingredient for the broth's iconic strong taste is the fermented shrimp paste. This unique paste is known to be incredibly pungent that it could be overpowering for those who first try it. If you try the shrimp paste alone, it will be like eating a tablespoon of salt with strong seafood essence. Therefore, shrimp paste is used as a dipping sauce or spice for seasoning.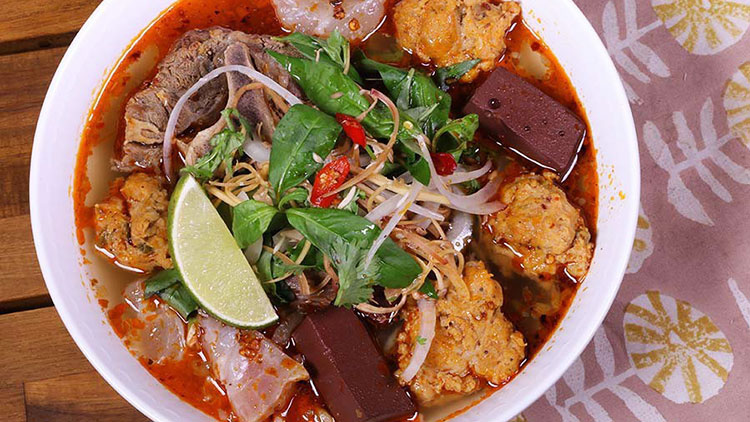 You might be surprised at a bizarre-looking ingredient added to Bun Bo Hue, pig blood cake. This unusual ingredient can be a little intimidating at first, though, it is quite tasty once you give it a try. The texture crumbles apart in a very fun way, and the taste is surreal.   
The fusion of deeply flavorful broth and the gelatinous beef shank will make you come to a conclusion: if you were to have just one dish of Hue, it must be Bun Bo Hue.
Com Hen – Clam rice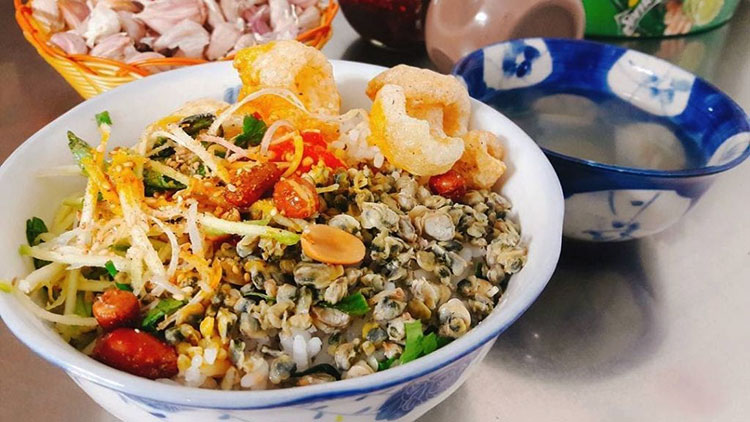 Next on the list is an exotic rice delicacy called Com Hen, which means clam rice. It is a popular dish of Hue's culinary art bringing unbelievable flavors. 
Tiny baby clams are of course the most important ingredient of clam rice. The dish combines some fresh chopped greens, mung beans, rice, MSG, cashew oil, chilly oil, a splash of shrimp paste, crispy pork skin, and those sweet little clams. The dish presentation is like a little art display of scrumptiousness. Mix the beautiful assortment of ingredients and you are all set.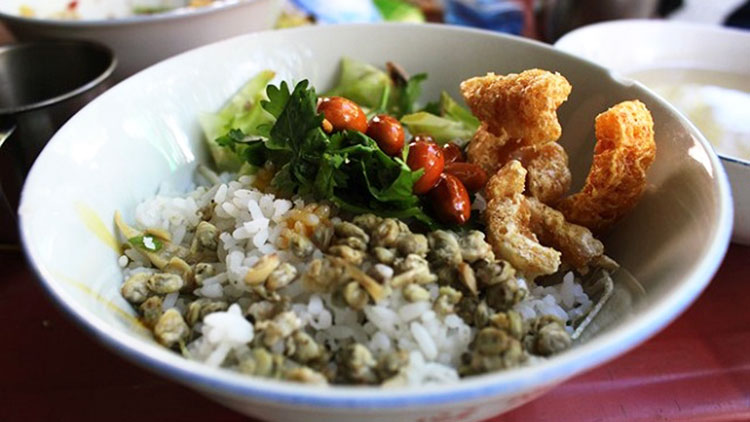 The first spoonful of clam rice will make your senses do somersaults of sheer delight. It is explosive with flavors. You simply can't help but devour down to the very last rice.
Bun Thit Nuong – Grilled pork vermicelli noodles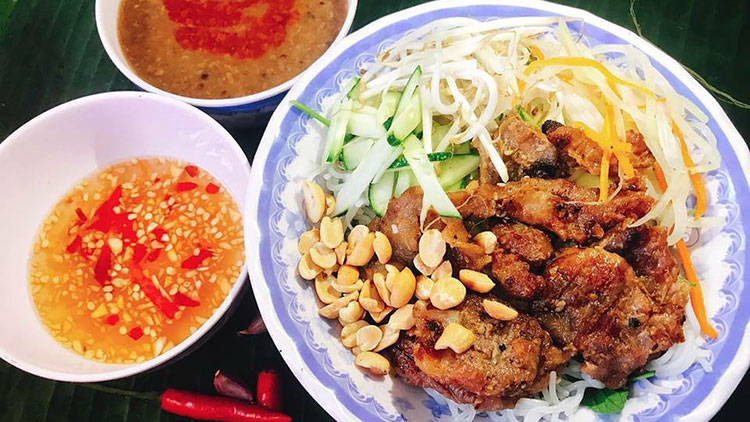 Get ready to be dazzled by this new dish of your life – Bun Thit Nuong. Grilled pork vermicelli noodle is a Vietnamese specialty dearly loved in all regions of the S-shaped country. At Dong Ba market, it is very famous for its distinctive taste created by local's recipes. 
What is in the flavorful Bun Thit Nuong? In general, it has fresh white vermicelli noodles topped with charcoal-barbequed marinated pork, roasted peanuts, and chopped greens. Garnish a little scallion fat and drizzle some sweet-savory fish sauce. Voila! There is an appetizing bowl of grilled pork vermicelli for you to revel in.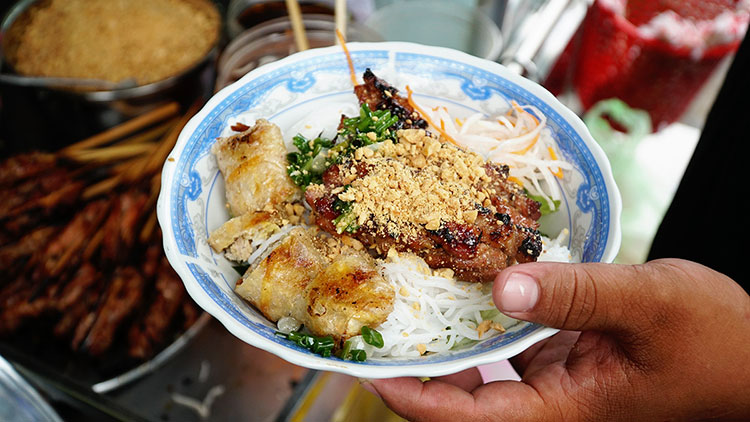 How to sum up grilled pork vermicelli noodles? A magical mixture of flavor and texture. The hard-to-resist smokey flavor of well-seasoning grilled pork, the sweetness combined with the savory of fish sauce, the extra richness of scallion fat – all well-balanced together in one bowl. Unless you are a vegetarian, it is hard to imagine any foodie disliking this masterpiece of Vietnamese food culture.
Savory rice cakes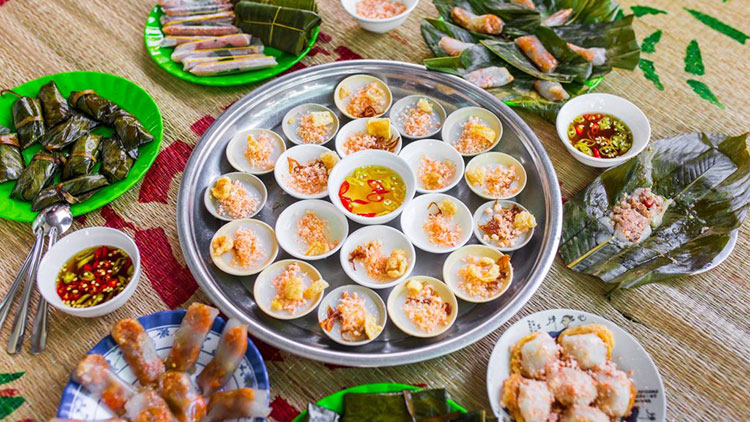 Surely, you will spot groups of locals from young to old sitting on low plastic stools with steamy green packages in their palms. You can't help but curiously walk closer just to find out that they are peeling off the dripping banana leaf. What's revealed are soft, tiny white cakes with red filling. They are savory rice cakes – rustic yet full of flavor traditional treats.
Hue is famed for its diversity of banana-leaf-wrapped wonders. Having been part of the locals' life for generations, they are cakes made from primarily rice flour with different types of filling. And you will easily find them all at Dong Ba market. A true foodie will have a combo of the three most popular types: Banh Nam, Banh Beo, and Banh Bot Loc.
Banh Nam – Nam cake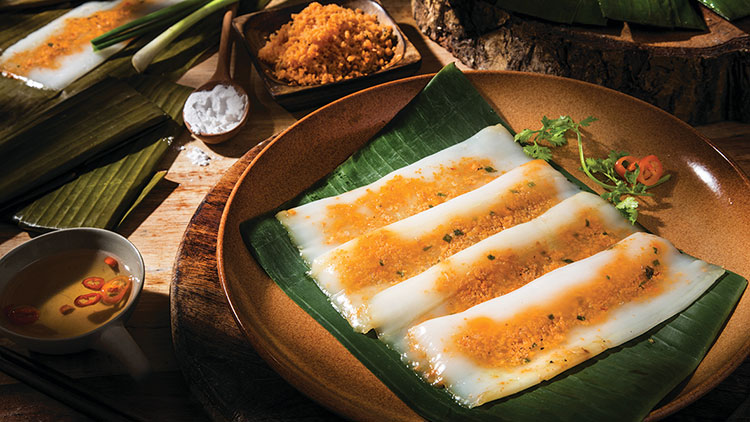 Steamed up inside the banana leaves, Nam cake is hot, greasy, and sticky. It is made with rice flour, minced pork, and shrimp. It's warm, soft, porky inside a little savory. It somehow resembles ravioli, but much more exotic. Drizzle some extra spicy fish sauce and you will be blown away. 
Banh Beo – Bloating fern-shaped cake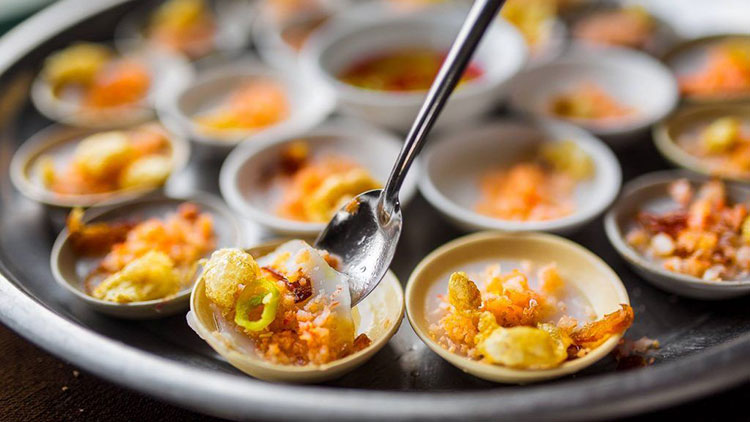 Nobody has the correct answer when Banh Beo was created. But perhaps, it has existed for a long time in this former capital. The name Banh Beo comes from its water fern-like shape (the water fern has bright green leaves with rippling margins and it often appears on the surface of ponds or rivers).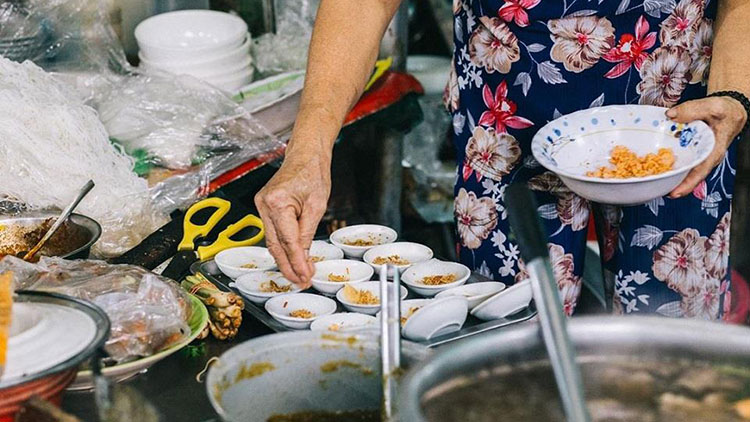 This specialty of rice flour is usually served in small bowls with pork rinds, dried shrimp as main toppings. Other added ingredients include fried shallot, scallions, mung bean pastes, and roasted peanut. To best enjoy Banh Beo, drizzle some fish sauce on it. 
Fun fact: Perhaps because of its plain white appearance, Banh Beo is also Vietnamese slang referring to the weak, boring, dependent type of girls. Banh Beo is never eaten without fish sauce, and maybe, girls like that really need some fish sauce too!
Banh Bot Loc – Tapioca cake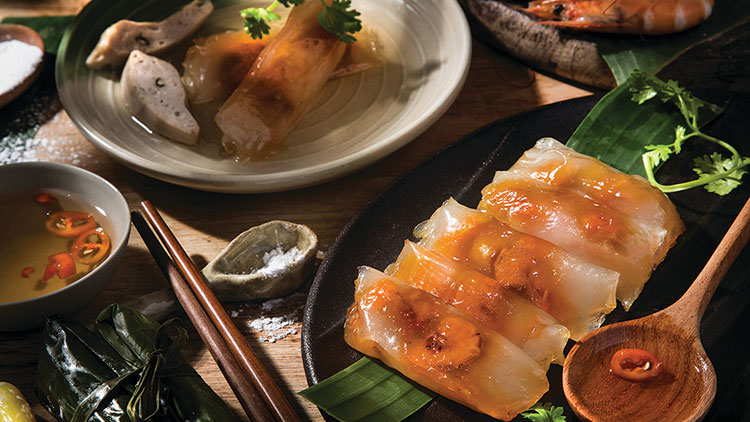 Banh Bot Loc is always among the top choices of local snack heads. Being the only Hue savory cake that is not made with rice flour, it is a chewier version made with tapioca starch, pork, and shrimp hiding inside. The fatty flavor of the pork mixed with the sharp shrimpy taste is trapped inside the incredible gristly texture of steamed tapioca flour, creating a luscious flavor. 
Take your first-ever bite and feel the chewy Banh Bot Loc bursting out with sweetness and saltiness. Yummy!
Che Heo Quay – Roasted pork sweet soup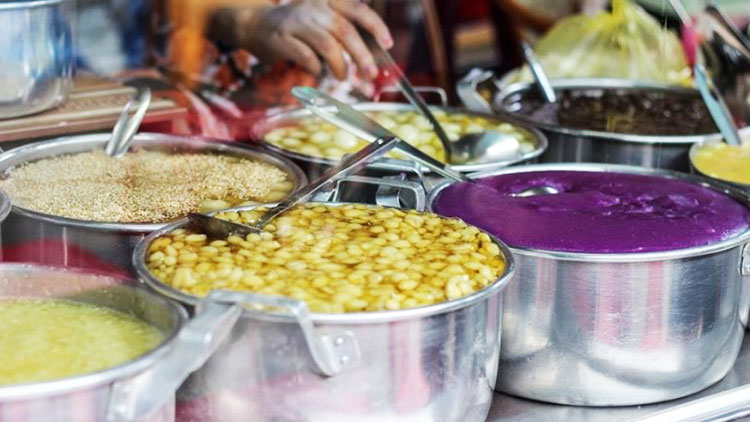 Last but not least, don't forget the iconic dessert of Hue – sweet soup. 
Vietnamese called Hue the land of sweet soup. It is a street delicacy with royal influence. You will find an insane diversity of sweet soup versions at Dong Ba market. In general, they offer a pleasant sweetness that can't be found in any other desert. 
But if you want to opt for something exotic, then Che Heo Quay, meaning roasted pork sweet soup, is for you.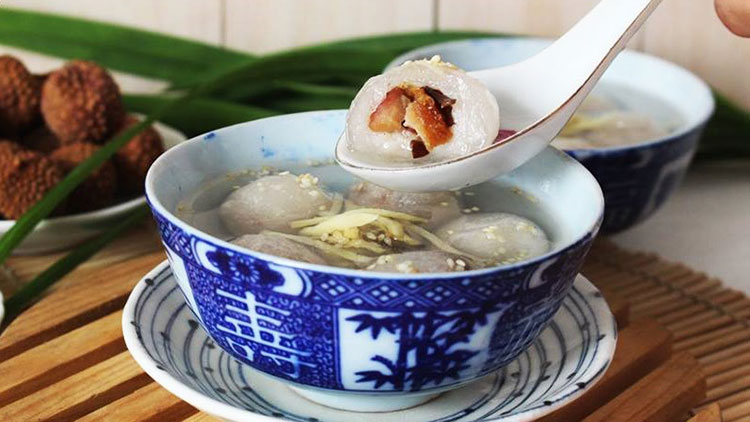 How can roasted pork be incorporated in a desert? Well, Hue locals simply have their way to incorporate any ingredient into a breakthrough dish by their limitless creativity. Roasted pork sweet soup contains balls of rice flour (or cassava flour) with small cuts of barbecued pork filling.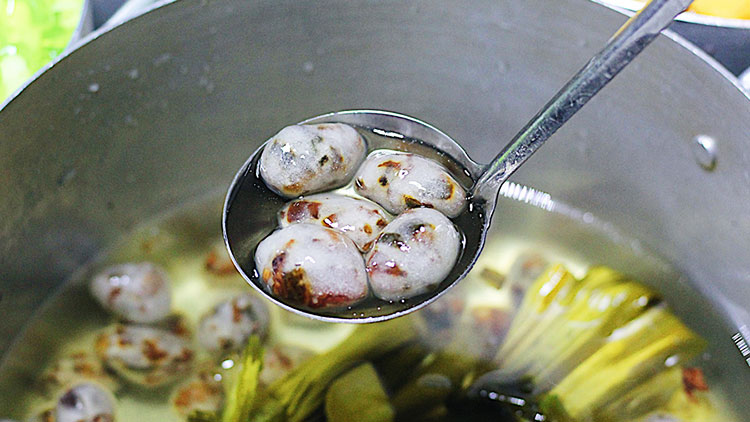 The taste of Che Heo Quay can be described as a miraculous fusion of richness, savory, and sweetness. Not to mention the enticing aroma from added slices of ginger. Just under half of a dollar, you are served with a bowl of this new twist of Hue culinary art. It will leave you an ever-lasting impression.
Ignite your taste buds Dong Ba market
All the best culinary offerings of Hue are rounded up in one buzzing commercial center. How awesome is that? The protesting hunger inside your stomach is guaranteed to be satisfied at the amazing Dong Ba market. Hopefully, this La La land of Hue food will be your new happiest place on Earth.