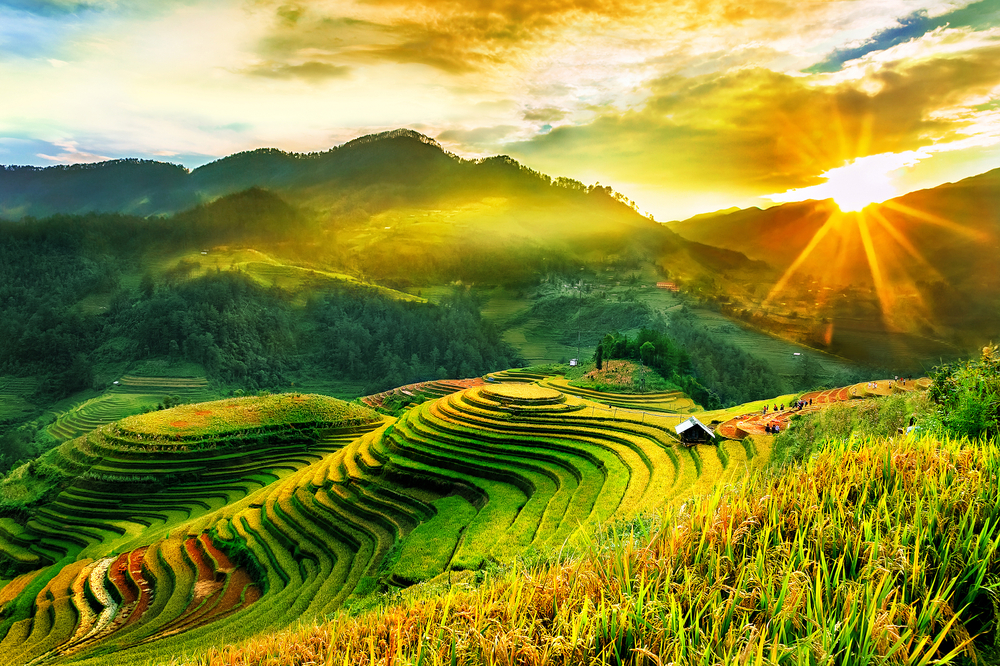 The further you go, the more you see.
The amazing country of Vietnam offers more than just pristine tropical beaches and unique mouth-watering culinary art. Wandering deeper into some of Vietnam's most remote areas, you will discover some hidden amazement of Vietnam. There is a faraway dreamland that lies in Northwest Vietnam, a place whispered as where the earth meets the sky.
That place is called Sapa – an enchanting small town famed for its incomparable beauty. The luring small town captures the hearts of scores of travelers by its peaceful beauty in the distant mountains. But there is more to embrace in this obscure magical destination that is referred to as the "small town in the clouds". 
There is a cloud paradise called Sapa  
In 1897, the French colonial government decided to open a survey on ethnic minorities in the highlands of Vietnam. The first group of investigators arrived in Lao Cai in 1898. Until the winter of 1903, while conducting the survey and construction of the map, the expedition of the Department of Geography of Indochina discovered the landscape of the Northwest region. This marked the birth of Sa Pa hilltown.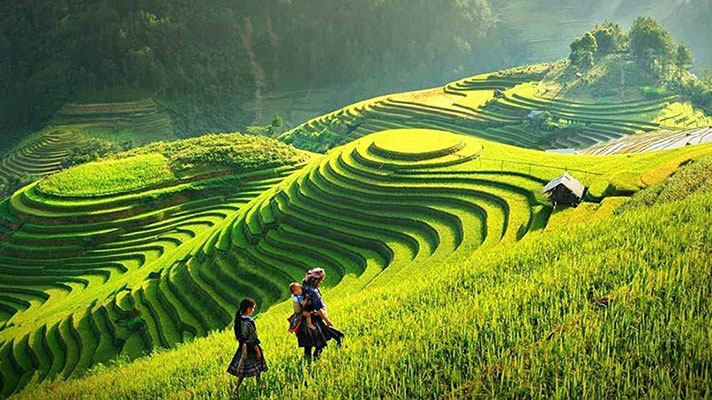 How to describe Sapa? It is the interference of heaven and earth. 
Sapa is situated in Lao Cai province, Northwest Vietnam. This is a famous tourist destination since the early 20th century. Located at a deep valley of elegant rice terraces, mother nature favors Sapa with a poetic and majestic landscape.
You will be awed by romantic rivers rushing through verdant rice paddies, fused with mountains covered in lush greens stretching into a distance as far as the eye can see. The miraculous highland town is one of the places in Vietnam where you can touch the soft white clouds from the sky, along with Da Lat. 
The diversity of ethnic groups welcoming all visitors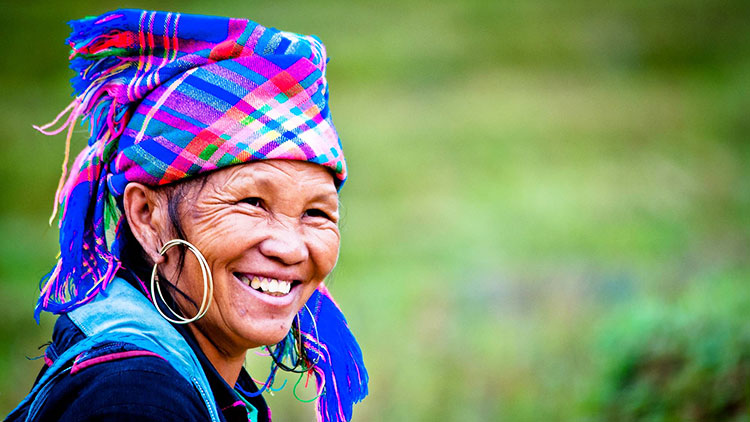 The mountain town is home to a variety of ethnic groups. The H'Mong and Dao are the largest groups, accounting for 70% of the population of Sapa. The other remaining ethnic groups are Tay, Giay, and Xa Pho.
The tribes engage mainly in traditional handicrafts, growing rice, and raising livestock namely buffalo, cows, pigs, and horses. As the hill town has been attracting more and more visitors, some local residents have started to conduct business in the tourism sector.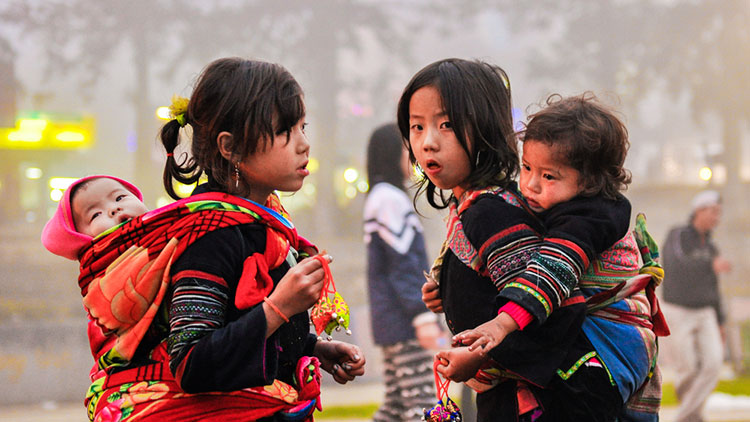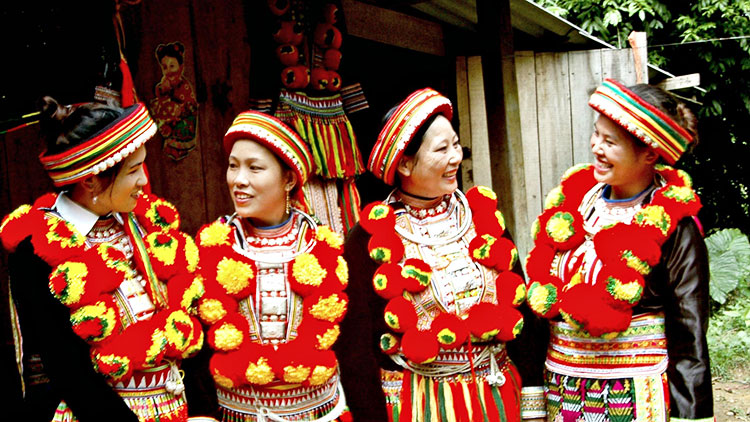 Each tribe has its own sophisticated history, language, lifestyle, and traditional garment. The distinctive traditional clothing of each group highlights their characteristics. For instance, the iconic tone of the Dao costumes is red. The Tay wears predominantly blue or purple. And the H'Mong classic apparel is in black or decorated with multicolored features. All the ethnic groups combined vividly paint an extraordinary picture of Sapa – original, lively, and colorful.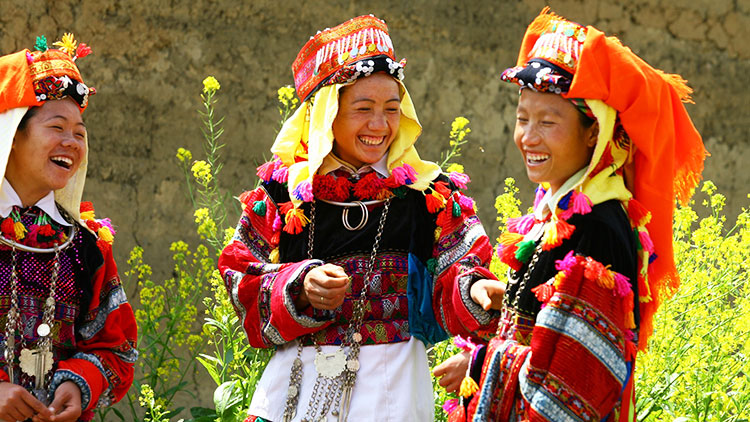 When you travel to Vietnam, Sapa is the number one destination to interact and immerse in the life of ethnicities. The heart-warming local families are willing to invite you into their cozy home for a meal. What can be better than immersing into the lives of the ethnic tribes to unveil the untold human stories? 
Ways to get to Sapa
It's a long journey to get to the faraway paradise of Sapa. If you depart from your home country, book a flight to Hanoi, the capital of Vietnam, then get to Sapa from Hanoi since there is no airport in Sapa. To enter the country, foreign visitors to Vietnam are required to have a valid Vietnam visa. Visa2Asia provides high-standard visa services to help you get a Vietnam visa upon arrival easily and quickly. 
If you are already in Vietnam but in the Southern and Western areas, you need to travel by plane, train, or bus to Hanoi so that you can make your trip to Sapa. 
From Hanoi, there are certain options to travel to Sapa.
Private Car
For best convenience, you can hire a private driver to Sapa from the hotel you stay in Hanoi or from a travel agency at any specific time. The price will vary depending on where you book, but it is the least stress-inducing option.
Train 
Traveling by train is the way that many people choose to travel to Sapa because it is safe and affordable. Hard seat class is only about VND 150,000 ($6.5) per person one way. Soft seat class is VND 280,000 ($12) per person one way.
For berth cabins, 6 berth cabins cost about VND 480,000 ($20.6), 4 berth cabins cost about VND 560,000 ($24) and premium 2-person beds cost about VND 3,200,000 ($137) one way.
The inconvenience is the train does not take you directly to Sapa town. The train stops at Lao Cai station in Lao Cai city. From there, you can hop on a one-hour direct bus to Sapa at VND 50,000 ($2.2). Be careful of many scammers that will try to rip you off by selling overpriced bus tickets. 
Couch
If you want to get to Sapa quickly without stopping during the trip, take a sleeper bus. It will drive you straight to the hill town in 5 hours. 
The couch is a budget-friendly means of transportation. Currently,  these are high-quality couch services: Sapa Express, Green Bus, Interbus, Hung Thanh, and Queen Cafe VIP Open Bus. Fares range from VND 250,000 – 400,000 ($10 – 20) per person/ one way depending on the amenities of the bus (wifi, outlets, water, and snacks). Choose the Hanoi – Sapa bus service that best suits your location and travel time. 
Bike
For hardcore drivers, driving a motorbike along the majestic passes to Sapa is ecstatic. Bikes are easily rented in Ha Noi, but you need to have a valid driving license. Before embarking on the 400-kilometer (249 miles) journey to Sapa, make sure you check your bike thoroughly. Furthermore, remember to bring a 1.5-liter bottle filled with gas for emergencies since gas stations are very far apart.
Tackling on a motorbike-trip to conquer passes and embrace the charming landscape along the road is a mesmerizing experience. 
Embrace Sapa's eternal beauty  
The magical cloud-surrounded landscape of Sapa is a real treat for the eyes. It's time to plunge into some of the most aesthetic pristine attractions of Sapa's staggering nature after a long journey.
Ban Cat Cat (Cat Cat Village) – an untouched highlight of the Northwestern people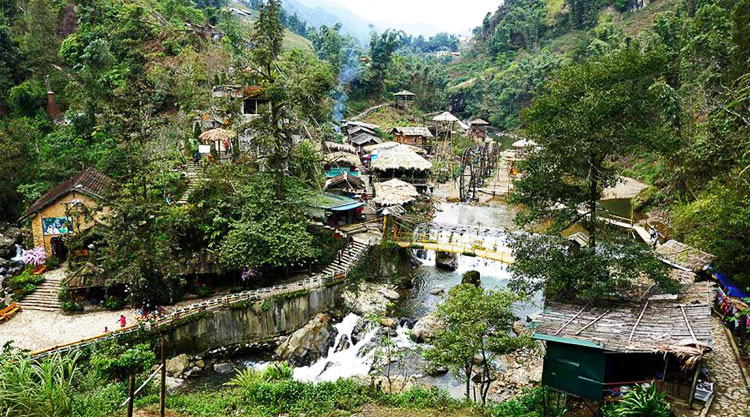 It would not be a complete experience discovering sapa without finding out about the hill tribes, visiting their villages, and immersing yourself in the culture. An endearing village is a splendid first attraction to start your Sapa tour.
Just 2 kilometers (1.2 miles) from Sapa town, you will find Cat Cat village, the most beautiful pristine village of Northwest Vietnam. It captures visitor's hearts with humble rustic wooden houses, small streams flowing through poetic terrace fields. You will be astonished by peaceful beauty, seeming to be nestled in immense nature.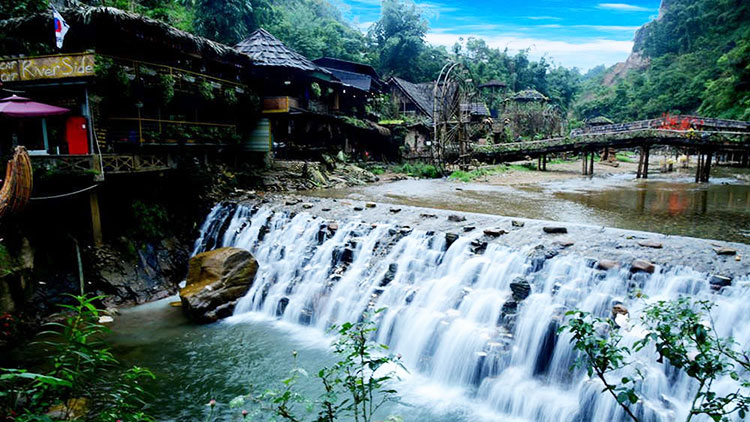 You will have the luxury to splurge on the gorgeous traditional handicrafts, jewelry, and elegant brocade fabrics of hundreds of years of tradition. Witnessing a flock of H'Mong women sitting by looms with iridescent pieces of brocade decorated with designs of birds and flowers is truly eye-opening. And don't forget to join a refreshing row through the village on the small boat made of interconnected bamboo tubes on shallow river streams. 
Unique ethnicity customs make Cat Cat village even more captivating. Travelers coming to Cat Cat in springtime are likely to see one of the world's weirdest and most ridiculous marriage customs – the "wife snatching".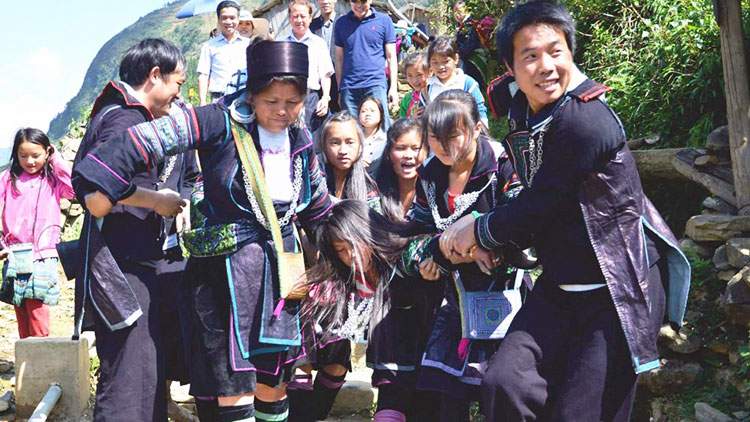 Basically, a man can find a way to lure a woman he likes to his house and keeps her there for three days. After this period, if the girl agrees to become the man's wife, both of them will get to the bride's home with offerings such as food, jewelry, and money to request for their wedding. However, if in three days the woman does not like the man back, she is allowed to go home happily. 
Ham Rong (Dragon Jaw Mountain) – the jaw of dragon overlooking Sapa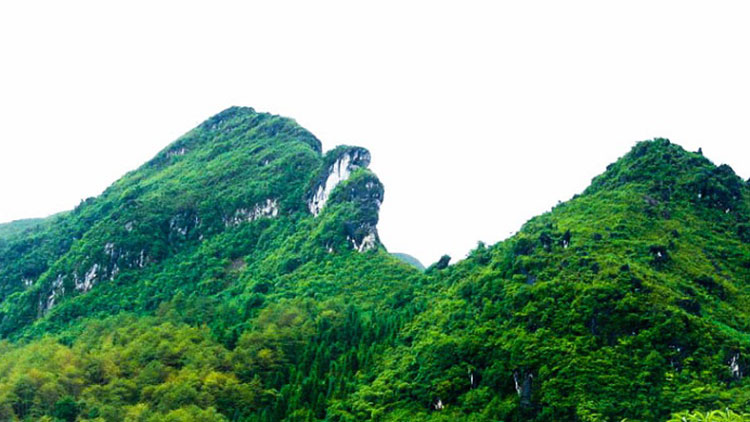 If Bali owns a coastline that looks like a T-rex head, Sapa has a mountain resembling the jaw of a dragon.
It is Ham Rong Mountain – a fascinating attraction situated just over 3 kilometers (1.8 miles) from the center of the hill town. 
Why is the mountain named the Jaw of Dragon? When looking at the mountain from a distance, you will see the top of the mountain shaped like a dragon's head facing the great blue sky. Besides the dragon-like appearance, it is attached to a legend passed through generations. 
It's a tale about a dragon couple. A long time ago, there lived a pair of dragons deeply in love with each other. One day, while the two dragons were engrossed in each other, a great cataclysm occurred. Before they knew it, they had been hit by a great flood. The male dragon struggled vigorously and was lucky to escape. But the female dragon, due to being too exhausted, was engulfed in the water. It could only keep looking up at its lover flying in the sky. In time, the female dragon turned to stone with its head looking up to the sky. And that is why the mountain is named Jaw of Dragon.
While you're at Ham Rong, you will be amazed by a seemingly endless garden full of local plants and flowers. In springtime, this place turns to a magical sea of fragrant blossoms full of blooming cherry blossoms. Remember to climb up to San May (Cloud Yard) at the highest point of the mountain to admire the panoramic view of Sapa town.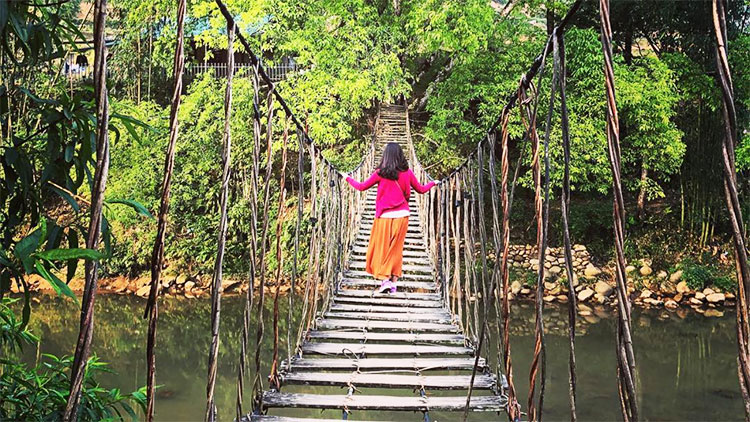 Over 17 kilometers (10.6 miles) from Sapa to Ta Van commune in Lao Cai province lies an enchanting must-visit spot named Rattan bridge.  
This bridge was originally built to facilitate local people to travel between the Ta Van commune and the Sapa town center. With its sophisticated structure made of connected rattan (or May tree in Vietnamese) wires and hard wooden blanks harvested locally, it is the masterpiece of the H'Mong intellect, wild imagination, and unlimited creativity.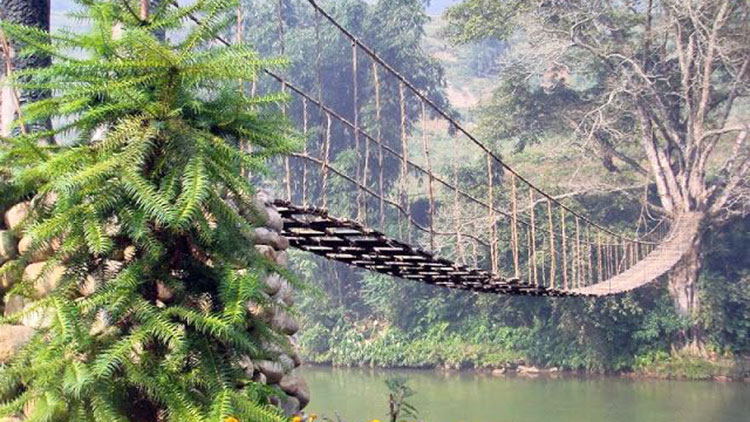 Despite its weak and loosen appearance, the rattan bridge is a sturdy structure. Walking through the bridge can be a quite thrilling experience. Each step of the bridge is 20 centimeters away and it can be a little shaky. Looking down to the river while crossing the bridge may give a nerve-wracking feeling. 
Lying across the luring Muong Hoa river, the rattan bridge stands out as one of Sapa's most romantic spots surrounded by alluring nature. Standing in the middle of the bridge, you will be staggered by the stunning beauty of the untouched forest merged with the magical river. What more could you ask for such a dreaming view to celebrate love with your half.
Cong Troi (Sky Gate) – reaching to the sun in Sapa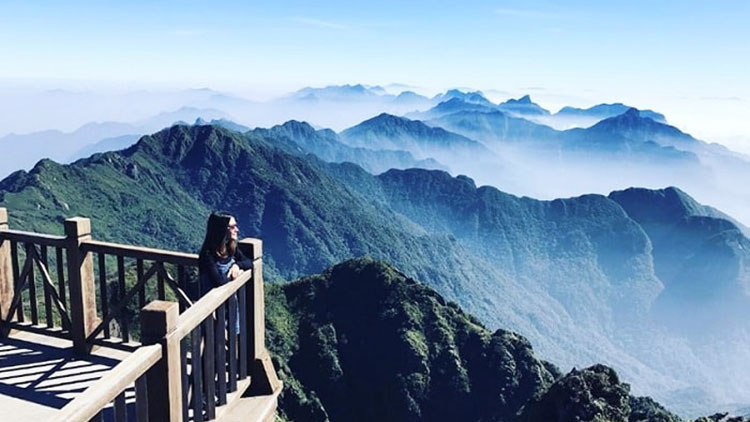 When in Sa Pa, do not miss the opportunity to walk through the remarkable Sky gate, or gate of heaven, on the Hoang Lien Son range. From Sapa town, go 18 kilometers (11 miles) to the north, you will find a winding gateway amid a rock mountain leading you to the sky gate at the top of the pass.
Standing at the sky gate, not only you can admire the mind-blowing natural scenery of the Hoang Lien Son range where Fansipan peak – the Roof of Indochina lies, but also the panoramic view of the entire vast valley with green views below. What a spot to check-in with some fantastic shots with nature!
Hang Tien (Tien Cave) – the fairy tale of Sapa's nature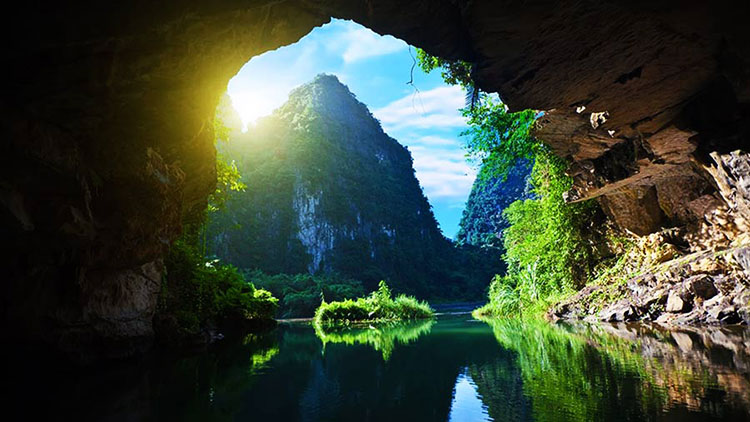 Tien cave is a soulful part of Sapa's vibrant picture. The so-called Ha Long Bay of Sapa is a mystical wonder attracting thousands of tourists every year.
To reach Tien cave, you will have to depart from Bao Nhai commune, Bac Ha district, Lao Cai province. In Bao Nhai commune, you will find a boat station at Chay river. Going upstream about 6 kilometers (3.7 miles) from Bao Nhai commune, the boat will take you to a swirling stream called Tien stream. Along the way are primitive forests at the two sides of the stream creating fresh scenery. Going further about 200 meters (0.12 miles), what lies in front of you is the huge cave that can accommodate hundreds of people. It is Tien cave.
Apart from the graceful beauty, Tien cave is famed for the legendary tale of the three fairies attached to it. The story is about three beautiful fairies living in heaven who were allowed by their father to visit the world. The three fairies could not resist the charming scenery they had never seen before and decided not to return to heaven. 
Their father was furious and punished them for their disobedience. Even so, the fairies still stubbornly refused to return, so they escaped to the cave which is Tien cave today. The three fairies knew that they could not escape their sins, so they ended their lives in the river.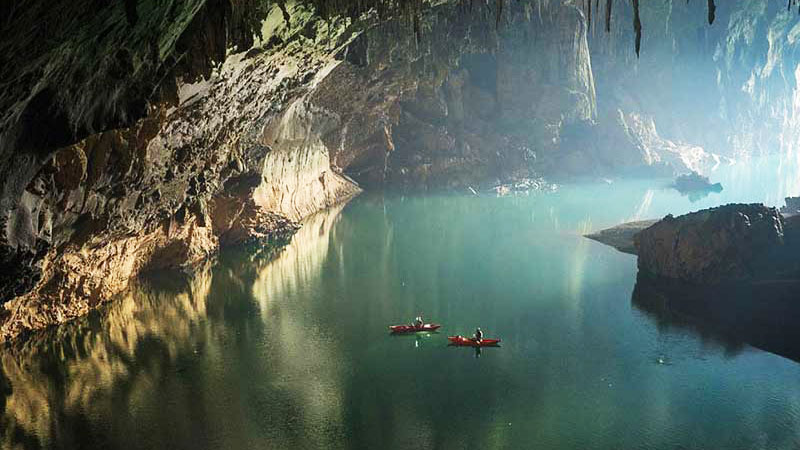 Entering Tien cave is like stepping into a majestic natural maze bursting with glittering stalactites naturally structured like towers. To fully explore Tien cave, you will have to go deep in and climb up the rocky banks or cling to the tree roots. Many local Vietnamese believe it's a sacred place to make your wish come true. Whether it's true or not, Tien cave is truly a can-not-miss gem of Sapa. 
Deo O Quy Ho (O Quy Ho mountain pass) – driving along the most alluring scenic landscape of Sapa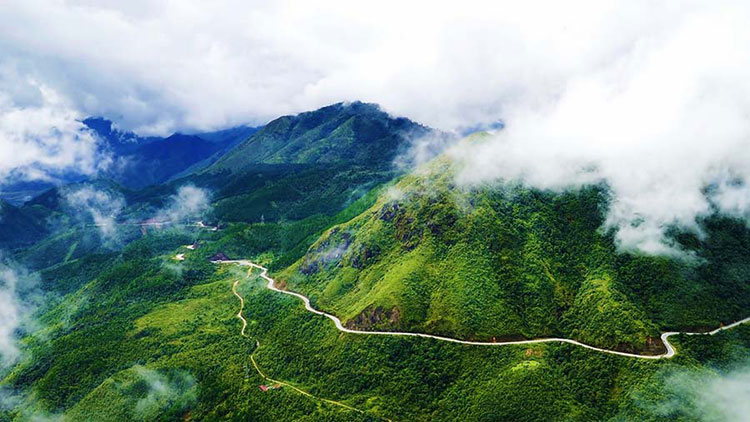 After chilling in calm nature, it's time to incorporate some thrill for your Sapa excursion. Let's boost your adrenaline level with O Quy Ho, one of Vietnam's iconic passes challenging every adventurous hardcore driver.  
O Quy Ho pass is more than 40 kilometers (24.9 miles) long, located at an altitude of over 2000 meters (6562 feet), on the 4D national highway crossing the great Hoang Lien Son mountain range, the top of the pass is the border between the two provinces of Lai Chau and Lao Cai.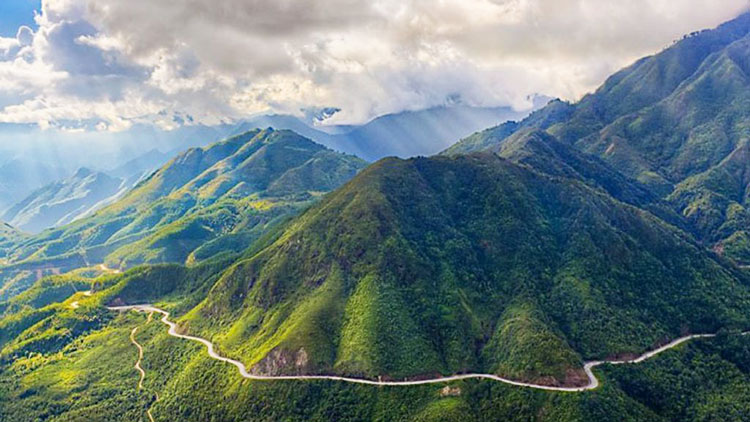 When it comes to the four great passes of Northwest Vietnam, surely O Quy Ho pass pops in every local's mind first. The legendary pass infused with steep curves is where adventurous fanatics crave to steer their bike along the way. Visitors come here partly to conquer this extremely dangerous pass, partly to see the picturesque scenery of the Northwestern mountains and forests. 
O Quy Ho makes venturers bewildered by its breathtaking verdant shade of hilltop nature. On clear sunny days, you can gaze at the lovely small villages in the distance, the undulating mountains, and the magnificence of Mount Fansipan amidst the clouds. In the cold winter days when snow covers trees and paths, O Quy Ho puts on its oddly subtle layer of beauty. 
Once you have overcome the daunting pass, the initial fear transforms into a feeling of indulging in your soul. You will not regret setting foot to the pass of the Northwest land. 
Dinh Fansipan (Fansipan peak) – chasing clouds on the roof of Vietnam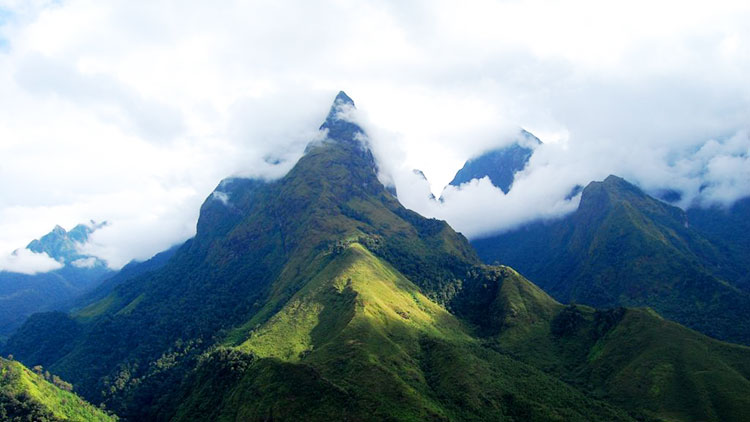 People always say that you should save the best for the last. 
Picture chasing and touching the clouds on the highest spot of Vietnam – it is a once-in-a-lifetime kind of experience everyone dreams of. That cloud-piercing spot of Sapa is called the Fansipan peak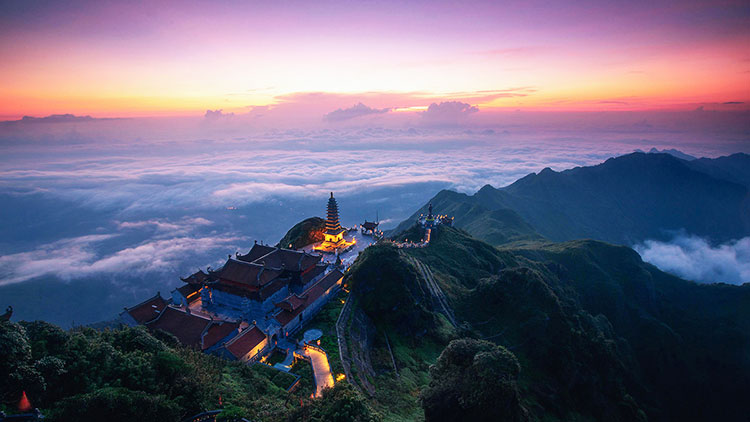 Located 20 kilometers (12,4 miles) from Sapa town, Fansipan is one of the peaks of Hoang Lien Son range. At an altitude of 3,143 meters (10,312 feet) above sea level, Fansipan is the highest mountain in Vietnam. That is why it is labeled as the  "Roof of Indochina". Fansipan the symbol of youth and determination enticing many groups of tourists participating in the mountain climbing challenge to reach the very peak.
If you are passionate about trekking to Fansipan, you need to be well prepared. The climb is a real tough challenge that takes even experienced climbers a few days to reach the top. It requires impeccable gear preparation, fitness, and solid effort. It is highly recommended to join a professional tour for safety and legal reasons since you are required to have a permit to climb the Fansipan peak. 
As daunting as the challenge may sound – it is truly worth it once you overcome the quest. From an altitude of 2,800 meters (9,186 feet), you can behold the precarious O Quy Ho pass hugging the mountains. Finally, when standing at the top, what's in front of you will leave you gobsmacked. The shadow of the mountain is clearly imprinted on the clouds, an awe-inspiring view that can only be seen from the highest point of Vietnam.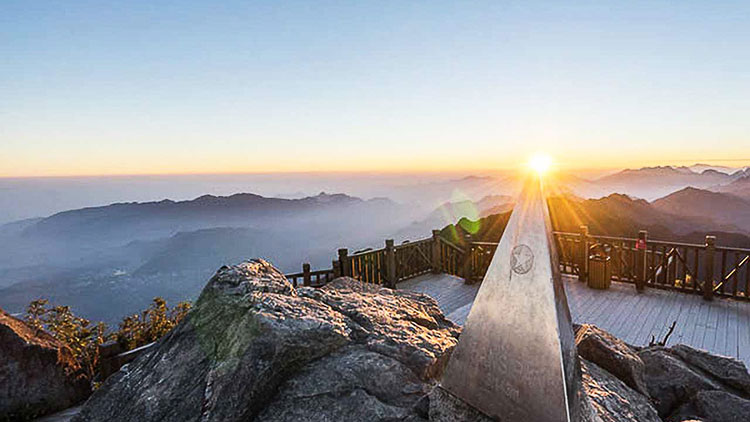 For first-time visitors who want to make the best out of their Fansipan challenge, climb the mountain in November. The weather is neither chilly nor scorching without heavy rains. Sunset is the best time of the day to gaze at the unreal scenery of highlands. It is the ideal time to admire the warm rays of sunlight running through those dreamy white soft bundles. Seeing with your own eyes the beauty that is beyond words at sunset on the mountain peak is always an unforgettable moment for those who love nature.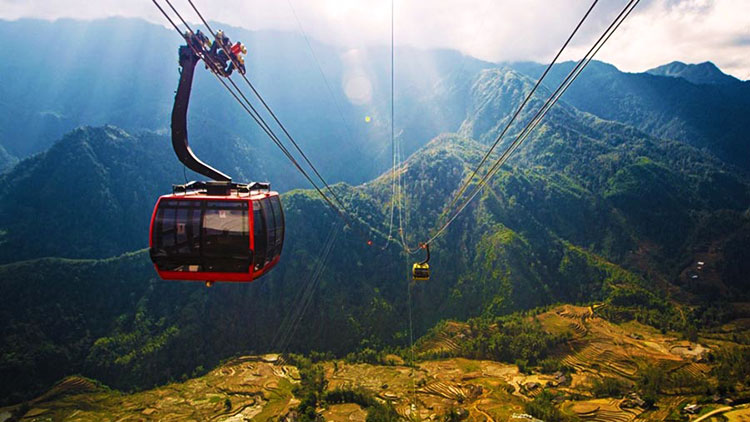 If trekking is not your cup of tea, there's another option – cable car. Fansipan cable cars, operated in 2016, have been certified by the Guinness World Records Organization as the longest non-stop three-wire cable car in the world at 6,293 meters (20,646 feet) long. Ticket fares are VND 750,000 ($32.25) for adults and VND 550,000 ($23.65) for children between 1 and 1.4 meters (3 – 4.6 feet). 
With Fansipan cable cars, everyone can achieve the dream of touching clouds. While reaching the peak, you will get to relax in the majestic and poetic beauty of the Northwestern mountains and forests. When the cable car gets close to the top where the clouds become thicker, you will have the feeling of floating in the air as if you were flying through the ocean of clouds.
Missing Fansipan when venturing Sapa is a huge pity. So don't forget to vanquish Fansipan mountain and embrace the heavenly feeling of conquering "the roof of Vietnam". 
Don't forget to taste the unique foods only in Sapa 
Vietnamese cuisine never ceases to tempt food lovers from around the world. And Sapa cuisine is not an exception.
With a fresh and cool atmosphere, Sapa is the perfect place to grow vegetables namely cabbage, chayote, precious herbs as well as fruit like plum and pear. It is a paradise for vegetarians. But besides veggies, Sapa also serves foodies with distinct delicacy to feast when hunger strikes.  
Thang co (horse meat hotpot) – an elite of the world's bizarre cuisine map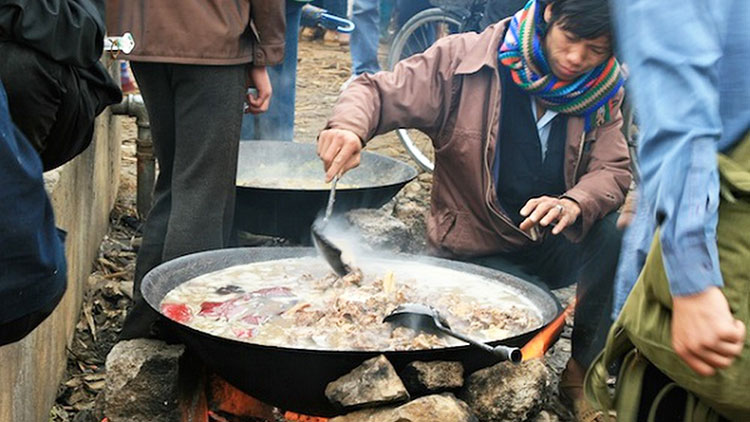 To truly taste the flavor of highlands, you can not miss Thang Co – Horse meat hot pot, Sapa's most popular ethnic outlandish offering. It is among the most bizarre dishes of Vietnamese weird food that every adventurous foodie should try once in a lifetime. The traditional delicacy of the H'Mong people originated from Yunnan province, China, is nearly 200 years old.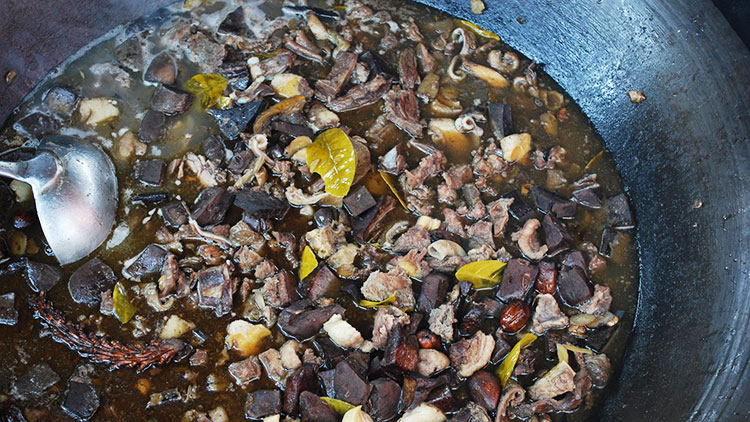 Thang Co is a hotpot made from horse meat, organs, bone stew, raw veggies, and many special local spices. Sometimes buffalo meat is included. The horse meat is incredibly tender with no fat lingering in your mouth. The organs stay crunchy even stewed for hours. Having an oddly bold taste, this Sapa iconic bizarre delicacy is not for everyone. 
Thit trau gac bep(dried buffalo meat) – the best of buffalo specialty
Hankering for succulent local buffalo dishes? Sapa's famous dried buffalo meat is a must-try.
Dried buffalo meat is a culinary specialty that can only be found in Sapa. Meaning dried age buffalo meat hanging in the kitchen, this Sapa specialty is bought by many local tourists as gifts to friends and relatives. Fresh buffalo meat after heavily seasoned with local spices will be smoked from the woodstove until the outer layer of meat is completely dry and turns a dark reddish-brown color.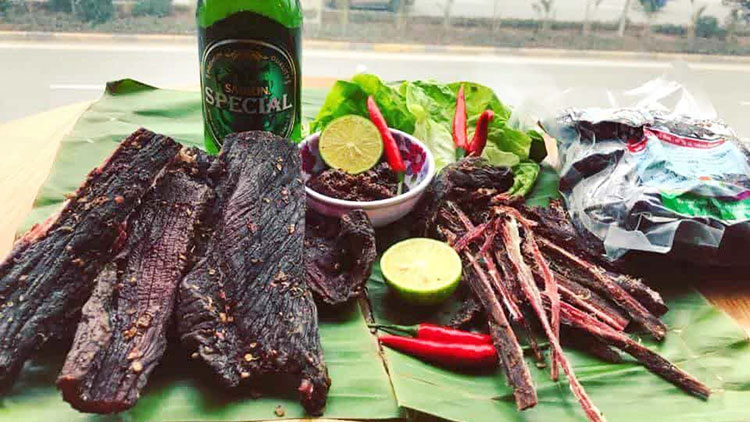 This is a specialty of the Black Thai ethnic group living in Sapa. It has a salty taste and a characteristic pungent flavor that comes from a variety of spices. The meat outside is dark brown, yet inside, it is bright red. To enjoy the meat, the locals usually stew, grill, or cook into various dishes. 
Thit lon cap nach (Carried-under-arm pork) – a hilarious dish with delish flavor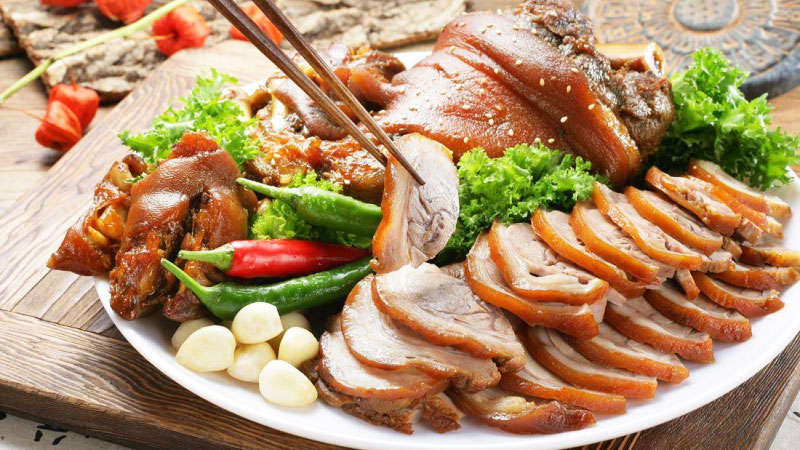 The name of this Sapa special dish is arguably the funniest name of a dish that would make international travelers burst out laughing. It literally means carried-under-arm pork.
The star of the dish is free-range pigs raised by the H'Mong, whose weight ranges from only 5 to 6 kilograms (11 – 13 pounds). Unlike conventional pig farming, the pigs in Sapa are free to find fresh food in the garden and forest. It is why Sapa's free-range pork has a distinctive tenderness and sweetness that you cannot in any other kind of pork. 
So how did this dish get its off-putting yet hilarious name that involves a non-attractive human's body part? During market fairs, ranchers hold the pigs under their armpits and bring them to the market for sale. And the buyers bring the purchased pigs home in the same way before cooking. The best way to cook these little pigs is to grill over embers until the skin is golden and crispy. Combined with chili fish sauce, the taste is dynamite.
Com Lam (fried rice in bamboo tubes) – simple but fascinating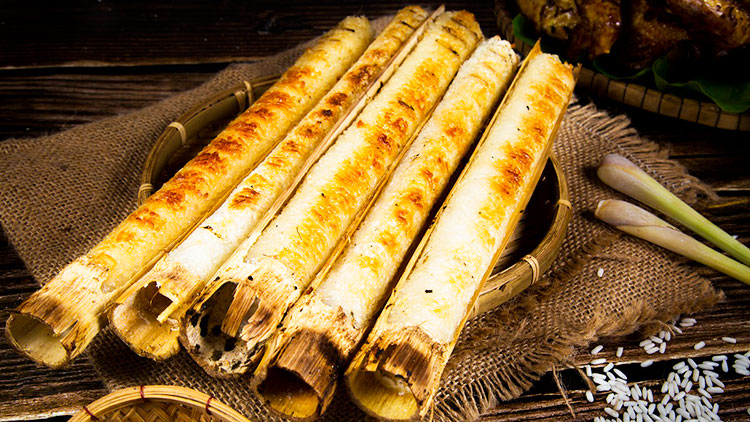 Rice lovers can't miss a simple yet renowned dish of Sapa cuisine that is called fried rice in a bamboo tube. 
Com Lam is simply rice that is cooked in a bamboo tube on top of embers. During processing, the bamboo tube must be regularly rotated to allow the rice to cook evenly. Thanks to this special method, the rice seeds absorb all the aroma from the bamboo while retaining the inherent sweetness. Lam rice is crunchy even when cooled. You can eat fried rice in bamboo tubes with fried sesame salt or silk rolls, and grilled meat. A simple, but absolutely delicious culinary creation of Sapa.
Cuon sui (dry pho) – the highland version of Vietnamese Pho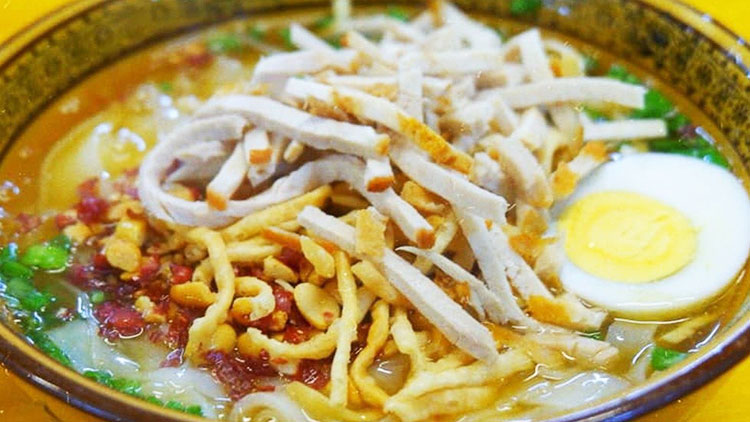 You may know Pho (Vietnamese beef noodle soup), the symbol of Vietnamese culinary culture. In Sapa, there is a unique version of Pho known as Cuon Sui, or dry pho, an unforgettable special dish of Northwest cuisine. 
Cuon Sui originated from Chinese living in Sapa. Pure white noodles are placed at the bottom of the bowl. Above are tender slices of beef and pork, pieces of boiled eggs cut into quarters, crispy fried shallot, crushed peanuts, herbs, and a pinch of pepper. There is no broth in Cuon Sui, which is the difference between this dish and traditional Vietnamese Pho. Instead, a bowl of thick flavored sauce is served along. To enjoy dry pho, pour all the sauce into the bowl of noodles.
The special sauce of Cuon Sui is made from the bones of a pig that has been simmered for at least five hours. It is seasoned with spices having a strong aroma such as cinnamon, cardamom, and some local Northwest seasonings. Therefore, The sauce is incredibly balanced. It makes the bowl of Cuon Sui both fragrant and delectable.
Travel tips to Sapa 
Where to stay in Sapa? 
For accommodation, you will find pretty much everything in Sapa: from simple homestays, warm eco-lodges to luxurious hotels and resorts. But to truly embrace the biggest difference of Sapa from other destinations in Vietnam – the impeccable fusion of nature and accommodation, homestays are the perfect go-to. 
In general, local homestays are usually spacious and well-integrated with Sapa's mountain nature. Check out some of the most beautiful homestays below:
Phơri's House – Ta Van Valley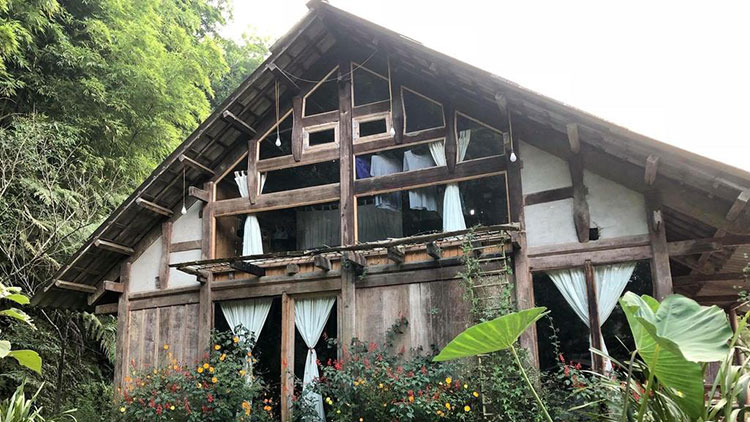 Pho's House is a charming homestay in Sapa loved by many young travelers. It is located at the end of Ta Van village and 8 kilometers (5 miles) from the center of Sapa town. Here you can see the verdant valley and the terraces ahead. Next to the house is a gorgeous stream. The landscape is very peaceful and quiet.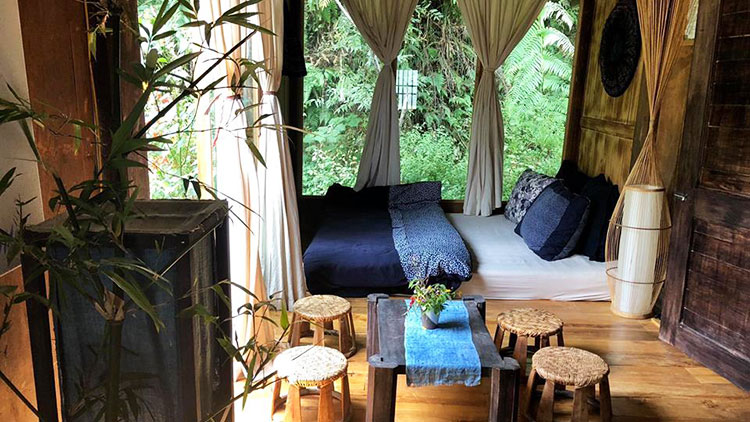 Price: $30/ night/ double room, a $10 additional charge for the double room with three pax. Whole accommodation: $120/ night/ 14 people
Eco Palm House – Lao Chai Village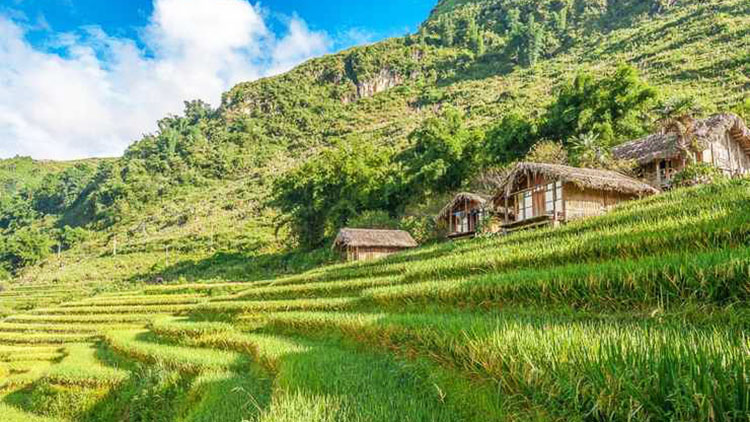 The nature-surrounded homestay will offer you outstanding experiences. It is located in Ban Lao Chai, near Ham Rong Mountain and Sapa stone church.
Here, you can have a wonderful view of the majestic Hoang Lien Son mountain range and Muong Hoa valley, with stunning and romantic beauty. At Eco Palms House, you can experience the real-life of nearly 5 ethnic groups from wearing traditional costumes to daily cooking with very simple utensils.
Price: $15/ night/ dormitory – $77/night/double room
Nam Cang Riverside Lodge – Nam Cang Villa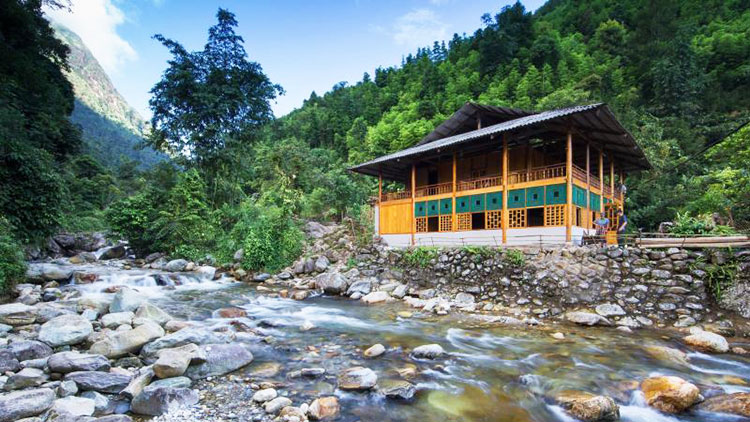 Located about 30 kilometers from the town center, this is the residence of the Red Dao ethnic minorities. 
In front of the homestay is a suspension bridge, crossing a small river. Nam Cang Riverside Lodge is famous for its green and airy space. The houses in this Homestay are made of wood and decorated nicely and fully equipped like fancy hotels. Here you can enjoy the magnetic view of the calm river, walk around the village and learn about the life of the tribe.
Price: $125/ night/ pax
Hmong Mountain Retreat – Ho Village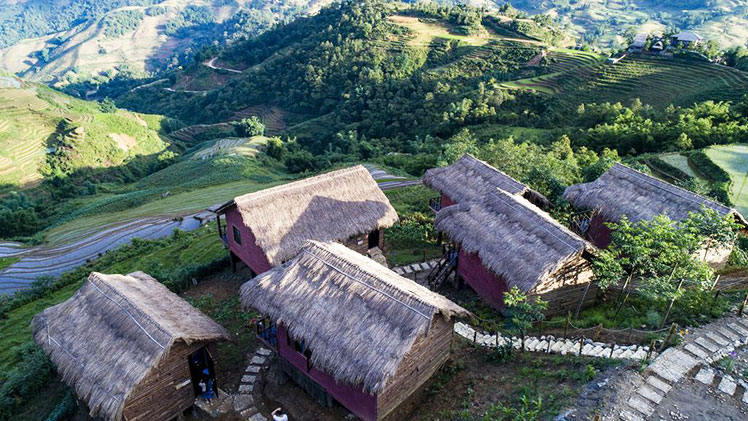 Situated at Ho village just 6 kilometers (3.7 miles) from Sapa center, Hmong Mountain Retreat is close to many beautiful places of Sapa such as Cloud Bridge, Silver Waterfall, and Mau Temple.
Hmong Mountain Retreat provides idyllic, eye-catching bungalows with palm leaf roofs amidst striking paddy fields in the middle of a hill. You will get to participate in two exciting activities to learn the culture of mountainous areas: visiting an over 80 years-old H'Mong house and joining a cooking class to prepare local specialties. 
Price: For single rooms, it's $40/ night/ pax. For shared rooms, it costs $13/ night/ pax.
When to visit Sapa?
You can choose to travel to Sapa at any time of the year because Sapa each season has its unique beauty and features. Let's explore Sapa's weather and its features over the four seasons of the year.
Spring (From February – May)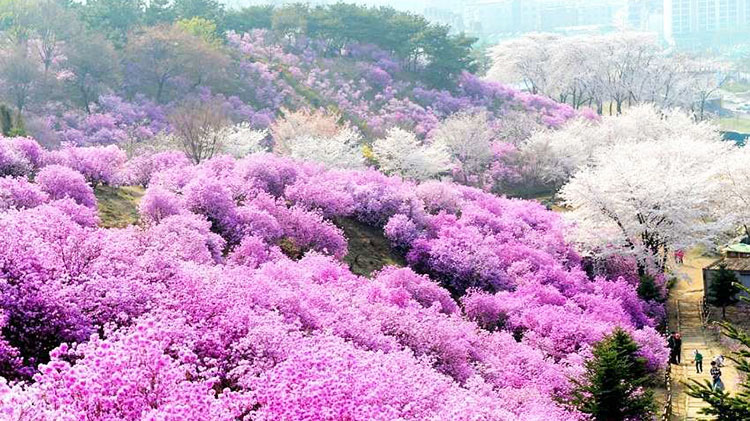 In springtime, the weather in Sapa is cool and pleasant. It is mildly cold in the morning, sunny at noon, and very dry at night. This is the time when many tourists choose to come to Sapa. Spring comes, Sapa wears a shirt full of colors. The forests are immensely colorful with peach blossoms and plum blossoms. Valleys, hillsides, and the long winding roads are painted with colors and the sweet scent of flowers. All make the Northwestern land poetic, leaving a deep impression on visitors.
This is also the time when the people of Sapa begin to plant rice (April – May). If you come to Sapa at this time, you will have the chance to admire the immense terraced fields, you will see the image of farmers leaning to transplant rice, all very simple and beautiful.
Summer (June – August)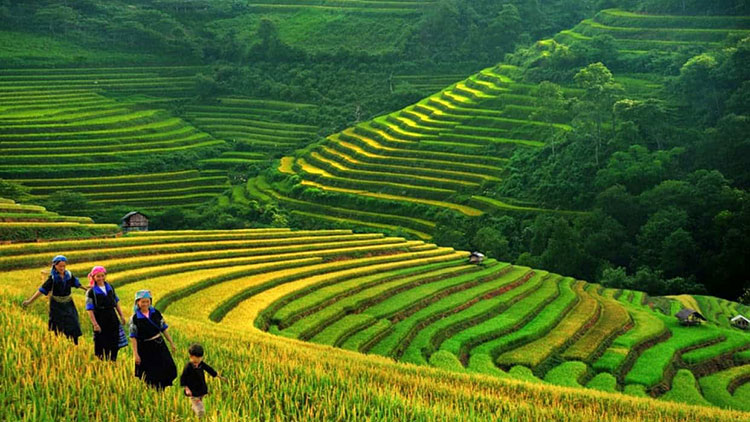 From June to August is an ideal time to visit Sapa for those looking for a pleasant place to escape the hot, sweltering weather in Vietnam's urban area. Sapa more or less has the nuances of the temperate zone. So, if you come to Sapa in the summer, you can enjoy the cool, fresh atmosphere of highland's nature. During summer, Sapa is filled with greens from forests and delightful rice terraced fields.
Autumn (September – November)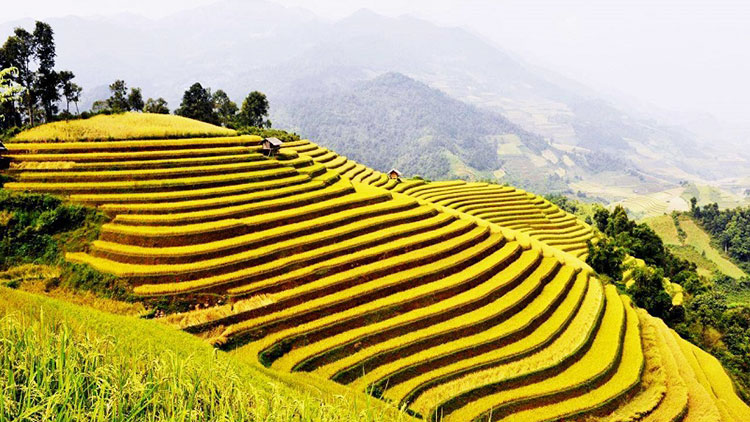 Which season is the most beautiful time to travel to Sapa? The answer is that autumn is from September to November. 
At this time, the weather in Sapa is extremely pleasant, cool, fresh in the morning, and cold at night. At the end of September, Sapa is more prominent than ever by the golden terraced fields stretching immensely all over the hillside, bringing incredibly stunning scenery. 
Winter (December to February)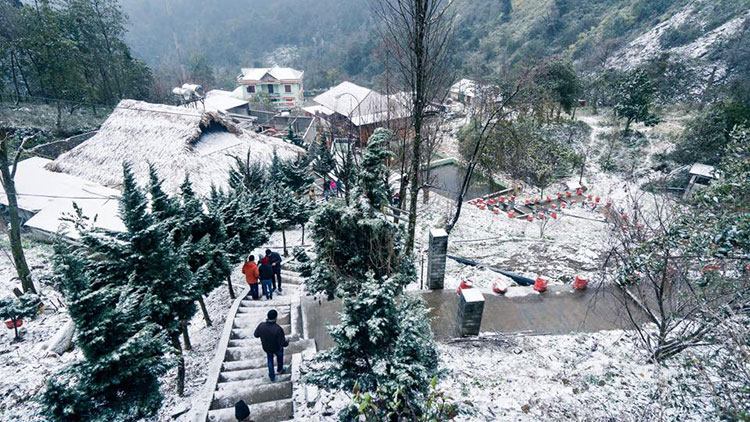 From December to February, the weather in Sapa is icy-cold. That is why Sapa is the only place in Vietnam where there is snow. The temperature can get down to sub-zero, especially at night and early morning. 
So, if you choose to travel to Sapa in December, do not forget to bring warm clothes, shoes, gloves, towels and a wool hat. Although the winter is harsh, you can admire a rare image in Vietnam – the terraced fields switch from fresh green shades to putting on a pure white coat. However, the snow time is not fixed, so to hunt snow you need to keep an eye on the weather forecast regularly.
What essentials to pack for your Sapa vacation? 
Doing an excursion in Sapa is quite different from other places in Vietnam since it consists of lots of trekking. To ensure a smooth trip, here are some essentials you will need to pack with:
Insect repellent: Sapa is a remote area with most of its attractions are natural landscapes. There are many leeches and mosquitoes so insect repellent is a must to avoid itchy bites.
Lightweight rain jacket: This is essential if you are in Sapa in the rainy season. If you have forgotten to bring one, you can find a wide selection of rain jackets at local markets. However, don't hesitate to haggle. 
Earplugs: Homestays in Sapa are not sound-proof due to their location and building material. You will hear lots of noise from nature like winding blowing, buzzing sounds of insects, and raindrops. Unless you sleep like a rock, don't forget your earplugs. 
Band-aids: Chances of getting scratches or blisters during your Sapa trek are high. So always keep some band-aids with you along the journey.
Discover the marvelous Sapa now
How to sum up Sapa? An enchanting mix of the breath-taking natural landscape and lively hill tribe culture. With Visa2Asia, immerse in a memorable adventure in the town of clouds punctuated by the picturesque beauty of magnificent highlands and the original life of ethnicities.