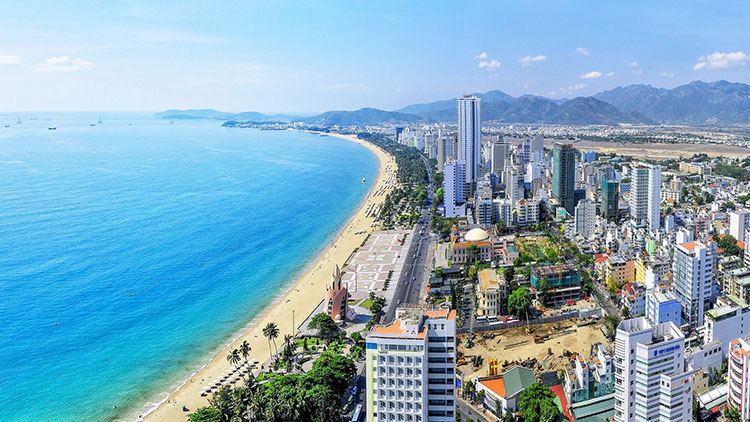 What are your expectations when you set foot in Vietnam? Tasty street food, cheap beverages, glimmering festivals, or the bustling atmosphere of massive cities? If you have experienced all of them, and thirst for something else, Vietnam has one more thing that attracts scores of visitors: stunning crystal blue beaches.
And the best place to enjoy the tropical atmosphere on alluring beaches in Nha Trang. It is a beautiful coastal city located in Khanh Hoa province, on the South Central Coast of Vietnam. Nha Trang has earned its reputation over the years for boasting some of the most pristine beaches in Asia and breath-taking islands that are worth your time of visit. There is something tempting about this city that people just keep coming for a relaxing holiday. Let's explore this amazing gem of Vietnam with Visa2Asia!
Of all the places in Vietnam, why Nha Trang?
Sparkling white-sand beaches never cease to seduce travelers. But other than just beaches, there have to be more reasons why Nha Trang is always ranked among the most-visited places in Vietnam with millions of visitors annually. Let us guide you through some of the best things this coastal city has to offer.
Nha Trang has rich historical and cultural heritage
Famed for heavenly stunning white sand beaches, Nha Trang also inherits archaic historical and cultural sites that are worth visiting. A trip to this beach town is not complete without discovering these cultural spots:
Ponagar Cham tower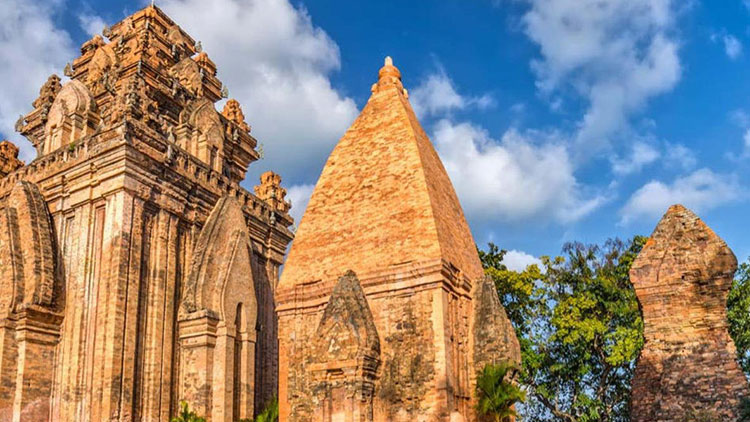 Strolling around Nha Trang, tourists often spot a huge ancient architectural landmark in the northern part of the city. As one of the largest remaining Cham relic clusters in Vietnam, Ponagar Tower embodies the prosperous period of a lost civilization. 
The tower of the goddess that makes up the Earth Yang Po Inu Nagar, was built before the 10th century. Though partially ruined, still retains the most outstanding features to this day. The Ponagar tower was structured with square red bricks, protruding support frames, and tampering roofs. This is one of the most unique cultural relics you should not forget to check out. In ancient times, the Chams worshiped the goddess Yang Po Inu Nagar, who was there to protect and take care of the people's lives, helping them have land to live and cultivate.
Back in 950, the Khmer empire invaded Champa and stole the sacred Po Inu Nagar statue. Therefore, the Ponagar tower is absolutely crucial to the Chams as a symbol of respect and memorial to their goddess. If you are interested in discovering deeper the ancient Champa culture, don't miss Mỹ Sơn sanctuary, the foremost Champa relic in Vietnam.
Although it is just a legend left by the ancients, those things have created extremely unique customs and traditions of the Cham people. You will hear about the goddess Ponagar and many other stories about the forgotten civilization of Cham people here.
Nha Trang Cathedral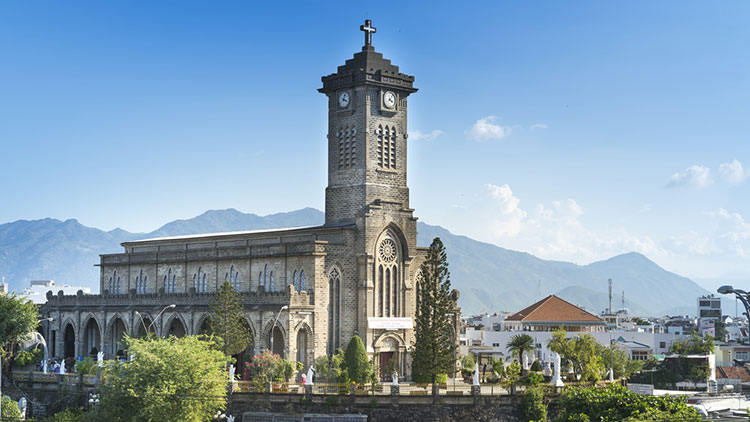 Nha Trang Cathedral, also known as Christ The King Church, is the largest and most beautiful church in the city. The locals also name it Stone church (Nha Tho Da), and Mountain church (Nha Tho Nui). Located on the top of a hill in the city center, the over 80-year-old church pulls every traveler's attention thanks to its majestic French architecture. 
Opened in 1933, Nha Trang Cathedral had gone through a great history. By the end of the 19th century, Catholics in Nha Trang were only a few hundred people. In 1886, the French set up a colonial government office in Nha Trang, and to meet the needs for religious activities, they built a temporary chapel on the beach. As the local Catholics community grew, Louis Vallet (1869 – 1945) – a French priest had the intention and decided to build a new church to serve the community, which is today's Stone church.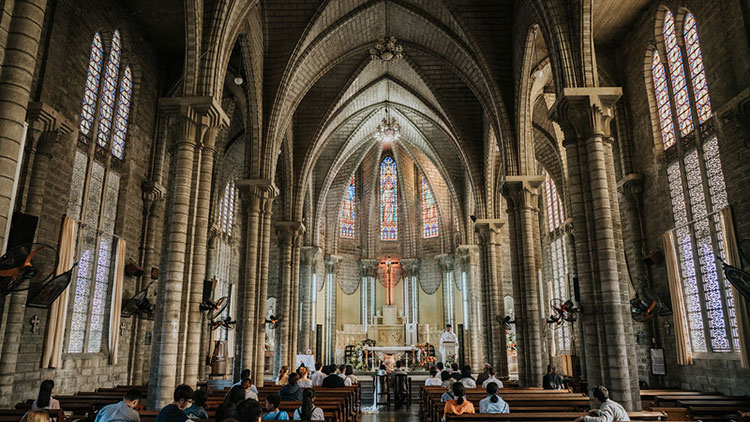 Built entirely from stone, the church is an important remnant of elegant French architecture. The highest point of the church is where the Cross is located on the top of the bell tower, 38m high from the road surface. The church has a wide dome, gothic style rose-shaped windows that stand out like a diamond in the heart of the city. Inside the church, you will be amazed by many thoroughly designed pillars. Also, the most noticeable detail of the church is the 3 high bells hanging in the middle. Along with that, the warm light from neon lights gives the church a sense of peace during night time. For every first-time visitor, this place can not be missed.
Long Son Pagoda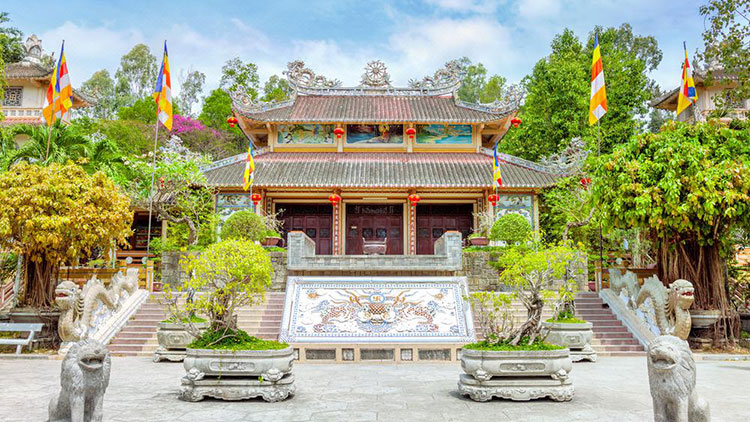 Every year, thousands of people come to see and pray at this particular pagoda called Long Son (previously known as Đăng Long Tự). Long Son Pagoda with a giant 24-meter (79 feet) tall white Buddha statue overlooking the city from Trai Thuy hill is quite an experience for Buddhists.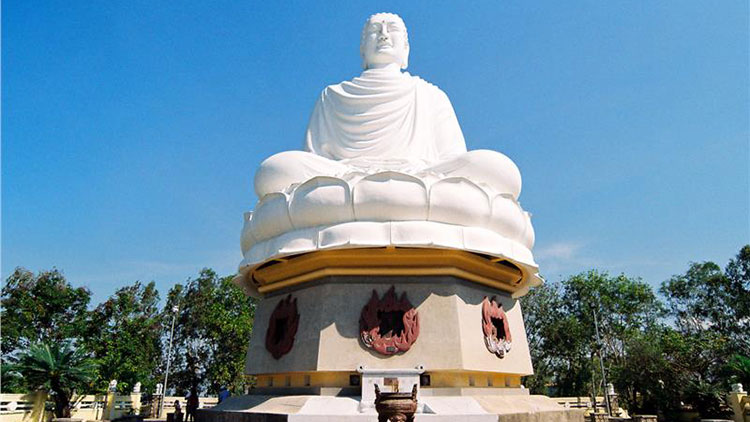 The pagoda's sacred beauty can astonish any visitors. Standing firmly at the entrance is a fascinating colorful dragon mosaic. The greenery of lushes on the ground plus the hill scenery at the back of the pagoda bring a relaxing atmosphere. Behind Long Son pagoda are 152 steps leading to the tall white Buddha statue situated on the hilltop.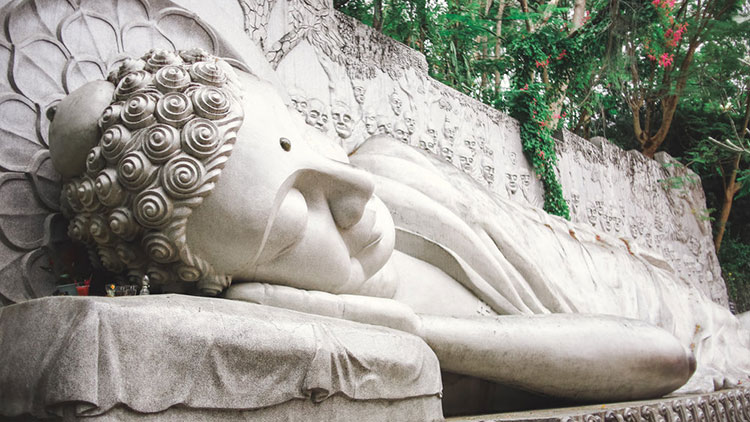 On the way to the top, at the 44th step, you will see the Reclining Buddha statue made of marble. The locals believe the Reclining Buddha statue boasts the encouragement that all beings are able to awaken, thrive and release from suffering – a symbol of the cycle of rebirth. The serene and smiling expression is believed to represent calmness and enlightenment.  
Long Son pagoda has become the largest of the remaining temples in Khanh Hoa province up to now. Not only do you get to admire some fascinating Taoist architectural features, but also discover the cultural and historical values that Long Son pagoda has embodied for over hundreds of years. Come and find your peace of mind at Long Son pagoda.
Nha Trang offers dreamy islands
Diep Son island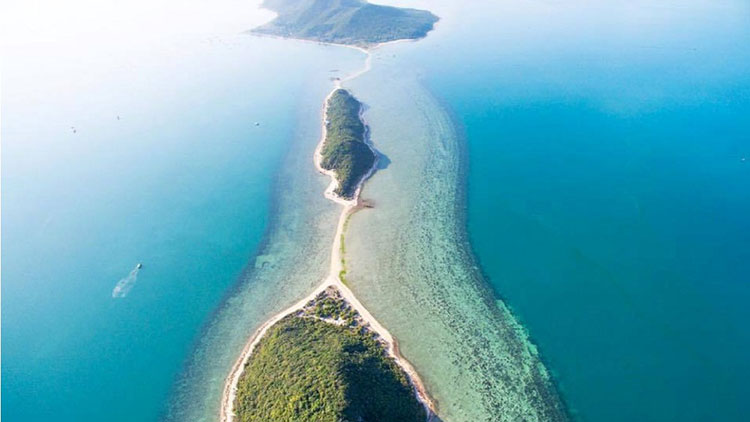 Compared to over 20 gorgeous islands that Nha Trang has, Diep Son island completely stands out from the rest. Lying in the calm, warm waters of Van Phong Bay in Khanh Hoa province, Diep Son archipelago is made of three islands: Bip island, O island, and Qua island. The aesthetically pleasing natural beauty of the island alone does not set it apart. What sparks Diep Son's uniqueness is the sensational sandbar connecting all three islands of Diep Son.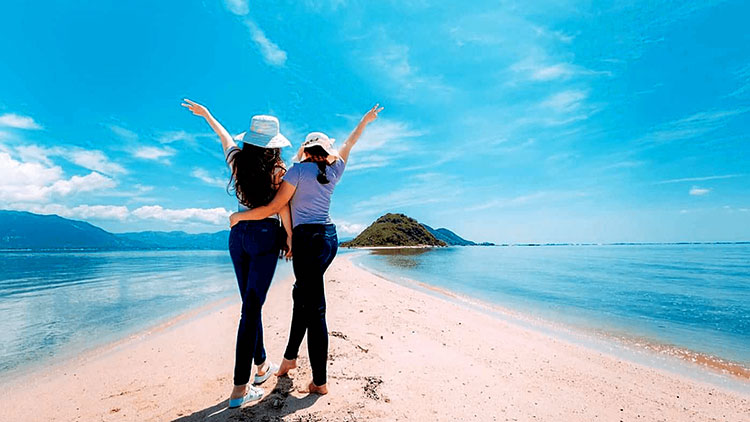 Imagine strolling through the majestic blue ocean on a silky 700 meters (2297 feet) long sand bridge watching small flocks of fish swimming around. It is without a doubt such a rewarding experience of your trip to Vietnam. Only at Diep Son, you can have the "ocean walk" of a lifetime without safety equipment when the tide goes out revealing the alluring sand bridge. Exploring the island by kayak is a great option. From December to June is the most ideal time to travel to Diep Son island. 
Hon Mun island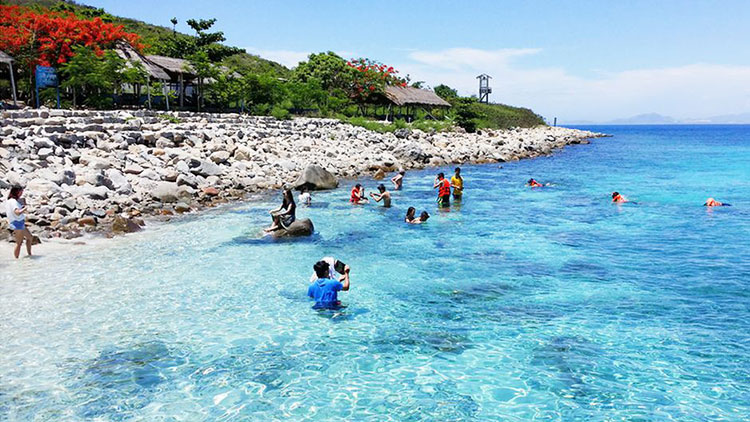 Are you passionate about ocean creatures? Hon Mun island is the perfect spot to discover marine creatures and corals thanks to the local authority's effort in protecting the region's natural habitat.
Hon Mun is among the most famous islands in Nha Trang with clear blue water, breathtaking nature, and poetic scenery. Located close to the hot-sea current from the equator, Hon Mun island is the ideal location gathering numerous gorgeous corals, turtles, and fish.
The island water is shallow, warm, and calm with decent visibility. For travelers who love diving, Hon Mun island is the best spot to discover the incredible underwater scenes in Vietnam. Even for those who do not like to jump into the water, they can admire the awesome marine biodiversity from clear bottom boats that allow a direct view into the deep ocean.
Monkey island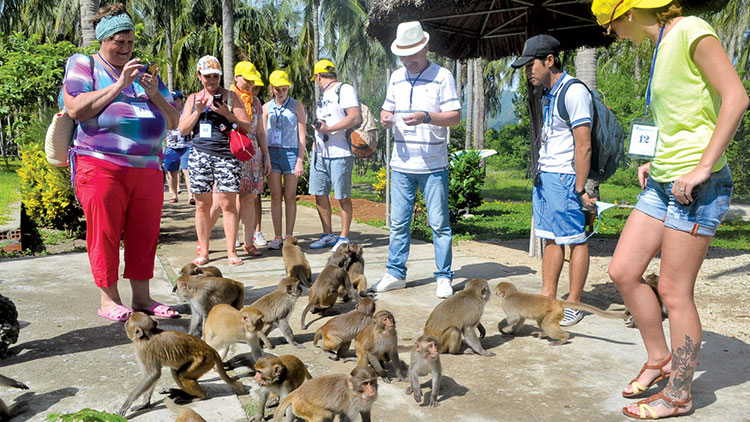 In Japan, there is a cat island. In the Bahamas, there is an island for pigs. And in Vietnam, there is Monkey island (Hon Lao) situated about 20km to the north of Nha Trang. Just as the name represents, this island is home to more than 1200 wild monkeys of different kinds, as well as beautiful views and exciting fun activities. You can find friendly and adorable monkeys almost anywhere on this island. Interacting and feeding the monkeys are pleasing and joyful, which is what attracts most visitors paying a visit to the Monkey island.
However, the monkeys can sometimes get a little carried away and would grab anything that spikes their curiosity, including phones or wallets. So be mindful, and protect all your belongings during the visit to Monkey island.
Also, when you come to Monkey Island, remember to taste the delicious dishes prepared by the locals. All seafood is captured by local people early and then sold to the market, so the seafood is absolutely fresh. 
Hon Tre island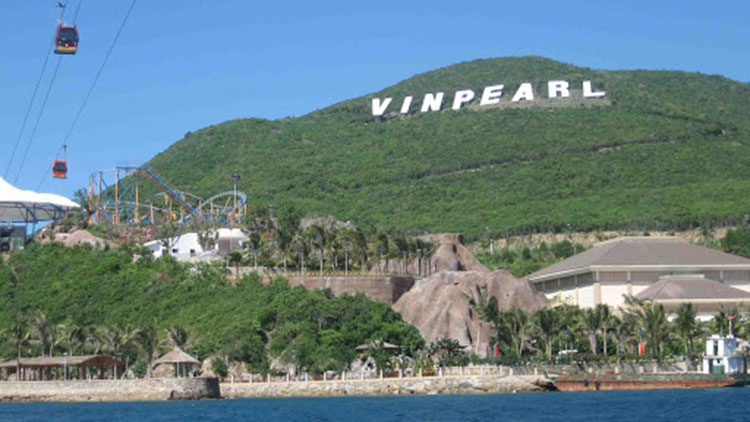 Not visiting Hon Tre, the largest island in Nha Trang, is a huge blunder. Just off the city's coast, you will find one of the city's most exhilarating islands. Hon Tre means "the island of bamboo" in Vietnamese. Hon Tre Island boasts some of the most dazzling sugar-white sand beaches in Vietnam. But beaches are not the only thing Hon Tre island has to offer.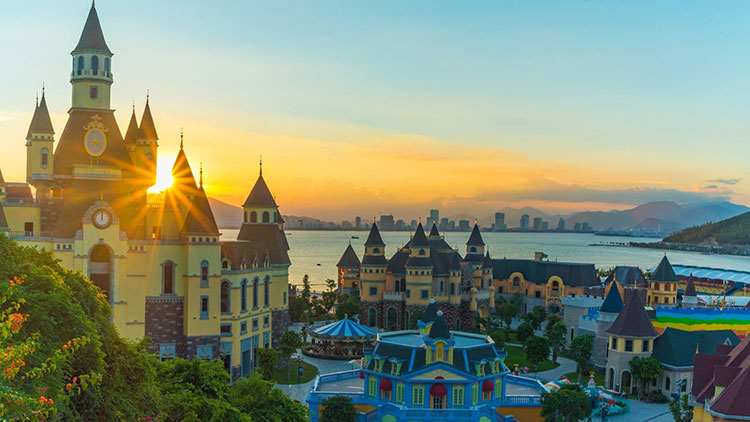 Hon Tre houses the Vinpearl Amusement Park (Vinpearl Land Nha Trang), a massive amusement park considered as the paradise of entertainment in Vietnam. What is so fascinating about this entertainment complex? Within the theme park, you will find a huge aquarium, water park, shopping mall, and a variety of joyful rides. Additionally, other sorts of recreation activities such as water games in the water park, and ice-skating in a natural ice rink system.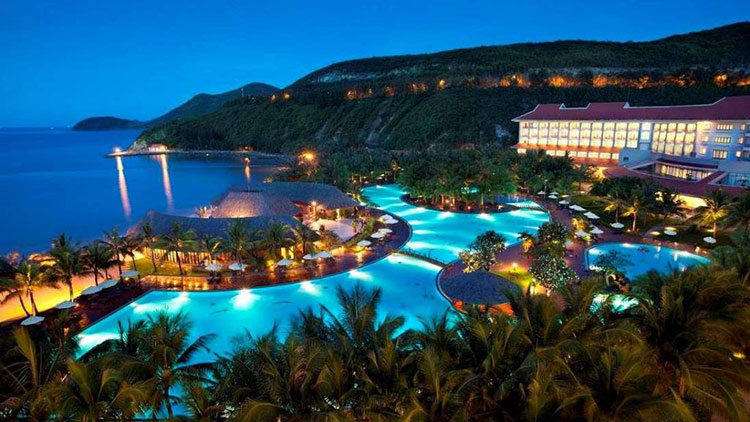 Accompanied with Vinpearl Amusement Park, visitors cannot ignore the 5-star Vinpearl Resort chain, the symbol of ultra-luxury accommodation services. Vinpearl Nha Trang Resort provides a variety of world-class luxurious rooms, 3 independent villas, fine-dining restaurants along with an 18 hole golf course of international standards, and the largest swimming pool in Southeast Asia. Surely, you will enjoy your stay in rooms featuring private balconies overlooking the beautiful surrounding hills or romantic sea at Vinpearl Nha Trang resort. 
Getting to Hon Tre is quite easy thanks to daily ferries or speedboats transfers. However, most visitors choose the best cable car in Nha Trang instead of other means of transportation.
Nha Trang has diverse tourist activities
As a travel hotspot of Vietnam, Nha Trang attracts tourists with a wide range of thrilling water activities such as windsurfing, kayaking, scuba diving, snorkeling, and so on. Other than that, the coastal city offers some more special pleasing things that you should try once in your life.
Walk under the sea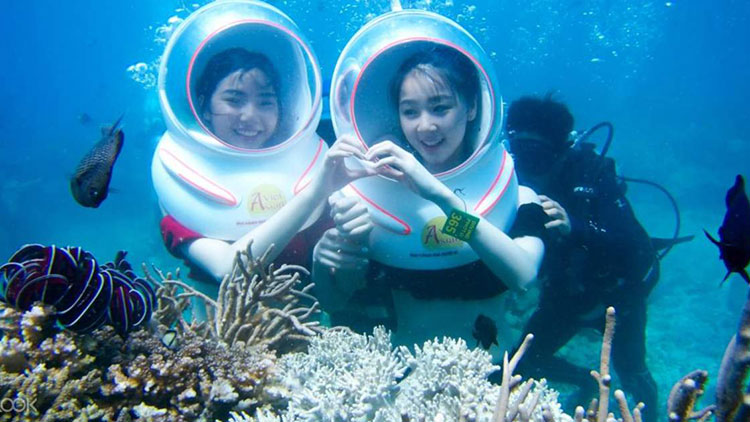 So you may have tried diving and snorkeling. These underwater activities are awesome. But how about literally walking under the ocean like the characters in the Aquaman movie? 
In Nha Trang, there are sea walking tours that allow participants to stroll underwater without scuba diving skills. For a 20 minute walk, you are equipped with a special 33kg helmet that provides oxygen and protects you from the high underwater pressure. Anyone can participate in this tour, especially those who cannot swim. All you have to do is to stroll and enjoy the whole experience. Taking a slow walk and witnessing the magical ocean ecosystem with abundant marine reserves of Nha Trang is priceless.
Try mud bath at Thap Ba Hot Springs center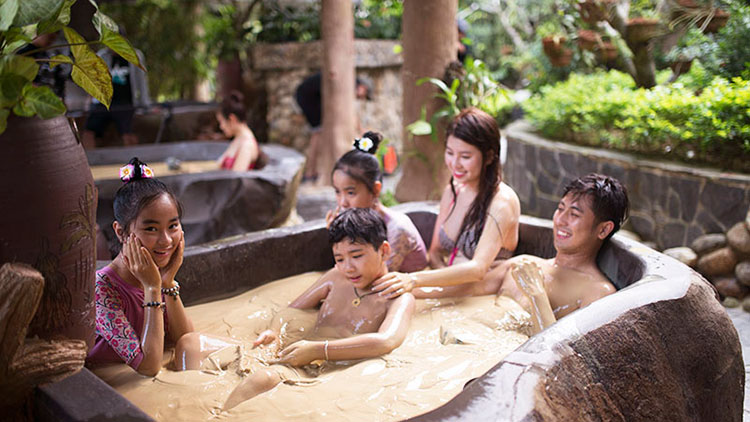 After trying all dynamic activities in Nha Trang, treat yourself to a relaxation day at Thap Ba Hot Springs center soaking your body in natural mud.
Thap Ba Hot Springs is one of the best places to try mud bathing at a reasonable rate from $3 for children to $6.45 for adults. The organic mud used at the center is pumped up from underground into small separate pools mixed with mineral water. The combination of mud and mineral water at adequate heat is perfect for relaxation and health treatments. Thermal mud is rich in essential minerals such as zinc, magnesium, and bromine are proven to help rejuvenate the body by exfoliating dead skin cells, preventing and healing the dysfunction due to aging.
Customers can experience a variety of treatment packages at Thap Ba Hot Spring center. A standard mud bath package consists of a 15-minute mud bath in the communal pool, a 30-minute soak in natural hot mineral water, and a hydrotherapy session using cool mineral water. If you are willing to splurge on fancy treatments, there are VIP packages offering private indoor mineral mud bathtubs, swimming pools, Jacuzzi, body massage, and acupuncture therapy. So why not let your body enjoy the healing treatment of mud baths and relief from all the stress during your trip in Nha Trang.
Visit the National Oceanography Museum of Vietnam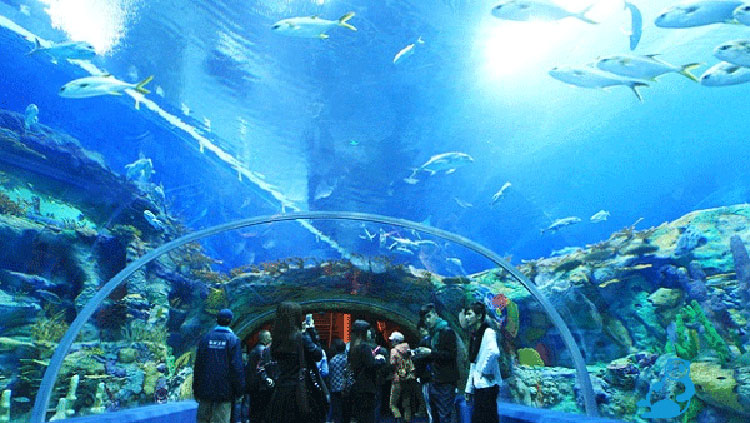 If you love learning about the local marine life in Nha Trang, visit the National Oceanography Museum of Vietnam. This institute exhibits over 20,000 live and preserved marine specimens. 
The museum's collection is so extensive that it spreads out over two floors. The ground floor houses glass tanks of marine creatures in various sizes such as living coral, reef sharks, turtles, lionfish, clownfish, and more. The second floor is home to specimens of tropical marine creatures, local boats, and fishing artifacts.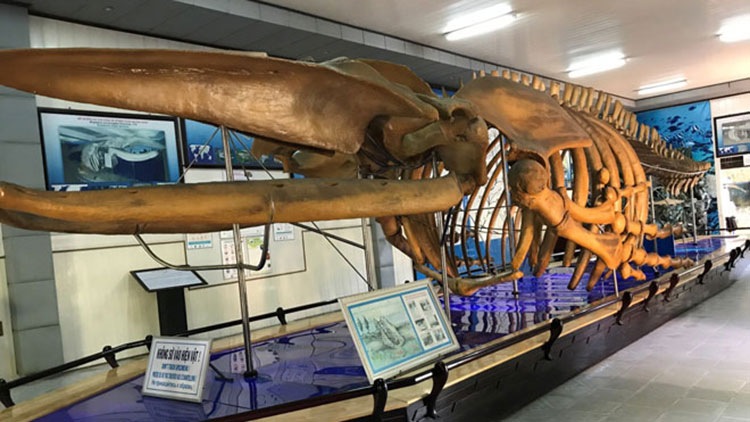 One of the highlights of the museum is a huge specimen area with 3 giant fossil skeletons, displayed in a space of 200 square meters. The largest skeleton is of the 18-meter (59 feet) long humpback whale, weighing about 10 tons, which was buried underground in the Red River Delta for more than 200 years before being discovered. Also, you can witness some illustration of natural disasters, sacred legends as well as the fishing culture in Vietnam.
Ride Vinpearl Cable Cars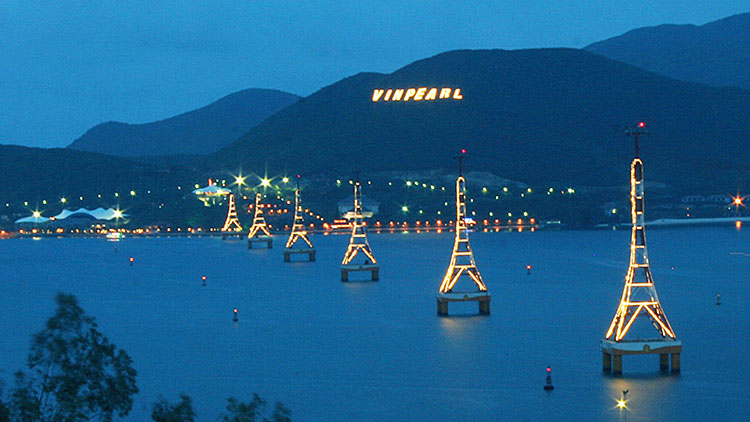 As mentioned above, a large number of tourists choose cable cars to reach the extraordinary Vinpearl Amusement park, and you definitely should try as well. 
The Vinpearl cable car is one of the longest cross-sea cable cars that span the length of 3,320 meters (10,892 feet) taking you from the mainland, across the sea, to Hon Tre island. Spending 15 minutes with your friends and family admiring the astonishing ocean landscape from the cable ride is definitely worth your time.
Nha Trang has extraordinary cuisine
Journey to the "S-shaped" country, travelers will be blown away with luscious Vietnamese cuisine. Every city has distinctive culinary arts, and Nha Trang is no different. Mother nature granted Nha Trang, not just gorgeous scenery, but also an ocean of seafood that foodies just can't resist. Let's discover some of the best mouth-watering local delicacies that represent the ocean culinary culture of Nha Trang.
Bun sua (Jellyfish noodles)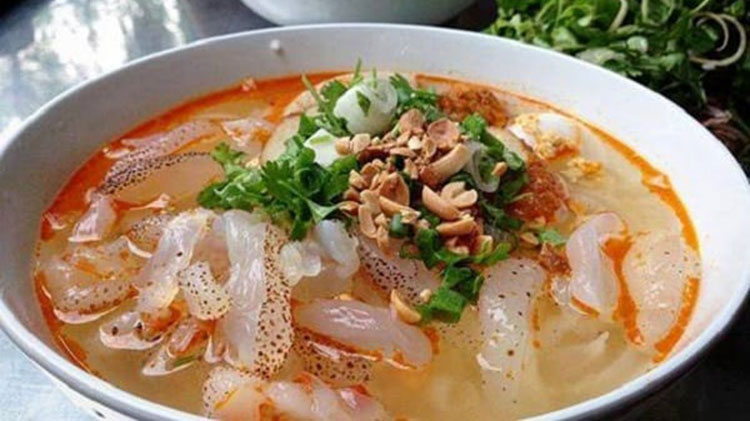 Wonder what jellyfish tastes like when combined with noodles? Jellyfish noodles will satisfy your curiosity. 
It is a supreme masterpiece of Nha Trang's culinary art. The dish comprises a bowl of jellyfish noodles with clear, sweet broth simmered from Ponyfish with milky colored, thick, and crispy pieces of jellyfish. The flavor is one-of-a-kind. It is also served with fresh onions, boiled fish cakes, chili, and herbs to leverage the unparalleled flavor. 
The star of the dish, jellyfish, must be caught far offshore, not the itchy, poisonous jellyfish that is often seen near the shore. The oddly good flavor of jellyfish noodles will surely leave you an unforgettable experience from your trip to Nha Trang. Besides, you can also try the flavorful Goi Sua (jellyfish salad) as an entry before diving into the main course. 
Nem nuong Ninh Hoa (Ninh Hoa grilled sausage)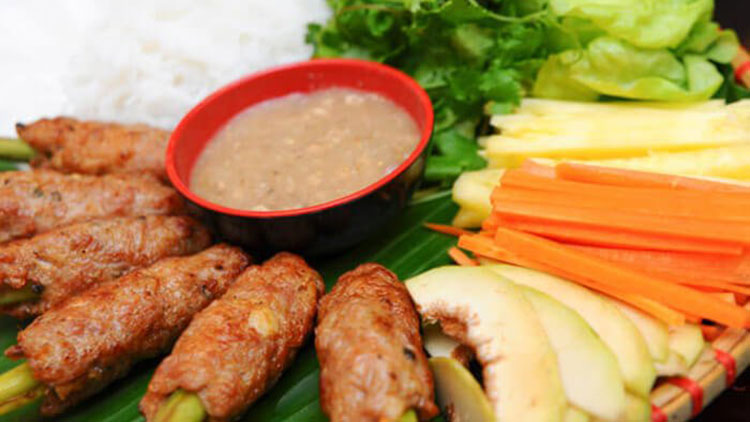 As an iconic dish in Nha Trang, Ninh Hoa grilled-sausage has contributed to enriching Nha Trang cuisine. It is one of the most-loved dishes all over the "S-shaped" country.
Ninh Hoa grilled sausage has 2 types: Sour and non-sour. The raw material used in the making process is lean thigh pork. And the process of making Ninh Hoa grilled-sausage is completely manual, so it is very soft, firm, and rich. Usually, the grilled-sausage is served with a dish of vegetables, rice papers, and a bowl of dipping sauce. The grilled-sausage itself already tastes good, but it is the dipping sauce made mainly from fish sauce that adds extra richness to the dish. 
Banh canh cha ca (Vietnamese fish cake thick noodles soup)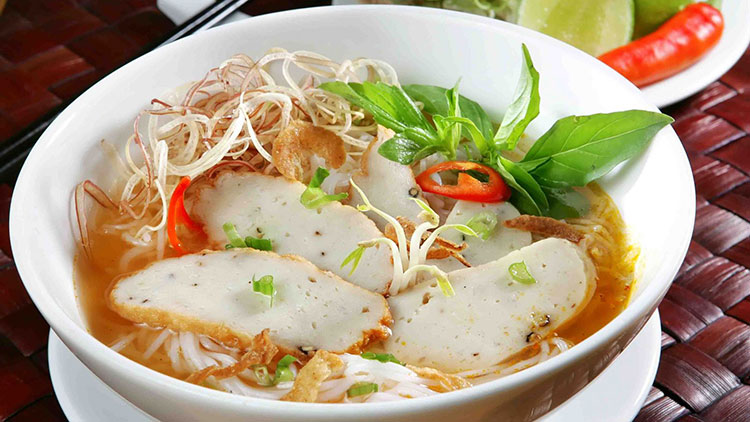 The Vietnamese thick noodles soup with grilled fish cake is a typical Nha Trang delicacy that you must taste when traveling in the beach city. 
The dish is simply cooked but has an exquisite seafood flavor thanks to the broth made from fish caught far offshore. The slurpy thick noodles made from rice flour is moderately chewy, served with pickled fish, fried fish cakes, and a little scallion adds a light fresh aroma. The soup offers a bearably fishy and mildly sour flavor. Dozens of variations of thick noodle soup with other protein sources such as snakehead fish or crab can be found anywhere in Nha Trang. Make sure to try all different local variations.
Banh xeo muc (Sizzling cake with squid)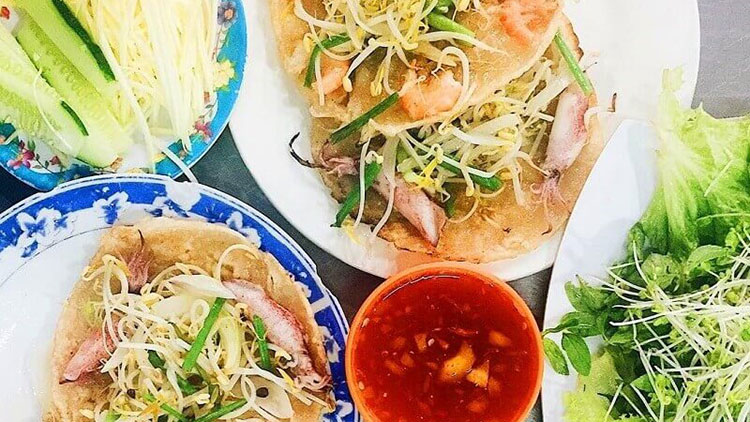 The sizzling cake is a popular dish throughout Vietnam, but Nha Trang has maybe the best seafood version of the sizzling cake. Almost all Nha Trang eateries serve Banh Xeo Muc.
Instead of using meat, the star of the dish is the firm tiny baby squid. What distinguishes this dish from others is that the baby squid, fresh when caught from the sea, is only washed, left the whole, not cut out for squid as normal processing. When you bite the squid, the ink bursts with an extreme richness that will utterly tickle your taste buds. Observing the local chef pouring the flour into the pan and listening to the sizzling sound makes the whole experience so satisfying.
Goi ca (Deep herring salad)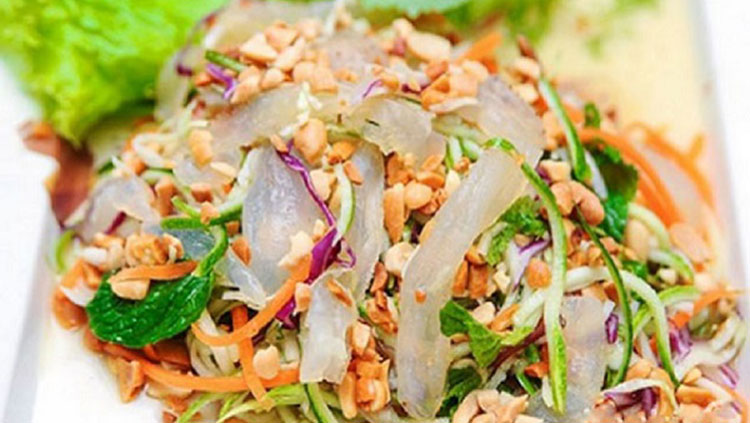 The locals usually serve deep herring salad to show great hospitality due to the long preparation time and hard effort to create this dish. After being caught from far offshore, the herring fish are carefully selected. Only the biggest and fresh ones are chosen for the salad.
The most time-consuming part of the making process is the bone ripping process. Once the bone is removed, the thumb-size herring fish is mixed with lime juice or vinegar, ground roasted peanuts, chopped shallots, minced garlic, and cilantro. This dish is incomplete without a delicate dipping sauce. 
Xoi ca com (Sticky rice with anchovies)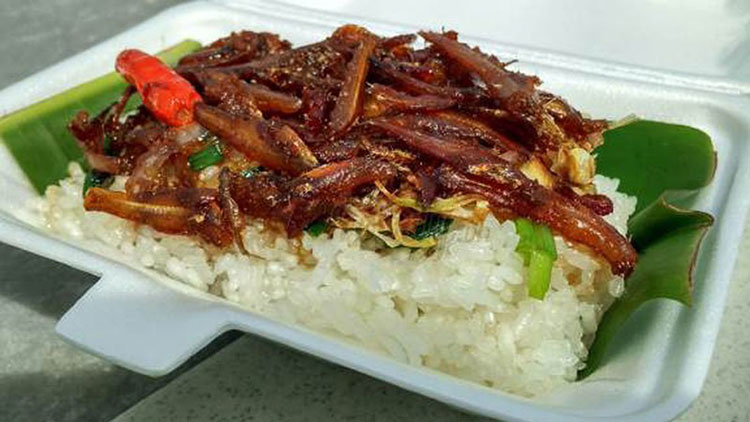 One of the most loved breakfasts by locals is sticky rice with anchovies. The dish is very simple – with only two ingredients included: sticky rice and anchovies. Yet, its simplicity delivers a truly remarkable flavor. 
There are two versions of sticky rice used in the dish. One is the original plain sticky rice and the other one is cooked with green beans, which adds a little sweetness and mellow aroma to the dish. As for the anchovy toppings, it is heavily seasoned, and then carefully slow-cooked with fish sauce to create a soft texture of the fish. Anchovies can be found in many beach areas in Vietnam, but the best anchovies are in Nha Trang.
The dish's harmonious combination of the tender sweetness from the sticky rice and the bold salty flavor from the anchovies is simply unreal. With only around $0.5, you can get a bite of the best breakfast delicacy of Nha Trang.
Bustling nightlife in Nha Trang
When it starts getting darker, and hundreds of signboards come to life, that's when nightlife in Nha Trang begins. Depending on your mood, you can spend the night at a nice quiet bar with slow calm music or, on the contrary, dance until the sun rises at thundering nightclubs. These are some ecstatic nightlife spots for mingling with local fellows and tourists until early morning. 
Sailing club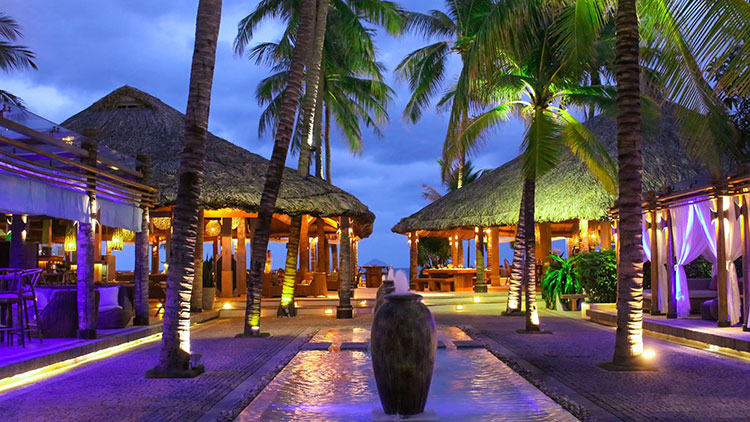 Set along Tran Phu street is the most-visited entertaining venue of the city, the Sailing club.
The club opens both at night and day time. In the morning, the club becomes a fabulous cafe near the seashore where you can have a cup of coffee, and lie on a lounge chair enjoying the waves. At night time, it turns into a grizzly party hall offering imported alcoholic options, lively tunes, and a huge dancefloor for partying. During weekends or holidays, visitors are entertained by fire shows or some other hip hop performances that are as much entertaining.
Opening hours: 7:00 AM – 2:30 AM daily
Address: 72-74 Tran Phu Street, Nha Trang
Altitude rooftop bar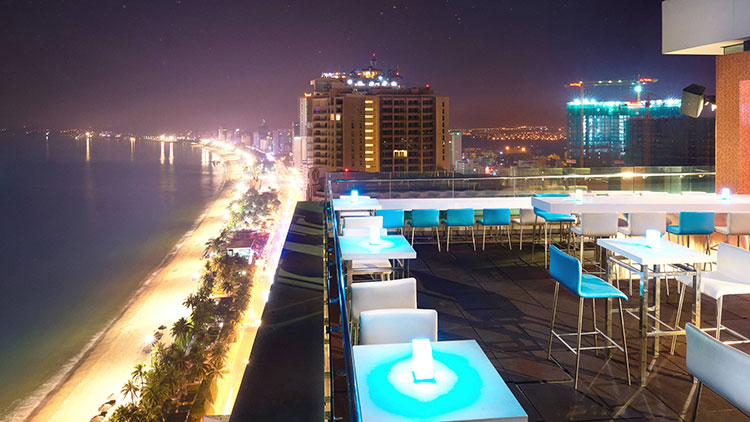 Altitude rooftop bar, located on the 28th floor of Sheraton Nha Trang hotel on Tran Phu street, is one of the most beautiful and romantic bars offering a panoramic view of the city's beach. The bar opens from 17:00 to 23:00 daily. With 5-star quality services,  incredible beverages, luxurious design, and a prime beachfront location, it is the perfect go-to for an unforgettable night sipping champagne while enjoying the stunning picturesque coastal city view.
Opening hours: 8:00 PM – 3:00 AM daily
Address: 26-28 Tran Phu Street, Nha Trang
Zima club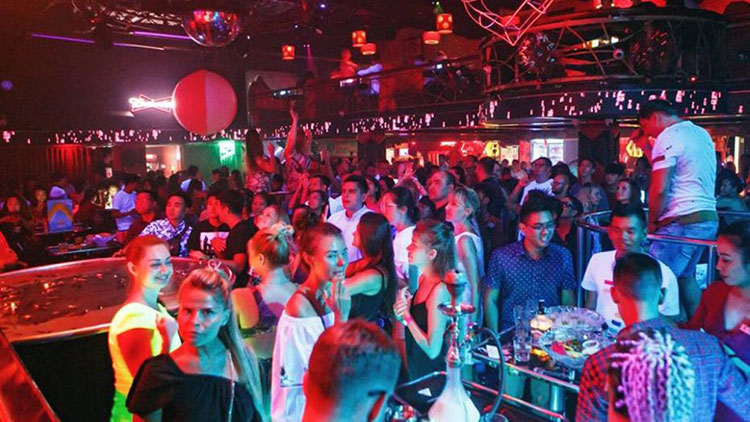 The Zima club (Zima means "Winter" in Russian) is one of the most popular clubs for European and Russian travelers. The club is located on the ground floor of Tran Phu street. The two-story nightclub's welcoming atmosphere makes it a wonderful place to party. It has a spacious dancefloor, and a fully-stocked bar filled with extensive alcoholic offerings. There is no entrance fee for women, and a free drink is included as a welcoming bonus. What a place to stay up all night under thundering hardcore tunes.
Opening hours: 5:00 PM – 11:00 AM daily
Address: 36 Tran Phu Street, Nha Trang
Tips for traveling in Nha Trang
The best time to visit Nha Trang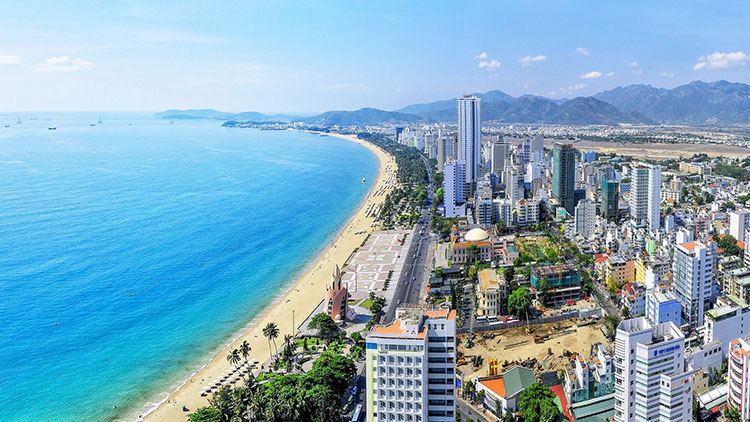 Nha Trang has two main seasons: rainy and dry seasons. Due to the city's tropical savanna climate, the dry season lasts long from January to August with temperatures averaging between 24-28°C, which is ideal for outdoor activities. 
From September to December is the rainy season, peaking in October and November. At this time, the city is heavily rained and often affected by storms. Therefore, from January to August is the perfect time to tour the city. Note that around this time, Nha Trang hotels are often packed, so you should book early before coming to Nha Trang to avoid wasting time looking for places to lay your back.
Transportation to Nha Trang
By plane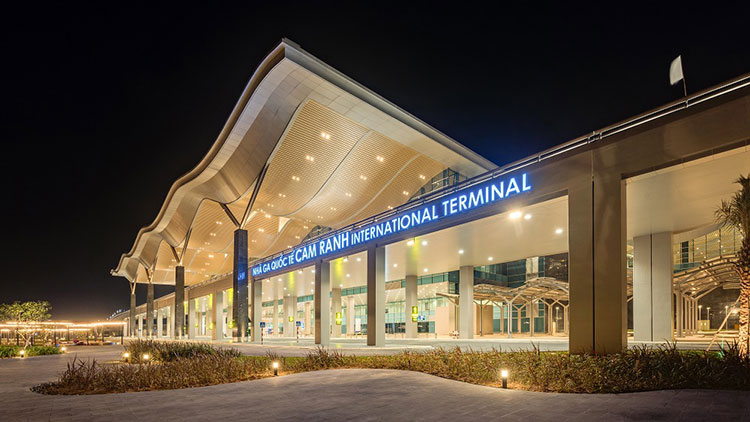 If you travel to Nha Trang from your home country, it is recommended to fly to one of these major Vietnam cities: Ha Noi, Da Nang, and Ho Chi Minh. You are required to have a Vietnam visa to enter Vietnam. You can acquire a Visa On Arrival at international airports in Vietnam. From the major cities, you need to book flights to Cam Ranh airport about 35km from Nha Trang located in Khanh Hoa province. Flights take only 1-2 hours.
From Hanoi – Nha Trang will take 1 hour and 55 minutes with a ticket price of about 850,000 – 2,000,000 VND/ one-way trip ($36.5 – 100).
From Ho Chi Minh – Nha Trang will only need 1 hour, the fare is about 400,000 – 1,400,000 VND/ one-way trip ($17.2 – 56).
From Da Nang – Nha Trang takes about 1 hour, the fare is from 600,000 – 1,800,000 VN / one-way trip ($25.8 – 77.4).
Cam Ranh Airport has two main means of transportation for tourists to get to Nha Trang city: taxi and shuttle bus.
By train
There are train routes from Hanoi, Ho Chi Minh City, or from Da Nang to Nha Trang with fares around VND 250,000 – 400,000 one way ($10.75 – 17.2). You can book online on https://dsvn.vn/
Compared to traveling by plane, traveling by train is much more cost-effective. Train fares are stable all year round (except holidays, New Year), while airfares change continuously between days of the week. Taking the train allows you to revel in the pleasing scenery of Vietnam.
If you go to Nha Trang from Ho Chi Minh city, there is a 5-star luxury train route offering comfortable seats, spacious luggage compartments, and clean toilets for a nine-hour trip. Ticket prices ranging from VND 270,000 – 425,000 ($11.6 – 18.5). Currently, 5-star train services to Nha Trang are available only in Ho Chi Minh city. 
By Coach 
There are many coach trips to Nha Trang from major cities in Vietnam. Highly recommend that you book a comfortable sleeper coach from Ho Chi Minh for your convenience since the journey takes 8 – 9 hours. Whereas going from Ha Noi or Da Nang takes over 10 hours. Sleeper coach fare from Ho Chi Minh city to Nha Trang is around VND 180,000 – 230,000/ one way ($7.7 – 10). 
Ways to go around Nha Trang
Motorbike: Motorbike rental fees in Nha Trang vary from VND 60,000 – 150,000/ day ($2.58 – 6.45). You can contact Nha Trang hotels directly or contact private motorbike rental services. To rent a motorbike in Vietnam, you are required to have a legit motorbike license.
Local Bus: Bus routes in Nha Trang with fares from VND 5,000 – 15,000 ($0.22 – 0.66) are the perfect choice for a narrower budget. You will have to pay in cash, so make sure you have adequate change.
Taxi: There are many taxi companies in Nha Trang. Taxis are convenient for long-distance travel to attractions outside the city center. The fare starts from $1 per kilometer.
Cyclo: Cyclos are available in Nha Trang city center and around Nha Trang Beach. This means of transportation is suitable for short-distance travel. A 1 hour and 30-minute stroll around popular locations costs around $22. If you love to chill in cool pleasant weather and enjoy the views around Nha Trang, hop on a cyclo.
Places to stay in Nha Trang
Hotel
Hotels in Nha Trang are extremely diverse and growing. Hotels near the city beaches are the best option. Some beachfront hotels such as Aroma Nha Trang Boutique Hotel, Tristar Hotel Nha Trang, Cicilia Hotels & Spa have good quality, comfortable service, and reasonable prices.
Resort
If you favor something luxurious in one of the most beautiful coastal cities in Vietnam, why not choose a resort. Possessing a prime location overlooking the sea with the highest quality services, you will enjoy the best at Whale Island Resort, Champa Island Nha Trang Resort Hotel & Spa, Merperle Hon Tam Resort, InterContinental Nha Trang. Almost every five-star resort in Nha Trang has a private beach, where you can enjoy spa treatments and yoga classes right on the beach.
Homestay and hostel
And of course, Nha Trang also has many affordable homestays, hostels, serving tourists who love backpacking. Staying at homestays, you will have the opportunity to make new friends, and share beautiful memories of this friendly, vibrant city. Some recommended options for you are Tabalo Hostel, Casa Hostel, and Tabanan Hostel.
Extra: Astounding places near Nha Trang
If you have wandered all around Nha Trang and have some extra time, don't forget to pay a visit to these two favored destinations among travelers not far from the city center.
Cam Ranh city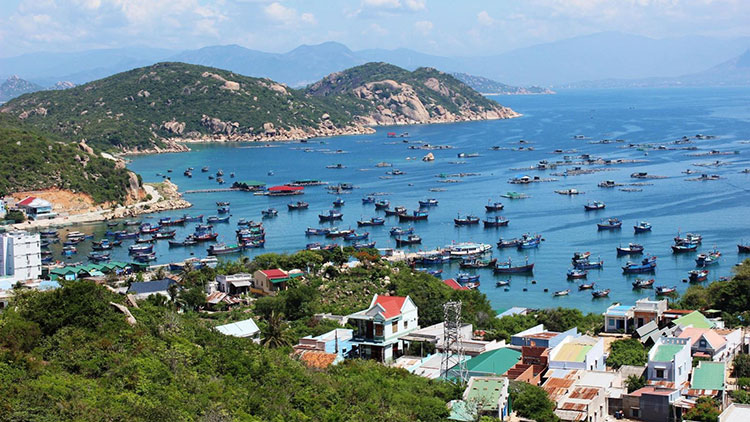 Located 44km from Nha Trang in Khanh Hoa province, which is a 50-minute drive from Nha Trang, Cam Ranh has one of the finest deep-water harbors in Vietnam. Like Nha Trang, the quaint, quiet city benefits from a long dry season between February to September. 
Besides its beauty and wilderness, Cam Ranh is known for its long history of military use by the U.S military as one of the most prominent bases during the Vietnam war. Though the city has little tourist infrastructure, Cam Ranh is appealing to dynamic independent explorers with an Indochina charm, unspoiled islands, wild scenery, and incredible food.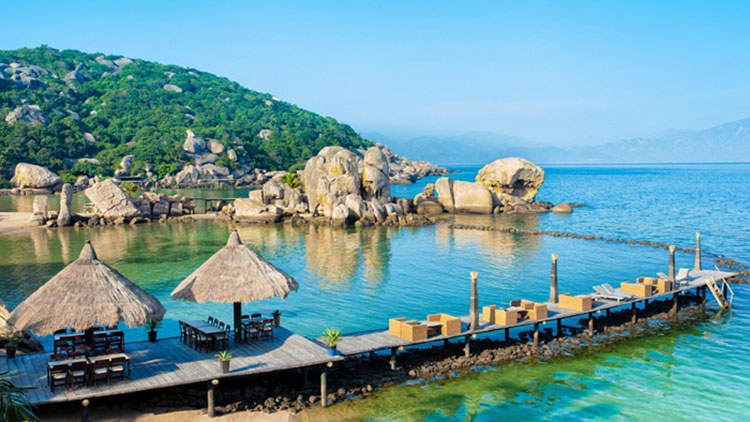 Visiting Cam Ranh without going to Binh Ba island is a huge miss. Situated 60km from Nha Trang, this iconic island is also called "Lobster Island" since it is the home to hundred-thousands of lobsters of different kinds. There is a saying from the locals: "If you haven't come to Binh Ba, you haven't eaten true lobster". Seafood addicts will immediately fall in love with fresh, juicy lobsters that are transformed into mouth-watering dishes. According to the indigenous, lobster is best-enjoyed grilling or steaming. In addition, plenty of other seafood to feast at Binh Ba are squids, snails, and especially sea urchins.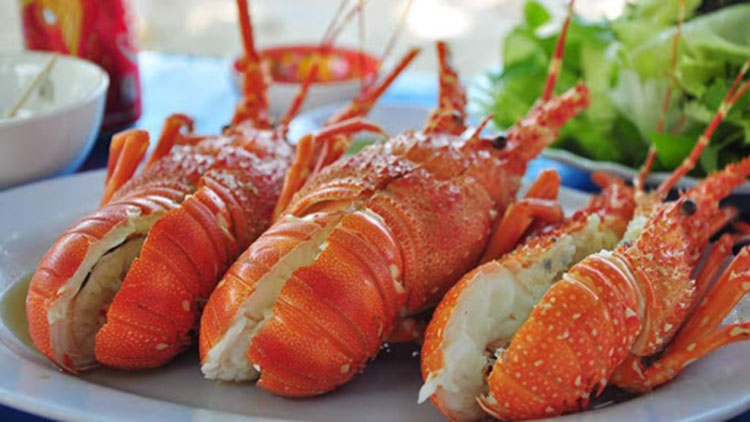 Swimming and snorkeling are the main tourist activities since Binh Ba houses many smooth white-sand beaches. Some major ones are:
Nha Cu beach: This is a coral dense beach with the clearest water of all beaches at Binh Ba. The beach is shallow, which makes colorful corals visible without having to dive into the water. 
Nom beach. The most crowded beach at Binh Ba is Nom beach. It has crystal-blue water, silky white sand, and many restaurants serving delicious seafood.
Chuong beach: If you want to catch the most marvelous sunrise and most graceful sunset, Chuong beach is where you can witness all of that.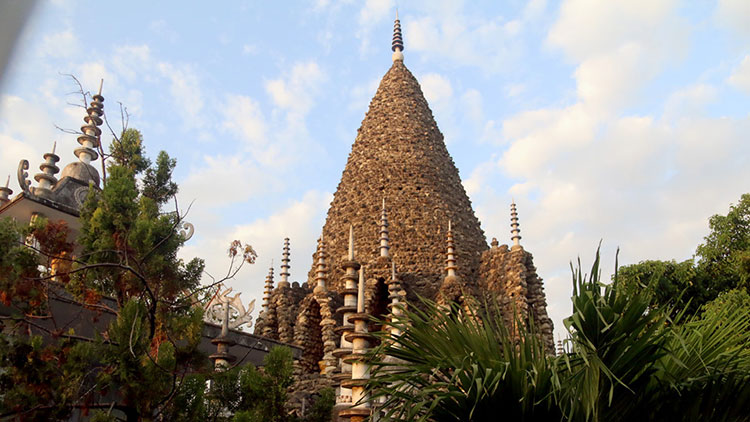 There is a one-of-a-kind cultural site situated right at the heart of Cam Ranh city travelers who love visiting. It is the Oc pagoda or Tu Van pagoda. Because of the pagoda's architecture decorated with seashells and clams, it got the name "Oc" which means shell in Vietnamese. This is a unique stopover of many travelers exploring Cam Ranh. What makes the pagoda stand out is the Bao Tich tower and the 18-level pathway to hell. 
Bao Tich tower is 39 meter-high (128 feet) comprising two floors. The walls of the tower are adorned with thousands of seashells, clams, and coral rocks in impeccable patterns, which creates the unique pleasant appearance of the tower.
Coming to Oc pagoda, you should not miss the pathway to hell. It is a 500m-long tunnel that symbolizes tortures that sinners undergo in hell. To pass through 18 levels of darkness, visitors are required to use a torch or candle to light up the way. What a thrilling experience that can make you hold your breath.
Dam Mon peninsula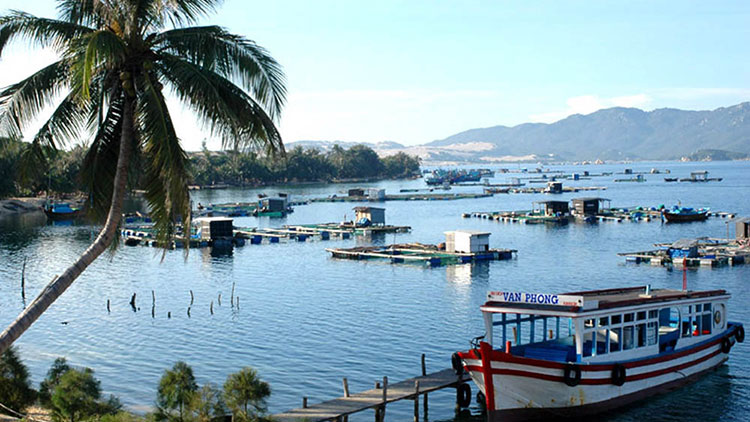 The wilderness of Dam Mon peninsula could mesmerize any beauty seeker. The peninsula, nearly 80km away from Nha Trang city center to the north, is a great destination for nature lovers located on Van Phong bay. Dam Mon peninsula is pervaded with natural advantages that are optimal for ecotourism development: gracious weather, primitive forest, marine ecosystem, etc. It is almost intact.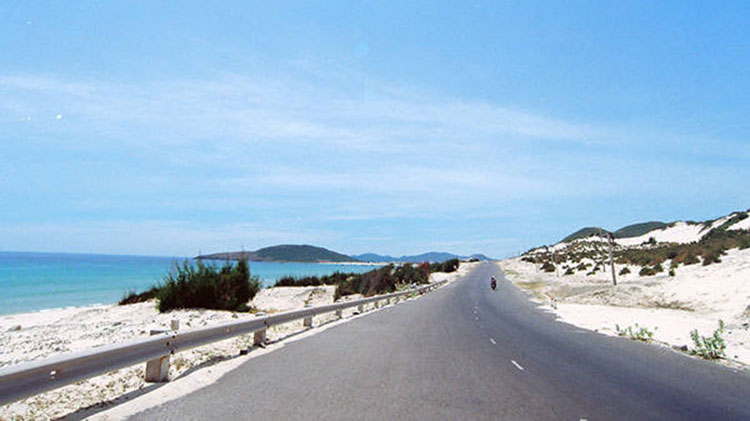 To reach the Dam Mon peninsula, visitors will go by road and follow a road about 18.5km long from the foot of Co Ma hill running along to Dam Mon. Visitors will have the chance to admire the stretching white sand dunes run alongside the street, making travelers feel as if they are passing an eternal desert. Adventurers will also be blown away by magnificent dunes at Dam Mon Thuong, where explorers can climb up the top of the dunes and appreciate the superb deep blue ocean. 
Dam Mon peninsula comprises 20 stunning small islands with primitive forest waiting for adventurers to explore. Besides, there are small and quaint fishing villages, where local people live and catch fish. At these fishing villages, you will find locals not wearing sandals. Everyone is free to lie anywhere on the sand.
Finally, you can capture the best sunrise at Dam Mon since this is one of the first places that sunlight reaches in Vietnam.
Conclusion
That is Nha Trang at a glance, the prestigious tropical gem of Vietnam. Intriguing cultural heritage, ravishing islands, enchanting beaches, hectic activities, and irresistible culinary delights from the ocean – all unite in one city. So pack your bag and embark on an amazing trip of your life to this miraculous paradise.
If you are eager to discover all the wonders of Vietnam, Visa2Asia will help you get your Vietnam visa easily. Contact us NOW!