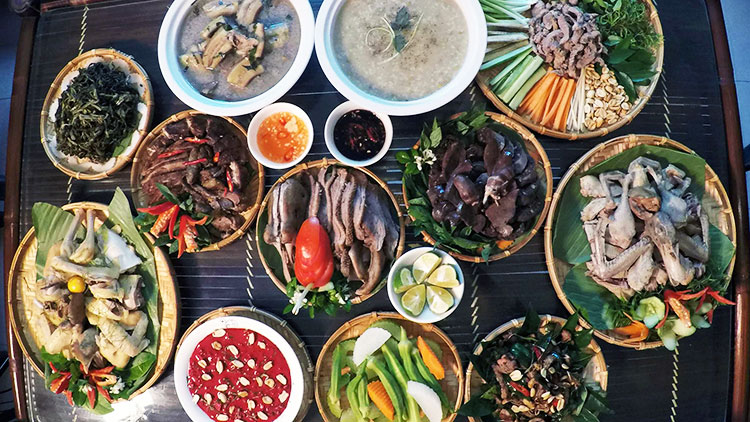 When it comes to food, Vietnamese cuisine never ceases to attract scores of patrons with some of the best tasty treats. 
Besides mouthwatering delights, Vietnamese cuisine also boasts some of the world's weirdest foods that will give you serious goosebumps. From rare street snacks, spooky bugs, fresh animal organs to a beating heart of a deadly snake. You name it, Vietnam's got it. Can't wait to fly to Vietnam for your culinary passion? Visa2Asia is here to support you get a Vietnam visa upon arrival quickly and easily. 
So are you brave enough to devour these exotic hidden culinary offerings that even the local foodies haven't dared to try? Let's dig in!
Vietnamese offal stew (Phá lấu) – the most exotic Asian stew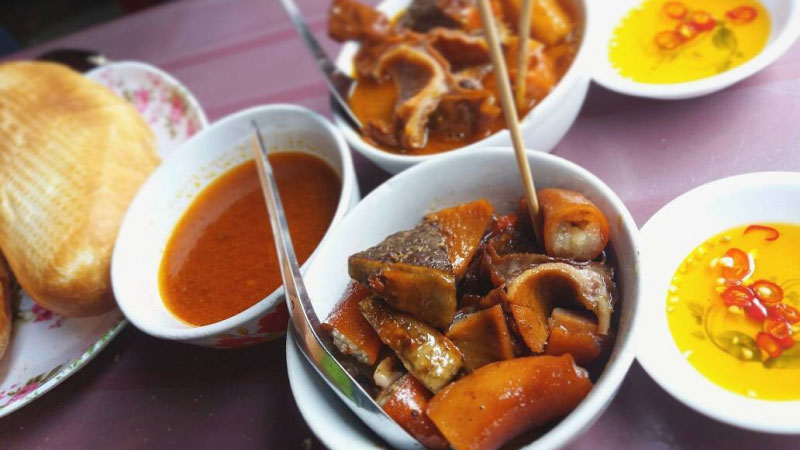 Let's warm up with something light. 
Speaking of Vietnamese street food, Phá lấu is always on top of the list. Phá lấu – also known as Vietnamese offal stew – is a popular Vietnamese street treat traditionally made from cow, pig, or duck organs. This delicacy best highlights the Vietnamese attitude to food: nothing goes to waste. Every part of an animal is utilized.
The animal's offal parts such as lungs, intestines, and livers are first carefully washed with salted water, then boiled with ginger to get rid of the organ's awful smell. Next, they are stewed in a special authentic spice blend. The broth is rendered with coconut milk for richness. Annatto powder is indispensable since it gives the dish it's signature red and orange tone.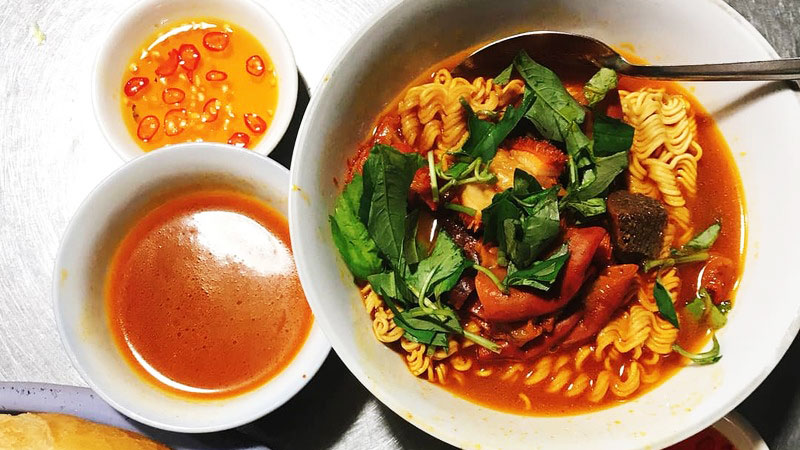 Offal stew is best enjoyed with Vietnamese bread (Banh mi). Some eateries also serve it with instant noodles. Visually, the dish may not look so appetizing. However, the flavor is unreal. Different animals come in different flavors. In general, the soup is rich, well-seasoned, and pretty creamy with a pleasant odor. The long-shimmered organs, cooked to perfection, are extremely juicy, and chewy. There is an additional dipping sauce that adds a pungent relish.
Whether it is cow, pig, or duck, all taste amazing. Definitely a must-try!
You can get Vietnamese offal stew at any corner in every city. According to local food enthusiasts, the best Phá lấu is found in Ho Chi Minh city, with these three best Pha Lau eateries:
Phá Lấu Cô Oanh (Oanh's offal stew) – 200/48 Xom Chieu street, District 4

Dì Núi (Aunt Nui) – 243/30 Ton Dan street, District 4 

Unnamed duck offal stew eatery – 150 Bui Minh Truc street, District 8 
Fried crickets (Dế chiên) – a must-try in your adventurous eating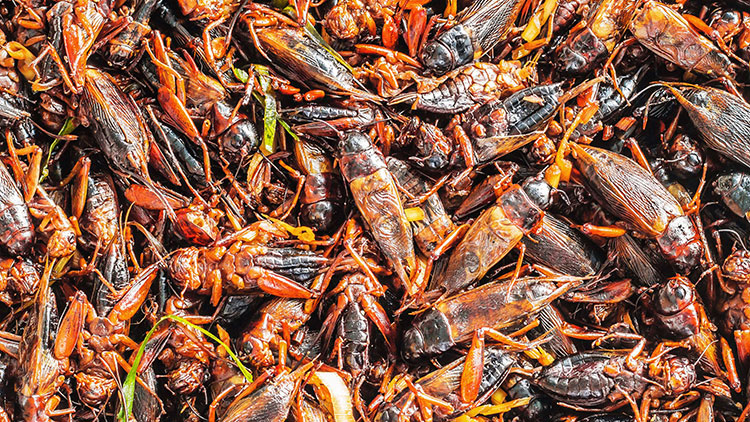 Insect – it is not what most people would invite someone for a meal. The idea of making these six-legged creatures as dishes is frightening, except for bugs-eating enthusiasts.
But in Vietnam, and other parts of Asia, insects are a fantastic ingredient for scrumptious treats, for those who are brave enough to try. The most common insect used in the odd side of Vietnamese cuisine is cricket.
With the ingenuity and creativity of Vietnamese, there are dozens of unique delicacies made from crickets. One of the most iconic dishes from these tiny insects is fried crickets.
Crickets are seasoned with salt, pepper, and other strong seasonings, then fried in hot oil, along with minced pork and lime leaves. The flavor of crickets is quite similar to shrimp or crab, but much more crunchy and chewy. With the strong seasoning as an enhancement, it turns out that fried crickets taste amazing. 
Studies have shown that crickets are an excellent source of nutrients, providing protein, healthy fats, and vitamins. It is also believed that eating crickets can cure rheumatism and obesity. So if you are new to creepy crawling insects, crickets are the perfect start! It can be daunting at first, but you may get addicted after one bite.
Because crickets are getting more popular and much loved in Vietnam, you can find them at many food vendors. Some restaurants also offer a diversity of cricket dishes. Check out these suggestions:
De Sua Rec Rec restaurant (Rec Rec Crickets) – 47, 7 street, District. 2, Ho Chi Minh city.

Bo Cap Lua restaurant – 17D, 11 street, Go Vap District, Ho Chi Minh city.

Linh Duong Tuu Quan restaurant – 21, Ton That Tung street, Dong Da District, Ha Noi.

Phuong Nam – 1, Mo Lao street, Ha Dong District, Ha Noi.
Sandworm pancake (Chả rươi) – the world's most peculiar pancake 
Tired of conventional pancakes with bacon or fruits? How about tasting a more strange version – pancakes made with sandworms?
Sandworms are a local specialty of Hai Duong province in Northern Vietnam. The sandworms are raised in ponds just like shrimps in agricultural areas. These little creatures are super rich in protein. Normally, vendors would cook the dish using frozen sandworms. However, to taste the best of sandworm pancakes, you should get them at eateries cooking with fresh raw worms.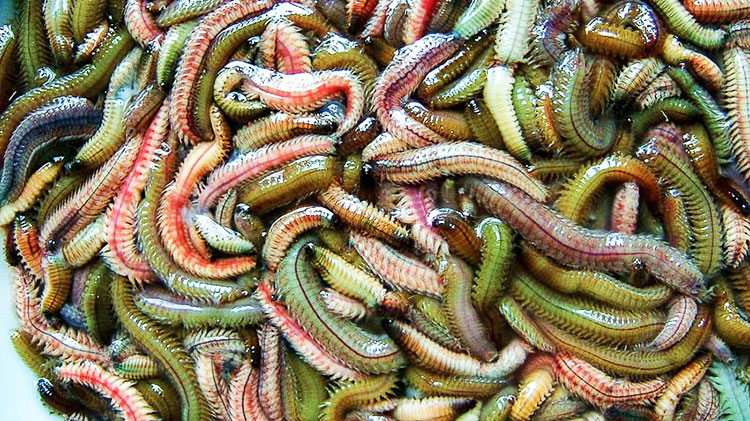 The sandworms are not premixed in the batter. The chef will put some batter on the pan heavy in hot oil. Then, the raw worms are put right on top of the cooking batter. Watching the sandworms moving in the pan while being cooked will excite you to crave the dish even more. With the nice crunchy texture combined with the savory taste, you will be shocked by how delicious this street snack is. It is the best unique way to get some protein in your diet but also still be able to enjoy delicious pancakes.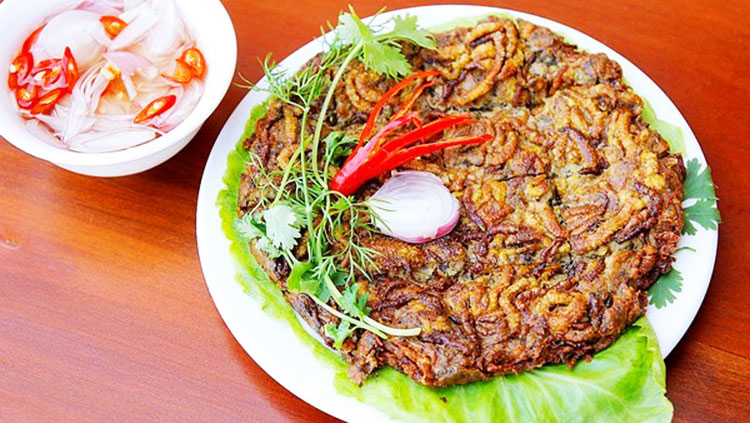 The most popular eating venues serving sandworm pancakes are in Ha Noi. Here are the top five recommended places:
Cha Ruoi Hung Thinh – 1 Hang Chieu street, Hoan Kiem District

Cha Ruoi Gia Ngu – 25 Gia Ngu street, Hoan Kiem District

Cha Ruoi Duong Thanh – 16B Duong Thanh street, Hoan Kiem District

Cha Ruoi Hang Beo – 244 Lo Duc street, Hai Ba Trung District

Cha Ruoi Doc Hoe Nhai – 19 Doc Hoe Nhai street, Ba Dinh District
Horse meat hotpot (Thắng Cố) – the Vietnamese way of feasting horses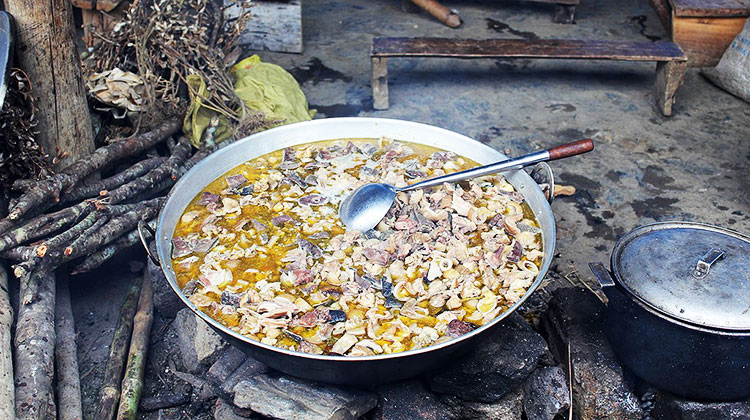 Sapa, located in Lao Cai province, is favored by nature with miraculous natural beauty with dreamy fields twining along majestic mountains. The popular trekking destination in Northwestern Vietnam also welcomes explorers with succulent indigenous cuisine. And to truly eat in the Sapa way, you can not miss Thang Co – Horse meat hot pot, Sapa's most popular ethnic outlandish offering. 
It's a traditional creation of H'Mong hill tribes that appeared in the Vietnamese cuisine map over 200 years ago. Horse meat, the star of the dish, is still considered a controversial type of meat in many parts of the world. Other animals including buffalo, beef, and pig are used in the recipes of the ethnic communities nowadays.  
To perfect Thang Co, lots of Vietnamese newspapers have written that the dish requires about 12 – 20 different spices. No one can say for sure what is added to the dish since local cooks and restaurants always keep their recipes confidential. Some say the spices used in Thang Co include star anise, cardamom, lemongrass, and other unique spices only from the highland. 
The H'Mong people cook every part of the four-legged animal. The pot is filled with the internal organs of a horse such as blood cubes, kidneys, and intestines. To fully soak the spices, the organs are cooked for hours. It's a long cooking process that requires lots of patience and dedication.
Horse meat has a distinctive taste from any other type of meat. It's incredibly tender and you won't feel the fat lingering in your mouth. Even stewed for hours, the horse's organs stay crunchy. The special seasoning combination of the dish brings out a pleasantly pungent aroma of the upland that overdoses your sensory. Reveling in the giant steamy pot of horse meat with a sip of rice wine in the mildly cold atmosphere of highland, that is how to enjoy food like the H'Mong. 
Make your way to the charming Sapa and feast on the relish of upland at local markets. Pots of horse meat at upland markets are super huge, enough to cater to dozens of people. Additionally, these restaurants serving top-notch Thang Co are also wonderful options:
A Phu restaurant – 15, Fansipan street, Sapa.

Hai Lam Sapa restaurant – 72, Luong Dinh Cua street, Sapa.

Trung Tam Lau (Hotpot Center) restaurant – 552 Dien Bien Phu street, Sapa.

Cau May Sapa restaurant – 92 Ngu Chi Son street, Sapa.

Thang Co A Quynh restaurant – 15 Thach Son street, Sapa.
Grilled rat meat (chuột đồng nướng) – something you don't think of eating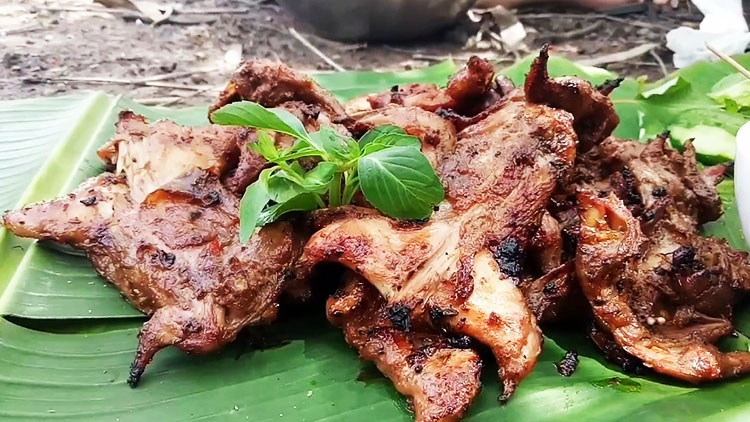 Rats as a choice of protein – it may not sound so fascinating for the majority of foreigners. But in tropical Asia, especially Vietnam, rats have become a popular and profitable source of protein love by the farmer communities.
Rats are one of the specialties of Western Vietnam, mostly found at restaurants and eateries in the Mekong delta. The two most common rats eaten by Vietnamese are the bandicoot rat, which grows over two pounds (1 kg), and the rice field rat, which weighs up to half a pound (0.2 kg). The Vietnamese farmers catch rats alive with wire or bamboo cages, then ship to small processing centers, where the meat is finally sold to local markets.
The rat meat is marinated with lemongrass, chili paste, fish sauce, MSG, and sometimes a little bit of honey to make it aromatic. Then, it is barbecued to golden brown on the charcoal fire. Foreign travelers when first tasting grilled rats usually think it tastes like chicken with a gamier flavor. Some may say it somehow resembles rabbits. 
Visit the Mekong Delta to taste the best flavor from this rodent dish. 
Fried pig penis (Ngọc trư) – the street food that shocks every foody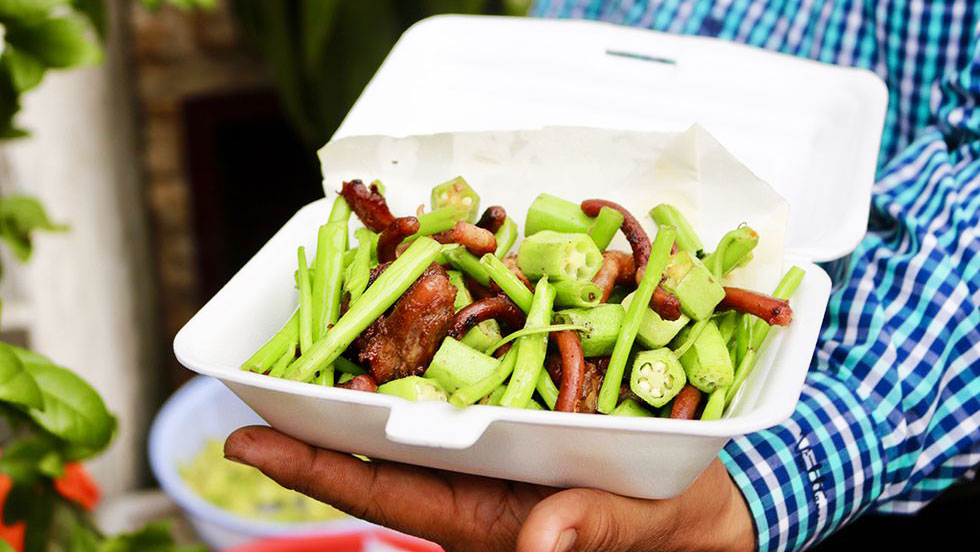 Fried swine penis, a weirdly tasty treat for locals, but a nightmare for pigs. 
Though the main ingredient doesn't sound so inviting, it is a delicate delicacy for the locals. It is oddly delicious and super budget-friendly. 
The male swine's reproductive part is marinated with a local spices blend, then deep-fried until fully cooked. The veggies included balancing the dish are steamed water spinach and okra. Once finished cooking, the dish is served with green chili sauce or tamarind sauce and topped with fried minced garlic for extra scent.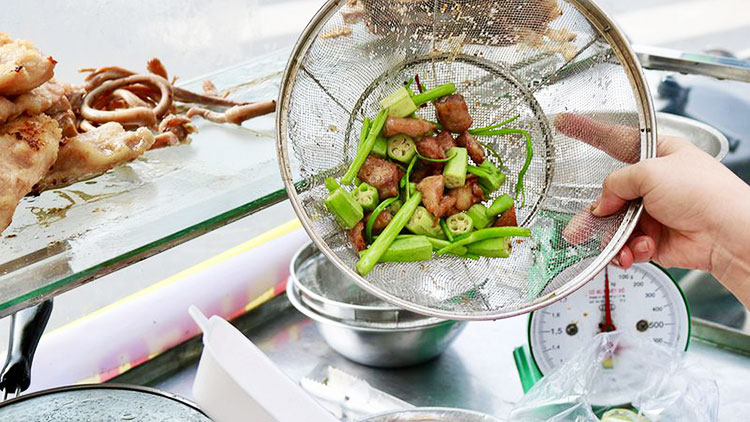 Anyone who first tries the fried pig penis has the same feeling about it, satisfaction. The dish tastes as awesome as any other iconic Vietnamese street food. Some describe that it somehow tastes like fried chicken necks. Take one piece, dip into the sweet and spicy sauce, then enjoy the funky flavor of local culinary art. Tenderness, crunchiness, and saltiness fused with a strong aroma make a mouth-watering snack.
The one-and-only best place to give this odd dish a try is Miss Hòa's vendor, located at 409 Pham Van Chi street, District 6, Ho Chi Minh city. Ms. Hòa, the vendor's owner, has been selling pork penis for over 8 years. Her strange snack is much loved by countless Saigonese willing to wait in long lines to get a bite. 
Giant isopod (Bọ biển) – the scariest deep sea delicacy in Vietnam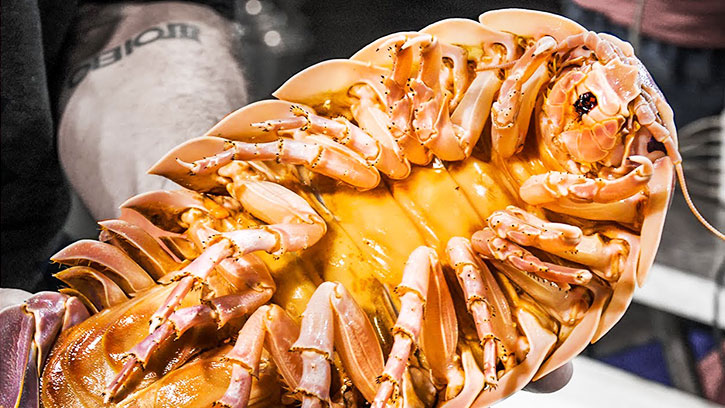 Can't picture how an alien-like creature tastes? Try the grilled giant isopod. 
Giant isopods, one of the scariest looking creatures from the ocean, take Vietnamese seafood to an extreme. The cockroaches of the ocean live at the bottom of the sea, which consumes dead animals falling to the ocean floor.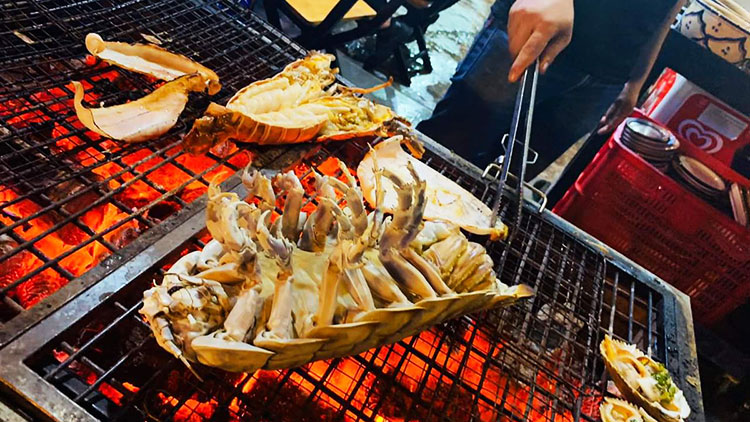 This is the delicacy of the Vietnamese wealthy class. The isopod is rare and hard to catch, which sky-rockets its values. An average isopod is worth over $100. The isopods are cooked in various ways, but according to local foodies, there are the best 3 unique isopod dishes. The sea cockroaches are always first steamed up in a streetside sauna for 20 minutes. After that, the real fun begins:
Deep-fried isopod: They are cut into pieces, coated with flour, then deep-fried for a couple of minutes. Then, they are tossed to another wok where they are seasoned with a load of salty spices and stirred with garlic, ginger, leeks, and chilies.
Fried isopod with pork fat: For fried isopod, the sea creature is stir-fried with a blazing sweet and sour hot sauce. What makes this version incredibly dynamite is the added pork fat, which boosts the fulfilling fatness and bold flavor. 
Grilled isopod: Firstly, the chef removes the shell from the isopod's belly. Then, it is tossed on the grill and topped with scallion fat and lots of peanuts.
Though the seafood delicacy is very high priced, it is absolutely worth a shot. Take one big bite, you will feel the savory oceanic aroma enfolding your body. It is like the entire ocean is in your mouth assaulting your taste buds. So if you are down for some high-end supersize aquatic species, this dish is for you.
Have these dishes sparked your curiosity yet? The craziness doesn't stop here, let's jump to the higher level of insanity.
Balut (Hột vịt lộn) – an entire duck cooked inside an egg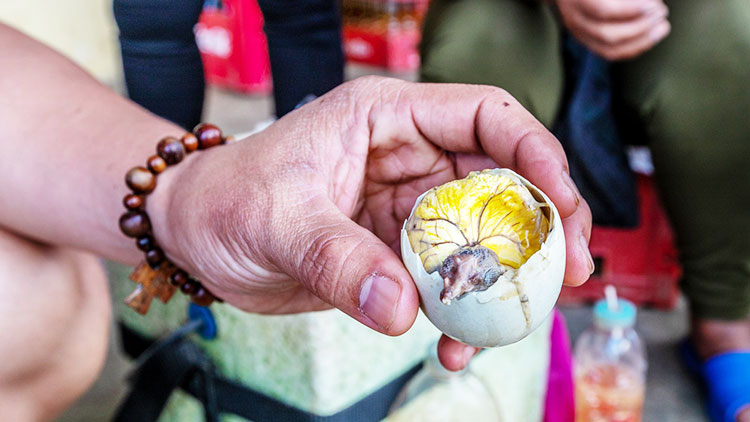 Balut, or fertilized duck egg, the most popular traumatic Vietnamese street dish. It is a regular dish for the locals, but a nightmare for foreigners who have never tried it. Balut is consistently ranked as one of the most horror foods in the world by many international food magazines. So why is it so scary that only a few people are brave enough to try it?
If you look inside balut, you may get squeamish at first. What is inside is a whole baby duck with a beak, furs, wings, legs… basically the embryo of a 17-21 days old duck. The most popular balut dish is the traditional boiled balut. The eggs are boiled for around 15-20 minutes. Timing is everything. If boiled in a short time, the eggs are not evenly cooked. Conversely, if being cooked for too long, they will lose their nutritional value and flavor.
How to eat boiled balut? You need to put it in a small cup. Remember to put the small head down and leave the big head upright, since you will eat from the big head. Use the back of a small spoon to crack the egg, then gently peel the shell, leaving a small hole on the egg for scooping. First, take a sip of the flavorful broth inside. Next, scoop the embryo of the duck and feel the harmonious richness tickling your taste buds.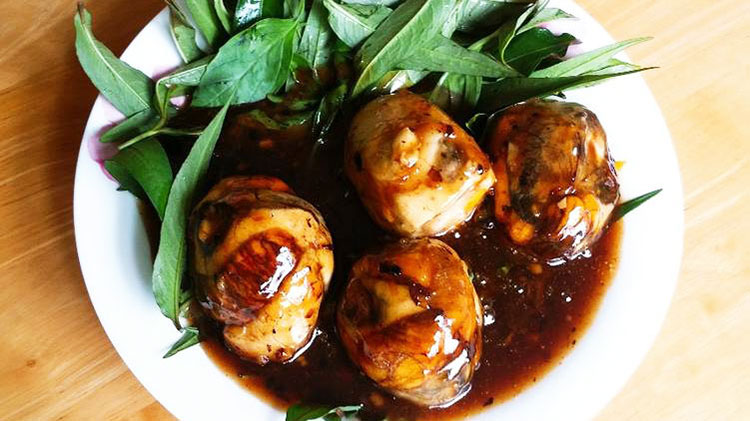 There are other exciting balut variations. Stir-fried balut with tamarind is absolutely dynamite. The balut is marinated with a special dense tamarind sauce. Then, it is served with sliced fried onion and Vietnamese coriander. The fusion of strong aroma with the sweet and sour taste from the tamarind sauce will leave you speechless. 
Since balut has always exploded throughout the country, you will spot balut at numerous street vendors and small eateries in any urban area. 
Coconut worm (Đuông dừa) – the best Vietnamese moving dish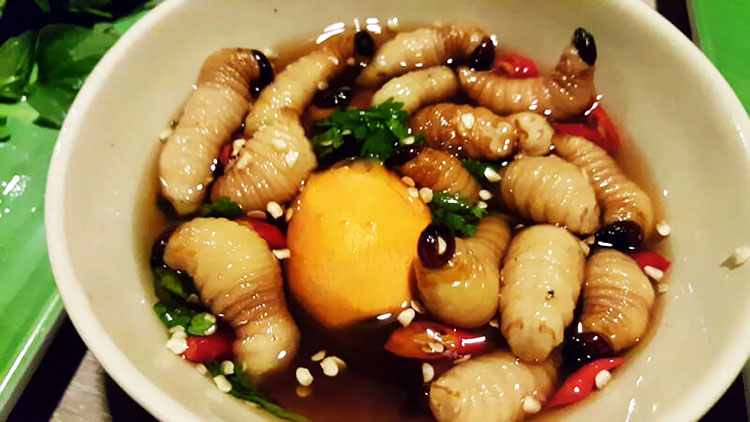 Would you dare to try some raw worms swimming in the fish sauce?
The coconut worm is most found in Ben Tre, the coconut kingdom of Vietnam. These worms got their name due to where they live, the coconut trees. The locals perceive these creatures as a gift of nature. An interesting fact is that selling coconut worms is illegal in Vietnam since the government doesn't want to encourage the spread of this pest. Nevertheless, trades of coconut worms are still conducted in some hidden black markets. 
This is the simplest Vietnamese odd dish. The crawling tiny creatures are live caught from coconut trees. You can try catching them with the local folks. After being washed thoroughly with water, they are tossed into a small bowl of fish sauce with chilies.
How to enjoy coconut beetle larva? Just grab the entire tiny larva, put it in your mouth and chew. Many foreigners who first see the dish would be horrified by seeing the squishy worms at the size of a thumb in motion. However, the flavor permeating out is extraordinary despite the gross-looking appearance of the dish. The worms are incredibly rich, meaty, and fleshy, quite similar to egg yolk melting inside your mouth. The savory of fish sauce and the spiciness of chilies add up the deliciousness. To sum up, the dish is weirdly delicious.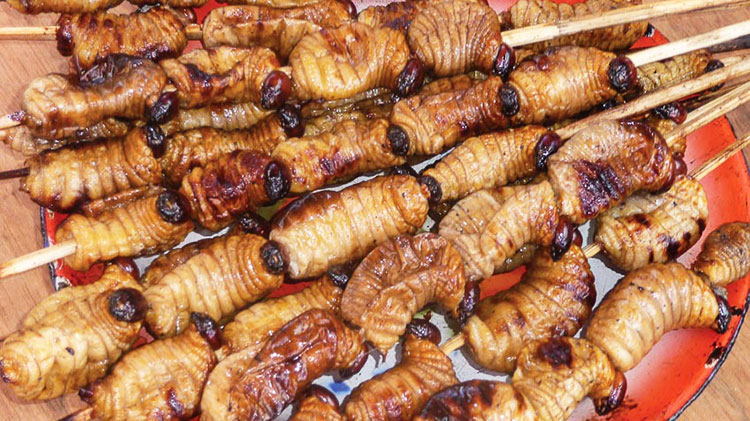 If the raw moving worms are too terrifying, you can opt for other cooked versions of this rare insect. There are a grilled version and a stir-fried version with butter. Both variations bring out the stunning flavor of Ben Tre's specialty.
To have the best experience chowing down on coconut worms, you have to visit Ben Tre. The locals will serve you the best coconut worm dishes ever.
Jumping fish salad (Gỏi cá nhảy) – the "freshest" dish of Vietnam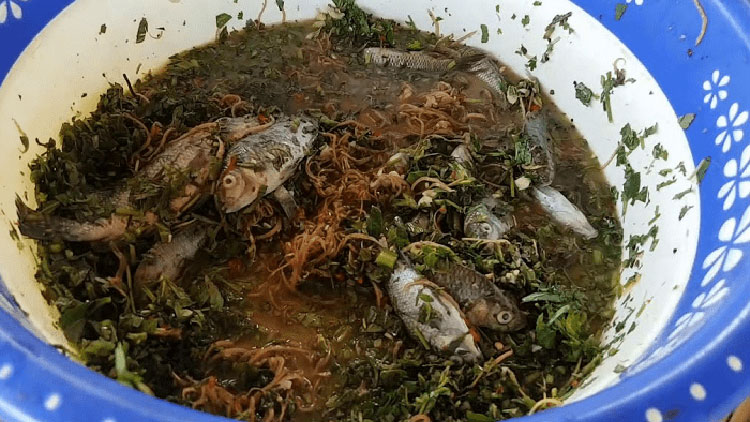 Northwest Vietnam is rich in fish species thanks to its complex river systems. And the local Northwest Vietnamese has figured out a chest-thumping way to enjoy the fresh fish – have it raw with salad.
Can you imagine a huge bowl of salad with little fishes jumping on the top? That is how the locals "preserve" their freshness. First, they catch the small carps at streams far away from the residential area and put them in a huge pot with water to keep them alive. Then, they prepare the greens with rare vegetable species. This dish is not served in the public. Only households of ethnic minorities enjoy this creepy salad. Even the local Vietnamese would faint out when witnessing the dish.
Blood pudding (Tiết canh) – the most dangerous Vietnamese food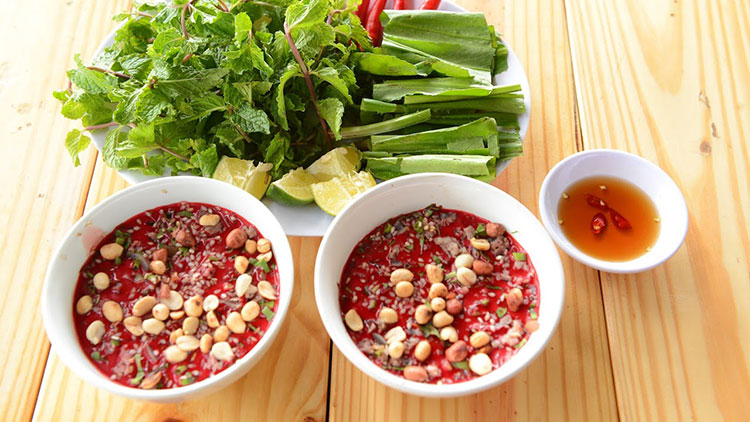 If you ask the local Vietnamese about the most hazardous dish that strikes fear into every food lover – they will tell you to try blood pudding. To many foreigners, it may sound and look like a nightmare on the table. To Vietnamese, however, it is a culinary specialty. 
Vietnamese blood pudding is known as the bloodiest dish in the world that only daredevils are willing to taste. It is made from the fresh blood of cattle such as ducks, chickens, chickens, or pigs. Duck blood pudding is most enjoyed by Vietnamese.
To create duck blood pudding, the cook collects the fresh blood into a bowl. To present the prematurely coagulating, the cook mixes fish sauce or saltwater with accurate proportions. Next, expertly cooked duck meat and innards are put into a shallow dish. The mixture of blood and fish sauce is diluted with the duck cooking broth, then poured on the plate of duck innards. Finally, the dish is garnished with a sprinkle of crushed peanuts and chopped Vietnamese herbs. A pinch of pepper and extra lime juice to spice everything up.
Thinking about how fresh raw blood tastes like? The flavor of Vietnamese blood pudding is balanced and interesting. The super-strong taste of an animal's blood is harmonized by the saltiness of the fish sauce. The jelly texture of the blood makes you feel like you are breaking up the blood clump. Combined with the tender organs, Tiet Canh tastes outstanding.
There is a reason why raw blood pudding is listed as the most dangerous food in Vietnam. It comes with critical health concerns. Lethal bacteria and parasites exist in fresh animal blood. There have been reports of fatal cases after consuming Tiet Canh. Pig blood pudding is considered the most deadly version of Tiet Canh. So if you still want to have a taste of this wild dish, make sure you get to high-quality restaurants serving Tiet Canh safely.  
Cobra heart (Tim rắn) – only for foodies with hearts of steel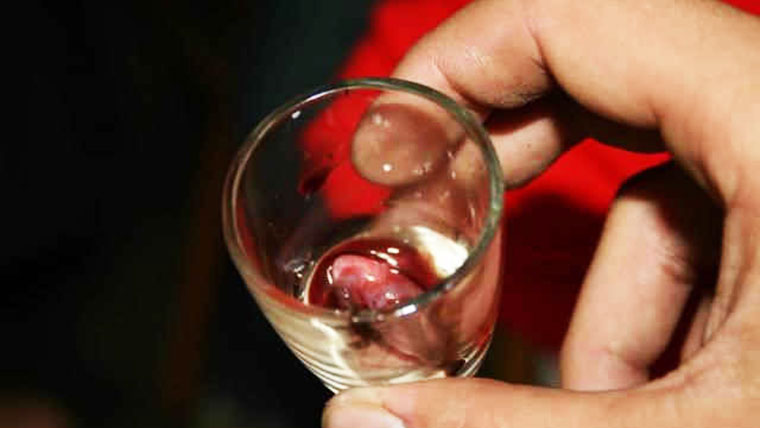 Last but not least, the all-time king of outrageous food, the ultimate peak to conquest in your adventurous food journey – the beating heart of a cobra. Talking about exotic foods, all the dishes above are nowhere near in competition. This is where you break all your limits. Reptile's hearts, including snakes, are still able to beat even after being removed from the body. The Vietnamese have come up with this marvelous way to absorb this peculiar natural phenomenon.
The first question that may roll in your head immediately – why devouring the beating heart out of the cobra's chest? The Vietnamese strongly believe this delicacy can boost male vitality, simple as that.
Next question – how is the hissing creature prepared? The skillful chef carefully locates the heart of the venomous beast. Then, use a sharp knife to make an incision and drain all the blood into a bottle. With precision, the cook rips off the beating heart and drops it in a small glass. Finally, the heart is filled with fresh cobra blood and strong wine. Voila! There's your dish of virility.
Slurping down a non-stop beating cobra heart with a small glass of cobra blood mixed with potent rice wine. Surely it is a wild piece of memory that will follow you for the rest of your life. 
The wild party does not stop once you have conquered the cobra heart drinking game. You will be then catered with a scrumptious snake feast from the remaining parts of the cobra. The first to come is the cobra innards stir-fried with squash and onions. Absolutely juicy and full of flavor!
Next on the menu is the crispy deep-fried cobra bones. It is as flavor-tickling as the fascinating look. The entire bones are deep-fried till golden brown. Chew the rack of ribs and you will hear the crispiest sound ever. Extra crispy, rich in calcium, insanely satisfying!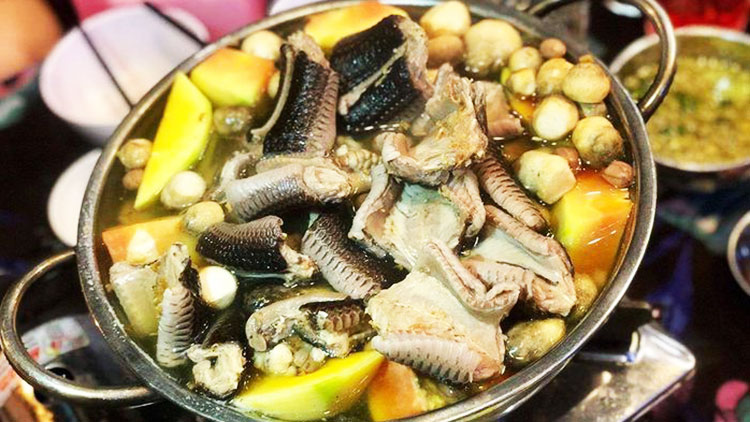 Finally, the classic cobra hotpot wraps up your whole cobra meal. The pot includes small morsels of cobra meat, mushrooms, cilantro, ground pepper, and lemongrass. Fresh greens are also served with the hotpot. Cobra meat is said to be extremely rich and fatty, almost as resilient as squid, but much more delectable.
If you are a true food daredevil, cobra heart is the Everest of Vietnamese exotic cuisine to conquer. Cobra is widely available in countless Vietnamese restaurants. 
Break your limits with Vietnamese exotic food
Original, intriguing, enthralling, and dangerous – these are what you can find from all the Vietnam's bizarre treats above. Overall, when you try some abnormal delicacies, it is all about the fun you get from the food. If you overthink about the dishes, you will not gain as much fun as you can truly get. So the point is, just chill out and take a big bite. Once you overcome some of the initial shocks, the strange dishes may surprisingly blow your mind away.